Meatballs, Mashed Potatoes, and Homemade Gravy make a fantastic freezer-friendly meal! These recipes will please your whole family.


One of my favorite dishes is Meatballs and Mashed Potatoes. It may seem crazy and complex, but considering that all the components can be made ahead and frozen, it can definitely be a delicious weeknight meal no matter the season.
Simply make a bulk batch of meatballs, a big vat of gravy, and a large pot of mashed potatoes. Divide them into dinner-size portions, chill, label, and freeze. Super easy and so fun to pull out on a night when you want something homey and comforting, but don't have it in you to stand at the stove.
Meatballs and Mashed Potatoes is also an economical dish. With potatoes selling for about $1-$1.50 for ten pounds, you can easily make up a batch of mashed potatoes for less than $1, accounting for butter, cream cheese, and seasoning. Recently I bought ground beef for $1.49 a pound, making a dinner's worth of meatballs about $2 after adding eggs, spices, and bread crumbs. Add in a vegetable and you definitely have a good cheap eat.
Dinner for 4 for about $5!
The Meatballs
Make up a batch of meatballs, bake, cool, wrap, and freeze in meal size portions. You don't need to thaw them before reheating, making this an ideal dinner for the night your plan doesn't go according to plan.
I've got a few favorite Meatballs variations: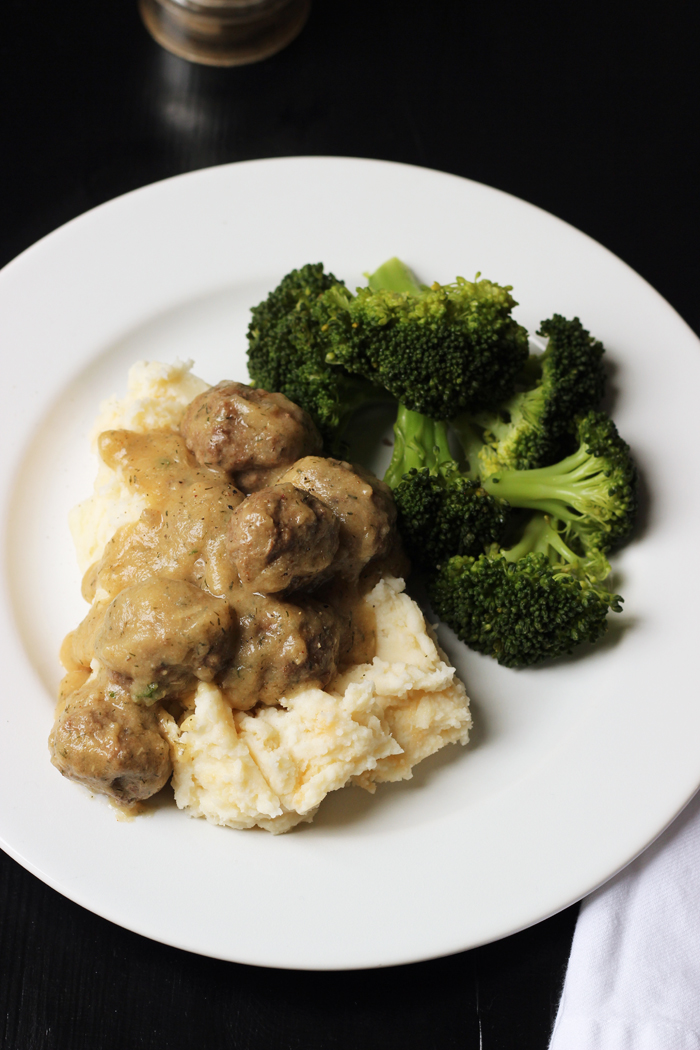 The Mashed Potatoes
Mashed Potatoes go pretty quickly around here, but when I take the time to make a lot, I'm always thankful I did! The best mashed potatoes for the freezer are the ones that contain a good amount of fat in the way of butter, cream, cream cheese, or sour cream.
These are the best for freezing:
For making fresh:
And of course…
The Gravy
The gravy is the best part out of all this! While my husband is not a gravy fan, I'm proud to have raised enough gravy fans among my six kids to justify making large vats of gravy. It's so simple, and really pulls together the meatballs and mashed potatoes.
Storing meatballs in gravy and mashed potatoes
Meatballs
These can be stored in an airtight container for 3-4 days. Or these can be stored up to 3 months in the freezer.
Mashed potatoes
You can keep the mashed potatoes in an airtight container for 3-5 days in the refrigerator. They can also be frozen for up to 10 months. When you are ready to eat them, allow them to thaw in the refrigerator before reheating.
Gravy
Gravy will be good for 3 days in the refrigerator in an airtight container, and in the freezer for up to 3 months. Allow to thaw fully in the refrigerator before reheating.
Homemade Gravy
Homemade Gravy is so simple. You can make your own sauces quickly and easily. They can even be made in advance and frozen.
Ingredients
¼

cup

butter

⅛

onion

chopped for ¼ cup

¼

cup

unbleached, all-purpose flour

2

cup

beef broth

¼

teaspoon

black pepper

1

teaspoon

dried thyme

or dry dill if you prefer
Instructions
In medium saucepan, melt butter. Sauté onion until clear. Whisk in flour and cook until bubbly. Whisk in broth. Bring to a boil. Reduce heat and simmer until thickened.

Stir in seasonings. Serve immediately or cool, package in plastic container with a lid, label, and freeze.

If using from frozen, warm on the stovetop and whisk to blend.
Notes
Promptly store leftovers in an airtight container in the refrigerator, for up to 3 days.
Nutritional values are approximate and based on 1 cup.
Nutrition
Calories:
282
kcal
|
Carbohydrates:
13
g
|
Protein:
5
g
|
Fat:
24
g
|
Saturated Fat:
15
g
|
Trans Fat:
1
g
|
Cholesterol:
61
mg
|
Sodium:
1096
mg
|
Potassium:
171
mg
|
Fiber:
1
g
|
Sugar:
1
g
|
Vitamin A:
730
IU
|
Vitamin C:
1
mg
|
Calcium:
36
mg
|
Iron:
2
mg
Want the 411 on freezer cooking? Check out the Ultimate Freezer Cooking Collection of Tips and Tricks.
Or pick up a copy of my book, Not Your Mother's Make-Ahead and Freeze Cookbook for over 200 recipes and 10 freezer cooking plans to help you fill the freezer, eat well, and save money.
*