Smashed Potatoes can make a great meal. Prepare these simple, non-fussy potatoes to go with your favorite gravy and roast meats.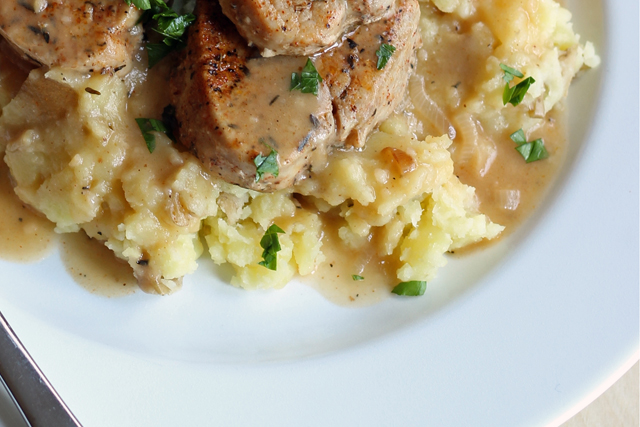 Mashed potatoes are one of the best parts of a meal. Honestly, I could just eat mashed potatoes and gravy. And maybe some veg on the side. In fact, I do, quite often. Potatoes and a salad are one of my favorite meatless meals.
Growing up, leftover mashed potatoes and gravy was one of my favorite breakfasts. I didn't know at the time that our family prepared mashed potatoes the "wrong way."
One year in college, I helped prepare a Thanksgiving meal with some other students. I was part of the mashed potatoes group. We each prepared a batch and met at my apartment before heading to the event. Imagine my dismay when one of the girls looked at my bowl and said, "Oh these aren't ready. We have to fix these before we go."
Apparently, in some circles the potatoes aren't ready unless they are perfectly smooth and whipped until light and fluffy. Who knew?
I didn't. And honestly, that ranks as one of my most mortifying moments. I know that girl didn't mean any harm, but man that hurt my feelings. They were ready in my book!
Funny thing is, I ended up not being a great fit for that student group. I felt like a rebel when I left the organization. Just like my potatoes.
Since then I've read a lot about mashed potatoes. I've invested in a potato ricer. I've experimented with lots of different recipes. Sometimes I make my mashed potatoes with cream cheese and stash them in the freezer. Sometimes I make them the "right way", light and fluffy with cream and butter. Sometimes I add garlic and parmesan to my mashed potatoes.
But, honestly, I like to get in and out of the kitchen as quickly as possible. So, sometimes I make them like this: slightly lumpy, but utterly delicious.
In my mind, the potatoes are the vehicle for the gravy. They don't need to be refined and fussy. Just yummy. These potatoes come together in less than 30 minutes, with very little active participation on your part. They are a perfect addition to your Thanksgiving menu — or any weeknight supper, really.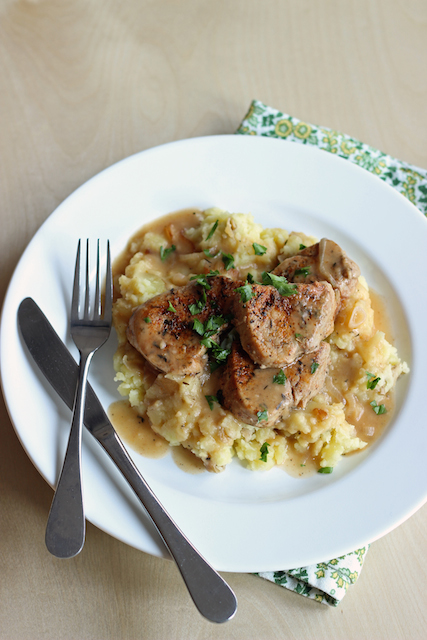 Despite what others may say, these potatoes are meant to have lumps. Don't worry about making them all pretty and smooth. Leave the skins on, even. You're a rebel with a cause: Get some yummy potatoes ready to soak up the gravy.
Leather jacket not required.
Looking for more bright ideas to get dinner on the table? My latest cookbook is here! And it's designed just for you to make dinner quickly, easily, and affordably.
You can beat the clock without breaking the bank. And you'll eat well too.
Rebel with a Cause Smashed Potatoes
Smashed Potatoes can make a great meal. Prepare these simple, non-fussy potatoes to go with your favorite gravy and roast meats.
Ingredients
2

lb

Yukon gold potato

halved or quartered

1/4

cup

olive oil

1/2

cup

chicken stock

or more to taste, heated

salt

black pepper
Instructions
Place the potatoes in a large pot of salted water and bring to a boil over high heat. Cook until tender, 15 to 20 minutes. Drain and return the potatoes to the pot.

With a potato masher, mash the cooked potatoes until more or less smooth, but still with some chunks. Stir in the olive oil. Add enough of the broth to moisten and make the potatoes a little bit creamy. Season to taste with salt and pepper and serve.
Notes
Store leftovers in the fridge for up to 4 days.
Nutrition
Calories:
252
kcal
|
Carbohydrates:
28
g
|
Protein:
6
g
|
Fat:
14
g
|
Saturated Fat:
2
g
|
Sodium:
130
mg
|
Potassium:
960
mg
|
Fiber:
6
g
|
Vitamin C:
28
mg
|
Calcium:
68
mg
|
Iron:
7
mg
How do YOU like your potatoes?