Get a great deal on potatoes? Freezing potatoes is a great way to maximize your savings.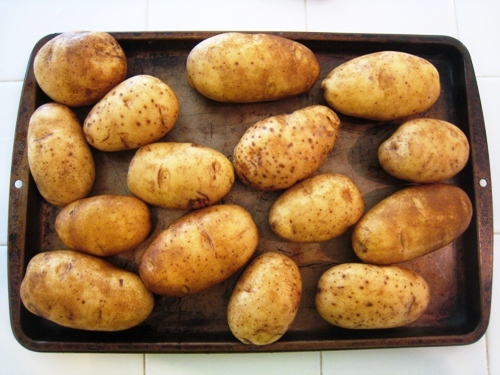 This weekend I've been freezer cooking. That is, I'm making lots of meals to store in the freezer to save me time, energy, and money later in the month. And one of the things I recently added to the stash was potatoes.
Potatoes are a filling, inexpensive food. They are full of fiber and offer that stick-to-your-ribs good eating that is so desirable during winter time. This season, they regularly are available for about ten cents per pound or $0.98 per bag.
This is a great deal! And one that I wanted to take advantage of for freezer cooking. So, I stocked up!
Are potatoes still good if they freeze?
However, sometimes potatoes go funny in the freezer.
Let me repeat that: Sometimes potatoes go funny in the freezer.
I've seen all kinds of recipes circling on Pinterest that show folks just chopping potatoes to toss in the freezer. This is a bad move. Trust me. Raw potatoes will get gross. Even cooked potatoes sometimes go funny.
I've tried making soup with potatoes and the spuds generally develop a funny texture. Russets aren't always friendly to freezer cooking. However, there are a few ways to make it work.
Here's the process I followed to prep my potatoes for freezing.
Wash
Recently, I bought thirty pounds and proceeded to process two bags for the freezer. I kept one bag on hand for spontaneous cooking.
I've found that the best way to clean potatoes is to give them a good scrub with a vegetable scrubber.
Mash
I prepared ten pounds by peeling and mashing. My mashed potatoe recipe from this homemade gravy meatball and mashed potato recipe is really easy. Mash tender, boiled potatoes until smooth. Beat in 8 ounces of cream cheese for every five pounds of potatoes. Season with salt and pepper.
Then, I divide the mixture into meal-sized portions, dot with butter, wrap in foil and freeze. When I'm ready to serve, I thaw the pan overnight and then reheat in the oven, 30 minutes at 350 °, depending on how cold they are to being with.
Bake
I took another ten pounds and baked them. You can bake them in the oven for an hour, microwave them, or make crockpot baked potatoes. I prepared stuffed potatoes with half of those potatoes and chopped the rest for hashbrowns.
I will bake the stuffed potatoes covered with foil for 30 minutes at 350 °. I'll cook the homefries/hashbrowns according to Baked Potato Hashbrown Recipe. You have to make them crisp and hot to make it really worth it, though. Fresh is obviously better. But, when you're pinched for time or need to use up some potatoes, this works.
How long can potatoes be frozen?
The beauty of freezing potatoes is that they will stay good in your freezer for up to 10 to 12 months. So if you see a sale on potatoes, grab some and make some of these recipes and stock up your freezer for some great savings.
Tools I use for freezing potatoes:
How 'bout you?
Have you had good success with freezing potatoes? What's been your experience?