Need a comfy side dish? Make the Mashed Potato Casserole my kids go nuts for. It's very make-ahead and as easy as can be.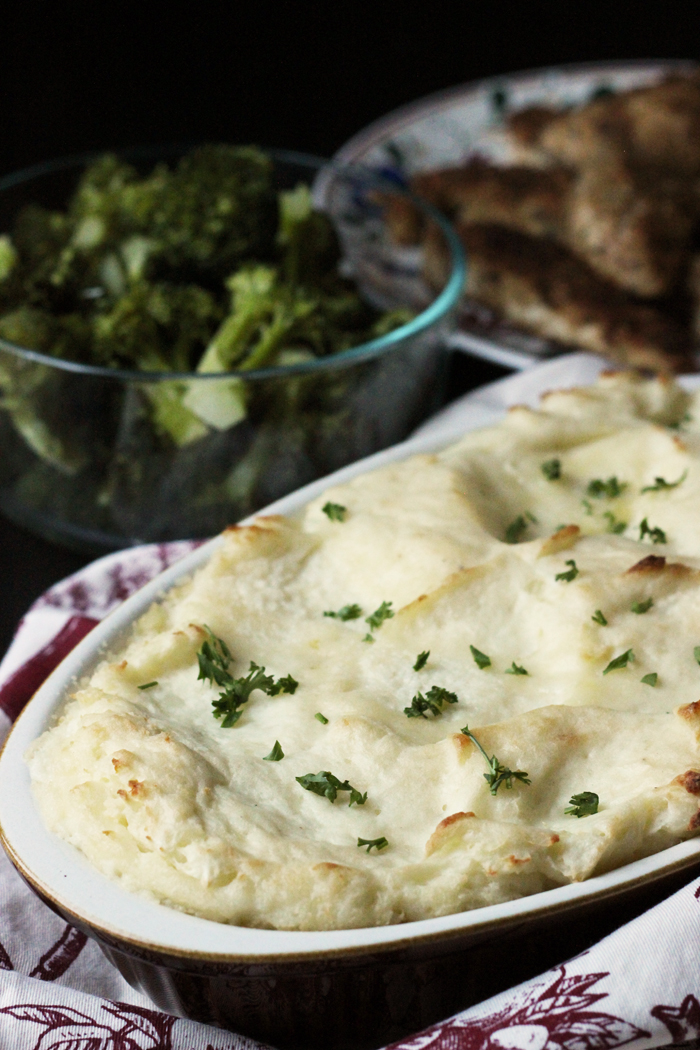 I've been making mashed potatoes for my kids since they were really little. It was probably one of their first foods, now that I think of it. So easy to feed to babies and if you make it thick and lumpy, it is, indeed, a finger food.
Mashed Potatoes has long been a family favorite side dish. I make at least five pounds' worth at the holidays and there may or may not be fighting over who gets the leftovers.
Though truth be told, I'm happy to call it a main dish. I could just eat mashed potatoes and veg and call it a night. A very good night.
Imagine my surprise when my kids started going nuts over a small tweak I made to my regular mashed potatoes recipe. One night I was pretty much making it without a recipe, just going about my business. I blended in cream to make it smoother and stirred in some roasted garlic for flavor. Since the main dish wasn't ready yet, I slid it into the oven to bake while I finished dinner.
And the crowd went wild! The kids likened it to the Garlic Mashed Potatoes we get at Stonefire Grill when we head north. Translation: high praise. FishChick8 calls it Baked Mashed Potatoes and they are really the only mashed potatoes she wants to eat now. Go figure.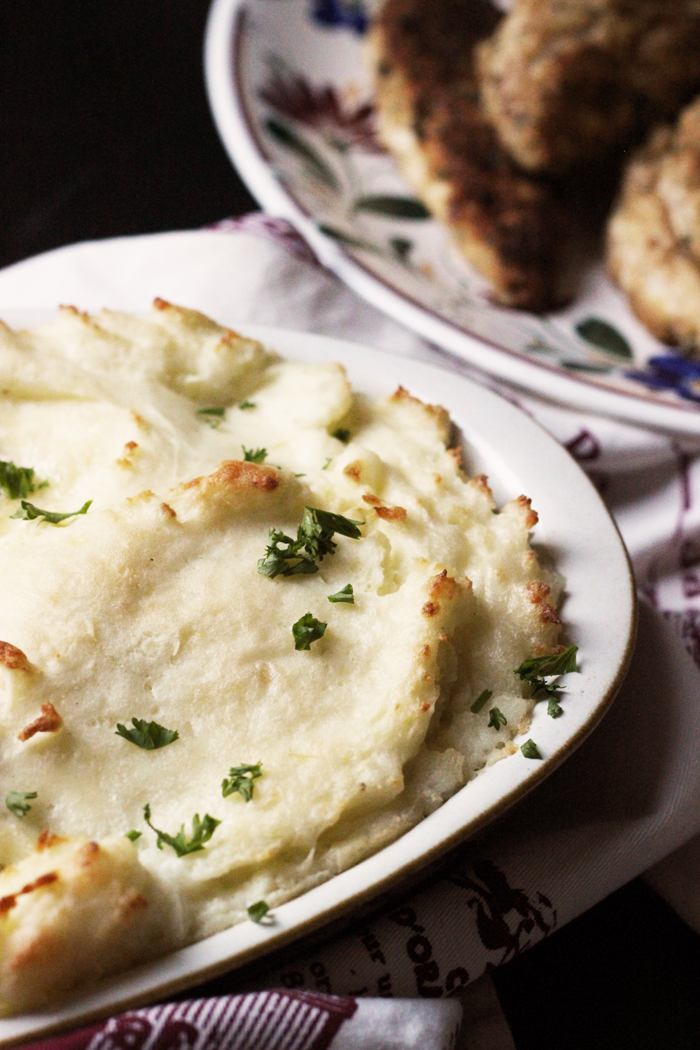 How to make this good and cheap:
Here are some of the strategies you can use to make this recipe more economical:
Stock up on ingredients when they are on sale. When I find regular kitchen staples on sale, I buy a lot. I'm currently using a price book to track prices and that's saving me money. For this recipe, keeping an eye on the price of potatoes, cream cheese, cream, and butter can help keep the price down. Hint: potatoes often go on great sale in March and November, so keep your eyes open!
Buying in bulk – It's rare that I would buy a small container of cream. I buy the half gallon at Costco which is a little cheaper than elsewhere.
How I make this recipe easy:
One of the loveliest things about this recipe is that you could make it in a bulk batch and freeze it. While white potatoes can get mealy when you freeze them, as long as you add enough fat (butter, cream, cream cheese), they will do reheat well after freezing.
This recipe really couldn't be easier than it is, but having the right kitchen tools can really make your time in the kitchen more enjoyable. Over time, I've honed my collection so that they are perfect for my needs.
Here are the tools that I use for this recipe:
Mashed Potato Casserole
Need a comfy side dish? Make the Mashed Potato Casserole my kids go nuts for. It's very make-ahead and as easy as can be.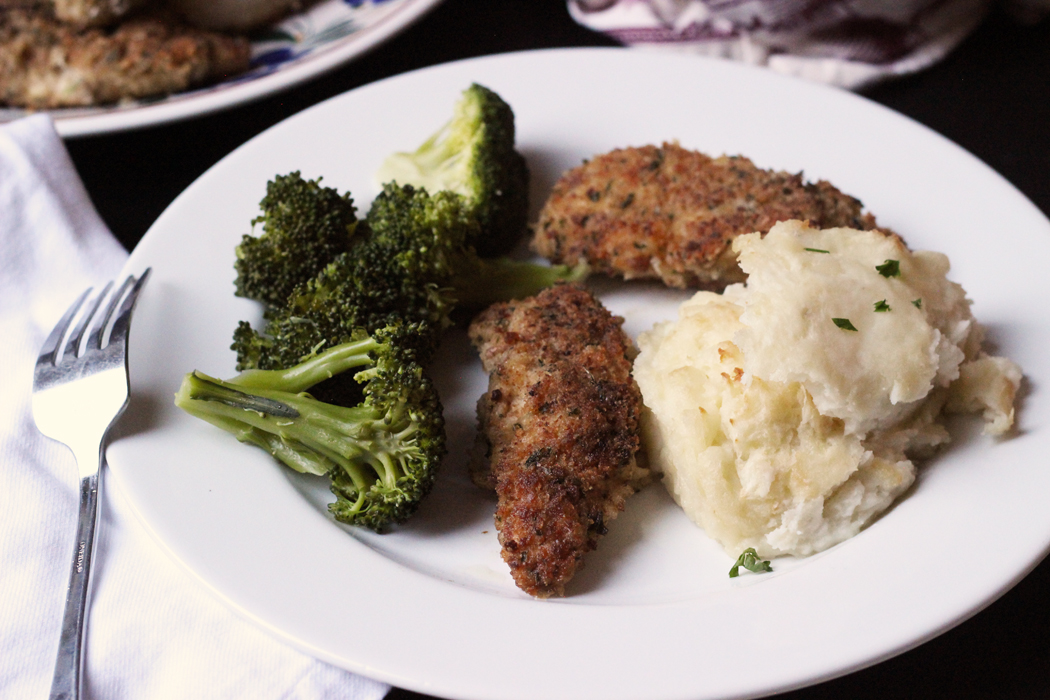 Preparation Time:30 minutes
Cook time:30 minutes
Total time:1 hour
8 to 12 servings
Ingredients:
5 pounds russet potatoes, peeled and cubed

8-ounce package light cream cheese

up to 1 cup cream or milk

1 head roasted garlic, removed from the skins OR 1 teaspoon garlic powder

1/2 cup shredded cheddar cheese, optional

fine sea salt and fresh ground black pepper

2 tablespoons butter
Instructions:

In a large pot of salted water, bring the potatoes to a boil. Simmer for 20 minutes or until very tender. Drain completely. Return the pot of potatoes to the heat for a few seconds, stirring, to allow any excess water to evaporate.
With a potato masher, mash the potatoes until very fine. Add the cream cheese and continue mashing until the cream cheese is fully incorporated. Stir in enough of the cream to achieve a smooth, but still spoonable texture.
Stir in the roasted garlic pieces and cheddar cheese (if using). Season to taste with salt and pepper.
Spray a large baking dish with nonstick cooking spray. Preheat the oven to 350 degrees.
Spoon the mashed potatoes into the prepared dish. Dot the potatoes with the butter and bake for 30 minutes.
The casserole can be wrapped, chilled, and frozen before baking. To serve, thaw overnight in the refrigerator before proceeding with the baking step.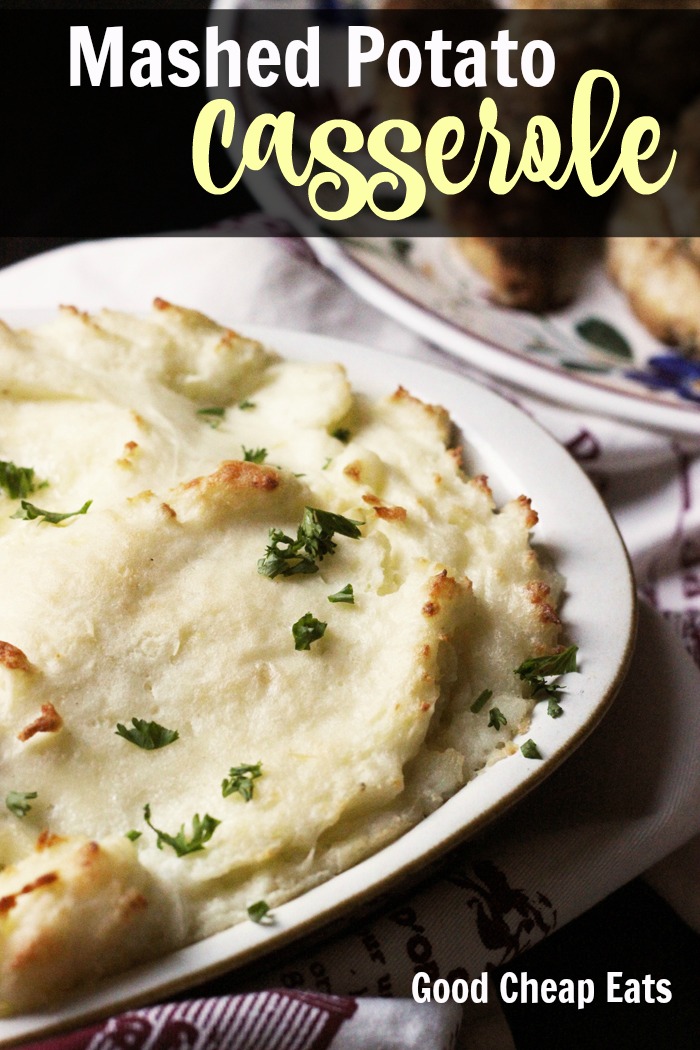 Are you looking for more good cheap eats?