Want to learn about roasting garlic cloves? You'll be pleasantly surprised to see how easy it is to have roasted garlic cloves at the ready for all your favorite recipes — and what amazing flavor they bring.
Whether you're making a Mashed Potato Casserole, adding roasted garlic cloves to a Ploughman's Lunch or spreading it on a sandwich, roasting garlic cloves and steeping them in herbs and olive oil is a great way to go.
Jump to:
Chances are good that you've heard about roasting whole heads of garlic. I certainly have! Roast Garlic and Goat Cheese is one of my favorite appetizers, but I am not completely satisfied with roasted heads of garlic.
You tend to lose some of the garlic in the oily skins. And it seems like a waste of oil since the skins absorb oil, too. There had to be a better way!
I discovered there was: roasting garlic cloves.
Why Make This
Roasted garlic cloves are good for you. Garlic is considered by some as a natural medicinal. Research suggests that it can help the body fight against heart disease and cancer. It also protects one from vampires.
It's delicious! Roasted garlic cloves makes food taste amazing. Caesar salad, Pesto, and Garlic Bread wouldn't be the same without it. And roasted garlic? Well, that takes it to the next level.
Roasting garlic cloves is a delicious way to enjoy this powerhouse of flavor and goodness without too much spice or bitterness getting in the way.
In fact, roasted garlic cloves are softer, mellower, and almost sweet in comparison to raw garlic.
Ingredients
Here's what you'll need for roasting garlic cloves: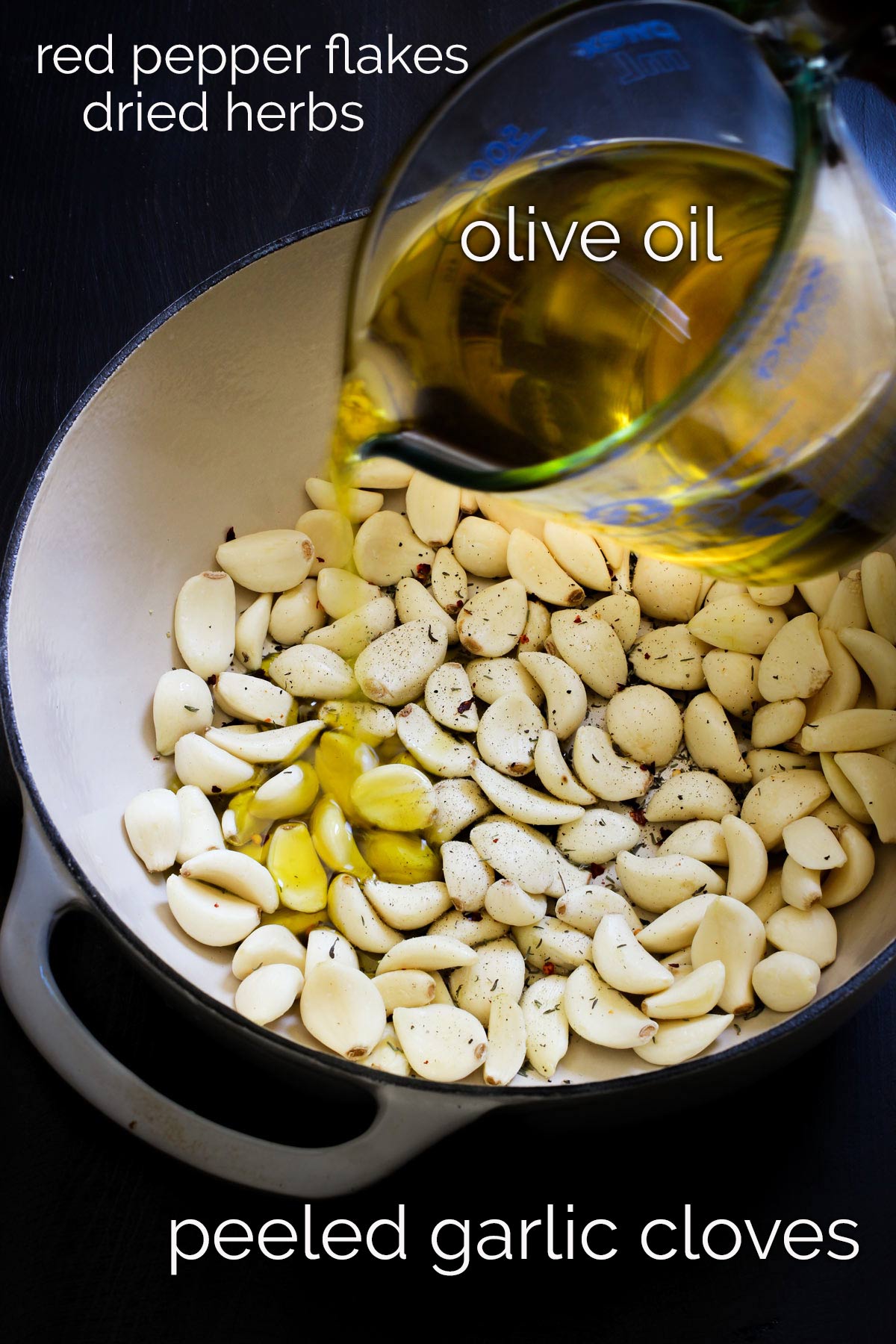 I discovered this basic method for roasting garlic cloves one summer, reading Live to Eat and its recipe for Garlic Confit, baking garlic in an oil bath with herbs. Instantly I knew it would be a game changer. This recipe for roasted garlic cloves is my adaptation from that one.
You'll need:
peeled garlic cloves – These are readily available in the produce department of most grocery stores. Costco sells a really big bag of them, perfect for making a bulk batch of roasted garlic. You can peel the garlic yourself if you prefer, but it is a rather time-consuming process.
olive oil – You can try other oils, but I've found olive oil to be the most compatible in roasting garlic cloves. I mean, really, olive oil and garlic are a natural pairing. Plus, the olive oil absorbs some of the garlicy, herby flavor, making it great for using in dressings, marinades, and other ways to use olive oil
your favorite dried herbs – I like to use mediterranean herbs, such as what's in this Herbes de Provence Recipe. You can use just thyme or rosemary instead to add just a bit of herb flavor to your roasted garlic cloves.
red pepper flakes – These add a nice bit of heat to the roasted garlic cloves and the flavored oil.
As you'll see this method is pretty forgiving and versatile, so experiment and see what works best for you.
Step-by-Step Instructions
Roasting garlic cloves is pretty easy, though there are several methods. You can drizzle the head of garlic or the peeled cloves with oil and place it in an ovenproof container or wrap it in foil and bake until the garlic is soft and spreadable.
However, roasting garlic cloves is the easiest and most versatile method of all. Here's how to do it:
Preheat the oven to 300 degrees. Add the peeled garlic cloves, herbs, and red pepper flakes to a large dutch oven.
Pour in the olive oil.
Stir to combine.
Cover the dutch oven and place it in the preheated oven. Allow the garlic to roast for 50 minutes. Cool the mixture before transferring it to an airtight container. Store the garlic in the oil in the refrigerator.
This method of giving the peeled garlic cloves an olive oil bath is super easy. The hard, pungent cloves not only brown and soften during roasting, but they also impart good garlicky flavor to the oil, so now you've got garlic-infused oil as well!
This is a hands-free process so you can prep the pot, slide it in the oven and just walk away, while your kitchen fills with a delectable garlic aroma.
FAQs & Recipe Costs
Can you roast garlic without peeling the cloves?
Yes! Simply drizzle a whole head of garlic with olive oil and wrap it with foil. Bake in a 400-degree oven until soft.
What can you do with roasted garlic?
Roasted garlic is delicious spread on toast, stirred into mashed potato casserole, or added to dips, dressings, and sauces. You can also use it as a sandwich spread or on crackers.
How long does roasted garlic last?
Roasted garlic, when covered with oil in a jar, is good for about a week as long as the jar is sterile, remains refrigerated, and you don't cross-contaminate the contents with other foods.

You can freeze roasted garlic for longer storage.
Can I use the olive oil from roasting the cloves?
The oil is great in cooking, marinades, dressings, and for drizzling on cooked meats and vegetables.
Recipe Costs
Knowing how much it costs you to prepare a recipe can help you decide if it's the type of recipe to make regularly or one you might want to save for special occasions. Let's crunch some numbers and see how this recipe pencils out.
peeled garlic cloves – $4.00
olive oil – $1.00
spices – $0.15
Roasting peeled garlic cloves should cost about $5.15 a batch.
Ways to Save More
It's pretty cheap and easy to roast peeled garlic. Here are some of the strategies you can use to make this recipe even more economical:
Stock up on ingredients when they are on sale. When I find regular kitchen staples on sale, I buy a lot. I'm currently using a price book to track prices and that's saving me money. For this recipe, keeping an eye on the price of olive oil can help keep the price down.
Buying in bulk – I've made this recipe using garlic I peeled myself as well as garlic I purchased pre-peeled. The latter is much MUCH easier, and fairly affordable, if you buy the large bag from Costco and use it up in the allotted "best by" time frame.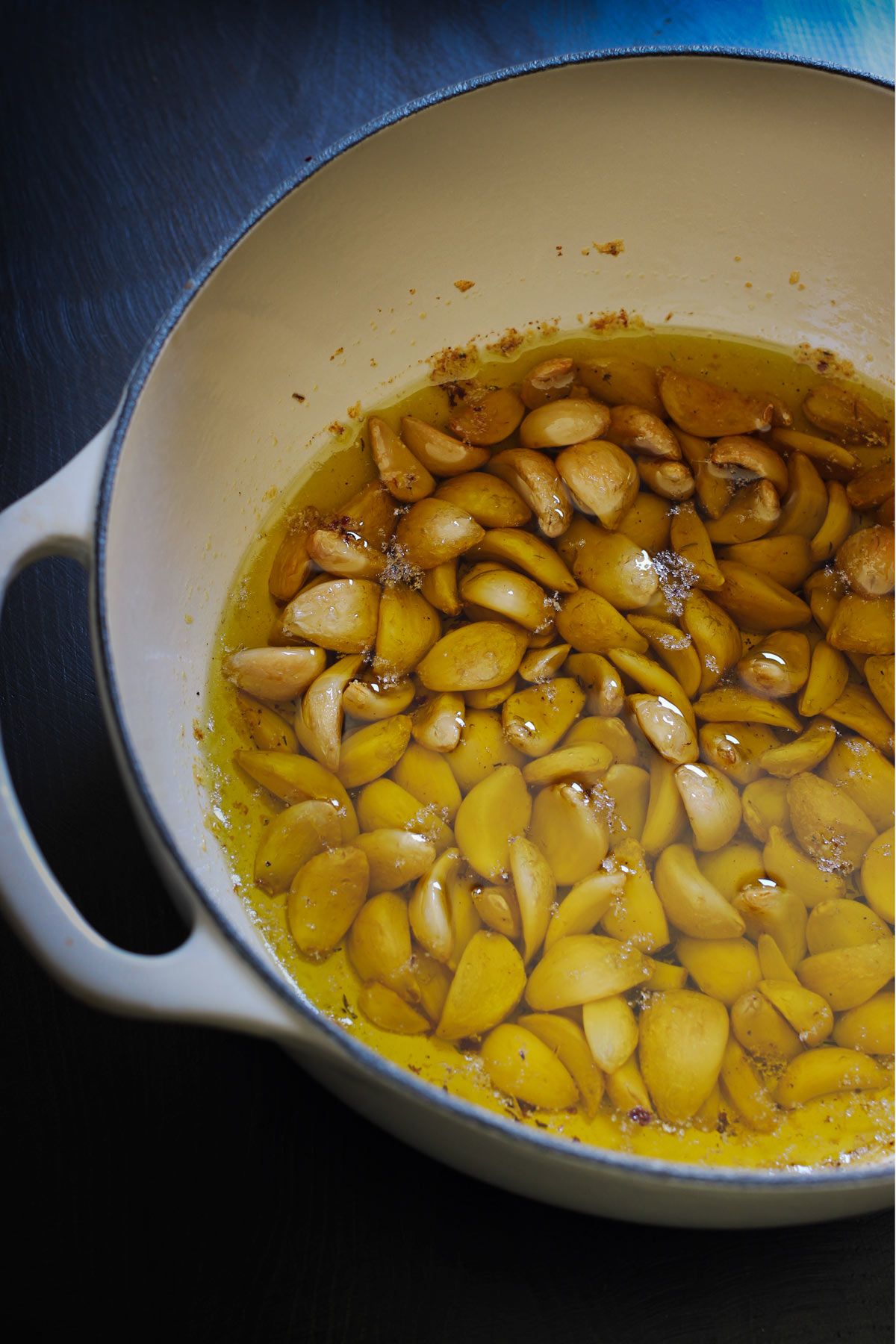 Great Garlic Recipes
Roasting Garlic Cloves
Want to learn about roasting garlic cloves? You'll be pleasantly surprised to see how easy it is to have roast garlic at the ready for all your favorite recipes.
Ingredients
3

cup

peeled garlic cloves

2

cup

olive oil

10

peppercorns

½

teaspoon

herbes de Provence

, dried thyme or dried rosemary

⅛

teaspoon

red pepper flakes
Instructions
Preheat the oven to 300 degrees.

Place the garlic, olive oil, peppercorns, herbs, and red pepper flakes into a Dutch oven. Cover and bake for 50 minutes.

Cool the garlic and oil before transferring to a quart-size jar with a lid. Store in the fridge for one week or freeze for longer keeping.
Notes
Promptly store leftovers in an airtight container in the refrigerator. The oil will solidify under refrigeration. Scoop out what you need and allow it to come to room temperature.
The oil can be used in cooking, marinades, dressings, and for drizzling on cooked meats and vegetables.
Nutritional values are approximate and based on 1 cup cloves in oil.
If desired, you can puree the garlic cloves and freeze the resulting paste in ice cube trays for use later.
Nutrition
Calories:
1477
kcal
|
Carbohydrates:
45
g
|
Protein:
9
g
|
Fat:
145
g
|
Saturated Fat:
20
g
|
Sodium:
28
mg
|
Potassium:
554
mg
|
Fiber:
3
g
|
Sugar:
1
g
|
Vitamin A:
45
IU
|
Vitamin C:
43
mg
|
Calcium:
253
mg
|
Iron:
3
mg
This post was originally published on November 27, 2018. It has been updated for content and clarity.