Want to learn to roast peeled garlic? You'll be pleasantly surprised to see how easy it is to have roasted garlic at the ready for all your favorite recipes.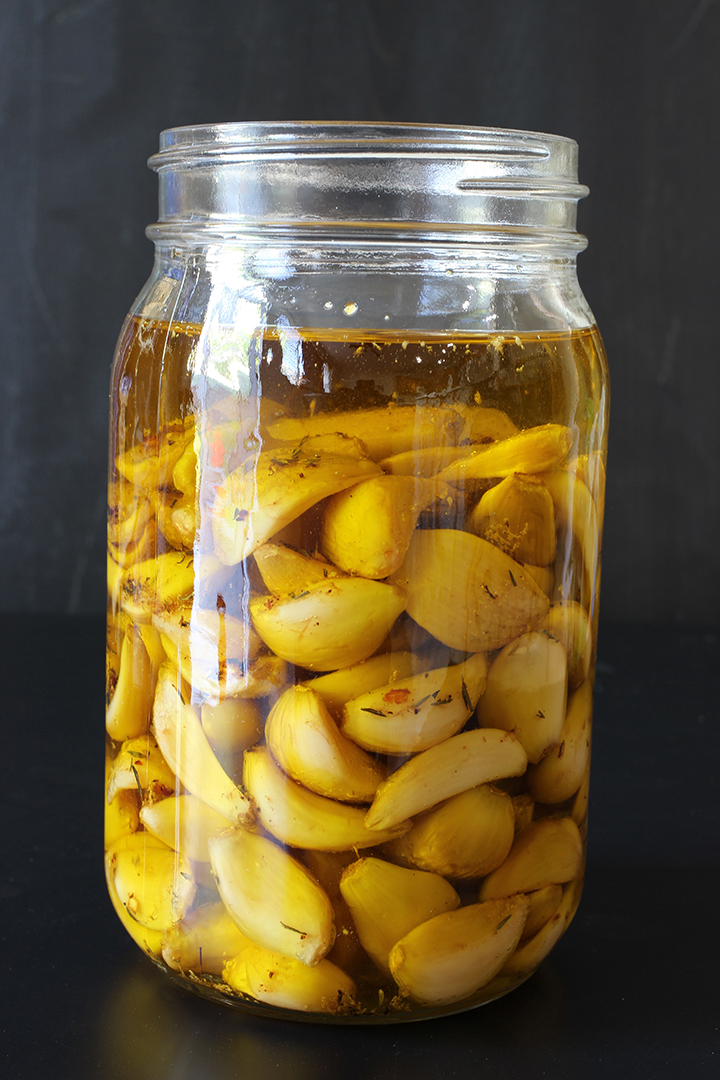 Garlic is considered by some as a natural medicinal. Research suggests that it can help the body fight against heart disease and cancer.
It also protects one from vampires.
Right there, you've got two good reasons to add more garlic to your diet!
Garlic also makes food taste amazing. Caesar salad, Pesto, and Garlic Bread wouldn't be the same without it. And roasted garlic? Well, that takes it to the next level.
Roasting garlic is a delicious way to enjoy this powerhouse of flavor and goodness without too much spice or bitterness getting in the way. In fact, roasting garlic softens, mellows, and almost sweetens the garlic.
I've shared before how easy it is to roast garlic, but I am not completely satisfied with that method. You tend to lose some of the garlic in the oily skin. And it seems like a waste of oil, too. A few years ago I started searching for a more efficient way to roast peeled garlic.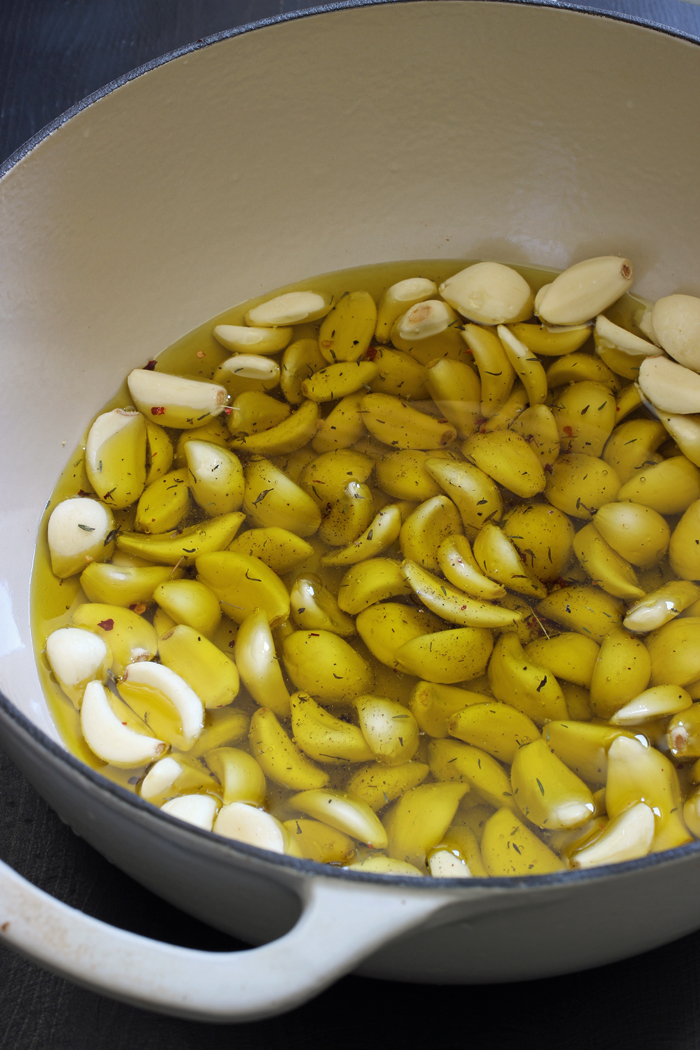 How to Roast Peeled Garlic and Waste Less
I found it one summer reading Live to Eat and its recipe for Garlic Confit, baking garlic in an oil bath with herbs. Instantly I knew it would be a game changer. This recipe for roast peeled garlic is my adaptation from that one.
That recipe called for both canola and olive oils. I prefer not to use canola, so I use all olive oil. The original also called for fresh thyme, something I rarely have on hand. I substitute dried herbs of my choice, such as thyme or rosemary instead and throw in some crushed red pepper for kicks.
As you'll see this method is pretty forgiving and versatile, so experiment and see what works best for you.
How do you roast garlic?
Roasting garlic is pretty easy, though there are several methods. You can drizzle the head of garlic or the peeled cloves with oil and place it in an ovenproof container or wrap it in foil and bake until the garlic is soft and spreadable.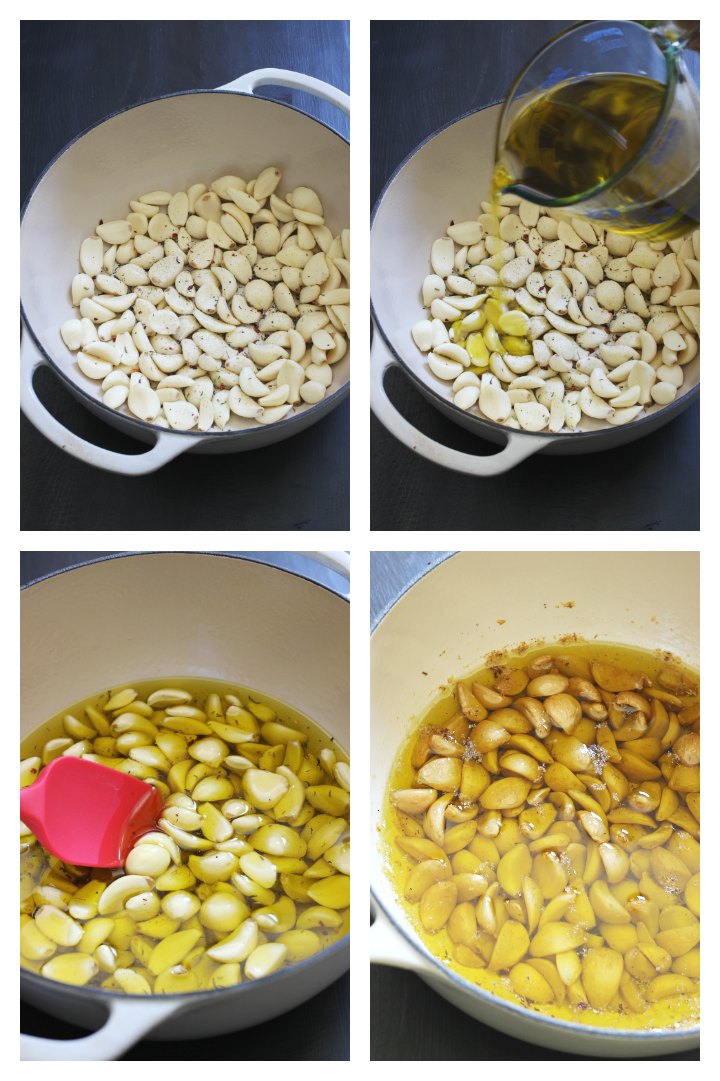 How do you roast peeled garlic?
This method of giving the peeled garlic cloves an olive oil bath is super easy. The hard, pungent cloves not only brown and soften during roasting, but they also impart good garlicky flavor to the oil, so now you've got garlic-infused oil as well!
This is a hands-free process so you can prep the pot, slide it in the oven and just walk away, while your kitchen fills with a delectable garlic aroma.
Can you roast garlic without peeling the cloves?
Yes! Simply drizzle a whole head of garlic with olive oil and wrap it with foil. Bake in a 400-degree oven until soft.
What can you do with roasted garlic?
Roasted garlic is delicious spread on toast, stirred into mashed potato casserole, or added to dressings and sauces.
How long does roasted garlic last?
Roasted garlic, when covered with oil in a jar, is good for about a month as long as the jar is sterile, remains refrigerated, and you don't cross-contaminate the contents with other foods.
You can freeze roasted garlic for longer storage.
How to make this good and cheap:
It's pretty cheap and easy to roast peeled garlic. Here are some of the strategies you can use to make this recipe even more economical:
Stock up on ingredients when they are on sale. When I find regular kitchen staples on sale, I buy a lot. I'm currently using a price book to track prices and that's saving me money. For this recipe, keeping an eye on the price of olive oil can help keep the price down.
Buying in bulk – I've made this recipe using garlic I peeled myself as well as garlic I purchased pre-peeled. The latter is much MUCH easier, and fairly affordable, if you buy the large bag from Costco and use it up in the allotted "best by" time frame.
How I make this recipe easy:
This recipe really couldn't be easier than it is, but having the right kitchen tools can really make your time in the kitchen more enjoyable. Over time, I've honed my collection so that they are perfect for my needs.
Here are the tools that I use for this recipe: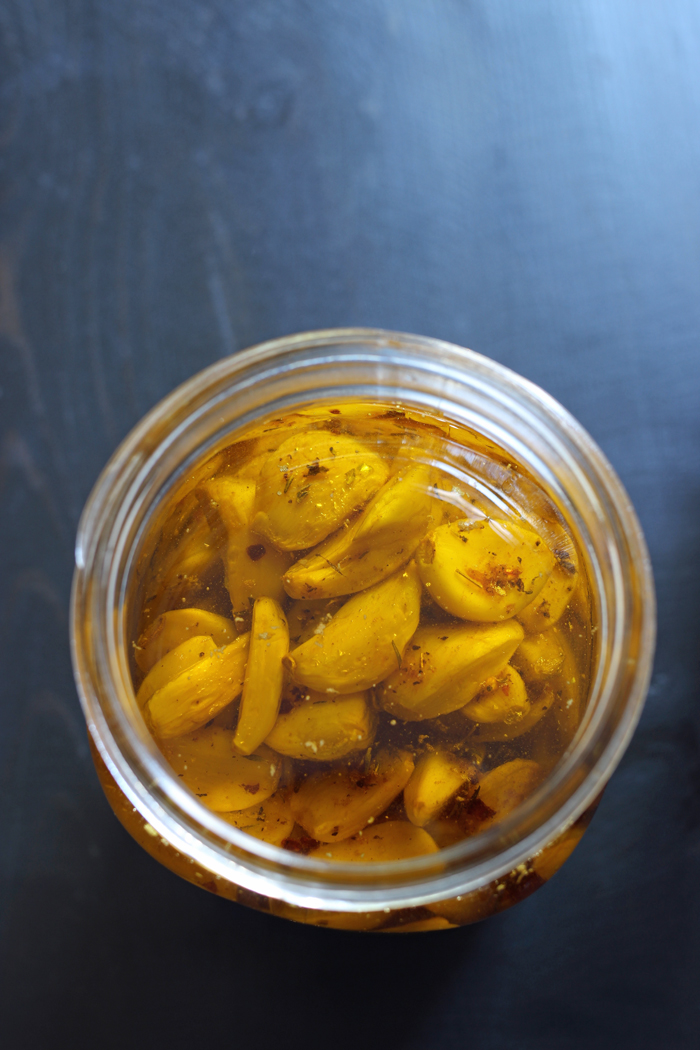 If you prepare this recipe, be sure to share a picture on social media and hashtag it
#GOODCHEAPEATS
. I can't wait to see what you cook up!
How to Roast Peeled Garlic
Want to learn to roast peeled garlic? You'll be pleasantly surprised to see how easy it is to have roast garlic at the ready for all your favorite recipes.
Ingredients
3

cup

peeled garlic cloves

2

cup

olive oil

10

peppercorns

1/2

tsp

dried thyme

or dried rosemary

1/8

tsp

red pepper flakes
Instructions
Preheat the oven to 300 degrees.

Place the garlic, olive oil, peppercorns, herbs, and red pepper flakes into a Dutch oven. Cover and bake for 50 minutes.

Cool the garlic and oil before transferring to a quart-size jar with a lid. Store in the fridge for several weeks or freeze for longer keeping.
Notes
Promptly store leftovers in an airtight container in the refrigerator.
Nutritional values are approximate and based on 1 cup cloves in oil.
Nutrition
Calories:
1477
kcal
|
Carbohydrates:
45
g
|
Protein:
9
g
|
Fat:
145
g
|
Saturated Fat:
20
g
|
Sodium:
28
mg
|
Potassium:
554
mg
|
Fiber:
3
g
|
Sugar:
1
g
|
Vitamin A:
45
IU
|
Vitamin C:
43
mg
|
Calcium:
253
mg
|
Iron:
3
mg