What's more fun than dipping bananas in chocolate and adding all kinds of yummy toppings? Frozen Chocolate Bananas are a fun, whimsical treat that your kids will love to assemble themselves.
These frozen bananas dipped in chocolate are a great summer treat or fun party activity. Bonus: aside from freezing time, you can make these frozen chocolate bananas in about 15 minutes!
Jump to:
Who doesn't have a fun memory of enjoying a frozen chocolate banana on a hot day, wiping melted chocolate off a cheek?
I spent a summer manning the frozen banana cart at Magic Mountain back in the day, so I can attest to how popular this treat has been over the years. But, do you have to head to the fairgrounds or amusement park to enjoy such a treat? Why no, no, you don't.
You can make frozen chocolate bananas at home without too much hassle or chocolate splattered around the kitchen.
Why Make This
It's easy. When something is as easy as dipping a frozen banana in melted chocolate, you should do it, and do it often. This is a simple recipe that pays off bigtime.
It's fun. There are so many great combinations of toppings that you can add to the chocolate: chopped nuts, crushed candies, colored sprinkles, shredded coconut, and more. All these make it a super fun recipe to share with friends and family.
It's delicious! The classic combination of banana and chocolate is generations strong and worth enjoying on the regular.
Ingredients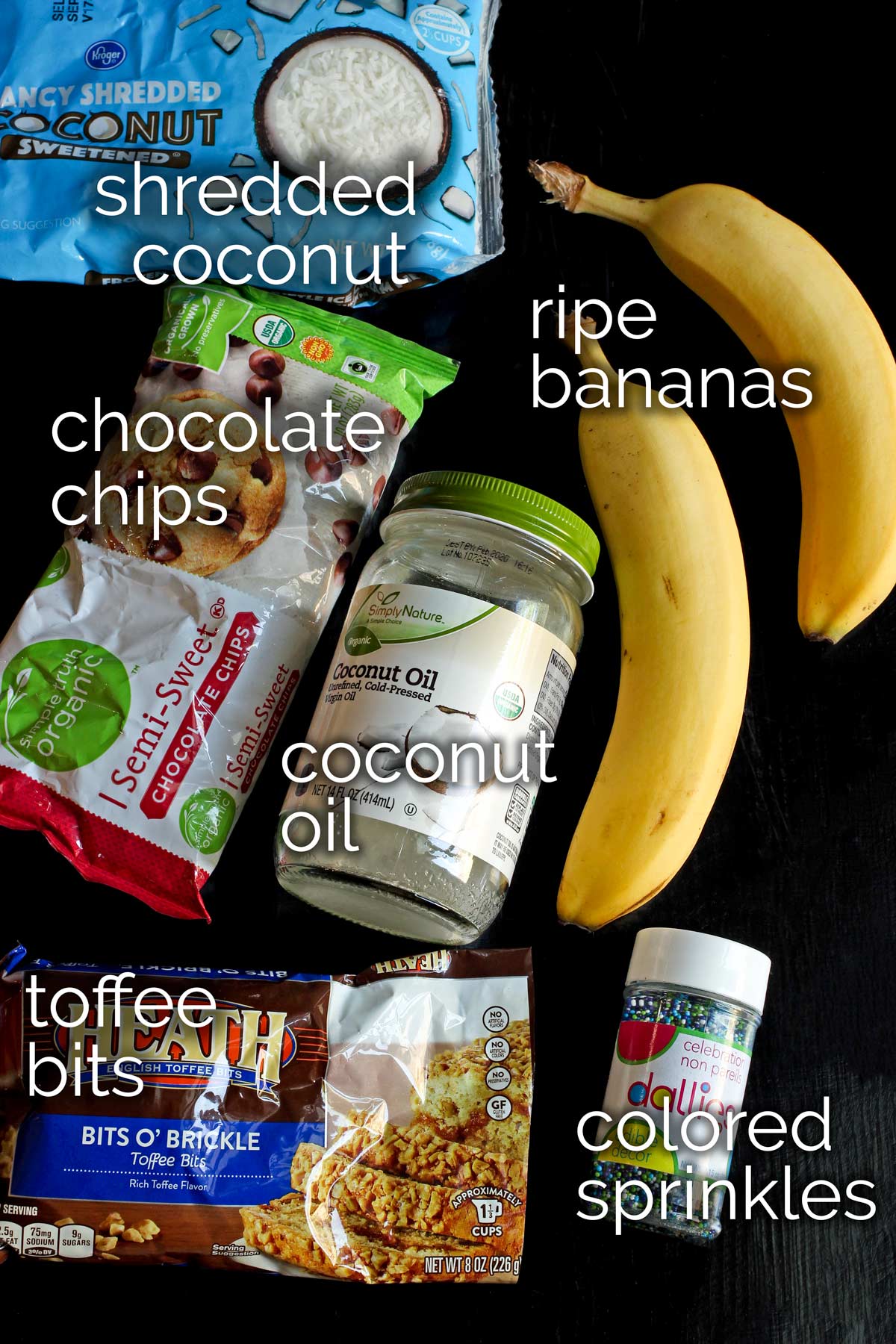 To make frozen chocolate bananas, you'll need the following ingredients:
bananas – Choose bananas that are ripe but not overly so. Too mushy a banana will melt into an oozy mess as you're eating it. Save your brown bananas for other uses.
chocolate chips – You can use any kind of chips that you like, though dark or semi-sweet will give you the best results.
coconut oil – Coconut oil is what helps the chocolate solidify once cool. You don't need a lot, but it's not something you want to omit.
lollipop or popsicle sticks (not pictured) – You'll need some kind of stick to hold onto the banana, else the chocolate will just melt in your hand. I found my bamboo sticks at Walmart, but Amazon has them here.
toppings – Toppings are optional, but things like sprinkles, toffee bits, chopped nuts, or shredded coconut add a fun flair to your frozen bananas. That said, Plain frozen chocolate bananas are just as good.
Step-by-Step Instructions
Before you dip the bananas in chocolate, you'll need to do a little prep work. Grab a cookie sheet that will fit in your freezer, parchment paper, a knife, lollipop sticks, and bananas. Line the tray with parchment paper. Cut each banana in half, cut crosswise through the middle. Insert a stick into the flat end of each banana. Place the bananas on the prepared tray and place them in the freezer until firm, about 20 minutes.
Meanwhile, lay out the toppings on small plates and prepare the chocolate coating. Combine the chocolate chips and coconut oil in a microwave-safe dish. Heat for 30-second intervals until melted. Stir until smooth. Allow to cool slightly. Transfer the chocolate into a thin drinking glass. Alternatively, you can melt the chocolate and oil in a double boiler.
Dip each banana into the chocolate to coat. Because of this quickly-firming chocolate, you'll need to dip quickly into the toppings. If you dawdle, the chocolate may firm up too quickly for the toppings to adhere.
If desired, sprinkle on toppings. Use a plate to catch the over-sprinkle so that you can reuse it on other bananas. This also makes it easier to clean up. Place the dipped and coated banana on the tray. When all have been dipped, return the tray to the freezer until the toppings are set.
Instructions for Banana Bites
If you prefer, you can make banana bites. Simply, slice the bananas and freeze them until firm. Then using toothpicks to grab the slices, dip them in the chocolate and sprinkle with toppings. Freezer until firm.
Frozen Chocolate Bananas and the Banana Bites can both be frozen, for up to a week, in a covered container in the freezer.
Tips for Success
Do you have to freeze the bananas?
Yes, it's better to use frozen bananas. This will help the chocolate firm up quickly, resulting in less mess.
Does it matter what kind of dish you put the melted chocolate?
Yes, you should use a tall, thin vessel for holding the chocolate, like a glass measuring cup or a drinking glass. This helps achieve better coverage on the long, skinny banana.
Do I have to dip whole bananas? Can I dip banana slices in chocolate?
Yes, you can make banana bites (chocolate-covered slices) if you prefer something smaller for portion control or something easier for very little kids to eat. Slice the banana and lay out the slices so that they aren't touching on the parchment lined tray. Once they are frozen, use a toothpick to dip them in the chocolate and roll in the toppings.
Recipe Costs
Knowing how much it costs you to prepare a recipe can help you decide if it's the type of recipe to make regularly or one you might want to save for special occasions. Let's crunch some numbers and see how this recipe pencils out.
bananas – $0.30
chocolate chips – $1.00
coconut oil – $0.25
toppings – Prices may vary
When shopped at a mid-range grocery store at non sale prices, a batch of four frozen bananas costs about $1.55 or about 39 cents each!
By contrast, a package of five frozen bananas in the freezer section costs $4.99, or about a buck a piece. Making your own is easy, fun, and cheaper!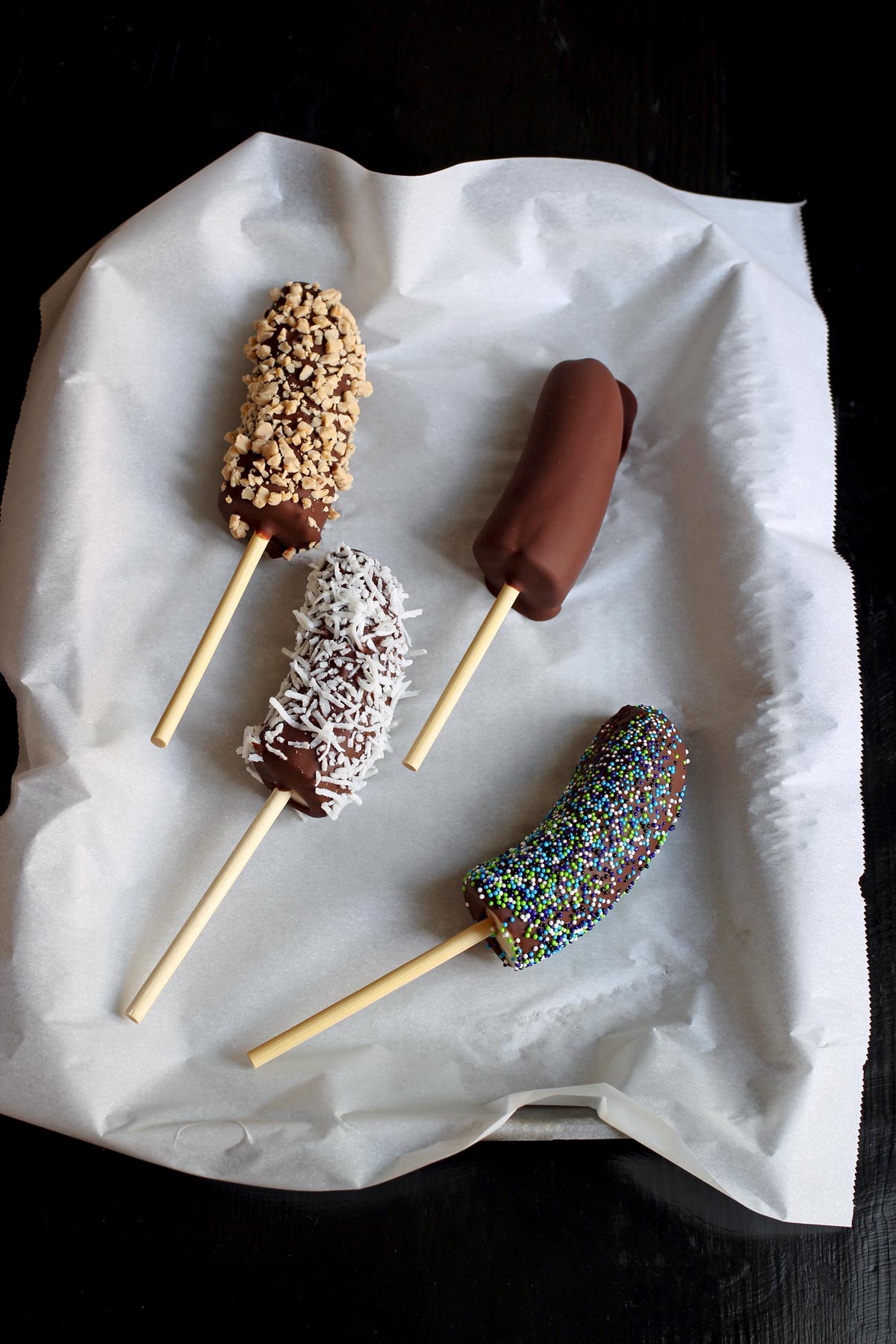 More Banana Recipes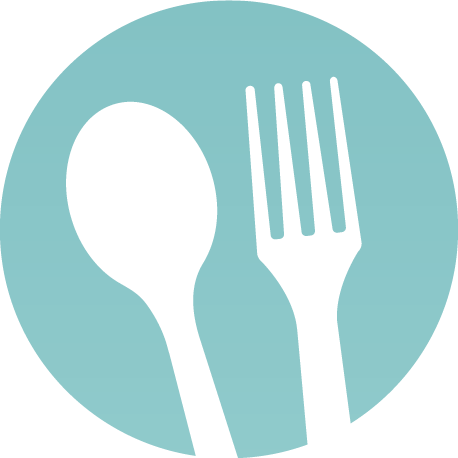 Tell us what you think!
We love to hear your experiences with Good Cheap Eats. Click the STARS on the recipe card or leave a STARRED comment to let us know what you think of the recipe.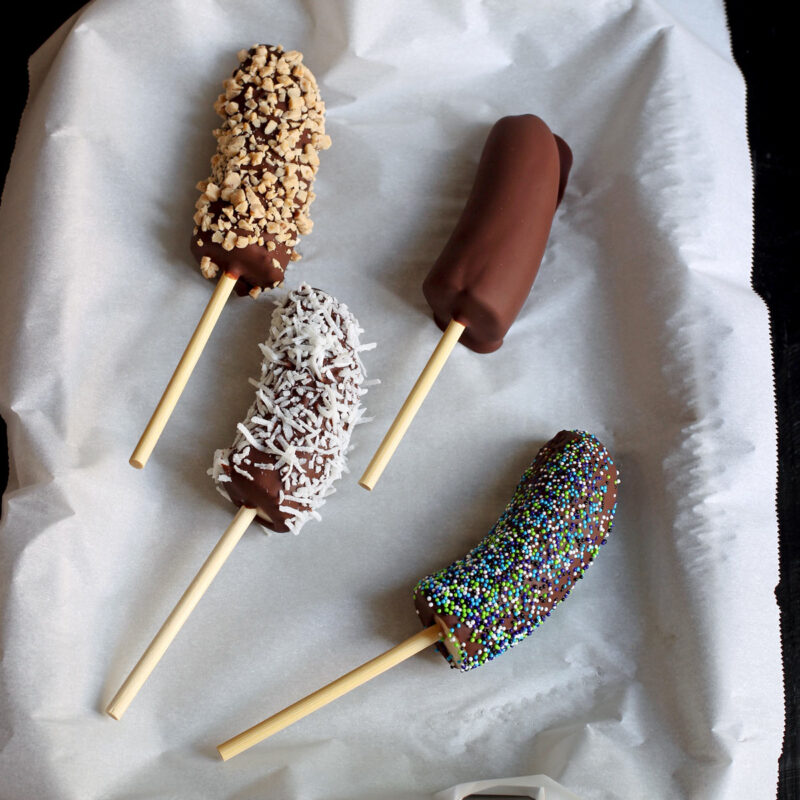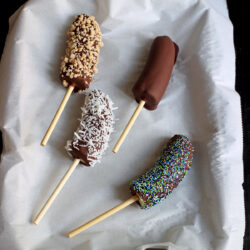 How to Make Frozen Chocolate Bananas
Creamy, frozen banana coated in chocolate and rolled in your favorite toppings? What's not to love. Learn how to make frozen chocolate bananas for a fun treat.
Print
Pin
Rate
Ingredients
2

ripe bananas

peeled

1

cup

chocolate chips

2

tablespoon

coconut oil
Optional Toppings
colored sprinkles

Heath Toffee Bits

chopped nuts

sunflower seeds

or sesame seeds

shredded coconut

mini chocolate chips

or shaved chocolate
Instructions
Line a cookie sheet with parchment paper. Cut each banana in half across the middle. Place a popsicle or lollipop stick into the flat end of each banana piece. Lay these out on the lined tray and freeze until very firm, about 20 minutes.

Meanwhile in a glass measuring cup, combine the chocolate chips and the coconut oil. Place this mixture in the microwave and heat at 30-second intervals, until the chocolate is melted. Stir well to combine. Allow to cool slightly. Alternatively, you can melt the chocolate with the oil in a double boiler on the stove.

Place the toppings on small plates. Place several empty plates nearby.

Remove the bananas from the freezer. Dip each banana in the chocolate mixture and quickly sprinkle on the toppings. Hold the chocolate-dipped banana over the empty plate and sprinkle. The empty plate will catch any over-sprinkle so that you can reuse it on the next banana. Lay each banana back on the parchment-lined tray once coated.

Freeze the bananas again until the chocolate and toppings are firm. Serve or store the bananas in a covered container in the freezer, for up to a week.
Notes
Store frozen bananas in the freezer, in an airtight container for up to 1 week. 
To make frozen banana bites: Freeze banana slices on a tray. Use a toothpick to help you dip in the chocolate and roll in the toppings.
Nutritional values are approximate and based on 1 banana.
Nutrition
Calories:
339
kcal
|
Carbohydrates:
44
g
|
Protein:
3
g
|
Fat:
18
g
|
Saturated Fat:
13
g
|
Trans Fat:
1
g
|
Cholesterol:
7
mg
|
Sodium:
31
mg
|
Potassium:
211
mg
|
Fiber:
3
g
|
Sugar:
35
g
|
Vitamin A:
139
IU
|
Vitamin C:
5
mg
|
Calcium:
55
mg
|
Iron:
1
mg
Tried this recipe?
Tell us what you think! Your reviews help us develop better recipes and give newcomers the confidence to try your favorites. Scroll down to leave a starred comment.
This post was originally published in 2010. It has been updated for content and clarity.