Enjoy an easy dinner with Thursday Night Soup. It makes good use of whatever you have in the kitchen so that you waste less and eat well.
I've been making soup from leftovers for a very long time. Ever since I read the book, A Feast of Soups twenty years ago. There are very few recipes that I actually use, but it is an all-around fantastic soup education. I received it as a bridal shower gift and it is a keeper, though it's copyrighted 1982. Some of the ingredients and language in the book are a tad outdated, but the soup instruction is timeless.
You DO read the beginning chapters of your cookbooks, right? I mean cookbook authors, ahem, spend time writing those for a reason. You would be surprised — it's almost like a mini cooking class in those beginning sections.
Anyway, I learned how to make soup from leftovers thanks to reading A Feast of Soups. It was a game changer. No longer did I need to find ways to pawn off leftovers on my husband and kids; I just mixed them into soup. Thursday Night Soup, adapted from the soup book you should go buy cheap used and learn about soup making, is a great starter soup for using up whatcha got.
By the way, it's called Thursday Night Soup because traditionally workers were paid on Friday and so by Thursday night, you'd be using up whatever you had.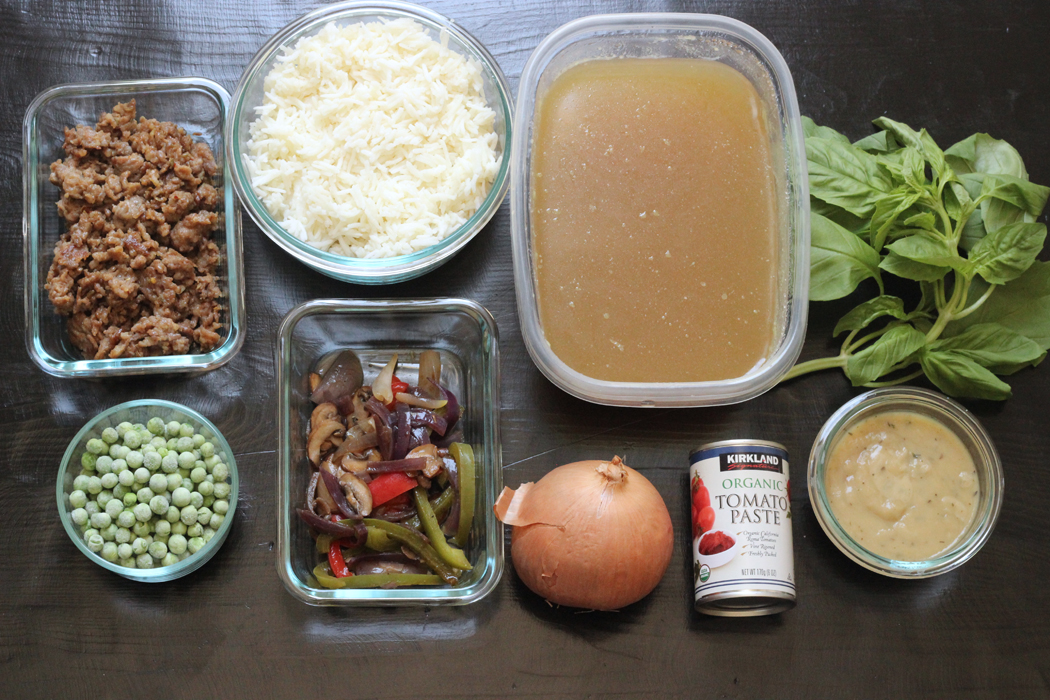 Here's a a peek at some leftovers and pantry staples that went into a version of Thursday Night Soup: cooked sausage, rice, sauteed vegetables, gravy, chicken stock, frozen peas, an onion, a can of tomato paste, and fresh basil. I try to choose leftovers with flavor profiles that go together. These all worked fabulously.
How to make this good and cheap:
Here are some of the strategies you can use to make this recipe even more economical:
How I make this recipe easy:
This recipe really couldn't be easier than it is, but having the right kitchen tools can really make your time in the kitchen more enjoyable. Over time, I've honed my collection so that they are perfect for my needs.
Here are the tools that I use for this recipe: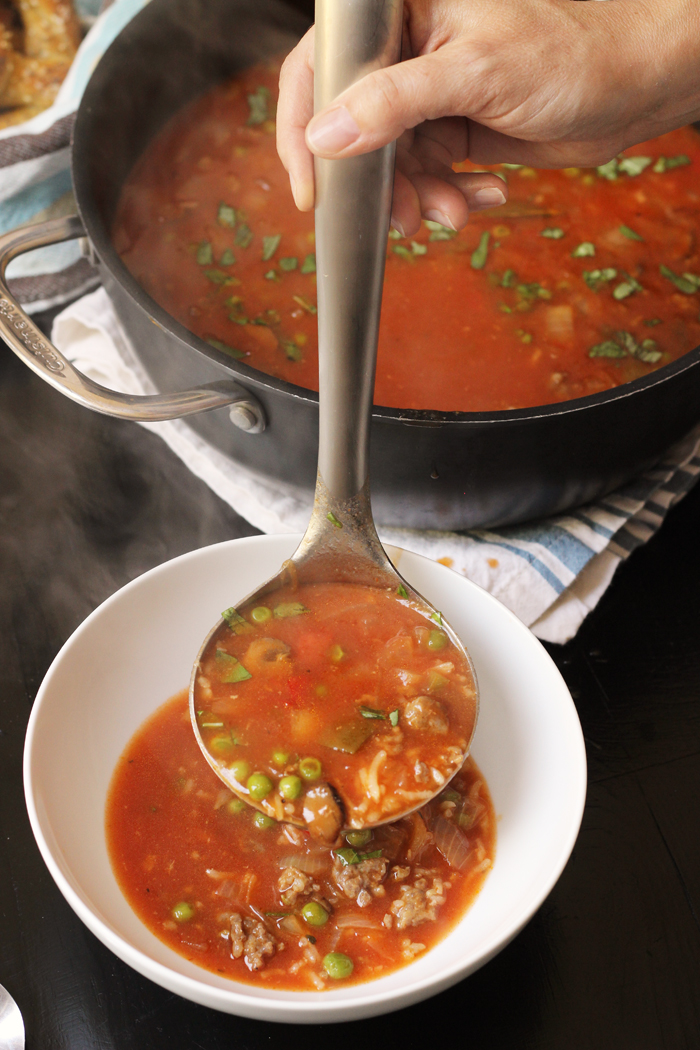 Thursday Night Soup
Enjoy an easy dinner with Thursday Night Soup. It makes good use of whatever you have in the kitchen so that you waste less and eat well.
Ingredients
2

tablespoon

olive oil

1

onion

chopped

4

cup

water

or stock of your choice

1

6-ounce can

tomato paste

or 8-ounce can tomato sauce

salt

black pepper

bay leaf

1

teaspoon

herbes de provence

or other dried herb of your choice

1 to 2

cup

leftovers to add to soup

such as cooked and chopped vegetables, meats, rice, noodles, potatoes, etc.

1 to 2

cup

additional liquids to add to soup

such as vegetable juice, gravy, wine, cream, drippings from a roast, etc.
Instructions
In a large stockpot over medium heat, heat the oil until shimmering. Add the onion and sauce until clear, 7 to 10 minutes.

Stir in the water or stock and the tomato paste, whisking until smooth. Add salt and pepper to taste as well as the bay leaf and dried herb. Cook 5 minutes, uncovered.

Stir in the leftovers and additional liquids. Cook for 10 minutes or until heated through. Adjust the seasonings and serve hot.
Notes
Nutrition Facts were calculated using water (not stock) and gravy. 
Nutrition
Calories:
66
kcal
|
Carbohydrates:
5
g
|
Protein:
4
g
|
Fat:
4
g
|
Saturated Fat:
1
g
|
Cholesterol:
14
mg
|
Sodium:
219
mg
|
Potassium:
185
mg
|
Fiber:
1
g
|
Sugar:
2
g
|
Vitamin A:
221
IU
|
Vitamin C:
4
mg
|
Calcium:
13
mg
|
Iron:
1
mg
Tried this Recipe? Tell us what you think!
Your reviews help us develop better recipes and give newcomers the confidence to try your favorites. Scroll down to leave a starred comment.
Originally published December 4, 2008. Updated July 24, 2017.