These Orange Cinnamon Rolls mix up with ease and are so delicious for breakfast, brunch, snack or dessert. The orange zest and vanilla extract give the rolls a Creamsicle-type boost.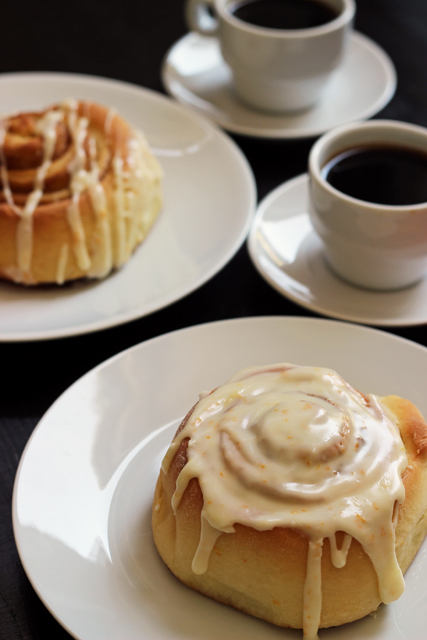 The bread machine pan broke in January, and I kinda thought it was the end of the world. However, it wasn't. This was the result of that happy accident.
You see, previously, I had had a love-hate relationship with my KitchenAid mixer. I think it's about ten years old this Mother's Day. FishPapa bought it for me when we lived in Kansas. I never really got the hang of it. Until I had to.
And honestly, I couldn't have made these rolls, these big, ginormous, fluffy, orange-scented cinnamon rolls in the bread machine. At least not if I wanted them supersized as they were meant to be. So it all worked out okay.
Being brave to make dough in the mixer was a big step, and surprisingly, it wasn't as messy as I had thought it would be. I used to think that the bread machine was the only mess free way to make dough, but I was wrong.
I might even be smitten with this machine.
Now, don't worry, if you have a bread machine with a working pan, you can still make these rolls, you'll just need to make a half batch. This amount of dough will not work in a bread machine.
If you have neither a bread machine nor a stand mixer, you can also make these orange sweet rolls. You'll need to stir and knead the dough by hand instead.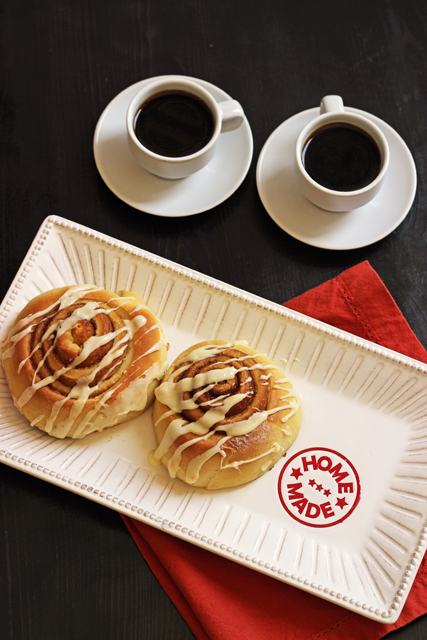 I'm even more smitten with this easy cinnamon roll recipe.
We've had these Orange Cinnamon Rolls many times over the last month. They are so amazingly good. I'm hoping to get up early tomorrow and make them for breakfast. That's how I want to greet a Monday. Yes, ma'am.
In making several batches in a short amount of time, I've also learned which of us in the FishFam like lots of glaze and which like a little. I fall into the lots category. To please the masses, I often leave a bowl of icing next to the pan so that each person can do the glazing himself. Else I go light with a drizzle.
These rolls are a combination of two of my childhood loves: the sweet orangy flavor of the canned orange sweet rolls that are made with every number of Reds, Yellows, and Blues AND the ginormous, homemade cinnamon rolls that my Aunt Sandy used to bake at the Monroe Cafe in South Dakota. Those suckers were huge.
I've attempted to bring the hugeness home to California.
Once you prepare the dough in the mixing bowl, you'll let it rise for about an hour. At that point, flour your work surface, soften some butter, and mix up some brown sugar and cinnamon. Get the rolling pin, your baking sheet, and your unflavored dental floss. Yes, really.
Roll out the dough into a very large rectangle. Mine covered my cutting board and measured about 16×22-inches. Spread the softened butter all over the dough, leaving a one inch border on one of the long sides. Next spread the cinnamon-sugar mixture all over.
Starting on a long side, roll up the dough into a spiral; pinch the outer edge into the roll to seal.
Thanks to a brilliant tip from Amy, I use unflavored dental floss to cut the rolls. Because I wanted to make each roll ginormous and about the same size as the others, I cut off the uneven ends and baked those separately. Then I cut the main section into twelve thick chunks.
Place the rolls evenly on a greased baking dish and let them rise for about 30 minutes.
Ginormous these are. I used this sheet pan in case you need one. I love it!
When they are done rising, they may look pretty puffy. This is good.
Bake for about 20 to 25 minutes until golden. Cool them on a rack but glaze them while they're still a bit warm.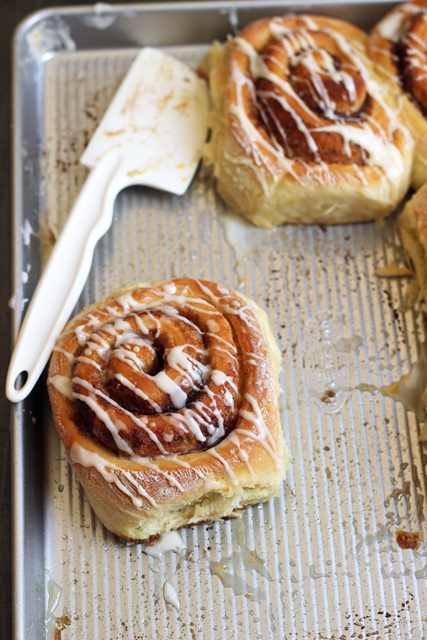 Get them before they disappear!
I have a feeling that you and your family will love these Orange Cinnamon Rolls. Feel free to omit orange or cinnamon for a different flavor roll. I've also got these other cinnamon roll recipes for you to choose from:
Orange Cinnamon Rolls
These Orange Cinnamon Rolls are so delicious for breakfast or brunch. The orange zest and vanilla extract give the rolls a Creamsicle-type boost.
Ingredients
1/2

cup

water

, warmed

4 1/2

tsp

active dry yeast

1 1/2

cup

milk

, warmed

1/2

cup

butter

melted

2

egg

beaten

1/2

cup

granulated sugar

2

tsp

salt

7

cup

unbleached, all-purpose flour

1

orange

juiced and zested

1

tsp

vanilla extract

1/2

cup

butter

softened

3/4

cup

dark brown sugar

1

tbsp

ground cinnamon

2

cup

powdered sugar
Instructions
In the mixing bowl of a stand mixer, place the water and the yeast. Stir to combine. Allow the yeast to proof for five minutes. It will start to foam and bubble.

Add the milk, 1/2 cup melted butter, eggs, sugar, salt, 1 teaspoon orange zest, 1 teaspoon vanilla extract, and the flour to the bowl. Mix with the dough hook until the dough clears the sides of the pan and forms an elastic dough ball. You may need to scrape the sides of the bowl once or twice.

Place the dough in a greased bowl and allow it to rest in a warm place until doubled in bulk, about one hour.

Lightly flour a large work surface. Place the dough on the floured surface and roll it out into a rectangle, about 16x22 inches. Spread the softened butter all over the dough, leaving a one inch border on one of the long sides. In a small bowl, combine the brown sugar and cinnamon. Spread the cinnamon-sugar mixture all over the butter.

Starting at a long edge, roll the dough into a tight spiral. Seal the outer edge by pinching it into the roll.

Using unflavored dental floss or a sharp knife, cut off the uneven ends and bake those separately. Cut the main section into twelve thick chunks.

Grease a large sheet pan with nonstick cooking spray or line it with parchment paper. Place the rolls evenly in the pan. Let them rise for about 30 minutes.

About ten minutes into the rise time, preheat the oven to 350°. After this second rise, bake the rolls for 20 to 25 minutes until golden brown.

Meanwhile, prepare the glaze. Combine the powdered sugar with 1 teaspoon orange zest and 2 tablespoons orange juice.

When the rolls are done baking, place the pan on a rack to cool. Apply the glaze when the rolls are still warm.
Notes
To freeze: place rolls on a lined sheet PRIOR to the rise and baking. Freeze until firm and place in ziptop bags and store in freezer. The night before serving, remove as many rolls from the bag as you like. Place on greased baking sheet and allow to thaw and rise. Then proceed with baking. 
Nutrition
Calories:
607
kcal
|
Carbohydrates:
99
g
|
Protein:
13
g
|
Fat:
19
g
|
Saturated Fat:
11
g
|
Cholesterol:
71
mg
|
Sodium:
555
mg
|
Potassium:
185
mg
|
Fiber:
3
g
|
Sugar:
43
g
|
Vitamin A:
562
IU
|
Calcium:
73
mg
|
Iron:
1
mg