Homemade cinnamon rolls are easy to make and super delicious. This recipe calls for rolled oats and whole wheat flour, making the baked goodie just a little bit better for you.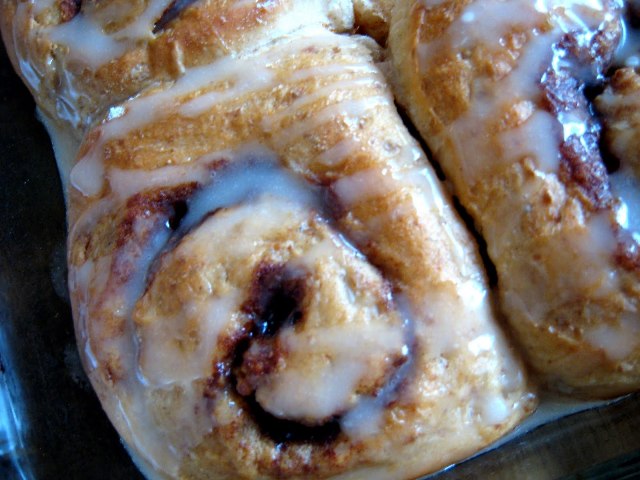 Cinnamon Rolls are a regular Sunday morning staple around here. I usually whip up the dough in the bread machine on Saturday night. Then I fill and slice the rolls and let them rise overnight in the fridge. After a few minutes of resting on the counter in the morning, they're ready to bake and be devoured.
Recently I started beefing them up a bit with whole grains. I've tried this with both rolled oats and All-Bran cereal which I got for free awhile back with a good sale and coupons. I feel a little better feeding these to my kids, knowing that some of their carbs are a little more complex than plain ol' sugar.
One of the beauties about cinnamon rolls is that you can easily freeze them. Check out Amy's great tips for making cinnamon rolls convenient without buying the canned kind. Her brilliance is a game-changer!
I like to use a few special tools to make the process easier for me: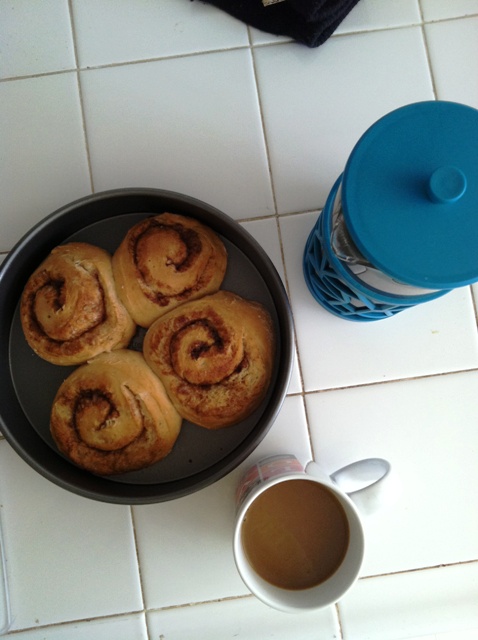 Other roll recipes you might want to try:
Maple-Brown Sugar Cinnamon Rolls
Whole Grain Cinnamon Rolls
Homemade cinnamon rolls are easy to make and super delicious. This recipe calls for rolled oats and whole wheat flour, making them a little bit better for you.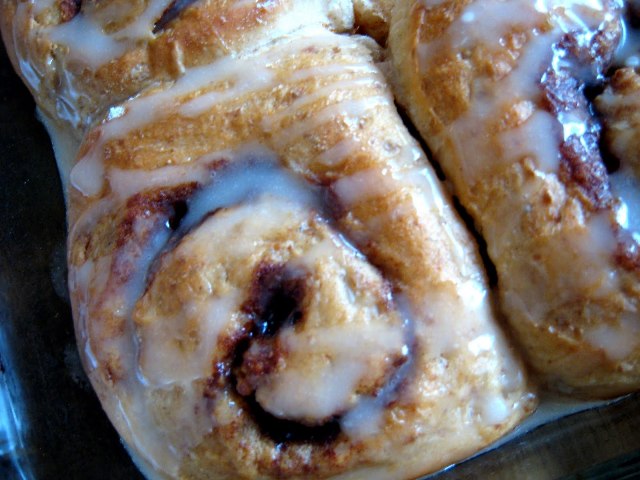 Preparation Time:1 hour and 40 minutes
Cook time:25 minutes
Total time:2 hours 5 minutes
12 rolls
Ingredients:
2 cups milk

4 1/2 tablespoons butter

1/2 tablespoon vanilla extract

1/2 cup All-Bran cereal or quick rolled oats

2 cups whole wheat flour

2 to 2 1/2 cups unbleached, all-purpose flour

1/4 cup granulated sugar

1 3/4 teaspoon salt

3 3/4 teaspoon yeast

3 1/2 tablespoons butter, softened

3/4 cup dark brown sugar

1 tablespoon cinnamon

3/4 cup powdered sugar

1 – 2 Tablespoons milk
Instructions:

Combine dough ingredients in the bread machine according to manufacturer's instructions. Use 4 cups of flour to start. Add more flour in case the dough is too wet. Program for Dough and allow the machine to do its magic.
If you don't have a bread machine, you can still make this recipe.

Warm the milk slightly and melt the 4 1/2 tablespoons butter in a medium saucepan. As long as the temperature is not above 115 degrees, add the granulated sugar, vanilla, and yeast. Let that rest for 5 minutes. Transfer to a large mixing bowl, then add the flours and salt. Stir until you have a sticky dough but all the flour is incorporated. Turn it onto a floured surface and knead until the dough becomes elastic. Set into a greased bowl and allow to rise until doubled in bulk, about an hour.

When the dough is ready, roll out on a lightly floured surface until you have a 12 x 15-inch rectangle. Spread the 3 1/2 tablespoons softened butter over surface. In small bowl, combine the brown sugar and cinnamon. Sprinkle over butter. Roll up dough, jelly-roll fashion, starting from the long edge and pinching the seam to seal.
Slice into 12 equal portions and arrange evenly in a greased, 9 x 13-inch pan. You can use unflavored dental floss to neatly cut the rolls.
Allow the rolls to rise another 30 minutes before baking. Or you can cover the with plastic wrap and refrigerate overnight or wrap well with foil and freeze. Check this post for more tips on freezing cinnamon rolls. In the morning, remove from refrigerator and allow to rest 20 minutes.
Preheat oven to 350°. Bake rolls until lightly browned, about 20 to 25 minutes. Remove from oven and cool on a wire rack.
Combine the powdered sugar and 1 to 2 tablespoons milk in a small mixing bowl, stirring with a wooden spoon until combined. Glaze baked rolls with icing.
Note: Some readers have had to add up to 1 cup more flour. This may depend on how you measure flour, what combination of whole wheat to unbleached you use, and the humidity in your part of the country.