Side dishes add a little more oomph to a meal. They help you stretch what you have to fit a crowd. And some side dishes really complement a meal and make the main dish tastier than it would be without.
I love some side dishes like mashed potatoes or baked potatoes or cheesy potatoes so much, that I'd rather just eat potatoes and a salad for dinner. These potatoes are like that.
The first time I made it one of the boys came wandering in asking if we were having pasta with cream sauce. The smells of garlic, cream, and cheese were reminiscent of one of our favorite dishes. And well, they should be. I basically made mashed potatoes with my homemade Alfredo sauce. Yum!
These spuds continue to be a big hit with the fam. They are easy to whip up, filling, and just perfect for the approaching cooler nights.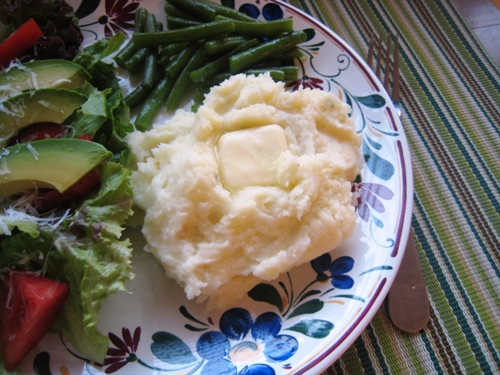 Recipe: Potatoes Alfredo
Ingredients
5 pounds yukon gold potatoes, peeled and chopped
6 Tablespoons butter
1 cup half and half
1 cup grated Parmesan cheese
1 Tablespoon chopped garlic
1 Tablespoon chopped fresh parsley or 1 teaspoon dried parsley
salt and pepper to taste
Instructions
In a large pot of water, boil the potatoes until very tender. Drain and return the potful of potatoes to low heat.
Mash the potatoes with a potato masher until smooth. Stir in the butter and blend until smooth. Add the half and half, cheese, garlic, parsley, salt and pepper.
Stir until well blended. Serve hot.
Preparation time: 15 minute(s)
Cooking time: 25 minute(s)
Number of servings (yield): 12
What's a favorite side dish at your house?