Thinly sliced potatoes nestle in a bath of cream, milk and butter, resulting in the tastiest Scalloped Potatoes on the planet. For reals.
Friends, meet the Best Scalloped Potatoes on the planet. I've been making these for over twenty years. And they are still as good today as I remember them the first time I made them. Today, they are a special occasion treat, though, saved for Christmas and Easter.
These Scalloped Potatoes are easy to make, and there are rarely leftovers. If there are, I wake up early in the morning to eat them for breakfast when no one's looking. Or awake.
They are that good.
I can't take credit for them exactly. I found them in a potato cookbook years ago. I don't have that book anymore. I don't even remember what it was called. And I never wrote down the recipe. I basically have the recipe memorized.
In fact, I have it carved on my heart.
I just make it as I remember it, honestly. And that works for us.
These potatoes are rich, yes, full of cream and butter. And slicing potatoes is a chore, but if you can use the food processor, prep time will be a whiz. It's totally worth it. I promise.
Totally.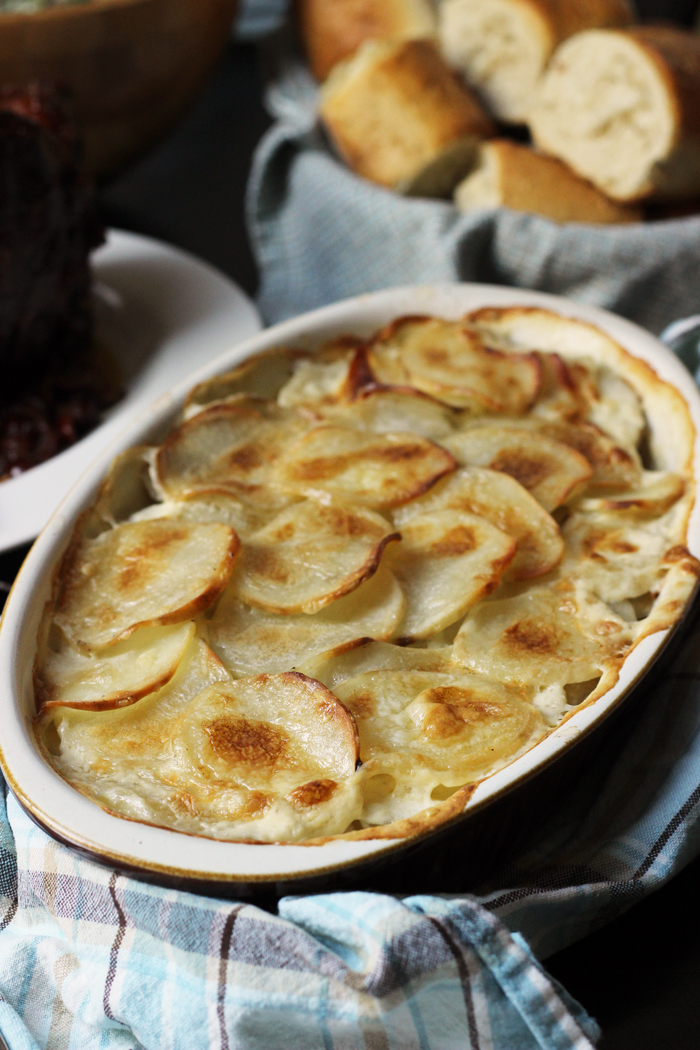 How to make this good and cheap:
Here are some of the strategies you can use to make this recipe more economical:
Meal plan around what's on sale. Potatoes are kind of a pantry staple, but some times are better to buy them than others. Buy potatoes during those times.
Stock up on ingredients when they are on sale

. Buy potatoes on sale, but also look for sales on cream and half-and-half. (For non-US readers, "half-and-half" is equal parts milk and cream that have been homogenized. You can make your own for this recipe and it won't matter.)
Tools I use to make this recipe easy:
This is a pretty straight-forward dish. You don't need any fancy equipment. However, having some good basic kitchen tools can really make your time in the kitchen more enjoyable. Over time, I've honed my collection so that they are perfect for my needs. Here are the tools that I like to use in this recipe.
Tastiest Scalloped Potatoes
Thinly sliced potatoes nestle in a bath of cream, milk and butter, resulting in the Tastiest Scalloped Potatoes on the planet.
Ingredients
3

lb

russet potatoes

peeled and thinly sliced

salt

black pepper

1 ½

cup

half and half

2

tablespoon

butter

cut into small pieces

½

cup

whipping cream
Instructions
Grease a large baking dish. Preheat the oven to 325 °.

Overlap the potato slices in the prepared dish, seasoning with salt and pepper every few layers. Pour over the half and half and dot the surface with the butter. Bake for 45 minutes, uncovered.

Pour the heavy cream over the potatoes and bake another 45 minutes until cooked through and golden brown.
Notes
Promptly store leftovers in an airtight container in the refrigerator, for up to 4 days.
Nutritional values are approximate and based on ⅛ the recipe.
Nutrition
Calories:
270
kcal
|
Carbohydrates:
33
g
|
Protein:
5
g
|
Fat:
14
g
|
Saturated Fat:
9
g
|
Cholesterol:
45
mg
|
Sodium:
58
mg
|
Potassium:
779
mg
|
Fiber:
2
g
|
Sugar:
1
g
|
Vitamin A:
467
IU
|
Vitamin C:
10
mg
|
Calcium:
79
mg
|
Iron:
1
mg
Updated April 8, 2017.