A slow cooker pot roast is a welcome sight on a cold and busy evening. The slow braise allows the flavors to develop, making this one of my favorite recipes.
When I was a newlywed, slow cookers did not have a great reputation. They were as outdated as the avocado-colored refrigerators they were designed to match. I still went out and bought one. I was hip before hip was cool, ya know?
Seriously, though, I knew that the slow cooker could do things that would make meal prep so much easier for me. Like make stew like Mom used to make.
I'm on my second and third generation slow cookers now; they continue to serve me well for soups, sauces, chilis, and all kinds of braises, including my new favorite pot roast recipe.
Slow cooker pot roast is one of my favorite dishes. It takes me about fifteen minutes to prep it for the crock and then I walk away. I can do school, run errands, watch a movie, read a book, all while knowing that dinner is cooking itself. Jane Jetson, the future is here!
Beef prices haven't been too favorable to allowing us slow cooker pot roast or otherwise these days, but recently I found chuck roasts for $3.77/pound. I had several $3/$15 meat purchase coupons from Ralphs, so you can guess that I STOCKED UP. ($3.57/pound is about as cheap a beef cut I can ask for.)
I need to slow myself down from going through the stash too quickly, but we did enjoy a few rounds of it so I could run this slow cooker pot roast recipe through its paces.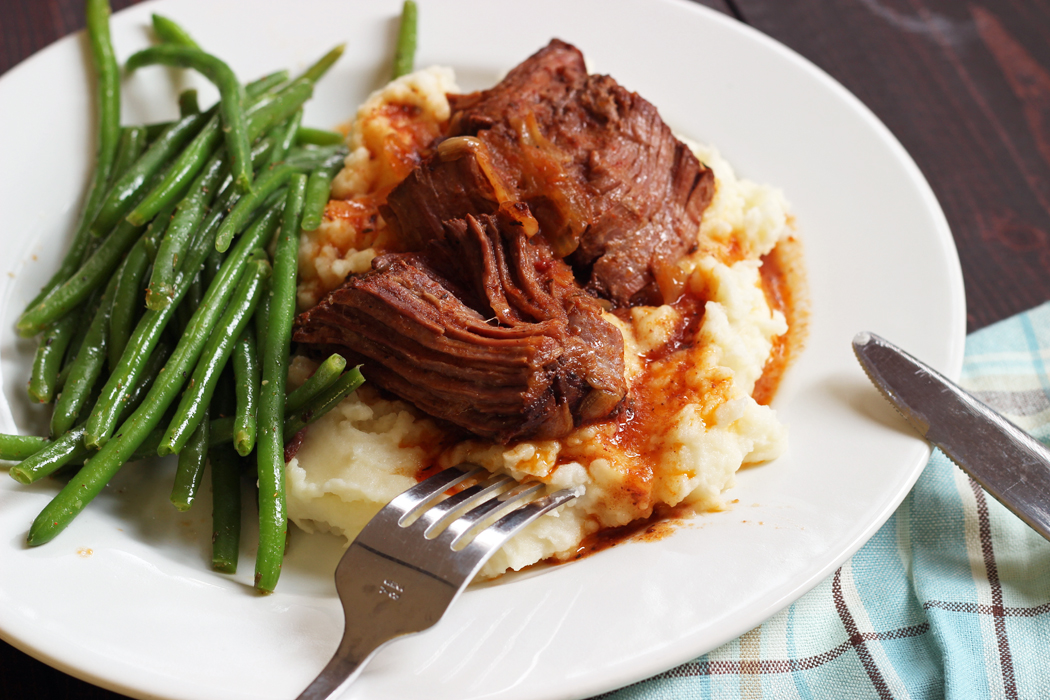 One thing that I've done differently in this version is that I've made sure it would produce a gluten-free gravy at the end. I think gravy is one of the beautiful fringe benefits of a slow cooker pot roast. I wanted one that was 1. EASY and 2. good for folks eating gluten-free/Whole 30 and all that jazz.
The secret thickener is tomato sauce. Yay! It works like a charm. Not only does the tomato sauce add a nice flavor to the jus, but it also thickens it just enough for it to serve as a decent gravy. The jus also makes a marvelous mix-in for soup when you have just a few bites of meat and sauce left. We've, ahem, enjoyed this a lot lately.
Another new twist is a spice blend I'm working on. I wanted a really simple spice blend to use quickly in dishes. I'm currently calling it the oh-so-creative name of Basic Spice Blend, but it works. It's basic, but it's packed with flavor. I'll write a full post on it when I have run it through its paces in other dishes. It is great in this slow cooker pot roast. So, be sure to jot down the ingredients once you print the recipe below.
Basic Spice Blend

Combine these five ingredients in a small jar. Mix well, cover, and store in an airtight container: 2 tablespoons smoked paprika, 1 tablespoon garlic powder, 1 tablespoon kosher salt, 1 tablespoon black pepper, 1 tablespoon dried thyme.
This slow cooker pot roast is perfect for these cooler days, nights when you need a little comfort food, and whenever you find a good deal on chuck roast! It's perfect with mashed potatoes, but feel free to add your favorite vegetables. You could even just add carrots and potatoes to the pot and call it good.
Tools I use for this recipe:
Favorite Slow Cooker Pot Roast
A slow cooker pot roast is a welcome sight on a cold and busy evening. The slow braise allows the flavors to develop, making this one of my favorite recipes.
Ingredients
2

tablespoon

olive oil

4

teaspoon

Basic Spice Blend

2 to 3

lb

boneless, beef chuck roast

1

onion

sliced

8

oz

tomato sauce

1

cup

water
Instructions
In a large nonstick skillet, heat the oil until shimmering. Meanwhile, rub 3 teaspoons Basic Spice Blend over all sides of the chuck roast. When the oil is hot, place the roast in the pan to brown each side quickly. Remove to the crock of a slow cooker.

Add the onion slices to the drippings in the pan and cook, stirring, until tender and clear, about 7 minutes. Move to the crock.

Whisk together the tomato sauce and the water in the skillet, scraping up any brown bits. Add the remaining teaspoon of Basic Spice Blend and mix well. Transfer this mixture to the crock.

Cover and cook on LOW 6 to 8 hours or on HIGH for 4 to 6 hours. The meat will be fall-apart tender. Serve the meat with the jus over mashed potatoes or your favorite vegetables.
Notes
Nutritional values are approximate and are based on ⅛ of the recipe and using a 2 pound boneless beef chuck roast. Refrigerate leftovers promptly and use within 4 days.
Nutrition
Calories:
252
kcal
|
Carbohydrates:
4
g
|
Protein:
22
g
|
Fat:
17
g
|
Saturated Fat:
6
g
|
Cholesterol:
78
mg
|
Sodium:
243
mg
|
Potassium:
514
mg
|
Fiber:
1
g
|
Sugar:
2
g
|
Vitamin A:
169
IU
|
Vitamin C:
3
mg
|
Calcium:
56
mg
|
Iron:
3
mg