Don't throw away scraps. Make homemade stock!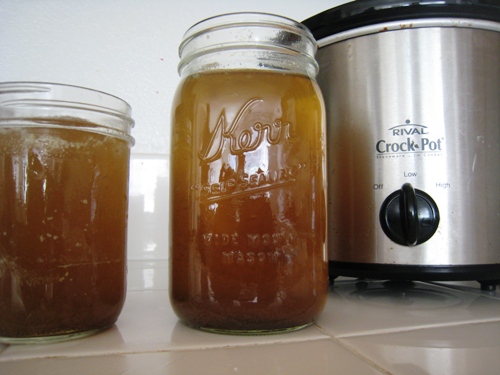 As I mentioned the other day, soups are a great way to make good use of leftovers and other little tidbits in your larder. (I love that word, larder. I suppose we could have called this the Larder Challenge. But, then folks would think I was really loopy. Huh.)
Soup is good food.
And it's cheap, too. It's silly what they charge for canned soups and broths these days, especially when you can make them for practically free at home. Case in point:
Around the holidays I bought a pack of steaks on sale. There were three New York Strips in the package; I paid $10, a much better deal than even one steak dinner at a restaurant. However, upon consultation with the hubs, it was decided that we would carve away the bone and slice the meat thinly to resemble carne asada. With beans and rice and a number of toppings, we made Rice Bowls with Grilled Steak.
Then I took the trimmings and the bones and made stock. See? Free food. Almost.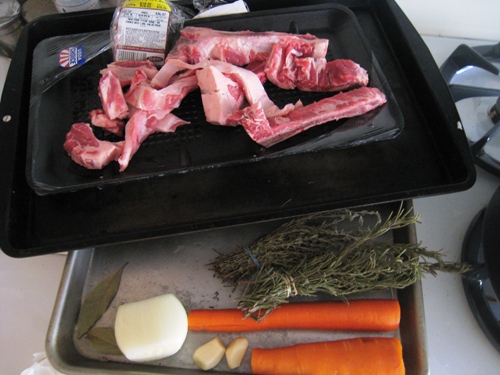 While he was carving, hubs asked, "Where's the dog?" We no longer have a dog, but back in the day, we would have given the dog the scraps. I told him that the stock pot is the new dog.
Yes, you can quote me on that.
So, here's how I made beef stock.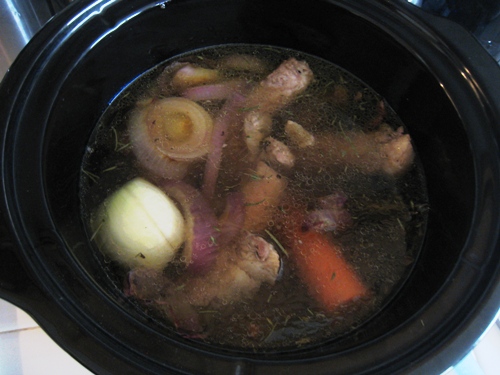 Homemade Beef Stock
Don't throw away the scraps. You can make your own beef stock with the bones and trimmings from roasts and steaks.
Ingredients
1

tablespoon

olive oil

salt

black pepper

bones and trimmings from three uncooked steaks or other meaty bones

You can also use the drippings and bones from a cooked pot roast.

1

onion

thickly sliced

½

cup

beer

wine, or water

10

cup

water

2

carrots

1

rib

celery

2

clove

garlic

2

bay leaf

5

peppercorns

3

whole cloves

sprig

fresh rosemary

sprig

fresh thyme

1

teaspoon

salt
Instructions
In a large skillet, heat the oil. Season the trimmings with salt and pepper and brown in the hot oil. Remove to slow cooker.

Fry onion in drippings in the pan until brown. Remove onion to slow cooker.

Deglaze the pan with the beer, scraping up any brown bits.

Add this liquid to the slow cooker along with all the other ingredients. Cook on low all day.

Strain the stock. Discard solids. Adjust seasonings. Allow stock to cool slightly before refrigerating. After refrigeration, any fat will rise to the top. Remove this and discard.

Use stock in recipe or freeze for later use.
Notes
Nutritional values are approximate and are based on ⅛ of the recipe. Refrigerate leftovers promptly and use within 4 days.
Nutrition
Calories:
35
kcal
|
Carbohydrates:
4
g
|
Protein:
1
g
|
Fat:
2
g
|
Saturated Fat:
1
g
|
Sodium:
319
mg
|
Potassium:
69
mg
|
Fiber:
1
g
|
Sugar:
1
g
|
Vitamin A:
2548
IU
|
Vitamin C:
2
mg
|
Calcium:
19
mg
|
Iron:
1
mg