Whip up an easy butterhorn dough for delicious pigs in blankets, a little more homemade.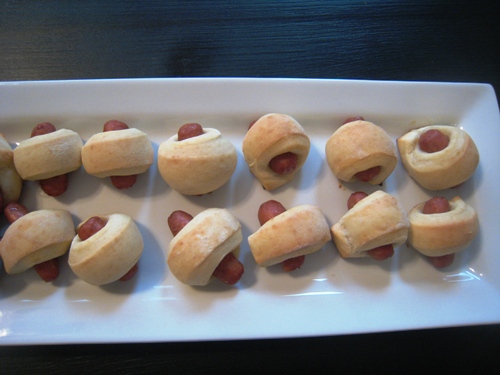 A few weeks ago, my kids were waxing nostalgic over the pigs in blankets I used to make at the holidays. I don't typically buy the ingredients for them since they're so heavily processed. But, my dad left us a supply of Lil' Smokies in the freezer when he was here in November.
So, I made Pigs in Blankets. Only I made them a little more homemade.
I used the butterhorn dough that we often use. It mixes up quickly in the bread machine. I cut the dough into pieces, and then let the kids wrap the sausages.
They were devoured in minutes from pulling them from the oven. And they were really, really good.
I won't be making homemade smokies anytime soon, but I'll might be making these a little more often.
Recipe: Pigs in Blankets – More Homemade
Ingredients
1 cup milk
1/2 cup butter, cubed
2 eggs
1/2 cup sugar
4 – 4 1/2 cups flour
1 teaspoon salt
1 Tablespoons dry yeast, heaping
2 packages Lil' Smokies
Instructions
Preheat oven to 375 °. Line two large baking sheets with parchment paper or silpat mats.
Combine all dough ingredients in the pan of your bread machine according to the manufacturer's directions. Set on the dough cycle and start machine. When the machine beeps, remove dough from pan and divide it into four equal parts.
Roll each part into a large rectangle and cut each rectangle into 20 smaller rectangles.
Wrap one small rectangle around each smoked sausage and place seam side down on prepared baking sheet.
Bake rolls for 15 minutes, or until lightly browned.
Preparation time: 2 hour(s)
Cooking time: 15 minute(s)
Number of servings (yield): 8
I haven't tested these for the freezer, but if you do, please let us know how it turns out!