Want to learn how to make an easy gravy? This basic gravy recipe is delicious. It's necessary to (almost) all your holiday meals. You can totally do this!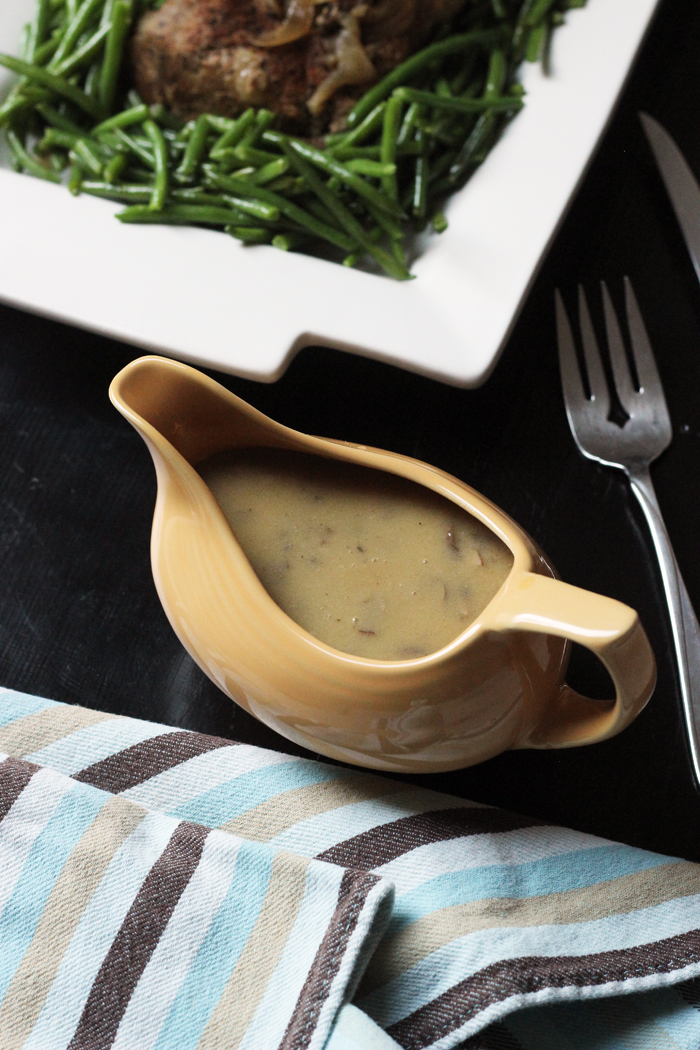 Gravy is one of those things that I consider LIFE'S NECESSITIES.
Mashed potatoes just aren't the same. That dry Thanksgiving turkey is bereft without it. And stuffing? Stuffing, no matter how tender deserves a good dousing of gravy.
Now, some people think that there's some mystery as to how to make a basic gravy recipe. But, there isn't. I've got teenage boys making gravy over here, people! You can do it, too!
But, I get it. For years I thought there was a secret playbook to making good gravy. My mom wouldn't touch the task with a ten-foot pole. She either opened a jar or packet of dry mix or enlisted my cousin Debra to make it at holiday time. My mother-in-law delegated the gravy making as well.
Years of lumpy, homemade gravy has scared people off the task. What a crime. Because packaged gravy is really not delicious, and you can SO MAKE YOUR OWN.
How do you make homemade gravy?
Today, I'm going to explain the basics to making this easy gravy recipe with butter, flour, and broth. Spoiler alert: making gravy is very similar to making white sauce, so if you've already mastered that, it's only a matter of swapping out an ingredient or two.
The process is super simple. Melt butter in a pan. Add flour to the melted butter and whisk until bubbly and fragrant. Whisk in chicken or vegetable or beef stock until smooth and creamy. Simmer until your desired thickness is achieved. Douse all potatoes, stuffing, and meat within reach. Enjoy!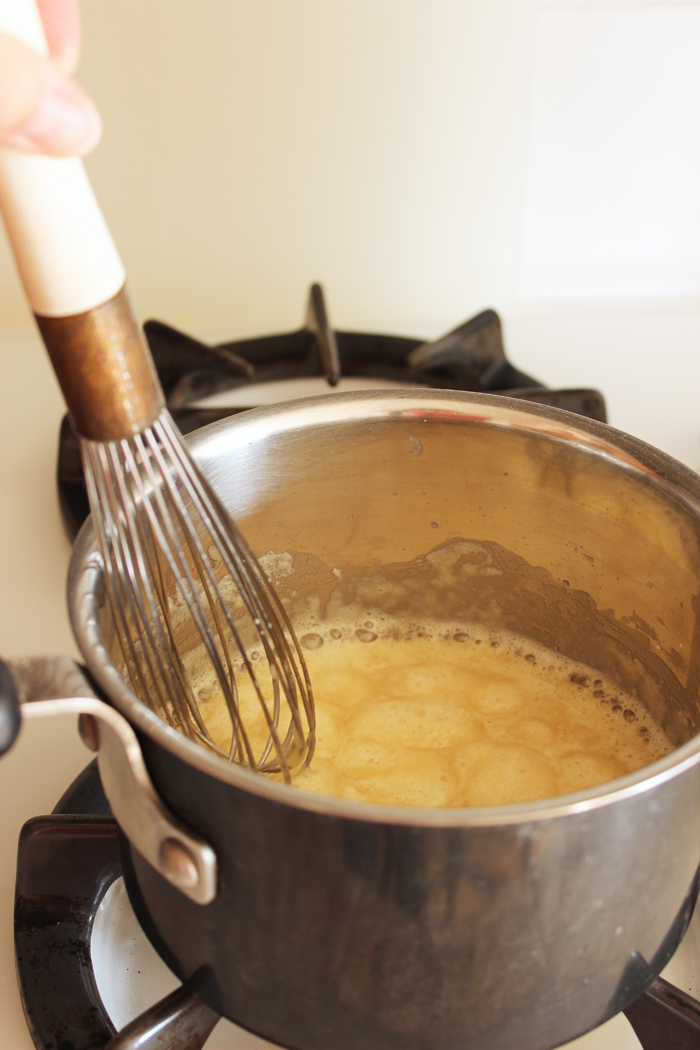 This is what your butter and flour mixture will look like. You want the flour bits to fully be absorbed by the melting butter. This is what prevents lumps in your basic gravy. Once it's all combined and bubbled a bit, you can start whisking in your broth or stock.
Can you use the drippings from a roast?
Absolutely! If you've got one of these doodahs, they are helpful to separate excess fat from the juicy drippings. You can use the fatty top layer as a substitute for butter or oil if you prefer. Then use the drippings (bottom layer) for some or all of the broth in the following recipe.
Can you add in a little white wine or sherry?
Sure. I don't recommend more than a few tablespoons per 2 cups of total liquid, but a little alcohol can add a nice bit of flavor.
What about herbs and spices and other aromatics? For sure! Stir those in near the end, though mushrooms and onions should be sauteed in a little butter or olive oil. You can even do that before you add the flour to the melted butter. Just add a couple extra tablespoons of fat.
This easy gravy recipe is designed to serve as your starting point. Embellish as you see fit!
Can you freeze this easy gravy?
You absolutely can. A flour based gravy can keep in the freezer for up to 4 months. You can freeze containers, resealable plastic bags, or in an ice cube tray for when you need a small amount.
You can stash the gravy in the freezer and add it to a soup for a quick flavor boost!
How to make this good and cheap:
Here are some of the strategies you can use to make this easy gravy recipe more economical:
Tools I use to make this recipe easy:
This is a pretty straight-forward dish. You don't need any fancy equipment. However, having some good basic kitchen tools can really make your time in the kitchen more enjoyable. Over time, I've honed my collection so that they are perfect for my needs. Here are the tools that I like to use in this recipe.
whisk – please get one with a sealed barrel handle. Trust me. You don't want dish water seeping out into your food!
saucepot – these are good for so many things!
fat separator – helpful to separate the fat from the juice.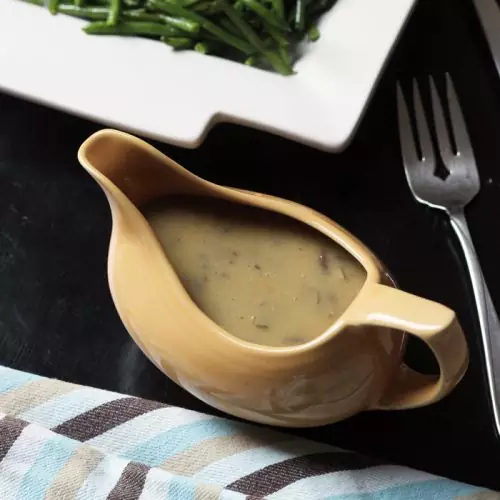 Easy Gravy Recipe
This easy gravy recipe is the key to life. It comes together quickly and easily on the stove and is delicious on mashed potatoes, in pot pies, or a myriad of other tasty applications.
Keyword:
basic gravy, gravy, how to make gravy
Ingredients
1/4

cup

butter, oil, or fat drippings

1/4

cup

flour

2

cups

liquid, any combination of juicy drippings, stock, broth, milk, and/or wine

fine sea salt and freshly ground black pepper

favorite herbs and spice mixes
Instructions
In a medium sauce pot over medium heat, melt the butter. Whisk in the flour and stir until well mixed, hot, and bubbly, about 2 minutes.

Gradually whisk in the liquid, stirring until smooth.

Simmer until thickened, about 7 minutes, stirring.

Serve hot. Or chill completely and store in the refrigerator for up to 4 days or in the freezer up to 2 months. Thaw completely and reheat on the stovetop, whisking to recombine.
Nutrition Facts
Easy Gravy Recipe
Amount Per Serving
Calories 75
Calories from Fat 55
% Daily Value*
Total Fat 6.1g 9%
Cholesterol 15mg 5%
Sodium 522mg 22%
Total Carbohydrates 3.2g 1%
Protein 1.7g 3%
* Percent Daily Values are based on a 2000 calorie diet.