This basic white sauce is the building block of great recipes like homemade mac and cheese or lasagna. This homemade sauce recipe comes together quickly and easily on the stove.
I first learned to cook out of my mom's yellow Pillsbury cookbook. It was written in 1971, back in the days when home economics was still taught in schools and when branded cookbooks listed real ingredients like 1 cup flour instead of one 6-ounce package Mary Mary's baking mix.
Nowadays many cookbooks offer you recipes that are simply open this can, shake in this mix, stir and done. While the convenience is nice, the ingredients not so much.
I am the first to say that I love the Cheesy Potatoes that my Gramma and grandmas everywhere made with canned cream soup. "Church potatoes" were always one of my favorite things at family reunions.
But, I've found how to make it myself — from scratch — without all the preservatives and junk. The secret is in the sauce — the white sauce.
Is alfredo and white sauce the same thing?
It might seem like they are the same thing, but they are indeed two different sauces. Alfredo sauce contains cheese, while a white sauce does not. Usually alfredo has a hard cheese like parmesan or another hard white cheese stirred into the sauce.
A white sauce is basically a thickened roux of butter, milk and flour.
What is white sauce made of?
This recipe is simple really and made of 3 basic ingredients –
butter
flour
milk (or broth)
Then you want to season it with salt and pepper. To make this sauce is to conquer a really simple culinary technique that has all kinds of potential. You can flavor it any way you like (parmesan, spices, herbs, cheese, sauteed vegetables, chicken broth for some of the milk) to recreate any creamy sauce you desire.
How do you make white sauce from scratch?
The process is super simple.
Melt butter in a pan.
Add flour and whisk until bubbly and fragrant.
Whisk in milk or milk/broth until smooth and creamy.
Simmer until your desired thickness. Yum!
One batch of this sauce, seasoned with salt and pepper and any of the options mentioned above can replace a can of creamed soup in your recipes.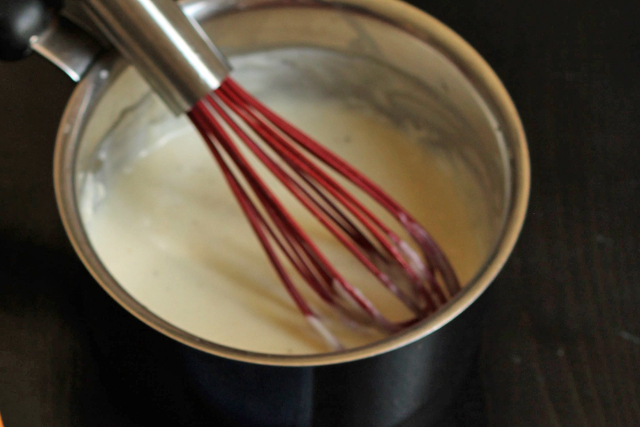 What do you eat with homemade white sauce?
That's really all that canned cream soup is — a white sauce enhanced with chicken broth, chopped celery, sautéed mushrooms, or whatever other flavor you want to "cream". I use a basic white sauce in a number of recipes:
I use this basic recipe as the base to my macaroni and cheese recipes, as a base for pizza or lasagna, as the gravy for pot pie, or the luscious Bechamel layer in a Croque Monsieur. Mmmmmm. Good stuff!
(Bechamel is the French name)
What can I add to white sauce for flavor?
You can add a variety of delicious ingredients to add a boost of flavor to your white sauce. Here are a few suggestions:
Fresh herbs (like parsley or thyme!)
Grated cheese
White wine
Sauteed mushrooms
Caramelized onions
Can I make this gluten free?
You absolutely can. Just substitute your favorite gluten free flour for this regular all-purpose flour in the recipe.
Can I make this vegan?
Yes. Just swap out the butter and milk for your favorite vegan variety and you're all set!

If you prepare this recipe, be sure to take a picture and hashtag it
#GOODCHEAPEATS
. I can't wait to see what you cook up!
Basic White Sauce
This basic white sauce is the building block of great recipes like homemade mac and cheese or lasagna. It comes together quickly and easily on the stove.
Ingredients
1/4

cup

butter

1/4

cup

unbleached, all-purpose flour

2

cup

milk

salt

black pepper
Instructions
In a medium sauce pot over medium heat, melt the butter. Whisk in the flour and stir until well mixed, hot, and bubbly, about 2 minutes.

Gradually whisk in the milk, stirring until smooth.

Simmer until thickened, about 7 minutes, stirring.
Nutrition
Calories:
409
kcal
|
Carbohydrates:
24
g
|
Protein:
10
g
|
Fat:
31
g
|
Saturated Fat:
19
g
|
Cholesterol:
85
mg
|
Sodium:
308
mg
|
Potassium:
322
mg
|
Fiber:
1
g
|
Sugar:
12
g
|
Vitamin A:
1105
IU
|
Calcium:
283
mg
|
Iron:
0.7
mg