A Croque-Monsieur is the French answer to the grilled cheese sandwich. And it's pretty darn awesome.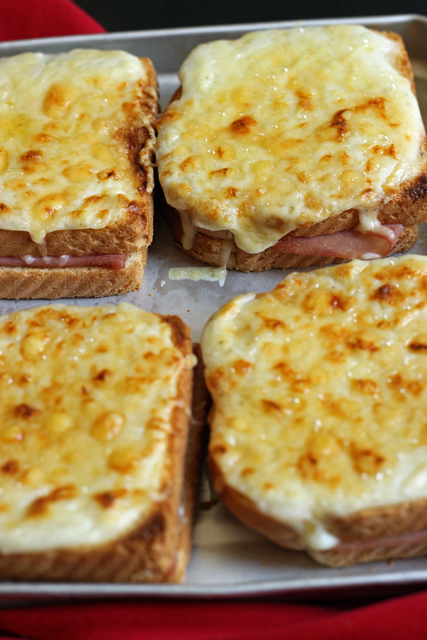 French food gets a reputation for being complicated. I can see that. There are definitely some complex recipes. Souffle? Croissant? Yeah, I get you. Even a simple mousse au chocolat takes several steps and dirties many bowls.
On the other hand, however, French food is pretty simple, really. Bread, cheese, charcuterie? Bread and jam for breakfast? Roast chicken and potatoes? Escalivada? Those are all pretty easy and straightforward. Not to mention delicious.
So is the Croque-monsieur. This delicious comfort food is basically a dressed up grilled cheese sandwich. But, oh my! It's so much more than that.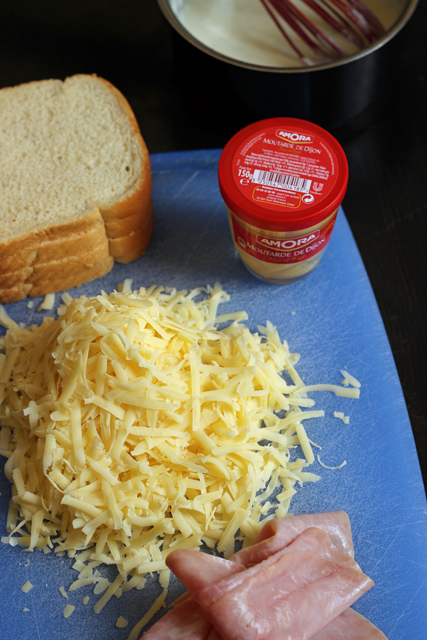 Its preparation takes a few more steps that stuffing bread and cheese in the panini press, but it's worth washing a few more dishes. Totally worth it.
I was on a hunt for a good croque-monsieur in Paris, but never got one. So I've been making them at home instead. The ingredients are simple: white bread, Gruyere cheese (you can also use Emmental or other swiss-style cheese), Dijon mustard, ham, and a Beschamel sauce. And yes, that is real French Dijon that I brought home with me! You can buy it here.*
The irony is not lost on me that I bought white sandwich bread to make a French dish! Pain de mie, as it is called in France is a standard base for the croque-monsieur, though you can use other sandwich bread. To be honest, the local French bakery uses thick slices of batard which is really unwieldy for a fork and knife sandwich. In my mind, a croque-monsieur needs to be easily cut.
The Beschamel is not hard to do. I use a double batch of this sauce as a replacement for ricotta or cottage cheese in lasagna. It's basically a white sauce of butter, flour, and milk. I add a few pinches of paprika, salt, and pepper to season it. Yum-O.
If you have a toaster oven, that is the perfect device to make these sandwiches quick and easy. I toast the bread on one side, assemble the sandwiches, and then return it to the toaster oven to melt the cheese and brown the tops. If you don't have a toaster oven, you can use the broiler. For some reason, the toaster oven just seems easier.
Tools I use for this recipe:
Print Recipe
Croque-Monsieur
A Croque-Monsieur is the French answer to the grilled cheese sandwich. Gruyere cheese, ham, and bread are topped with a creamy Beschamel sauce.
Ingredients
8

slices

white sandwich bread

2

tbsp

butter

2

tbsp

unbleached, all-purpose flour

3/4

cup

milk

1/8

tsp

paprika

salt

black pepper

Dijon mustard

for spreading

4

oz

sliced ham

4

oz

Gruyere cheese

shreddded, you can also use Emmental or other swiss-style cheese
Instructions
Toast the bread until lightly browned on one side.

Meanwhile, in a small saucepan over medium heat, melt the butter. Add the flour and whisk until thick and bubbly. Gradually whisk in the milk, until the sauce is smooth and thickened. Whisk in the paprika. Season to taste with salt and pepper. Keep the sauce warm while your assemble the sandwiches.

Lay four slices of bread, toasted side down on a broiler pan. Brush each one with Dijon mustard, to taste. Lay one slice of ham on each piece . Divide 1/2 cup cheese among the four sandwiches. Top with the second slice of bread, toastier side up. Divide the sauce among the four sandwiches, spreading it over the top. Sprinkle the remaining cheese over the sandwiches.

Broil until the cheese is melted and the tops are bubbly and brown, five minutes or more in my toaster oven. Watch it carefully; yours may be different. Serve immediately.
Notes
Turn this into a croque-madame and serve with fried egg on top!
Nutrition
Calories:
429
kcal
|
Carbohydrates:
30
g
|
Protein:
22
g
|
Fat:
24
g
|
Saturated Fat:
13
g
|
Cholesterol:
73
mg
|
Sodium:
759
mg
|
Potassium:
225
mg
|
Fiber:
1
g
|
Sugar:
5
g
|
Vitamin A:
593
IU
|
Calcium:
515
mg
|
Iron:
2
mg