Who says salads can't make a meal? This Chicken and Prosciutto Salad will fill you up and treat your tastebuds.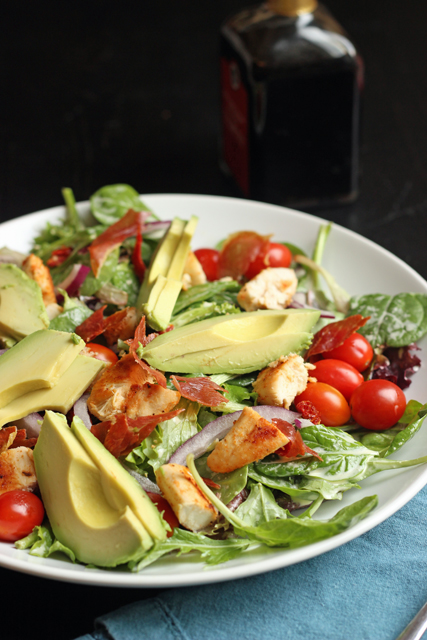 Last fall we took the whole fam (all eight of us) to France for a month. It was amazing. I can't tell you how much I'm itching to go back! We flew nonstop from LA to London and back, taking the Eurostar through the Chunnel/under the English Channel to Paris.
The bookend stays in London were amazing! Amazing!
Part of the reason for that is that we were in a country where we could expect people to speak English. The burden of translation was lessened for me — except that I still acted as interpreter for some French people in London. Ha!
Another wonderful part about London is the food. We ate so very well during both three-day stays in Kensington. Oh my!
We always found food that we loved in London — except for the one time we broke our own rules for home and ate at Subway. Ick. London's food scene is amazing. I might even say it was better than in France, but the London restaurants and take-out were more affordable than in France, so we ate out more often, in fact, almost all the time. We had no kitchen in London, so we had to eat out or make easy stuff from the store.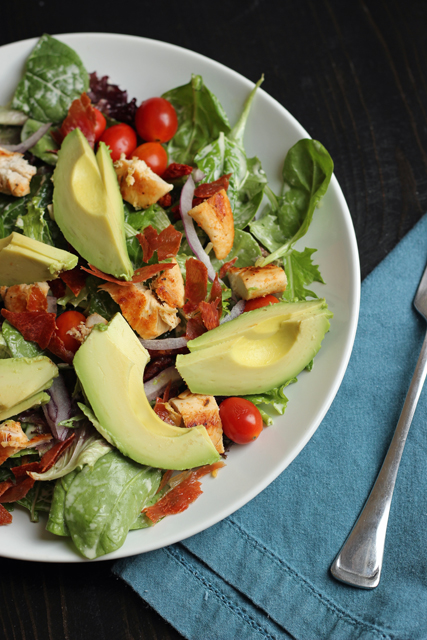 Regardless, let me just say two thumbs up for London. I can't wait to go back.
During our tail-end stay in London, we ate at the same restaurant twice: Zizzi. Despite the fact that it was frightfully expensive to feed our family, the food was so fabulous the first night that we went back the next. I highly recommend the Earl's Court location, just be sure to make a reservation. We did and were glad! There was always a wait, but we walked right in both times to "our table". (We got the same table both nights.)
Everything we ordered was amazingly good, from pizzas to pastas to salads to grilled meats. The kids meal tops at 10 pounds, but the kids
One night I had the Chicken and Prosciutto Salad. It was remarkable. So much so, that I've been wanting to recreate it at home for months. The Zizzi version calls for parmesan cheese. I omitted it this time because of the Whole 30 diet I'm doing, but I'll definitely be adding it in next time.
Make up a big batch of chicken, crisp the prosciutto in a pan, and blend up the dressing. The salad comes together very quickly and is great for packing. I sent it with my husband for lunch today.
Chicken and Prosciutto Salad
This Chicken and Prosciutto Salad is hearty without being heavy. Tender chicken, crispy prosciutto, and garlic aioli dress a simple yet tasty salad.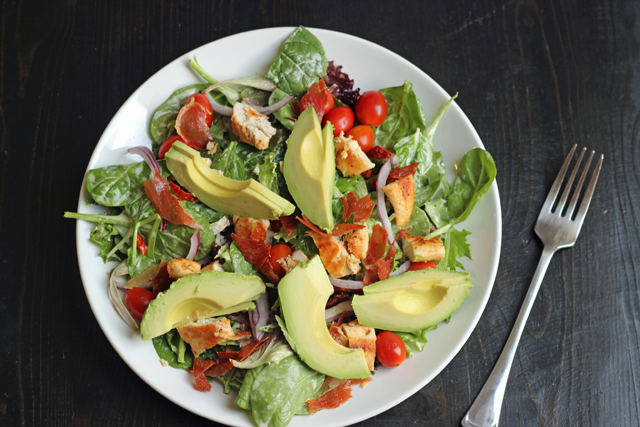 Preparation Time:10 minutes
Cook time:20 minutes
Total time:30 minutes
4 servings
Ingredients:
4 slices prosciutto

2 tablespoons olive oil

8 to 12 chicken tenders

Dressing: 1 pasteurized egg yolk, juice of one lemon, 1 teaspoon minced garlic, 1/2 cup olive oil, salt and pepper

6 ounce bag baby greens

1 cup grape tomatoes

1/2 cup sun-dried tomatoes, drained if packed in oil

thinly sliced red onion

2 avocados, pitted, peeled, and sliced

balsamic vinegar and shredded parmesan cheese, for serving
Instructions:

In a large, nonstick skillet, heat the prosciutto until crisp. Remove from the pan and chop coarsely.
Heat the oil in the skillet over medium heat. Season the chicken to taste with the spice mix. Cook the chicken, turning frequently, until done. Remove from pan.
Prepare the dressing by blending the egg yolk, lemon juice, garlic, and olive oil in a blender cup. Season to taste with salt and pepper.
Toss the greens with enough of the dressing to coat. Divide the greens among four dinner plates. Divide the chicken, prosciutto, tomatoes, onion, and avocado among the plates. Serve with the balsamic vinegar and parmesan cheese