Add a little spice to your life with homemade seasoning blends. You'll save money by buying spice in bulk and save time by having a multi-purpose seasoning at the ready.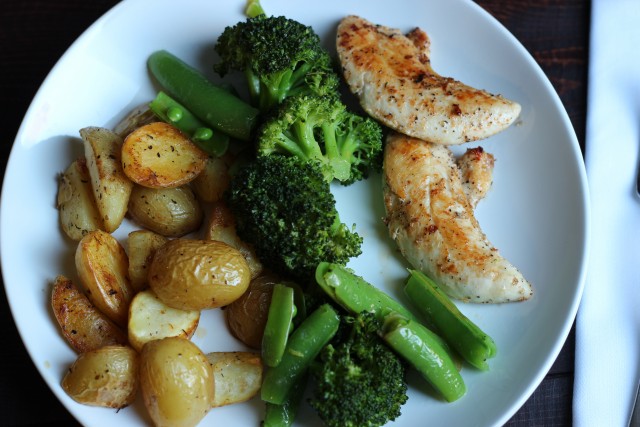 It's so easy to spend a lot of money on groceries. You don't have to be extravagant to watch those pennies slip through your fingers. Tonight FishPapa and I stopped at Trader Joe's during our date night. Yes, sirree, we know how to live it up!
The date was great. The shopping trip was a little disappointing. Things keep going up in price or my favorite items get discontinued, presumably because they are not making a big enough profit for the manufacturer.
Case in point: my very favorite Harvest Whole Wheat Bread is gone. Kaput. It disappeared a few weeks ago. The bread was $2 a loaf and made with only six ingredients, one of them filtered water. It was healthy, wholesome bread that I could afford. Vanished into thin air.
As the paper boy in that really strange John Cusack movie would say, "I want my $2." My $2 bread, that is.
Previously, I would buy about three loaves a week, and it was cheap, easy sandwich bread. The other breads are $3 or more, inching us out of budget-range. And so now I've got to bake it myself if I want good quality, cheap bread.
The whole point of my little rant is that it's easy to spend money. It's harder to save it.
I'm determined to continue developing and practicing techniques that help us eat well and stay under budget. I think you could say that my mission in life, whether it be parenting or eating, is to make the most of what you have.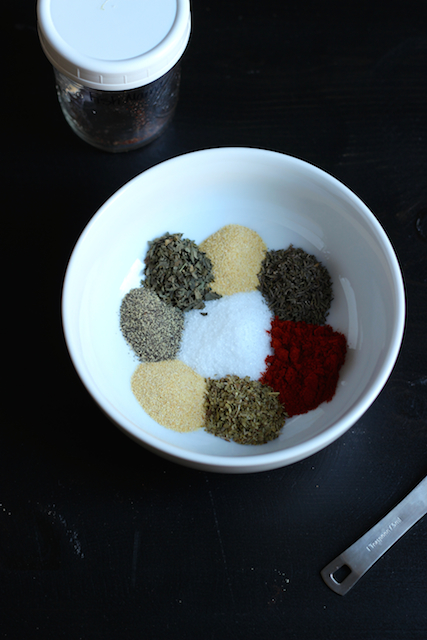 Add a little spice to your life.
One of my favorite ways to add great flavor without spending a small fortune is to make my own spice mixes. I've been doing this for at least five years, probably longer. It started out with making my own Taco Seasoning and has morphed into other homemade spice blends. I haven't bought those chintzy foil packs in forever. (They're loaded with junky ingredients, don't you know? "To preserve freshness" or "prevent caking", they add other things besides spices.
I've purchased the expensive bottled blends as well, but really? You can do this yo'self! In like 60 seconds.
I use small, half-pint mason jars to store my spice blends. I like to use the small plastic caps that can be reused easily. If I use lemon zest in the blend, I store the mix in the freezer; otherwise, it just goes on my spice shelf.
(I've included spice blend recipes in my cookbooks, too.)
Uses for spice blends
I use custom spice blends on a daily basis to add flavor to a number of dishes:
salad dressings and vinaigrettes
sour cream dips
seasoned meats
sauteed or grilled vegetables
soups
sauces
on salads, potatoes, French fries, or garlic breads
There's really no end to the combinations of herbs and spices you can create or the many uses for them.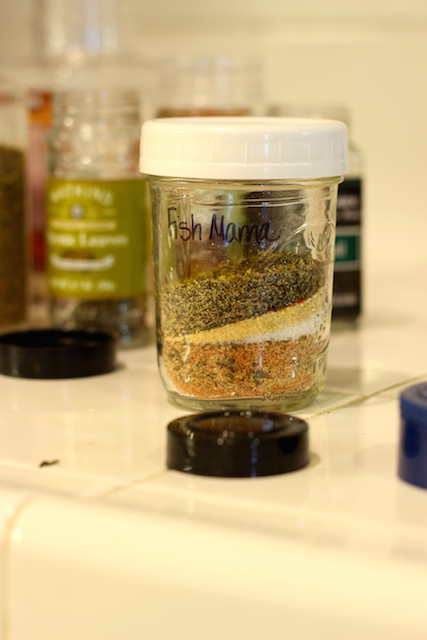 One of my favorite blends is my vanity spice. Yep, I named it after me. 🙂
I love to use garlic and Italian herbs in my dishes, so I made a seasoning salt that combines these flavors. I've used it in practically everything. And it works every time! Yay for FishMama Spice! (Sounds like a girl band member, doesn't it?)
Mix up a batch or two of FishMama Spice and keep it on hand. Sprinkle it into dressings, on meats ready for the grill, on potatoes or commercial French fries. I love it in sautes of chicken and vegetables.
Recipe: FishMama Spice
Ingredients
1 tablespoon fine sea salt
2 teaspoons garlic powder
1 teaspoon oregano
1 teaspoon basil
1 teaspoon thyme
1 teaspoon paprika
1 teaspoon black pepper
Instructions
Combine all of the ingredients in a small jar. Store in the cupboard.
Preparation time: 5 minute(s)
Number of servings (yield): about 3 tablespoons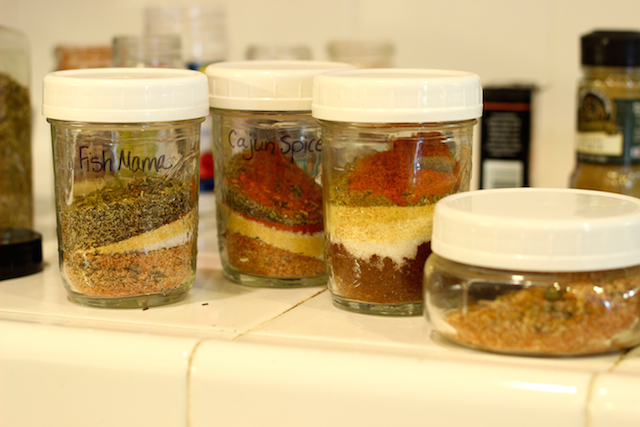 I highly recommend mixing up your own spice mixes in order to save money and time in the kitchen. Who's got time to fumble with a bunch of jars and shakers. Make one spice blend and use it in a multi-purpose way.
You can buy big canisters of spices at Costco or the small packets in the Mexican food aisle of your grocery store. Both methods will be cheaper than buying the small glass jars. You can freeze extras for longer storage.
Other homemade spice mixes
Do you make your own spice blends?