Want to make Greek Pita Sandwiches at home or simply grill up some delicious Greek chicken? Then you'll want to have a Greek Spice Blend on hand for easy Greek seasoning.
This Greek Seasoning is just the ticket for adding Mediterranean flavor to grilled meats, chicken, and veggies. It's also the perfect addition to marinades, dressings, and sauces.
Jump to:
One of my favorite ways to season meals is with homemade spice mixes. Dinners come together so quickly when I have a batch of spice blends on hand. No need to measure spices, just shake on a custom blend.
This Greek Spice Blend is one of my favorites. This all-purpose seasoning goes great on grilled meats and in dressings and dips. Most days I sprinkle it on chicken breast to grill or use it to mix into salad dressings. It's so delicious and definitely a good cheap eat!
Why Make This
Greek seasoning is the bomb! When you've got this Greek Spice Blend on hand, you're just minutes away from delicious gyros, dressings, and Greek chicken. The combination of Mediterranean herbs, spices, and zesty lemon is so delicious!
It's easy. Mixing up a custom spice blend is quick and easy – less than five minutes!
It's affordable. Why pay the high price of commercial spice blends when you can make your own at home for a fraction of the price. Buy dry herbs and spices in bulk and stash the extras in the freezer for months of great flavor on a budget.
Ingredients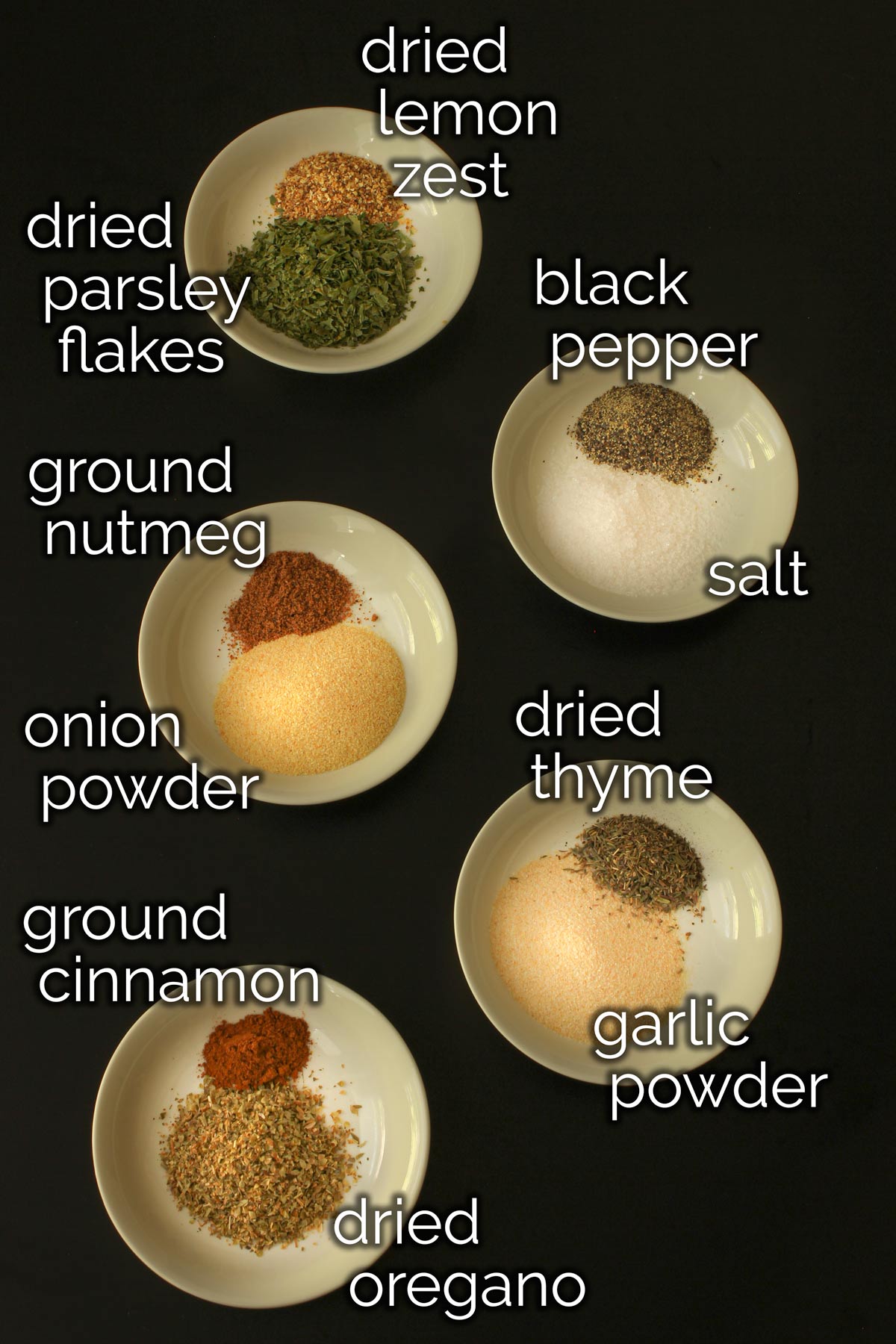 Dig into your spice cupboard to mix up this Greek seasoning, and reap the rewards for weeks to come.
All the herbs and spices in this Greek spice blend are readily available at most grocery stores.
The lemon zest is one you'll want to pay attention to. If you use fresh lemon zest, be sure to store this blend in the freezer. Otherwise, it should be fine stored in a cool, dark place.
I buy my spices in large containers at Costco or from the bulk section of the health food store. Don't buy more than you can reasonably use up in a few months, though, so that they don't lose their flavor and you lose out on your investment. Freeze extra for longest freshness.
Instructions
Preparing this Greek Spice Blend couldn't be easier! Measure the herbs and spices into a bowl, stir to combine, and store in an airtight container in the pantry!
FAQs
What is in Greek seasoning?
Greek seasoning is a blend of herbs and spices used in Greek cuisine. These include: garlic, onion, parsley, oregano, salt, pepper, thyme, lemon zest, cinnamon, and nutmeg. Dill, mint, and basil are often used in Greek cooking, but in fresh, not dried forms.
Is Greek seasoning gluten free?
This recipe for Greek seasoning is completely gluten-free. Commercial blends often add additives and anti-caking agents to accommodate a product for long storage. Another good reason for making your own Greek spice blend!
Is Greek seasoning spicy?
No, Greek seasoning is not spicy. Cinnamon is the warmest spice included.
Recipe Costs
Knowing how much it costs you to prepare a recipe can help you decide if it's the type of recipe to make regularly or one you might want to save for special occasions. Let's crunch some numbers and see how this recipe pencils out.
garlic powder $0.12
onion powder $0.33
parsley flakes $0.15
oregano $0.08
salt – $0.02
pepper – $0.14
thyme – $0.01
lemon zest – $0.17
cinnamon $0.03
nutmeg $0.02
The ingredients to make this Greek Spice Blend, when shopped at a mid-range grocery store at non-sale prices will cost $1.07/batch. Provided you don't let the other spices go to waste, this is an incredible deal as a comparable amount of grocery store Greek Seasoning ranges from $2.99 to $6.49!
Making your own Greek Seasoning allows you a lot of flexibility in your spice cupboard and more cash in your wallet.
Save even more when you find your herbs and spices on sale or clearance.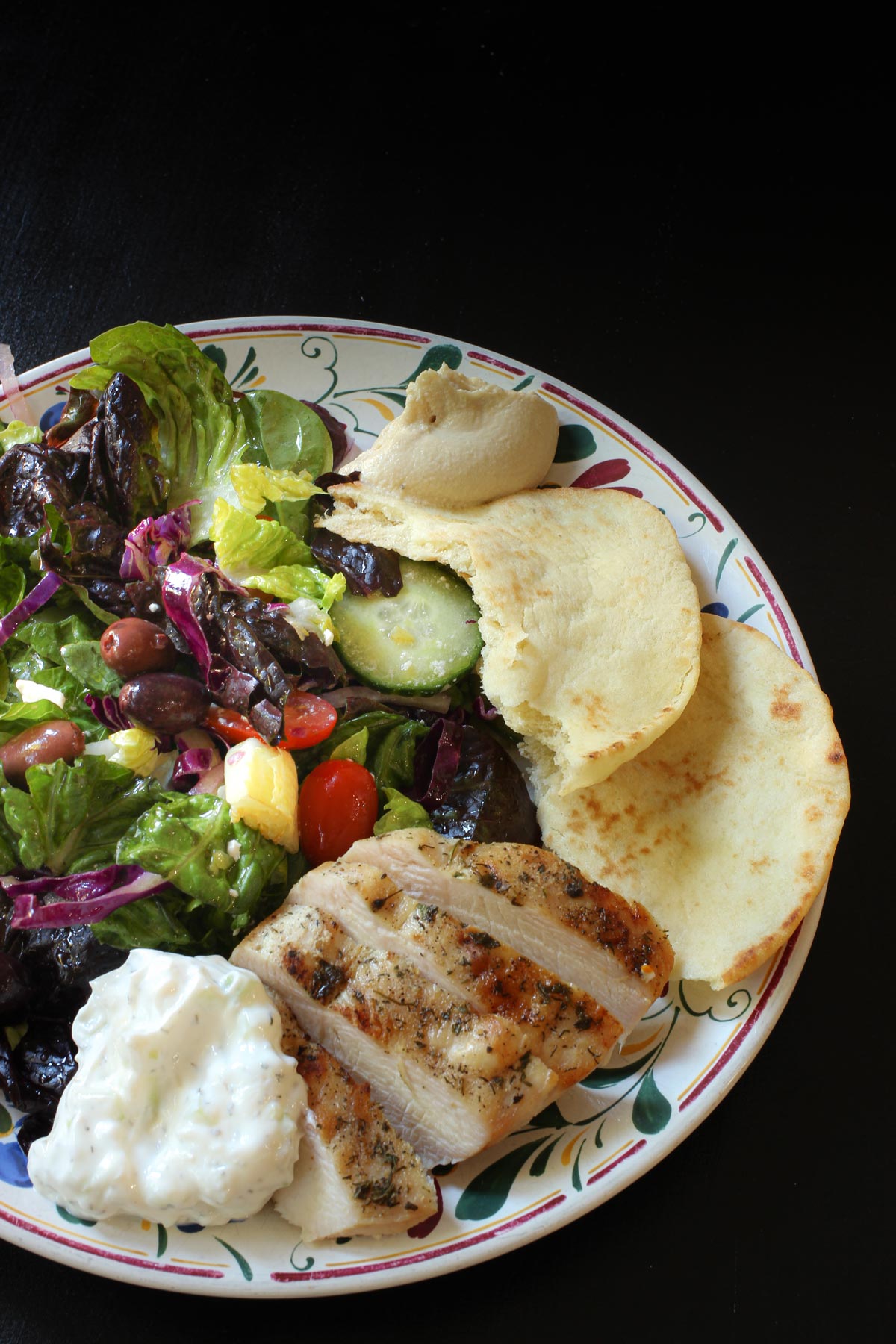 More Great Spice Blends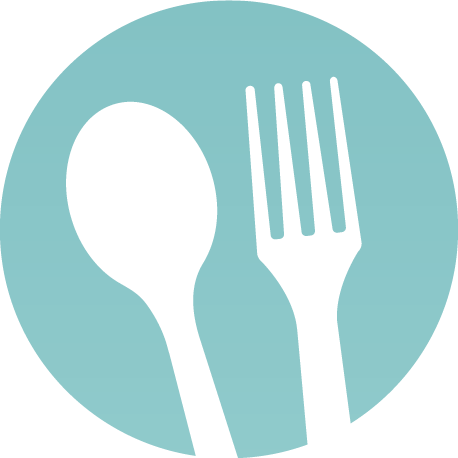 Tell us what you think!
We love to hear your experiences with Good Cheap Eats. Click the STARS on the recipe card or leave a STARRED comment to let us know what you think of the recipe.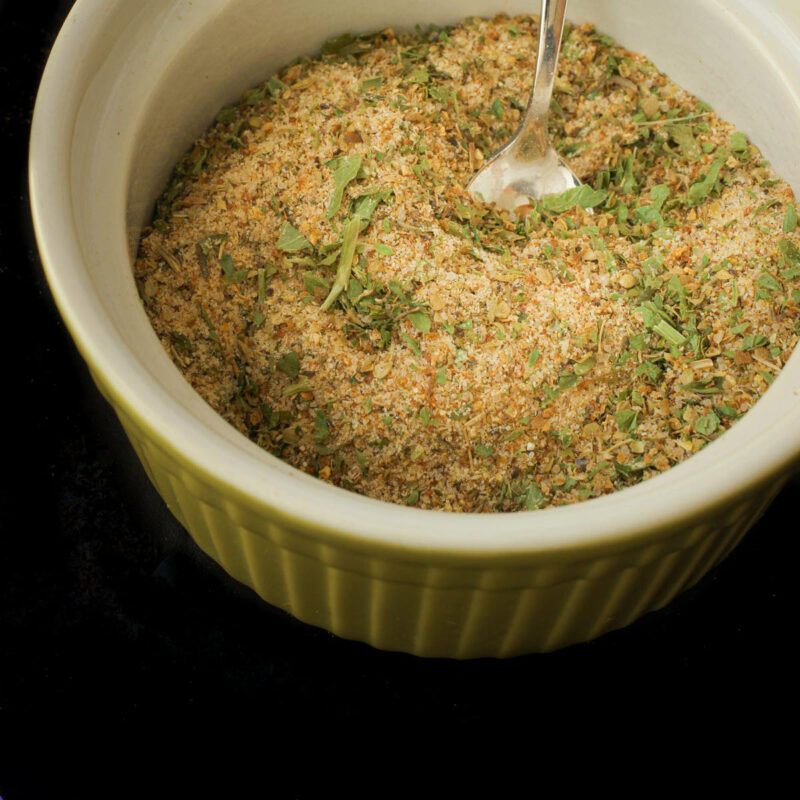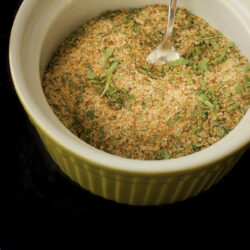 Homemade Greek Spice Blend
Save money on fancy spice blends by making your own. Try this Greek-inspired spice blend for easy meals packed with flavor.
Print
Pin
Rate
Ingredients
1

tablespoon

garlic powder

1

tablespoon

onion powder

1

tablespoon

dry parsley flakes

2

teaspoon

dried oregano

2

teaspoon

salt

1

teaspoon

black pepper

1

teaspoon

dried thyme

1

teaspoon

lemon zest

½

teaspoon

ground cinnamon

½

teaspoon

ground nutmeg
Instructions
Combine all of the ingredients in a small bowl.

Transfer the mixture to an airtight plastic container or zip-top plastic bag and store in the cupboard (if using dried lemon zest) or in the freezer (if using fresh).
Notes
Nutritional values are approximate and are based on 1 tablespoon of the recipe. Store in a cool dry place for up to 2 months.
A note about lemon zest: if you use fresh zest, you'll need to store the spice mix in the freezer. For a shelf-stable blend that you can keep in the pantry or spice cupboard, use dried lemon zest.
Uses: this Greek spice blend is delicious as a rub for chicken, fish, or meat or as a seasoning for vegetables, dressings, sauces, and marinades.
Nutrition
Calories:
14
kcal
|
Carbohydrates:
3
g
|
Protein:
1
g
|
Fat:
1
g
|
Saturated Fat:
1
g
|
Sodium:
779
mg
|
Potassium:
45
mg
|
Fiber:
1
g
|
Sugar:
1
g
|
Vitamin A:
11
IU
|
Vitamin C:
1
mg
|
Calcium:
22
mg
|
Iron:
1
mg
Tried this recipe?
Tell us what you think! Your reviews help us develop better recipes and give newcomers the confidence to try your favorites. Scroll down to leave a starred comment.
This post was originally published on October 18, 2014. It has been updated for content and clarity.