Wondering how to cook a turkey? We've got you covered with these easy tips that result in a delicious roast turkey.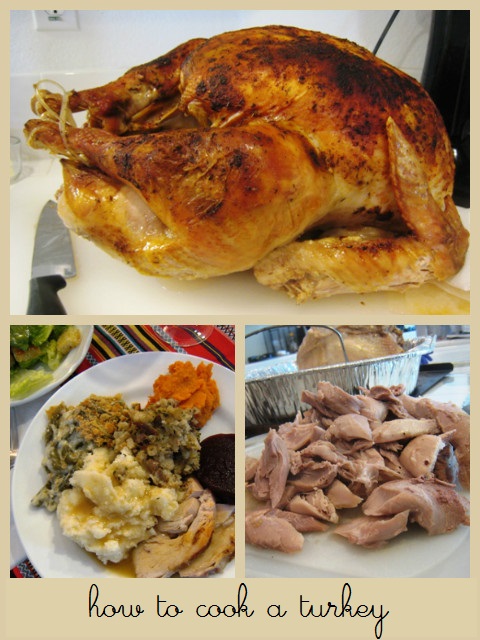 This post is for my kid sister. She moved away from our home state a few months ago and now resides in the historic village of Williamsburg, Virginia. This is also her first time making a turkey. Really? How can that be so?
Anyway, I was planning to write this post and then abandoned the idea and then she said, "I really need you to write that post."
So, here we are.
I have cooking a turkey at the holidays for almost twenty years. Holy smokes. That's a lot of turkeys now that I think about it. And there have been some mishaps: not thawing it in time and running out for a fresh bird the night before, flinging turkey all over the kitchen trying to lift it out of the roaster, throwing out my back trying to get it into the oven.
So far, though, the only casualties have been my back — and the turkey, of course.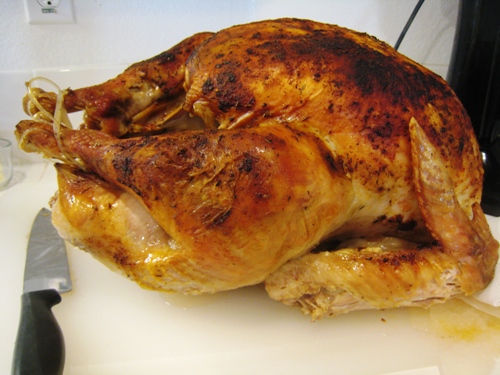 Here are my suggestions for getting your bird cooked:
Equipment
Cooking a turkey should not be intimidating, provided you have the right equipment for the job.
Pan and rack/lifter – If you have a sturdy roasting pan with rack like this one, great. If not, a disposable turkey pan (available at the grocery store during the holidays) and a turkey lifter will work well. The turkey lifter is not a necessity, of course, but it will help with the flinging turkey all over the kitchen bit. Note that if you're going to use a disposable aluminum pan, you will need to stabilize it with a baking sheet underneath.
Turkey bag – I am old school and I love the turkey size roasting bag. It may not be the gourmet way, but it works for a foolproof turkey. I use the brand that I buy at the grocery store. Inevitably, the little silicone tie will go missing. Don't worry about it. You can use kitchen twine to tie the bag shut.
Large stock pot or slow cooker – You don't need this for the turkey, but to be a super Good Cheap Eater, have this ready for making stock afterward.

Planning
Some forethought is necessary in getting the bird to table.
Thawing – For ultimate food safety, thaw the turkey in the refrigerator in a pan to catch the drips. I knew a lady whose turkey dripped all over her pumpkin pies. Ewww. Make sure you place it in a pan. Allow sufficient time for thawing, about 6 hours per pound. Hop on over to the Butterball site for a nifty thawing calculator. Yes, you can quick thaw it in a sink of cold, runnning water. But, seriously, who wants to mess with that?
Rinsing – That is a very big bird to put in your sink. Clean your sink before and after and make sure you wash your hands and any surfaces that come in contact with raw juices. You will also need to pull out the bag of giblets and the neck from inside the bird and rinse the cavity well. Yes, really. You'll be fine. You can discard them or use them in broth and stuffing.
Seasoning – There are a range of seasoning options. I am pretty lazy most of the time because I count on a flavorful gravy to add zest to the plate. I typically cook our bird according to this recipe.
Oven space – Unless you have a large oven or more than one oven, you're going to need to make sure that the other hot dishes you plan to serve have adequate time to cook. Everyone wants some of that hot real estate, so plan accordingly. Your turkey will need to rest for 30 to 40 minutes, so that should give you time to get the hot things hot.
Timing – The best way to calculate the doneness of a bird is to measure the internal temperature. The USDA says 165° is safe. There is a chart inside the box of roasting bags or you can consult the cooking time table here.
Serving
Gravy, baby – While the turkey is resting, you can finish off your other dishes as well as whip up some gravy. Follow these directions and you'll do fine. And don't skimp, the gravy is the best part!
Carving – This is a lost art. The men of Jane Austen's time were raised to know how to carve the bird, the joint, and whatever big hunk of meat was served à table. Today, not so much. But, of course, Martha's got you covered on this one.

What about the leftovers?
Turkey Meat – Package any leftover meat, either to freeze or to eat later, within 2 hours of cooking to preserve food safety. Since you will probably feel too lazy to do it later, I recommend, trimming it from the bones, and chopping or slicing the cooked meat right away. You'll be glad you did when you go to mix up a Turkey Pot Pie or an Enchilada Casserole.
Dem bones – Toss any bones, skin, drippings, or other turkeyish stuff that you can left and make stock. The bones are full of flavor and nutrients that will go into the stock for fortifying soups and sauces later. And stock is so easy to make!
Do it right away so that you will feel extra productive when the meal is finished and you're enjoying a slice of pumpkin pie.
Got any tips for Turkey time?