You'll feel like a rockstar chef when you serve up this amazing meal: slices of pork tenderloin bathed in a sherry and shallot sauce atop mashed potatoes. It tastes like a million bucks, but it won't cost you more than ten.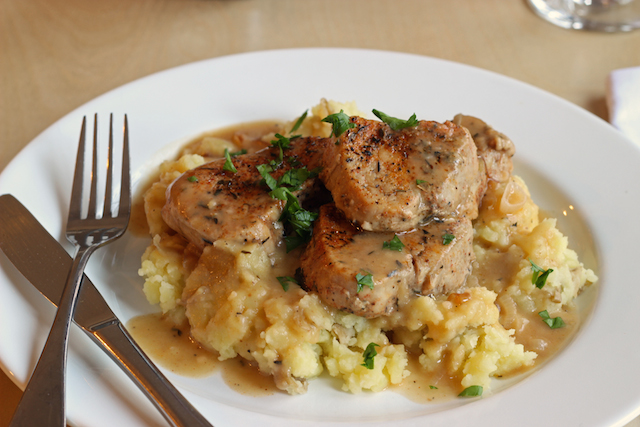 This meal has been on our dinner table a lot over the past year. As I watched the price of beef slowly shoot into the heavens, I started looking for alternate (read: affordable) proteins. I've been very pleased to find pork tenderloin on sale in the $3/lb range. The price makes it doable for our family.
This recipe makes it delicious.
My boys are meativores. (Their term, not mine.) Their eyes light up when something meaty is on the menu. This dish ranks as a top favorite. My family loves this meal so much that it's become a request for special occasions. It's perfect for holiday get-togethers, birthdays, anniversaries, tonight's dinner. You name it.
Pork tenderloin is just that — tender. I have a hard time not overcooking pork chops, so this is a great cut that allows us to enjoy "the other white meat."
The sauce isn't too heavy, but it's packed with flavor. The dish is great over smashed potatoes, but you can easily serve them over rice, egg noodles, or quinoa instead.
Grab pork tenderloin when it's on sale and stash it in the freezer so you can make this meal whenever the mood strikes.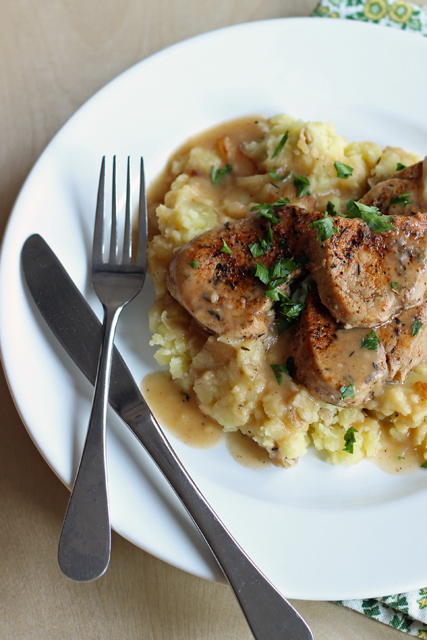 Looking for more bright ideas to get dinner on the table? My latest cookbook is here! And it's designed just for you to make dinner quickly, easily, and affordably.
You can beat the clock without breaking the bank. And you'll eat well too.
Recipe: Pork Medallions with Sherried Shallot Sauce
Ingredients
4 tablespoons (1/2 stick) butter
2 pounds pork tenderloin, cut into ¾-inch-thick slices
1 tablespoon FishMama Spice
2 or 3 shallots, sliced, or 1 medium onion, sliced
1/4 cup unbleached all-purpose flour
1 1/2 cups chicken broth
1/2 cup sherry
Chopped fresh parsley, for garnish
Instructions
In a large nonstick skillet, melt 2 tablespoons of the butter. Season the pork generously with the seasoning mix and cook, turning once, until browned on both sides, 3 to 5 minutes. Transfer to a platter and tent with foil.
Add the remaining 2 tablespoons butter to the pan to melt with the drippings. Add the shallots and sauté until tender and lightly browned, about 5 minutes. Sprinkle the flour over all, and stir. Cook, stirring for a minute. Add the broth and sherry, scraping up any browned bits. Simmer until the sauce is thickened, about 5 minutes.
Return the pork medallions to the sauce and let heat for a minute or two. Garnish with chopped parsley and serve.
Number of servings: 4 – 6