Here's a peek into my kitchen and all its problems. I hope you've got some good solutions to my kitchen dilemmas.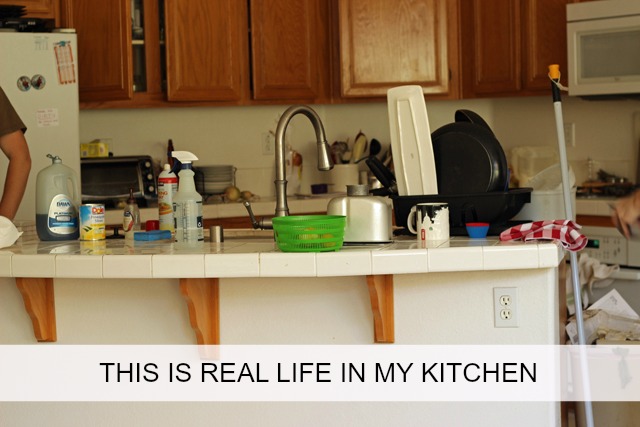 Growing up I thought that the only spotless kitchens were those you saw on television. Ours was a small kitchen with little storage space. Stuff crept out on the counters because there was no other option. While it may have been "clean" in a germ sense, it was cluttered. I didn't realize until I was in junior high or high school that other people had clutter-free kitchens. I'm not sure that all those families did much cooking in their kitchens, but their kitchens were showrooms, nonetheless.
My kitchen is "lived in", as was my childhood home's kitchen. There's a lot of cooking done in my kitchen. Whether it's me or one of my family members or many of us at one time, there's almost always some food prep going on in our kitchen. Also some messes. I'd like to change the latter. I'd like one of those pristine kitchens: a well-used, but also tidy, space.
After cooking in some pretty tiny kitchens in France this fall, I came home with a new appreciation for the ginormous space I have for cooking. But, I also realized that it needs some improvements.
I tend to stay away from kitchen stores and magazines because I want to be content with what I have. Looking at "bigger and better" doesn't help me do that. Improving how I care for what I do have does.
However, sometimes a girl needs a little help. Since I can't have you all over for coffee, though that would be quite fun, I thought we could chat about some of my problem areas. Maybe you struggle in the same way? Or maybe you'll have a great solution.
This is real life in my kitchen.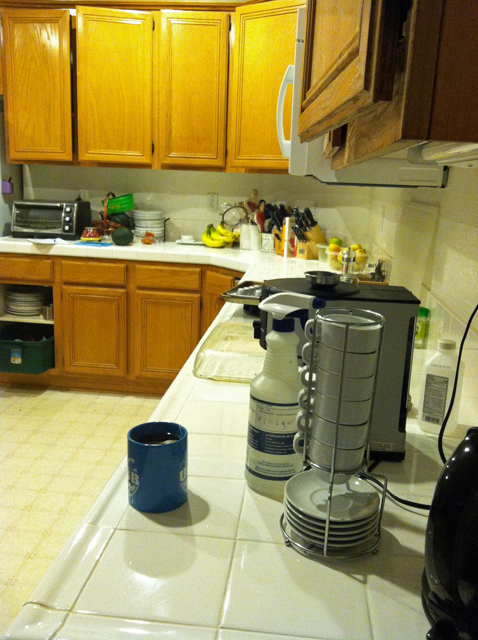 (Excuse the iPhone pictures, but I get up at 4 am each morning. This is the best I could do.)
This is what our kitchen looks like in the morning when I get up. It's not a disaster, but it's not the Donna Reed kitchen of my dreams, either. There are clean dishes on the counter, overflow from the dish drainer last night. Cabinets are continually left open. That lower cabinet is where we keep the kids' drinking glasses. It's perpetually left open.
Perpetually. Insert angry eyebrows emoticon here.
Here are some of my problem areas.
Maybe you can help?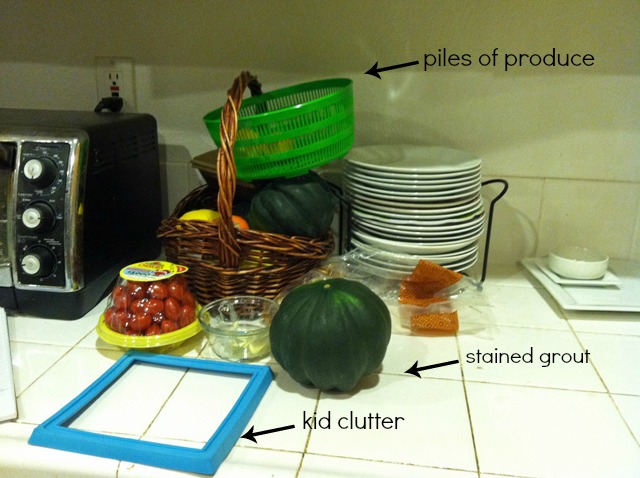 Piles of produce – We get a lot of fresh produce. Some goes in the fridge; some in the pantry. The items that I don't want to forget about, get left on the counter. I need a better solution.
Kid clutter – Self-explanatory.
Stained grout – This has been one of my most embarrassing parts of my kitchen. This white grout is impossible to keep clean. I can talk about it now because we have a plan to remedy it. Stay with me.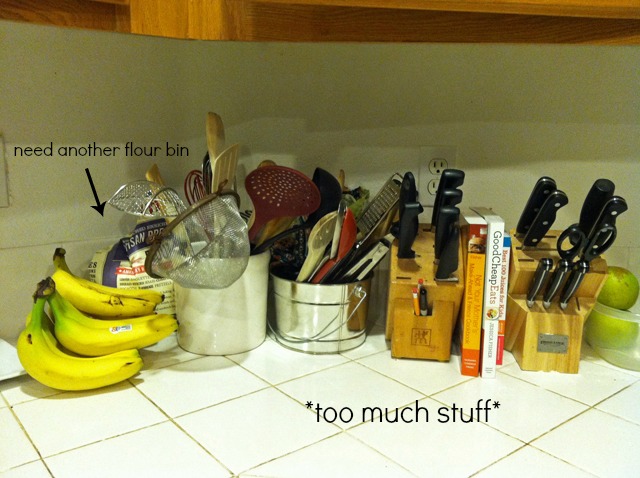 Too much stuff – I know some people have nothing on their counters. I'd like to get to that spot, but I'm not there. I moved the utensils out of a drawer because the drawer was just too congested. I cook a lot and actually use all these utensils on a regular basis. Not sure if it's different storage or decluttering or both that needs to happen.
Flour bag – See the opened flour bag? I have two bins of flour, but no bins for other varieties. I need to buy a few more. Any favorite in your cupboard?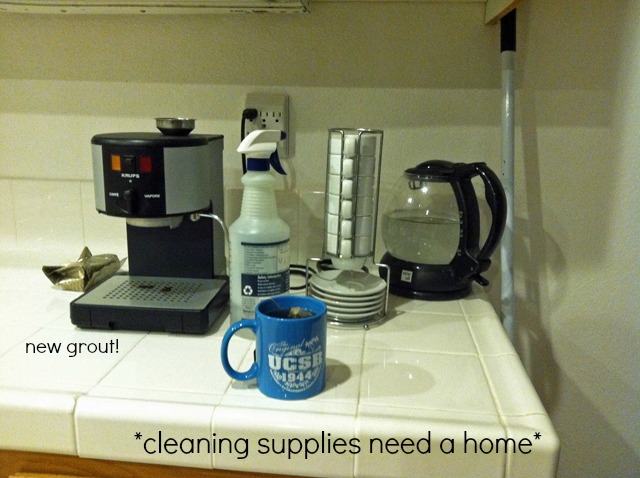 New grout! – Last weekend my husband removed the old grout from this section of counter and replaced it with shiny, new white grout. He's got an internal debate with himself (he's a general contractor) about which kind of grout he wants to use throughout the kitchen. There are different kinds with different benefits. I'm letting him work that one out on his own. I'm just thrilled to have a countertop with no shame!
Cleaning supplies – broom and vinegar spray. They seem to travel quite a bit. They need a home.
So there we have it: this week's edition of Real Life in My Kitchen. If you've got solutions to my problems, I'd love to hear them. Feel free to share your own kitchen challenges as well.
What would YOU do to make my kitchen a little more ship shape?