Enjoy a spot of tea and these delicious Black Currant Scones. You'll be surprised how easy they are to make!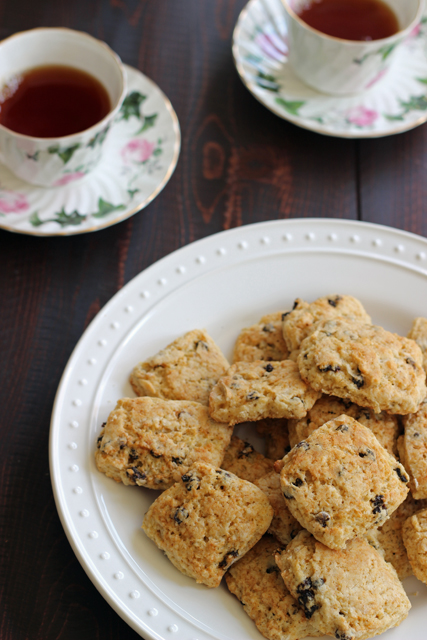 I think it's fair to say that when we were London this fall, we became smitten with anything English. We had such a good time eating in pubs, riding atop double decker buses, trying new foods, and otherwise enjoying another culture without too much of a language barrier.
My husband did order white bread and get wheat one day. And we did have to learn the difference between lemonade (lemon-lime soda) and old fashioned lemonade, but otherwise we got by without too much confusion.
We saw quite a bit of the city from atop a Hop-On, Hop-Off Bus right before we came home, but we certainly didn't get our fill of London, or the UK as a whole. One thing we didn't get to do was have a "proper tea" in a teahouse, though we did get to enjoy the tradition in other more casual contexts. No worries. Just another excuse to go back!
This is what we are scheming to do, actually — head back to the UK and Ireland in 2016. Yes, sirree. In the meantime, I'm drinking my English Breakfast Tea and baking up scones and shortbread like my life depended on it.
One of my newest favorites is this recipe for Black Currant Scones. Black currant, or cassis, is one of my very favorite flavors for jam, tea, and, now, scones. The sweet tart flavor is delicious! Bob's Red Mill sent me a bag to try awhile back, and now I'm ready to keep it always in stock at my house. It makes me feel all Beatrix Potter to add currants to baked goods.
Today I've partnered with some blogging friends from the good old days to host a holiday recipe exchange/virtual holiday party/tea/cocktail party. I've known many of these ladies for about six years and met many of them in real life. I count them as good friends. Some have held my babies and even washed my dishes!
This is the next best thing to having them all over to my house for tea and scones. Be sure to scroll down to the end of the post to visit their sites and check out what they brought to the party.
In the meantime, have a scone.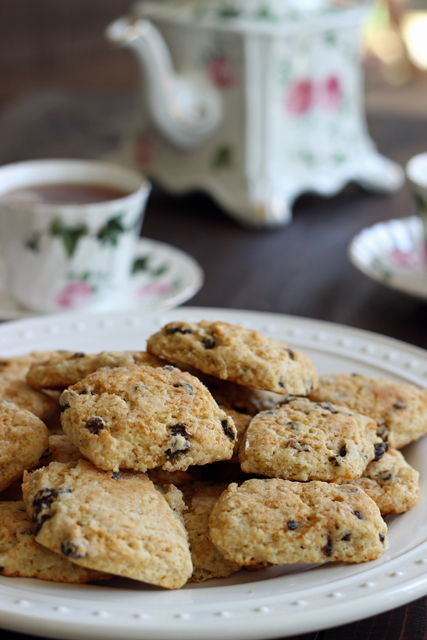 Here are a couple things to keep in mind when you make these. They are easy cheats.
1. These taste great with mini chocolate chips if you don't have currants.
2. If you feel lazy and don't want to form the dough into squares, feel free to drop the batter in small portions on the baking sheet. They bake up just fine that way. Though they are very cute in little squares.
Just be sure to bake these. They are easy and delicious and a great addition to your holiday table.
Black Currant Scones
Enjoy a spot of tea and these delicious Black Currant Scones. You'll be surprised how easy they are to make!
Ingredients
2

cup

unbleached, all-purpose flour

½

cup

granulated sugar

1

tablespoon

baking powder

½

teaspoon

salt

½

teaspoon

ground nutmeg

½

cup

butter

cold, cut into small pieces

⅔

cup

dried black currants

½

cup

milk

1

egg

beaten
Instructions
Preheat the oven to 375. Line a large baking sheet with parchment paper or a silpat mat.

In the bowl of a food processor, fitted with a metal blade, combine the flour, sugar, baking powder, salt, and nutmeg. Add the butter, and pulse until coarse crumbs are formed.

Pour the mixture into a large mixing bowl. Toss in the currants. Add the milk and egg and stir just until combined.

Lightly flour a work surface. Place the dough onto the surface and dust with flour. Roll the dough out to ½-inch thick and cut into 36 small squares. Place them on the prepared baking sheet. Alternatively, you can drop the batter into small portions or scoops on the prepared tray.

Bake for 15 minutes until golden brown. Cool on a tray before serving.
Notes
You can also freeze scones for up to 3 months.
Nutrition
Calories:
43
kcal
|
Carbohydrates:
9
g
|
Protein:
1
g
|
Fat:
1
g
|
Saturated Fat:
1
g
|
Cholesterol:
5
mg
|
Sodium:
39
mg
|
Potassium:
57
mg
|
Fiber:
1
g
|
Sugar:
3
g
|
Vitamin A:
31
IU
|
Vitamin C:
4
mg
|
Calcium:
21
mg
|
Iron:
1
mg
Join the party!
Be sure to check out these bloggers' recipes and what they've brought to our virtual Holiday Recipe Exchange.
Holiday Sweets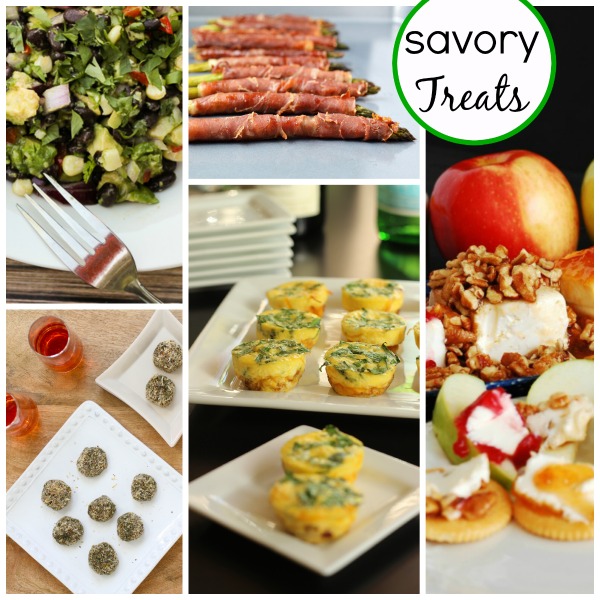 Savory Treats
What's YOUR favorite holiday sweet or savory treat?