Kids can celebrate New Year's, too! Include your children in the celebrations with these easy and delicious New Year's Eve Dinner Ideas to please the whole family.
New Year's Eve Dinner doesn't have to be a sit-down, fancy affair. In fact, it's so much more fun — and frugal, too! — to serve an array of kid-favorite foods and to make the evening festive, but casual.
Jump to:
New Year's is the perfect combination of events. New Year's Eve represents a chance to look back on the past and all that we have to be thankful for.
New Year's Day is the opportunity to celebrate a fresh start.
Reflection and anticipation.
How have we grown? Where have we been? Where do we want to be? What do we want to do?
As you consider how you will celebrate the passage of time this New Year's, think about how to include your children. One way is to prepare a special New Year's Eve Dinner for your family.
Why Do This
We link memories to food. Food and the accompanying aromas and tastes can be linked with our memories, both good and bad.
New Year's Eve Dinner and the meals following are a great time to make some connections between great food and memorable times with your family.
Traditions to Consider
Check out these New Year's Eve Dinner ideas for celebrating with the kids in your family:
Appetizers for New Year's Eve Dinner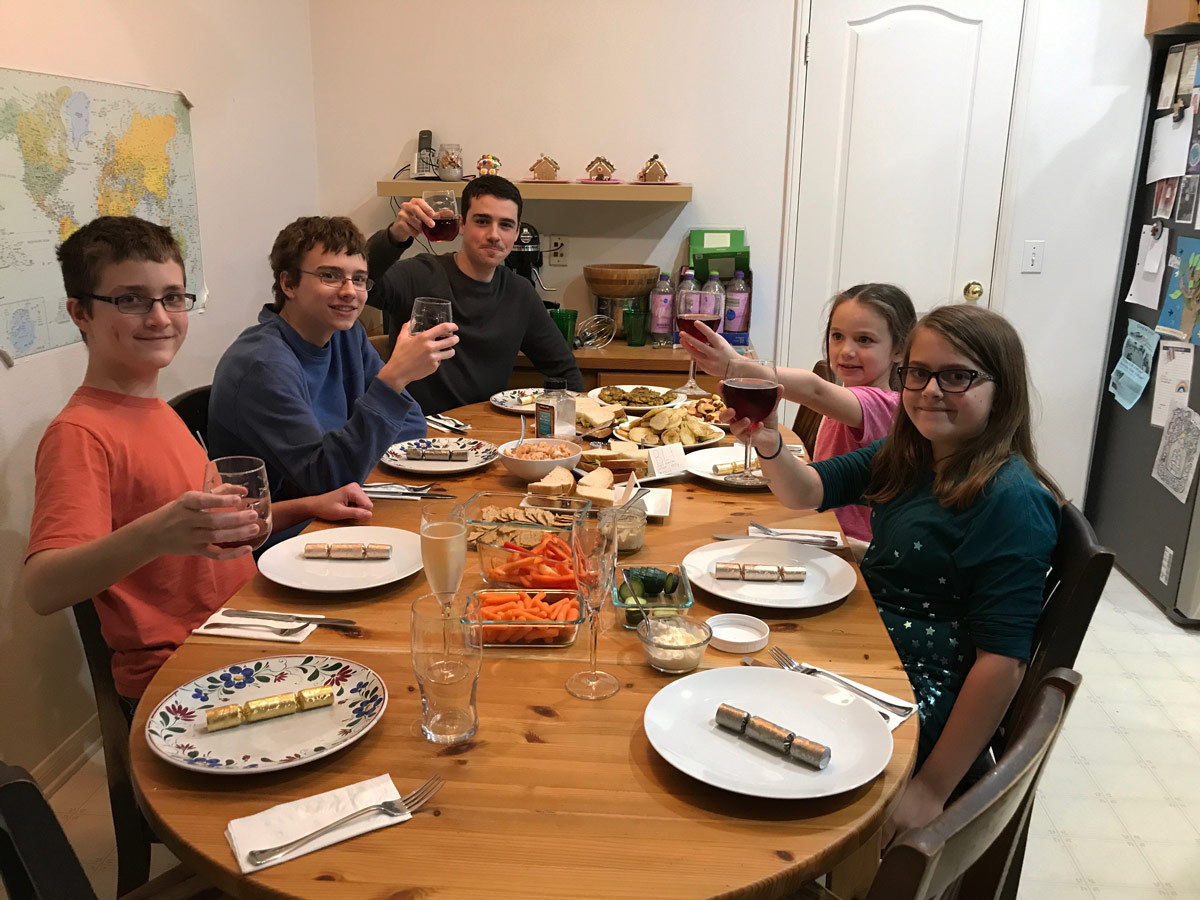 No alcohol was consumed by children. It's juice. 😉
New Year's Eve lends itself to the cocktail party format, or should I say Mocktail?
Hors d'oeuvres are great kid food. Kids love to eat with their fingers! And since cocktail foods usually don't involve flatware, washing up is a snap. The perfect family-friendly feast!
For well over a decade, our family has enjoyed what we call a "snacky dinner" on New Year's Eve. We do this every December 31st, and while it was not something that either my husband or I did as children, we've had great fun establishing a tradition for our family in the process.
If your kids are little, you can choose whatever snack foods you know they enjoy as well as those that the parents like. Don't forget the parents!
As your children grow, however, invite them to contribute to the evening's dinner. Now that my kids can all cook, they have great fun choosing appetizers to prepare for our family party.
It was so fun recently to hear my 14-year old son telling his cousin about our New Year's Eve dinner and how much fun it was to choose which foods he was going to contribute.
My kids have gotten really adventurous in their NYE cooking, preparing things like homemade egg rolls, beer-battered shrimp, and stuffed mushrooms.
You can prepare whatever snacks your family likes on New Year's Eve. Here are some of our favorites:
A New Year's Cake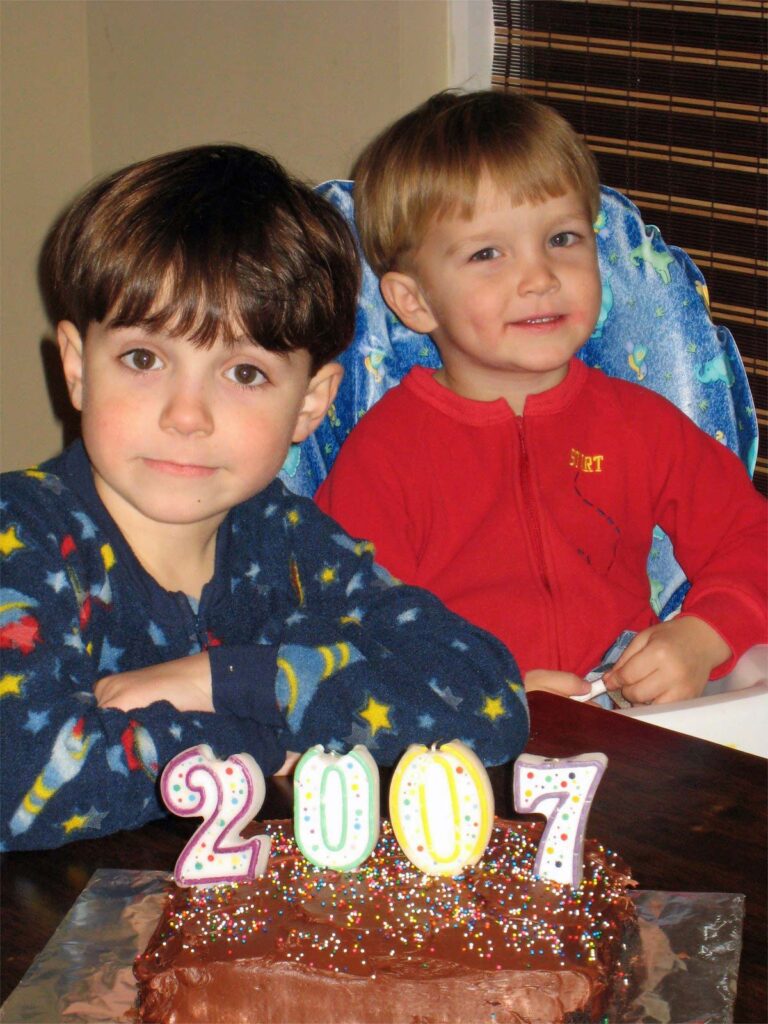 These boys are now 21 and 17!
As the evening winds down, we break out the New Year's Cake. We're big on number candles around here, so we celebrate the birth-day of the New Year with candles on a cake the kids help bake and decorate. We've done this since our kids were really little.
It doesn't really matter what kind of cake you make. Get as fancy — or not! — as you like. Turns out, as I scroll through New Year's Cakes of the past, we often lean toward chocolate frosting and rainbow sprinkles. Ha!
Try these cake recipes if you'd like to try something new:
A Simple New Year's Eve Dinner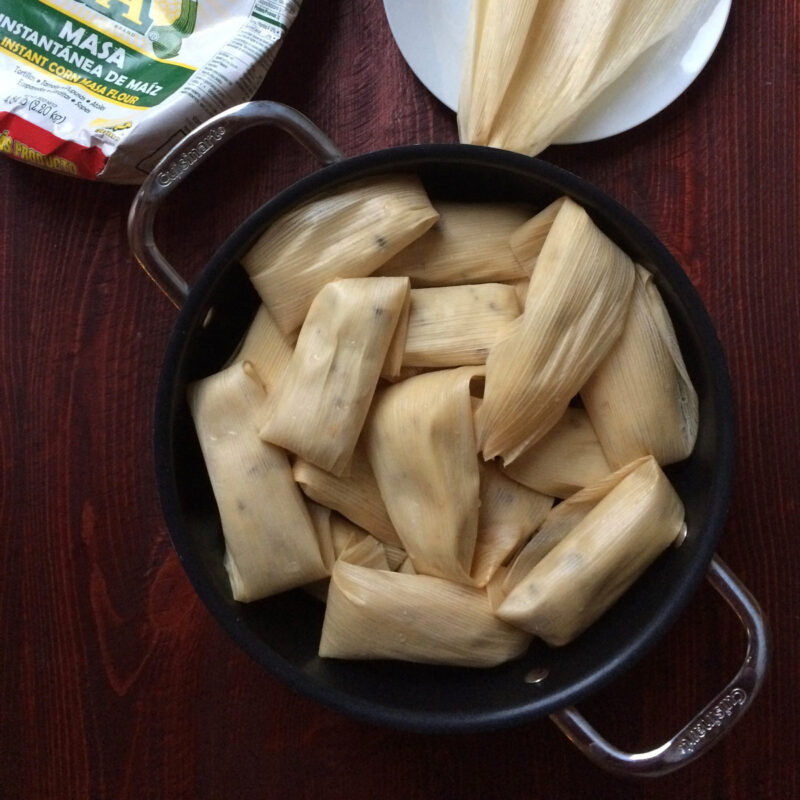 Start the new year on a low key tone by whipping up a simple New Year's dinner. It doesn't have to be complicated to be special!
Check out these ideas to enjoy New Year's with kids:
Consider going with the traditional "lucky" foods listed in this article at Epicurious.
Or go with cheese fondue, another fun and festive tradition for many families.
Prepare a theme dinner, revolving around another country. For instance, have a Scandinavian Smorgasbord or try your hand at tamales and a Mexican food buffet.
Start your healthy eating intentions on the right foot with grilled fish and lots of veggies.
A Cup of Good Cheer
Kids always love a fun drink, and you must do a family toast, whether for New Year's Eve dinner or the next day!
You can go hot or cold, depending on the weather and your family's preferences. Sparkling apple cider or hot cocoa? You choose.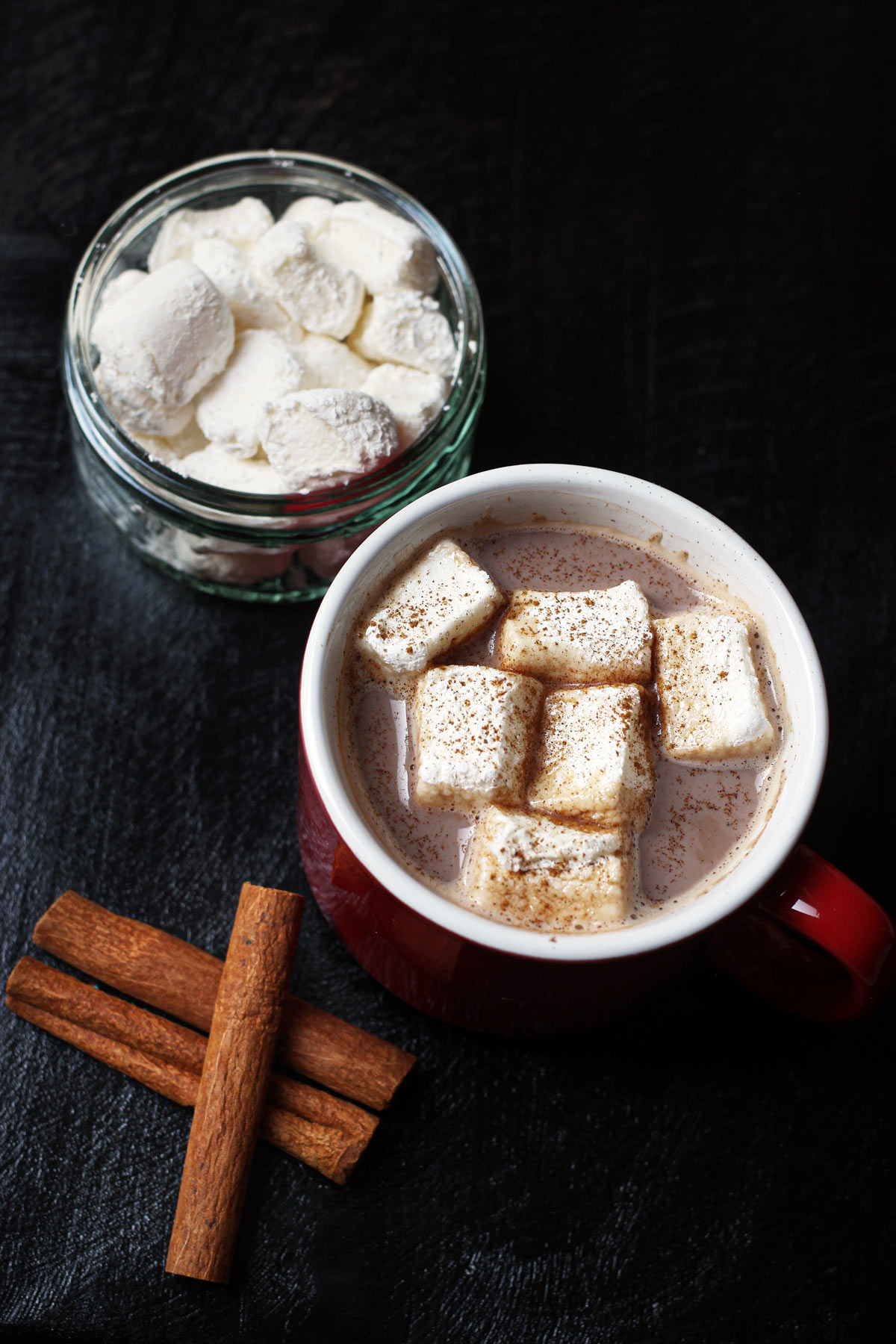 Sparkling apple cider is always a big hit to serve at New Year's Eve dinner. However, at three bucks a bottle, it's not cheap, especially if you're serving many people. Buy carbonated water for $.50/2 liter bottle (or thereabouts) and mix it with your favorite frozen juice concentrate. Just substitute the bubbly water for the water that is called for on the package. Instant sparkly juice.
Try these recipes if you want more specific guidance for homemade sodas:
To warm things up, make a batch of Hot Cocoa from Scratch or stir up this Malted Hot Chocolate Mix Recipe so the kids can make their own mugs of good cheer.
What are your New Year's Eve dinner plans?
I'd love to hear what you're cooking up. Head to the comments and let's chat!
This post was originally published December 28, 2008. It has been updated for content and clarity.