Looking for an easy cake recipe? This Spiced Pumpkin Bundt Cake with a luscious maple glaze comes together easily and quickly, perfect for dessert or snacking.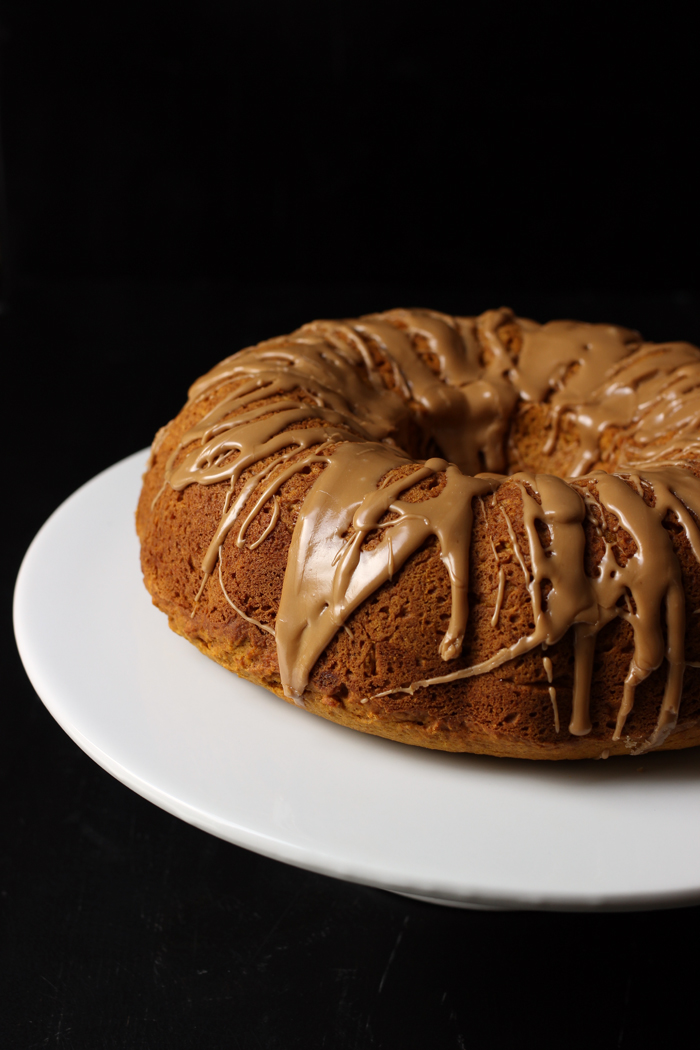 Got a hankering for cake? Prefer not to spend a pretty penny nor fill up on hydrogenated fats and preservatives? Then it's time to get baking!
Baking and cooking at home is a great way to save money. Not only can you trim your food spending, but you also have the opportunity to control which ingredients you use as well as the quality of those ingredients.
This is never more true than when it comes to baking a cake from scratch. Sure, bakery cakes are now pretty cheap and cake mixes often go on sale, but you'll pay a higher price for better quality ingredients.
Why do that when you can bake your own at home for less? This Pumpkin Bundt Cake with a Maple Glaze is a great place to start — or continue — your home baking journey.
How do you make a Pumpkin Bundt Cake?
This Spiced Pumpkin bundt cake, made from all real foods, comes together quickly and easily as does the glaze. Eggs, oil, and sugar are beaten together before you fold in a dry mixture of flour, leavening, and spices. Baked up in a bundt pan, this cake turns out as a delicious treat for snacking or serving as a dessert.
The cake itself is not overly sweet, so without the glaze, it's more like a snack cake or quick bread. The glaze makes it dessert. Do with it what you will.
You'll find that the ingredients list of this Pumpkin Bundt Cake includes such things as pumpkin puree and maple extract, so let me answer a few questions:
Are canned pumpkin and pumpkin puree the same thing?
Canned pumpkin is simply cooked, pureed pumpkin. You can make your own or buy it in a can. Often pumpkin (canned or fresh) is seasonally available, so stock up at the holidays when you see good pricing. You can also use pureed butternut squash instead of pumpkin puree if you need to.
Stocking up on sales is just one way I save money on groceries without clipping a single coupon.
How is canned pumpkin pie mix different than pumpkin puree?
Pumpkin pie mix or filling is a whole other animal. While pumpkin puree (canned or fresh) is cooked, pureed pumpkin, pumpkin pie filling is cooked pumpkin that has been flavored with spices and sweetened.
Canned pumpkin pie mix contains rather vague ingredients, including: pumpkin, water, sugar, salt, spices, dextrose, and natural flavors.
In all cases, I recommend you buy canned pumpkin puree and add your own sweetener and spices.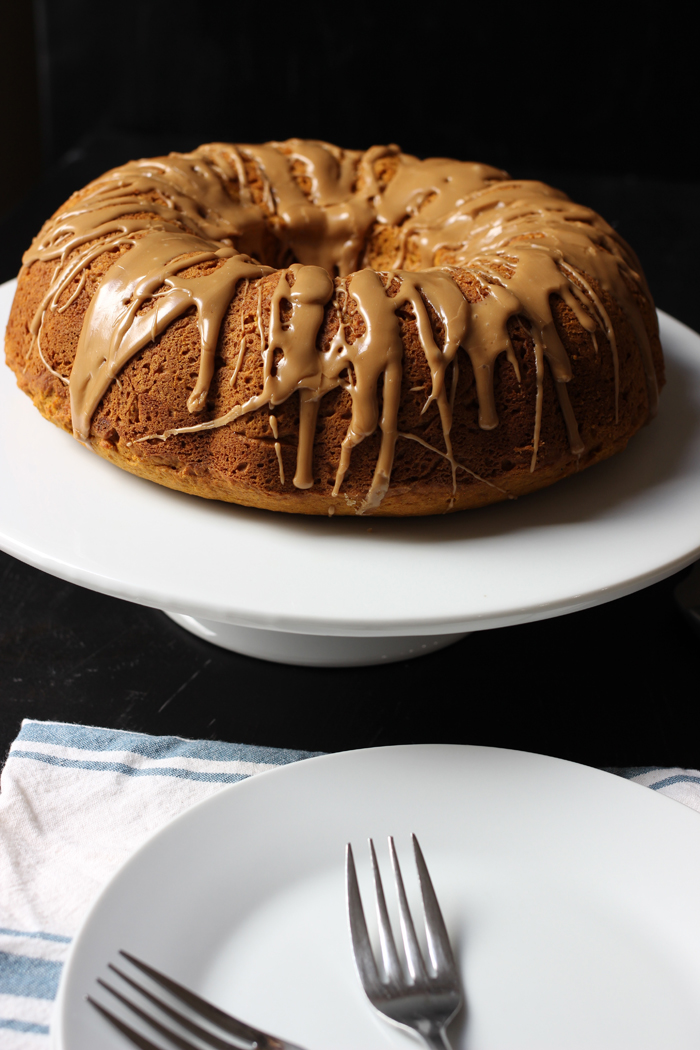 What is maple extract made of?
Maple extract is extracted from maple tree sap as it is processed into maple syrup. It carries a highly concentrated maple flavor. Imitation maple flavoring is also available which mimics the flavor of maple without using actual maple products. I recommend the former.
Can you use maple syrup instead of maple extract?
You'll notice I include both maple syrup and maple extract in the glaze recipe. The former is for a natural sweetener, the latter is to ramp up the maple intensity. If you can't find maple extract or even imitation maple flavoring, you can omit that 1/2 teaspoon, just know that the maple flavor in the glaze will be extremely faint.
How to make this good and cheap:
To make this recipe more economical:
Stock up on ingredients when they are on sale. The holidays are a great time to stock up on baking ingredients, such as flour, sugar, leavening, and spices. Pumpkins, canned and fresh, will also be more readily available around Thanksgiving and Christmas. Watch for them to be marked down right after the holidays so don't hesitate to stock up and fill your freezer with them.
If you need to make some substitutions or omissions, you can skip the maple extract. Just know the maple flavor will be faint.
Buy spices in bulk. Buy larger quantities of spices at lower prices and keep the excess in the freezer. Just refill the jars in your cupboard as needed. In the case of this Spiced Pumpkin Cake that calls for four different spices, you can trim the costs of the recipe by substituting 2 teaspoons pumpkin pie spice for the individual spices in the recipe. The flavors will be slightly different, but not enough to make a huge difference.
How I make this recipe easy:
Having the right kitchen tools can really make your time in the kitchen more enjoyable. Over time, I've honed my collection so that they are perfect for my needs. Here are the tools that I use for this recipe: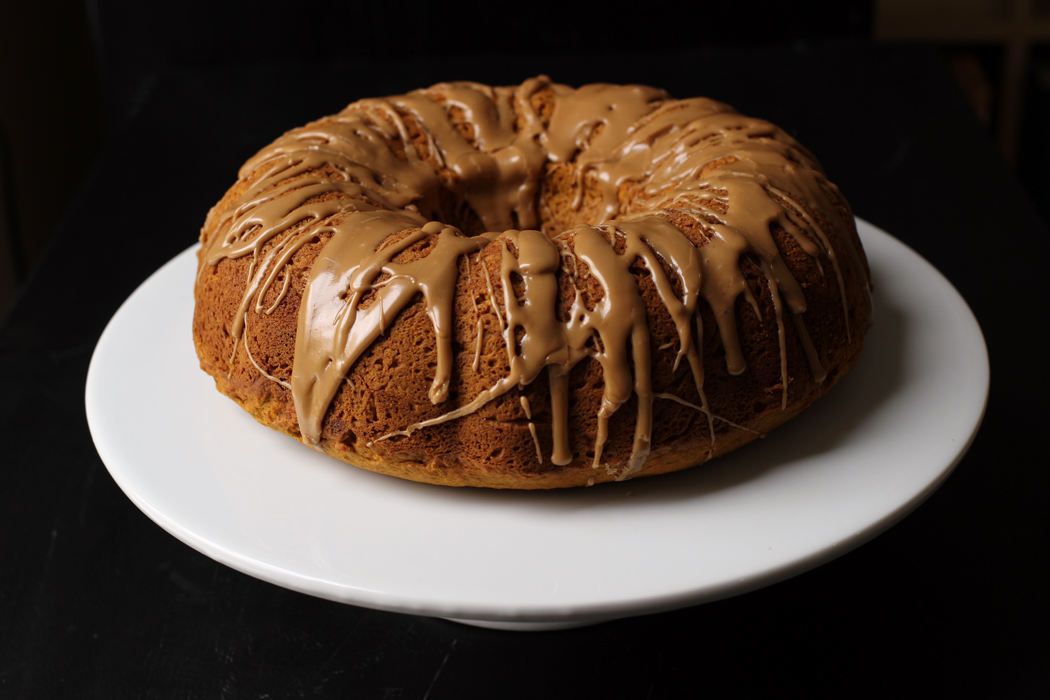 Pumpkin Bundt Cake with Maple Glaze
Looking for an easy cake recipe? This Pumpkin Bundt Cake with a luscious maple glaze comes together easily and quickly, perfect for dessert or snacking.
Ingredients
3/4

cup

neutral oil

1

cup

dark brown sugar

packed

2

egg

1

15-ounce can

pumpkin puree

1

tsp

vanilla extract

3

cup

unbleached, all-purpose flour

2 1/2

tsp

baking powder

1 1/2

tsp

baking soda

1

tsp

salt

1

tsp

ground cinnamon

1/2

tsp

ground ginger

1/2

tsp

ground nutmeg

1/4

tsp

ground cloves

1

cup

powdered sugar

1

tbsp

maple syrup

1

tbsp

milk

1/2

tsp

maple flavoring
Instructions
Preheat the oven to 325°. Spray a bundt pan with non-stick cooking spray.

In a large mixing bowl, combine the oil and sugar. Beat in the eggs, one at a time. Mix in the pumpkin and vanilla extract.

Sift together the flour, baking soda, baking powder, salt, and spices. Add the dry ingredients to the pumpkin mixture, folding just until combined.

Spoon the batter into the prepared baking pan. Bake for 30 minutes or until a tester inserted comes out with a few crumbs attached.

Allow the cake to rest for 10 minutes and then remove it from the pan. Let it cool completely on a wire rack.

Meanwhile, combine the powdered sugar, maple syrup, milk, and maple extract. Drizzle the glaze over the cooled cake.
Notes
To make as a mix: Take a small and a large ziptop bag or container. Label the larger with the wet ingredients and the baking instructions. Measure out the sugar into the small bag and the other dry ingredients into the large bag. Seal and store until ready to use.
Store the baked cake at room temperature, for up to 3 days.
Nutrition
Calories:
353
kcal
|
Carbohydrates:
51
g
|
Protein:
4.8
g
|
Fat:
14.8
g
|
Saturated Fat:
2.1
g
|
Cholesterol:
27
mg
|
Sodium:
372
mg
|
Potassium:
172
mg
|
Fiber:
1.9
g
|
Sugar:
24
g
|
Calcium:
810
mg
|
Iron:
0.4
mg