A favorite on our holiday table is this Pretzel Berry Dessert. Luscious berries and berry-flavored gelatin top a layer of cream cheese nestled over a pretzel crust.
Pretzel Berry Dessert is a traditional holiday treat that you've probably seen at potlucks and get-togethers. In some parts it's called Strawberry Pretzel Salad. It's called a salad because back in the 50s and 60s, the term salad, covered a wide range of dishes, including abundant gelatin.
I'll never forget going to my first Midwest funeral and the pastor said there would be salads and sandwiches back at the church. I had no idea there'd be 50 Jello dishes!
While I might disagree on the definition of salad, I love this dish. I thank the women of the Midwest for keeping it alive because it is awesome. It is, in fact, so awesome, that my children have requested a double batch of it this Thanksgiving.
Furthermore, this is FishPapa's all-time favorite come holiday time. The man who "doesn't like sweets" claims he could eat the whole pan. I guess we do have a dessert to arm wrestle over.
The original Strawberry Pretzel Salad obviously calls for strawberries and strawberry jello, but we prefer it with raspberries and cranberry or raspberry jello. Strawberries end up looking and feeling like slugs in this dish (just saying!), so we opt for something with more substance. Raspberries or boysenberries are a heartier substitute and are beautiful little jewels in the gelatin.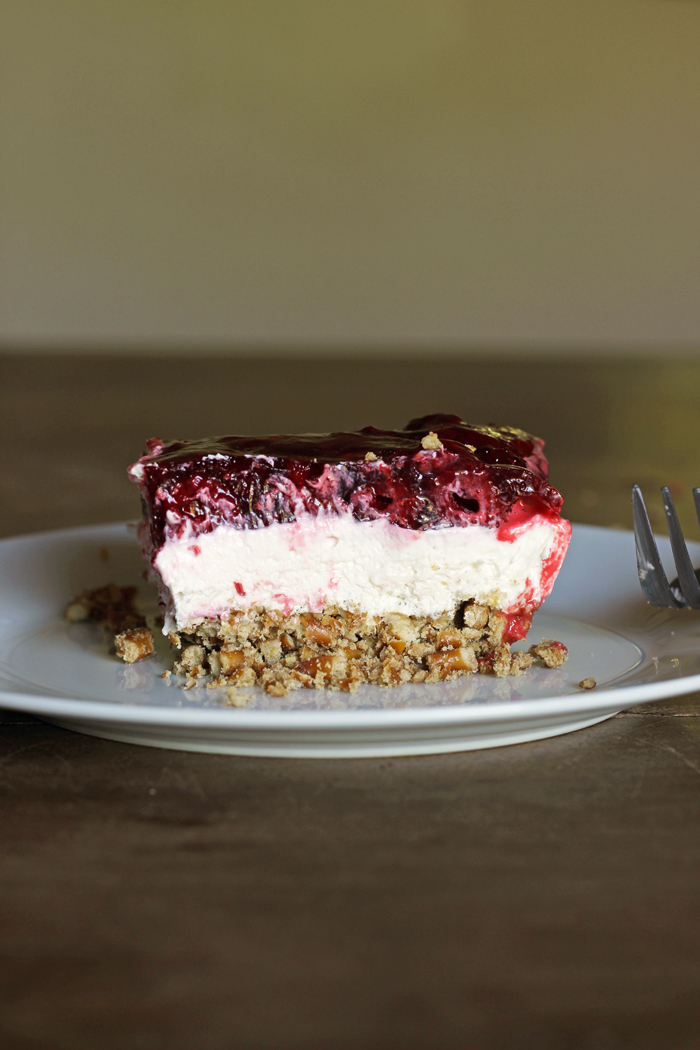 And yes, you know I want healthy food in my house, but this is my one exception for buying Jell-O and Cool Whip. This year I'm thrilled that Jell-O has made a version with no artificial flavors, dyes, or preservatives.
And yes, I know that I could probably make healthier versions of both Jell-O and Cool Whip, but for a once (or twice) a year indulgence, I'm okay with this.
Usually I prepare this the day before Thanksgiving so that it has plenty of time to firm up before the big feast. This year, I'm going to experiment by making the pretzel crust in advance and freezing it. I think that will free up some of my kitchen time in the days leading up to the holiday.
I've found that in preparing this dish, it's really important to seal the cream cheese layer to the edges of the pan. If you have any cracks around the perimeter, your liquid gelatin will sink to the bottom and make your pretzel crust weird.
Also, I've discovered that using frozen berries (no need to thaw!) helps the gelatin thicken more quickly so that I avoid the chilling in a bowl step that some versions of this recipe recommend. It's all in the technique, folks!
If you're taking this to someone else's house, be sure to invest in these Pyrex pans with lids. They are the bomb! I'm sorry, but plastic wrap is just not going to cut it. Glass dish with a lid, people. And not those Easy Grab nightmares. Those are for the birds. No real seal whatsoever.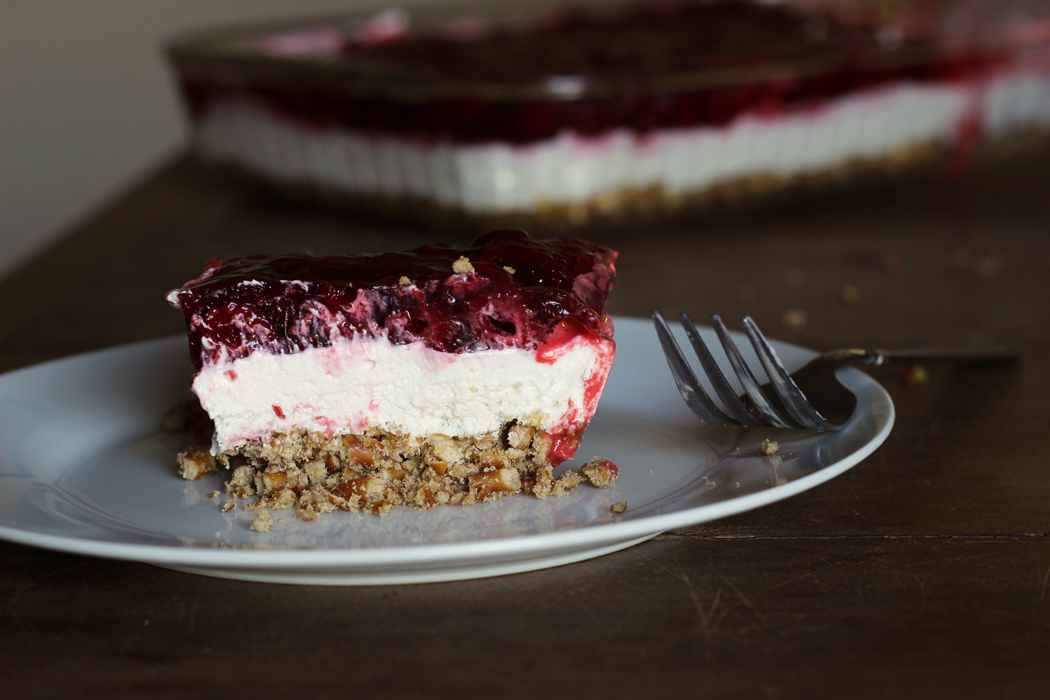 Pretzel Berry Dessert
A favorite on our holiday table is this Pretzel Berry Dessert. Luscious berries and berry-flavored gelatin top a layer of cream cheese nestled over a pretzel crust.
Ingredients
For crust
1

tbsp

granulated sugar

2 2/3

cup

crushed pretzels

3/4

cup

butter

melted
For cream filling
1

8-ounce package

cream cheese

softened (low fat works fine)

1

cup

granulated sugar

1

8-ounce package

Cool Whip
For berry topping
2

3-ounce package

cranberry Jell-O

or raspberry is good too

2

cup

water

boiling

20

oz

frozen raspberries

or boysenberries, do not thaw
Instructions
Preheat the oven to 400 degrees. Combine the pretzel crumbs, 1 tablespoon sugar, and the butter in the 9 x 13 pan. Press firmly. Bake for 10 minutes. Cool completely on a rack.

In a large mixing bowl whip together the cream cheese and 1 cup sugar. Fold in the Cool Whip. Spread over the pretzel crust, sealing to the edge of the dish. You want there to be NO gaps.

In another large bowl, combine the Jell-O and hot water, stirring until dissolved. Stir in the frozen berries. Allow to partially set. You don't want it too thin, but if it gels too quickly you will have a very lumpy dessert. It shouldn't take very long if the berries are frozen. Pour this mixture over the cream cheese layer before it gets lumpy.

Refrigerate, uncovered, until hardened. After completely set, refrigerate covered.
Notes
Store leftovers covered, in the fridge, for 4 days.
Nutrition
Calories:
352
kcal
|
Carbohydrates:
42
g
|
Protein:
4
g
|
Fat:
20
g
|
Saturated Fat:
12
g
|
Cholesterol:
54
mg
|
Sodium:
404
mg
|
Potassium:
145
mg
|
Fiber:
4
g
|
Sugar:
23
g
|
Vitamin A:
657
IU
|
Vitamin C:
12
mg
|
Calcium:
59
mg
|
Iron:
1
mg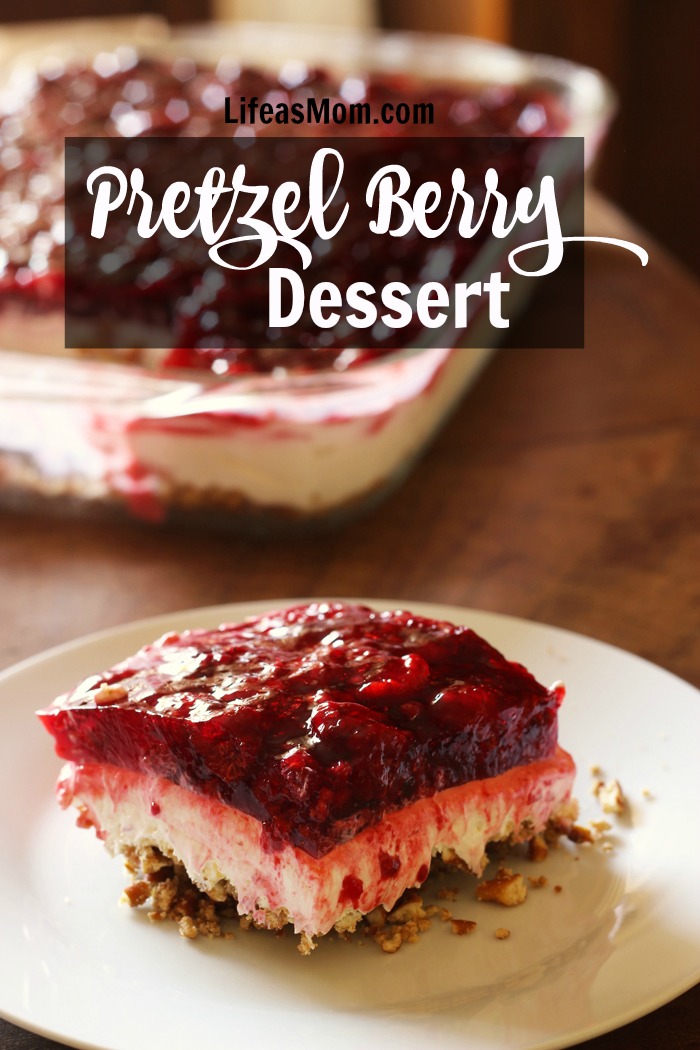 Originally published July 24, 2008. Updated November 13, 2016.