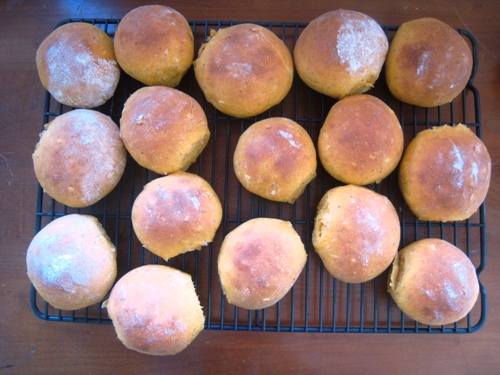 I love my bread machine. I really do. Did I ever tell you my bread machine story?
We lived in Paso on two acres. We had two little people with a third on the way. And that, in itself, was amazing. All my friends had those Bosch mixers to knead bread. I borrowed one and realized it was too much for my brain to handle. So, I told my husband to buy me a bread machine for Christmas.
Yes, told.
My bad. I've done that at least twice. And still feel bad about telling him what to get me. Anyway, not only did he buy me the bread machine AND several boxed mixes in case I didn't have what I needed to bake that morning, but he also included a pair of diamond/pearl earrings in the bread pan.
True story. Not lying. Husband of the year. Totally.
If you've got a bread machine, with or without the diamond/pearl earrings, you can make these rolls — and bake your sweet hubby happy. And if you don't yet have that machine of wonder, I've included how to make these by hand.

Recipe: Pumpkin Onion Rolls
Ingredients
1 1/3 cup buttermilk
1/3 cup vegetable oil
1 egg
1/2 cup pumpkin puree
3 tablespoons dried onion flakes
3 tablespoons sugar
3 cups unbleached, all-purpose flour
1 cup whole wheat flour
2 teaspoons salt
2 1/4 teaspoon yeast
1 teaspoon poppy seeds
Instructions
Assemble the ingredients in the bread pan of your bread machine according to the manufacturer's instructions. Set on dough cycle.
If making the dough by hand: Combine the buttermilk, oil, and sugar in a medium-size saucepan and warm slightly over medium heat. Transfer the mixture to a large bowl and add the yeast. Stir and allow the yeast to proof for 5 minutes. Add the flours, egg, pumpkin puree, onion flakes, salt, and poppy seeds. Stir to combine well. Turn the mixture out onto a lightly floured surface and knead for 5 minutes to create a smooth, elastic dough, adding more all-purpose flour as necessary. Transfer to a greased bowl and turn the dough ball to coat. Allow to rise until doubled in bulk, about 1 hour.)
Meanwhile line a baking sheet with parchment or a silpat mat.
Once the machine beeps, turn the dough out onto a floured surface and divide into 16 portions.
Form each portion into a tight round and place them evenly spaced on the prepared baking sheet. Allow the rolls to rise for 30 minutes.
Preheat the oven to 350 ° Bake the rolls for 15 to 20 minutes or until golden brown
Cool the rolls on a rack.
Preparation time: 1 hour(s) 40 minute(s)
Cooking time: 20 minute(s)
Number of servings (yield): 8
These will be beautiful in your bread basket.
What's on YOUR plate?
What's on Your Plate? is designed to be a conversation amongst good eaters.
Tell us about a recent meal. Did it meet with rave reviews? Or did it bomb? What side dishes did you pair with the star of the show? Did you try a new ingredient? Find the groceries at great prices?
What's on YOUR Plate?
Share with us a recent meal you prepared. Either link it up below or tell us about it in the comments. Please make sure that you link to www.goodcheapeats.com in your post so others know where the dinner party is.
And don't forget to visit the other good eaters participating today. I'm sure you will be inspired to make all sorts of Good Cheap Eats at your house.
And just to let you know, this will be the last edition of What's On Your Plate? for the remainder of the year. Thank you for making it such a success!