As the holidays approach, you may be tempted to pull out all the stops. Your budget may not agree. How do you plan holiday meals you can afford?
Thankfully, you can enjoy a festive season without overspending with these tips for budget-friendly holiday meals. From setting a budget to shopping your kitchen to rocking the sales, we've got you covered on affordable holiday celebrations that don't feel cheap.
Jump to:
The holidays can feel chaotic. From the glaring displays at the stores to your social media feed filled with things to bake, things to buy, things to overdo.
It's quite easy to commiserate with the Grinch about all the "noise, Noise, NOISE!"
But, instead of bemoaning the commercialism of the holiday season, you can look at these displays as a helpful head's up. You know you're going to want to do it big when the time actually rolls around, but you don't want to be stuck with a big bill when it's all over.
A little pre-planning would not be amiss, especially where your budget is concerned. Time to plan holidays you can afford!
Why It's Important
We all know the holiday season can strike a firm blow to the budget, tempting us to overspend in our desires to pull out all the stops and celebrate.
So, how can you outsmart the ghosts of Christmas debts? How can you plan better this year to make this a great season, but also one that doesn't break the bank?
Planning for budget-friendly holiday meals is one step in the right direction. Not only will your plans help you stay in the black this season, but planning ahead can prevent you from seeing red, getting all stressed out by all there is to do at the holiday season.
Yep, you can make the most of your money and your meal times this season — without pulling an Ebenezer Scrooge.
The holidays are an opportunity for us to gather with family and friends, to spend down time with the people we love. It's that one time of year when being nice to others is welcomed and encouraged — instead of greeted with a side-eye wondering why you're being so weird.
Yet, there is a cost to all this feasting and frolicking, especially when we're prepping once-a-year kind of meals and extending hospitality and food gifts to folks near and far.
Check out these strategies to help you save money this season and still enjoy great budget-friendly meals with friends and family:
1. Set a budget.
Yep. The big B word. If you don't tell your money where to go, it will most certainly go where it wants — while your back is turned.
Making a Thanksgiving and Christmas budget is super important; the sooner you do it, the better. While you probably already have a grocery budget, you're going to want to increase it a little bit to account for the added expenses of the holidays.
Think through the events that you usually host during the holiday season and estimate how much you think they will cost this year. Look through last year's bank statements to see what you spent in the past to give you a ballpark figure.
If you don't have those funds in savings already, you'll need to reallocate your monthly income to accommodate these holiday expenses or find a way to increase your cash flow.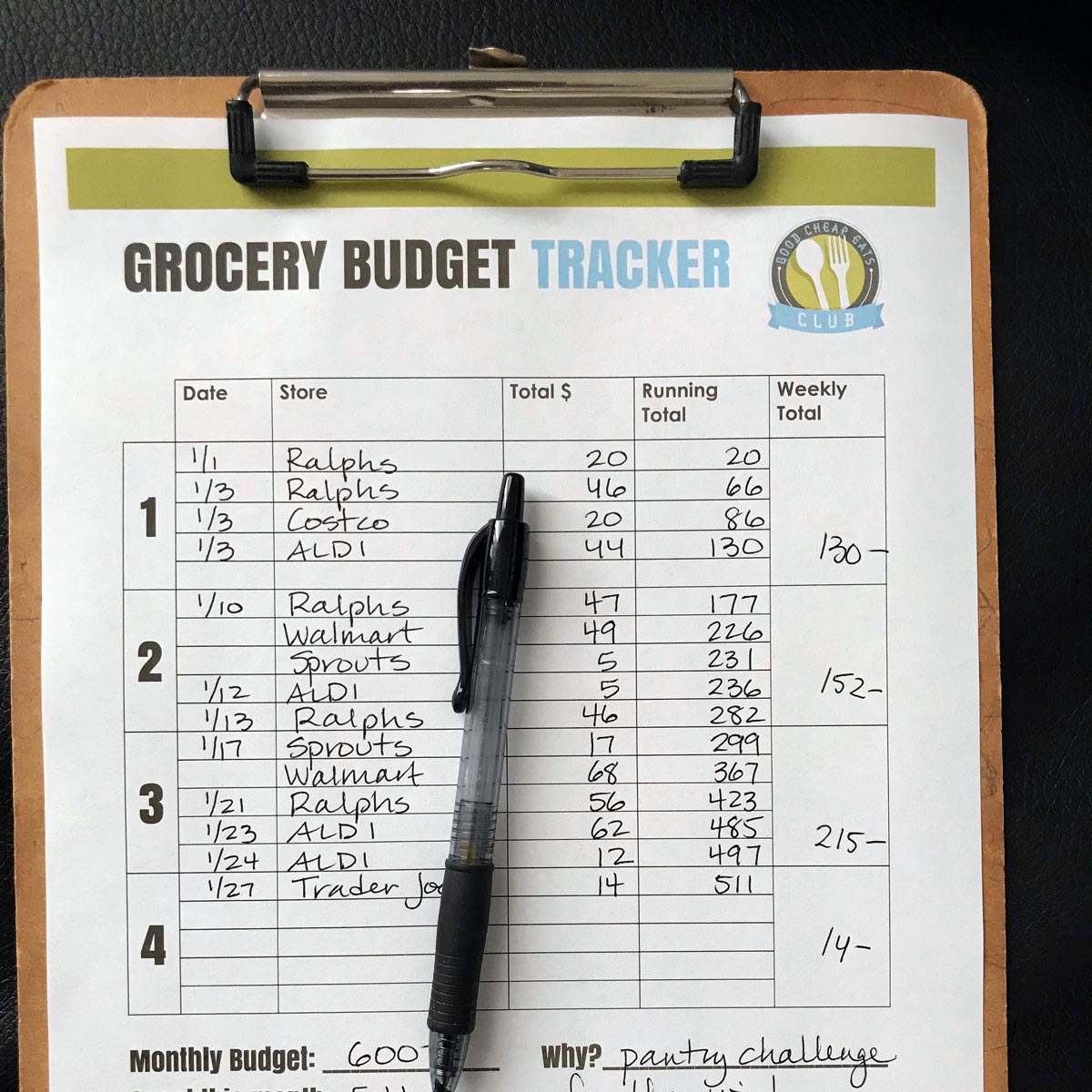 2. Plan ahead.
Planning ahead allows you time not only to scare up some extra cash, but also to dig through what you already have at home to make sure you don't overbuy. Time to shop the kitchen!
Oh yeah. We already have two jars of molasses for that Gingerbread we only make once a year. I don't need to buy more. I can also use that molasses to make my own brown sugar.
When you plan ahead, you also have a chance to be on the prowl for good deals. Later in the season you may feel rushed and buy things at higher prices than you need to.
If you already know what meals you'll be hosting and which must-make holiday dishes you're going to prepare, you already have a grocery list in mind! You can start buying those items a little at a time, instead of bearing the expense all at once later.
3. Plan simple meals.
There are soooo many fun things that you can make at the holidays, there isn't time to make them all! That there is reason alone to simplify.
Planning simply will make yours budget-friendly holiday meals without a lot of effort or fancy money-saving tricks.
And guess what? The holidays are all about tradition for most people. You don't need to get fancy.
When I polled my kids about their favorite dishes, the list was pretty short: mashed potatoes and stuffing for Thanksgiving and tamales for Christmas, and Chocolate Cheesecake for both. Sounds pretty simple and economical to me!
(Yes, I will make other things, but this tells me I don't need to get crazy — or expensive.)
Pro tip -> Focus your meal planning as much as possible on this Budget Grocery List to stretch your dollar as much as possible.
4. Shop the sales, markdowns, and coupons.
The weeks leading up to Thanksgiving and Christmas are ripe with great sales at your grocery store, often the lowest prices you'll see all year. Make good use of these sales to stretch your dollar over the holidays — and beyond.
Think outside the box. Maybe chips aren't something you normally buy on purpose for the holidays, but chances are you're going to have some kind of snacky dinner. When you see chips and other snack foods go on sale in fall, snatch them up!
And then hide them where the kids won't see them so you still have them when the holidays arrive.
(Check the best-by dates. Chips are usually good for many months.)
Don't dismiss the clearance section. You'd be surprised at how often I find typically in-season items marked down for a steal. 
Be sure to read up on Christmas Clearance Groceries to help you save later in the season.
Likewise scan your grocery store app for coupon savings that will help you further save on budget-friendly holiday meals.
5. Cook ahead as much possible.
I am a huge fan of make-ahead meals. Sometimes those are freezer-friendly, other times they are dishes that I can stash in the fridge a few hours or days in advance.
Not only do make-ahead recipes save me a lot of hustle and bustle near serving time, but they also save me money. I'm able to make the from-scratch version for less money, and doing it in advance makes sure I'm not tempted to rush out and buy the store kind.
There are so many great Make-Ahead and Freeze Thanksgiving Side Dishes. Think about tucking away the following:
pies, cakes, and other desserts
rolls, biscuits, and cornbread
stuffing and croutons
mashed potatoes and gravy
cranberry sauce
vegetable casseroles and more
Cooking from scratch will taste better and likely cost less than commercial foods.
6. Let others contribute.
If friends, family, or even your kids offer to contribute to the holiday meal, let them! Don't think you should do it all or that you can do it better all by your lonesome.
You'll slave for hours and it'll be over in 15 minutes. Accept help in this exercise in futility.
Allowing others to contribute to the meal also reduces the burden on your budget. No one need make and pay for it all. Allowing others to help prepare the meal blesses them as well as yourself!
Budget-friendly holiday meals are within your reach!
You don't need a million dollars to entertain this season, you just need a few savvy, money-saving strategies. Make a plan that works, and work that plan, my friend!
Budget-Friendly Holiday Recipes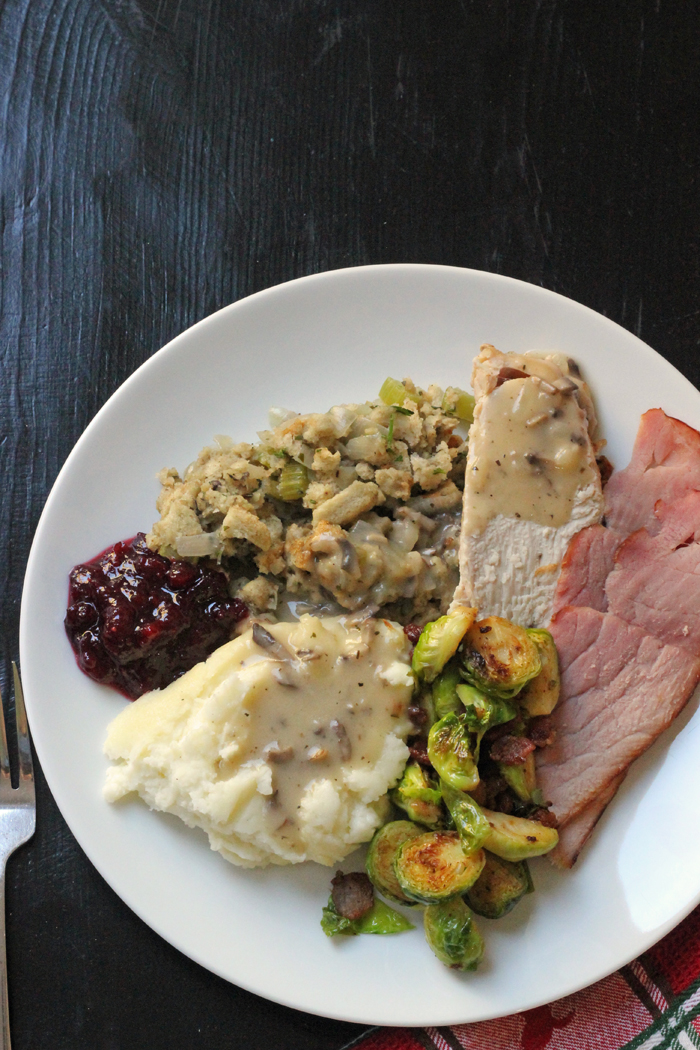 More Budget Holiday Tips
This post was originally published on October 21, 2019. It has been updated for content and clarity.