What you spend on groceries can be one of the most flexible line items in your budget. How do you set a grocery budget that works?
Estimated reading time: 6 minutes
Jump to:
As we kiss January and the Pantry Challenge goodbye, it's time to turn our sights to next month's Grocery Savings Challenge!
You already know that we're in the business of saving money around here—saving money to pay down debt, fund college accounts, pay for braces, and save for the future. Whatever your current financial goals may be, what you do in the kitchen and with your grocery dollar has a big impact on the progress you make.
I know this because creating a firm grocery budget helped us get out of debt.
Since groceries are one of the most flexible line items in your monthly spending, it's good to consider if you're on track, if you can cut back, or if you have some flexibility to splurge. It could make a big impact on your bigger financial picture.
To that end, I want to walk you through the different steps of the Good Cheap Eats System this year in our savings challenges. We've tackled the process of shopping your kitchen first because whenever you start working to save money, you likely have something in the kitchen to work with.
This month, we're tackling a fundamental part of adulting: setting a grocery budget.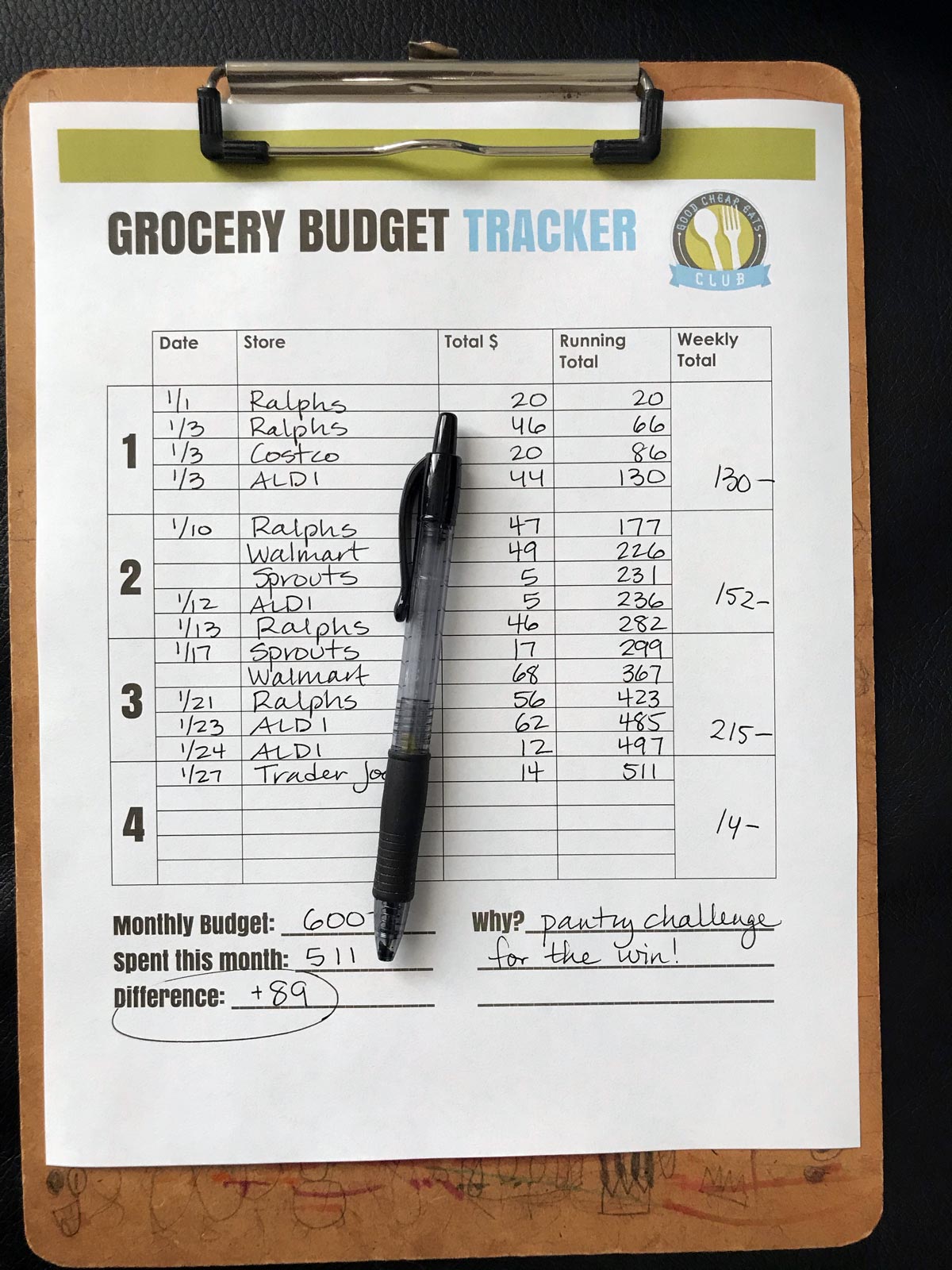 Obviously, this is going to be dependent on a particular household's size, income, dietary needs, and food preferences. There really isn't a one-size-fits all answer, but there are some general things to consider.
It's helpful to compare notes with others, particularly those who live in the same region and/or enjoy a similar diet, so that you can see if you're on track. But at the same time, don't compare your apples to someone else's oranges.
How to figure out your budget for groceries:
What are you spending now?
If you're new to setting a grocery budget, it might be hard to know where to start, especially if you're also getting out of debt or trying to save for the first time. How much curbing is necessary?
Knowing what you spend currently will at least give you a starting place for budgeting.
Keep track of receipts for a month or two so you have some data to work with.
Log into your bank or credit card account. They may already be generating reports that show this data.
Look at what you're spending eating out. What you spend on food away from home can be reduced by cooking at home.
Once you know what you're spending, you'll be able to determine if this amount can be reduced or relaxed.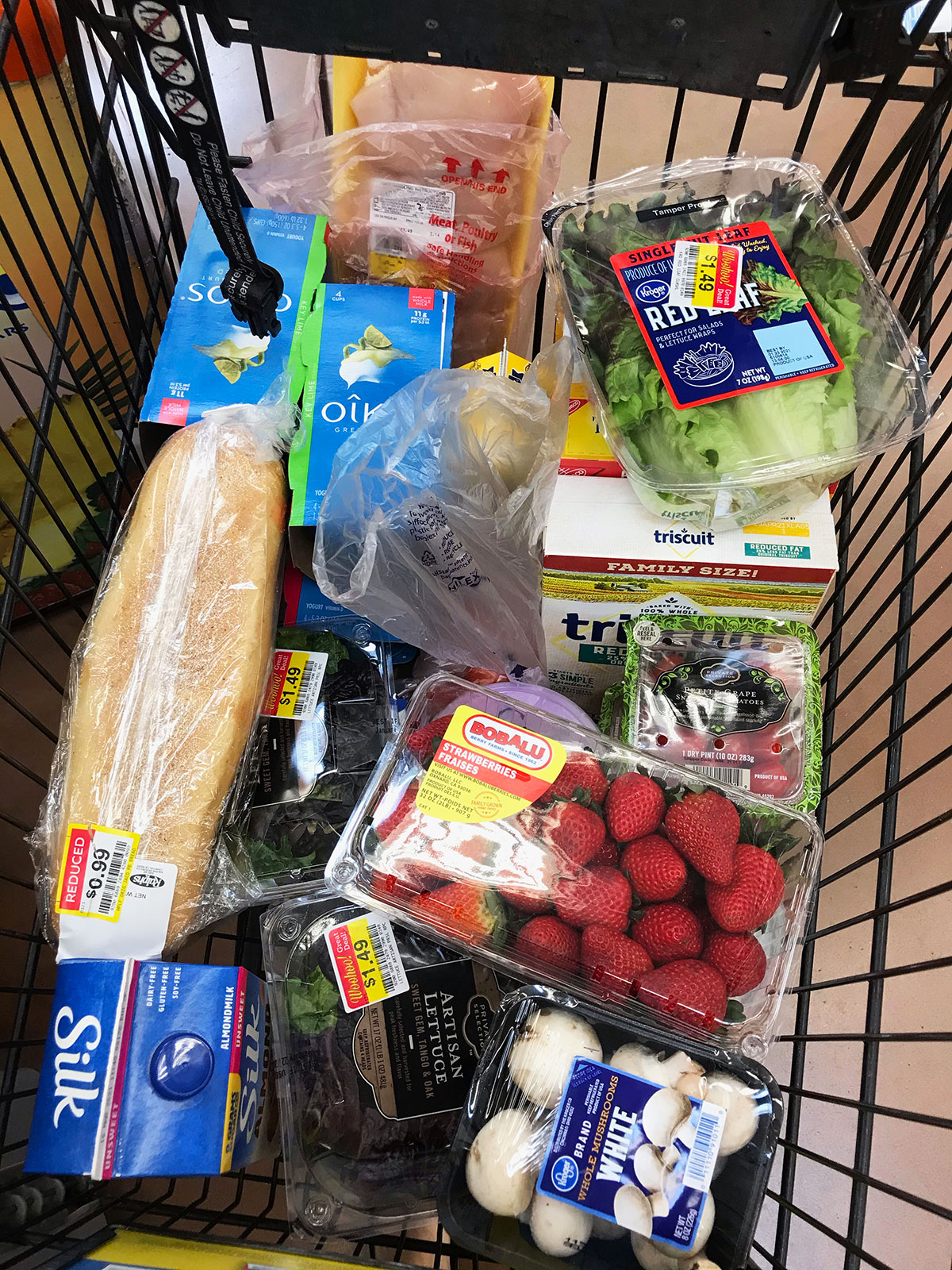 What can you afford?
Obviously, the money you have at your disposal will dictate what you should spend. Once you pay for housing, utilities, and other inflexible bills, you've (hopefully) got discretionary funds to spend on food, clothing, etc. To stay in the black, you may need to give up certain luxuries somewhere.
For us, we're happy to go without cable, new cars, and fancy clothes, in order to spend money in other areas, like ample groceries, dinners out, or family travel.
Adjust your grocery budget to suit your income as well as your priorities.
What does the government say about food costs for your type of household?
Not that the government is the authority on all things grocery related, but our tax dollars do pay for someone to track food costs nationwide. Consulting the USDA food cost reports can help you decide on a practical grocery budget.
Check out the USDA Food Cost reports to see how your household adds up. The last I heard the thrifty plan is considered a basis for food assistance.
According to the most recent report, the USDA estimates that it should cost me $1118.07 to feed my household of seven—all our meals at home along the lowest-price point—each month on the thrifty plan. I know from experience that this is totally possible.
How can you make all these numbers jive?
You've got three numbers: what you're spending, what you can afford, and what food actually costs. In a perfect world, these numbers should all match up to the ideal grocery budget. You would be spending only what you can afford and you would be able to afford what food costs.
Unfortunately, things do not always match up. For years Mr. Stark, a friend's dad, prepared our taxes for free, in part because he couldn't understand how we were able to feed everyone on how little we made. Those were scary times, and he was scared for us. Thankfully, those days are past.
And thankfully, we learned that it is possible to make some tweaks to help the numbers jive better and to identify a grocery budget that works for you.
Auditing your grocery spending is a great place to start. Following the Good Cheap Eats system is another.
Buying groceries on a budget can be as simple as making a few tweaks like shopping the sales or changing which store you go to. Some changes don't even involve shopping at all; for instance baking your own bread can save you a good $10/week that might make a difference in your monthly budget.
The bottom line is that how much YOU should spend on groceries is going to depend on a lot of different factors, including your priorities. Gourmet coffee may be more important to you than a new pair of shoes, and that's perfectly okay.
---
How do YOU decide what to spend on groceries? What's your grocery budget?
This post was originally published July 20, 2016. It has been updated for content and clarity.