What you spend on groceries can be one of the most flexible line items in your budget. How do you decide just how much you should spend? How do you set a grocery budget that works?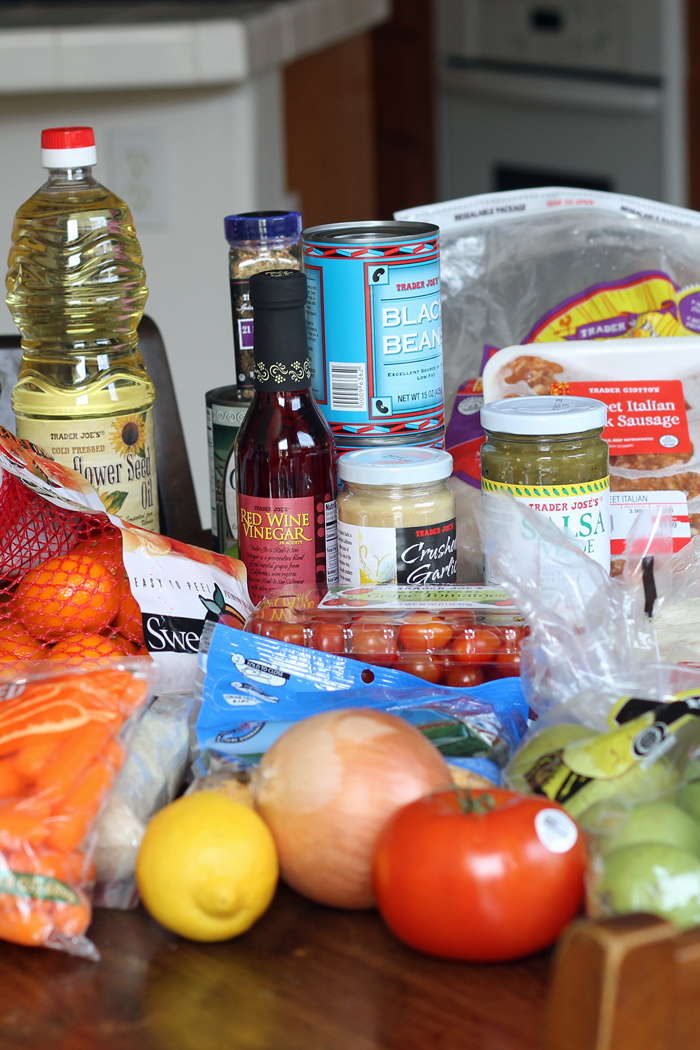 A few weeks ago when I was cleaning out our family library, I came across my accounting book from my junior year in France. I kept track of every centime and franc that I spent in 1993, including what I spent on groceries during those months I lived alone and did my grocery geeking in another country.
Apparently, tracking what I spend on groceries has been a lifelong endeavor. When Bryan and I were newlyweds, I didn't do a great job curbing that spending, but once we decided to live on one income, I paid better attention. I remember when cans of chiles and olives cost a quarter! It's curious to look back and see how much prices have changed.
I remember when I could regularly buy meat for less than $1/pound….
Eventually, creating a firm grocery budget helped us get out of debt.
Since groceries are one of the most flexible line items in your monthly spending, it's good to consider if you're on track, if you can cut back, or if you have some flexibility to splurge. It could make a big impact on your bigger financial picture.
Just How Much Should You Spend on Groceries?
Obviously, this is going to be dependent on a particular household's size, income, dietary needs, and food preferences. There really isn't a one-size-fits all answer, but there are some general things to consider.
It's helpful to compare notes with others, particularly those who live in the same region and/or enjoy a similar diet, so that you can see if you're on track. I think that's part of why the Grocery Geek feature is so popular here on Good Cheap Eats. But at the same time, don't compare your apples to someone else's oranges.
Consider these questions to figure out your own budget for groceries: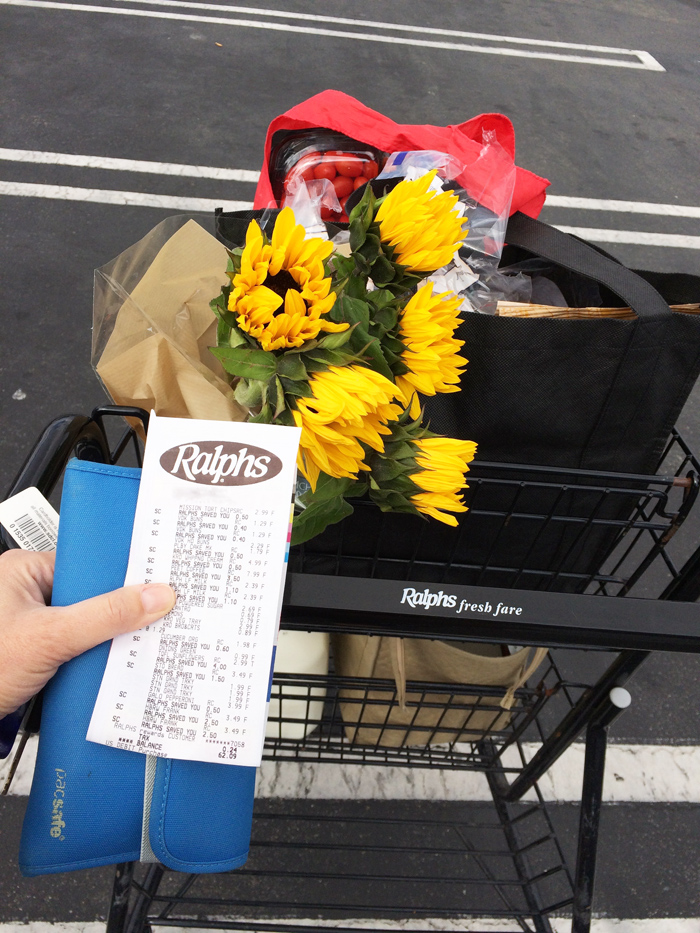 What are you spending now?
If you're new to setting a grocery budget, it might be hard to know where to start, especially if you're also getting out of debt or trying to save for the first time. How much curbing is necessary?
Knowing what you spend currently will at least give you a starting place for budgeting. Keep track of receipts for a month or two so you know. Also, track all that eating out. That is still part of your general budget and needs to be accounted for. Cooking more at home can reduce your take-out spending multi-fold, so follow the connection.
What can you afford?
Obviously, the money you have at your disposal will dictate what you should spend. Once you pay for housing, utilities, and other inflexible bills, you've (hopefully) got discretionary funds to spend on food, clothing, etc. To stay in the black, you may need to give up certain luxuries somewhere.
For us, we're happy to go without cable, new cars, and fancy clothes, in order to spend money in other areas, like ample groceries, dinners out, or family travel.
What does the government say about food costs for your type of household?
Not that the government is the authority on all things grocery related, but our tax dollars do pay for someone to track food costs nationwide. This is a good reference point to compare to. The last I heard the thrifty plan is considered "a food stamp budget."
Check out the USDA Food Cost reports to see how your household adds up.
For instance, according to the April 2018 report, it should cost me $1345.70 to feed my family all our meals at home along the lowest-price point, the thrifty plan. That means we're better than the feds with our current $1100/month groceries budget.

How can you make all these numbers jive?
You've got three numbers: what food costs, what you're spending, what you can afford. In a perfect world, these numbers should all match up. You should be spending only what you can afford and you should be able to afford what food costs.
Unfortunately, things do not always match up. For years Mr. Stark, the dad of a friend, prepared our taxes for free, in part because he couldn't understand how we were able to feed everyone on how little we made. Those were scary times, and he was scared for us.
Thankfully, those days are past. It is possible to make some tweaks to help the numbers jive better. Auditing your grocery spending is a great place to start.
Sometimes you find out that your time is more valuable than running all over town for the best deals. Other times you realize that baking your own bread can reap you a much needed $10/week in savings.
The bottom line is that how much YOU should spend on groceries is going to depend on a lot of different factors, including your priorities. Gourmet coffee may be more important to you than a new pair of shoes, and that's perfectly okay.
Want more help in saving money on food costs? Join the Kitchen Winners Circle and learn how to enjoy great homemade meals with more time, money, and energy leftover for the life you love.
How do YOU decide what to spend on groceries? What's your grocery budget?