Entertaining friends and family can seem daunting. Between the expense and the effort, planning a Brunch Party can intimidate, to be sure. This easy and budget-friendly Brunch Party Menu will help you pull it off with ease.
Enjoy both sweet and savory brunch party food with these easy menu ideas to please your guests as well as your wallet. These simple and delicious breakfast recipes can be made ahead of time, leaving you a chance to enjoy your company at home.
Jump to:
This spring we had the chance to host family and friends at a wedding reception for my son and daughter-in-law at our home. It was an all-day affair, with a family brunch in the morning, friends at lunch, and family again at dinner.
While I had hosted brunch parties before, this one was extra special, and one that I wanted to enjoy as much as possible. We tossed around lots of party food ideas, but landed on these simple brunch recipes that worked like a charm.
I will definitely put this Brunch Party Menu on repeat going forward!
Don't want to be locked in? Try one of these 40+ Easy Brunch Ideas & Recipes for a twist.
Why Do This
It's budget-friendly. You know me, while I love food, I'm not going to spend a fortune to feed people. Instead I landed on some brunch ideas that were very budget-friendly.
It's easy. Since I was hosting this shindig at my home, I needed it to be easy. Not only was I prepping the food myself, but I was also cleaning my house to entertain 40 people. Easy does it, for sure!
It's delicious. I am pleased to say that this Brunch Party Menu is the bee's knees. It's the perfect combination of homemade goodies and a few key store-bought options that taste amazing and look beautiful when laid out.
Menu Ideas
This Brunch Party Menu includes the following: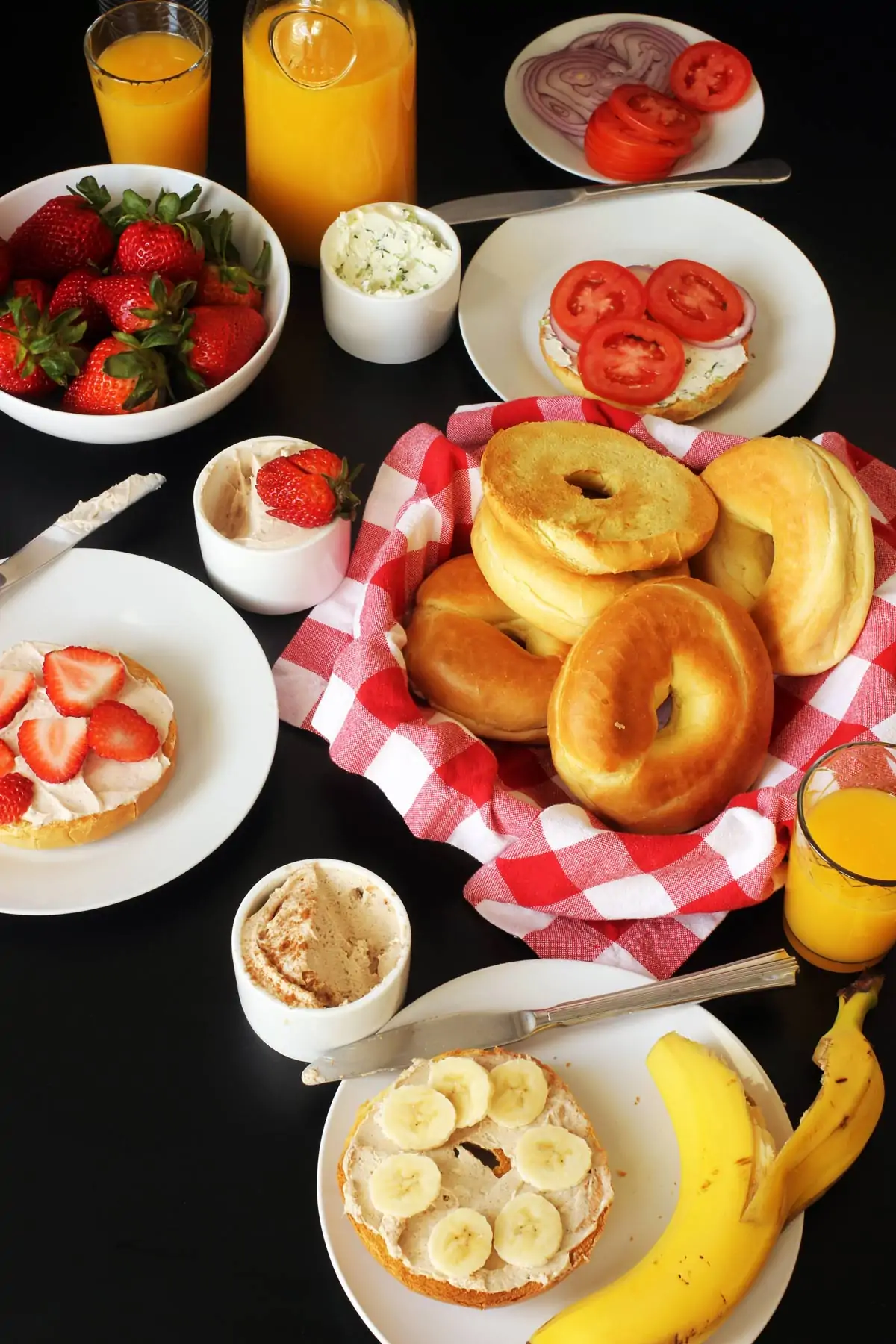 bagels – You can bake your own bagels if you like, but I find it to be a time-intensive process, especially when you're cooking for a crowd. For our party, I purchased Einstein's Bagels gift cards at Costco so that our bagel purchase was reduced from regular price. Costco and ALDI both sell very affordable bagels as well.
flavored cream cheese – While you can certainly purchase this at the store or bagel shop, it's super easy — and MUCH cheaper — to make your own flavored cream cheese. Our vanilla bean Sweet Cream Cheese is super yum!
bagel toppings – Offering bagel toppings in addition to the flavored cream cheese adds a lot of excitement to your Brunch Party Menu. These mini jam pots were a hit!
fresh fruit – Making your own Fresh Fruit Platter isn't difficult and it will be fresher and less expensive than any you can buy. You can prep a fruit salad if you prefer or just serve pieces of seasonal fruit, like apples and clementines.
HCE's – Offering hard cooked eggs is an easy protein for those who eat gluten free or are looking for high protein items.
egg casserole – I chose Bacon Quiche with Broccoli and Cheddar as well as a few other basic quiche because quiche feels fancy without a lot of work. I can even freeze quiche in advance and bake it from frozen to make my brunch party even easier.
cold brew coffee concentrate – Making a cold brew concentrate gives lots of options to guests as they can serve themselves hot or iced coffee. On the host's end, you only need provide hot water which can double for the tea drinkers in your midst.
other beverages – Since not everyone likes coffee, be sure to lay in a variety of tea and juice as well as sugar cubes and coffee cream/creamer. The makings of Sherbet Punch would be fun, too!
Variations
While I've chosen delicious and easy brunch party recipes, you can certainly swap something out. For instance, serve a french toast casserole or cinnamon rolls instead of the bagels and all the toppings.
Whatever you do, be sure to choose plenty of brunch recipes that you can make in advance and even freeze. This will make the day of your event so much easier.
For gluten-free: purchase gluten-free bagels and gluten-free pie crust for the quiche. Alternatively, you can bake a crustless quiche. Be sure to read all labels to avoid cross-contamination.
Make-Ahead Tips
With this Brunch Party Menu, there are lots of ways to cook ahead. Here's my recommended timeline: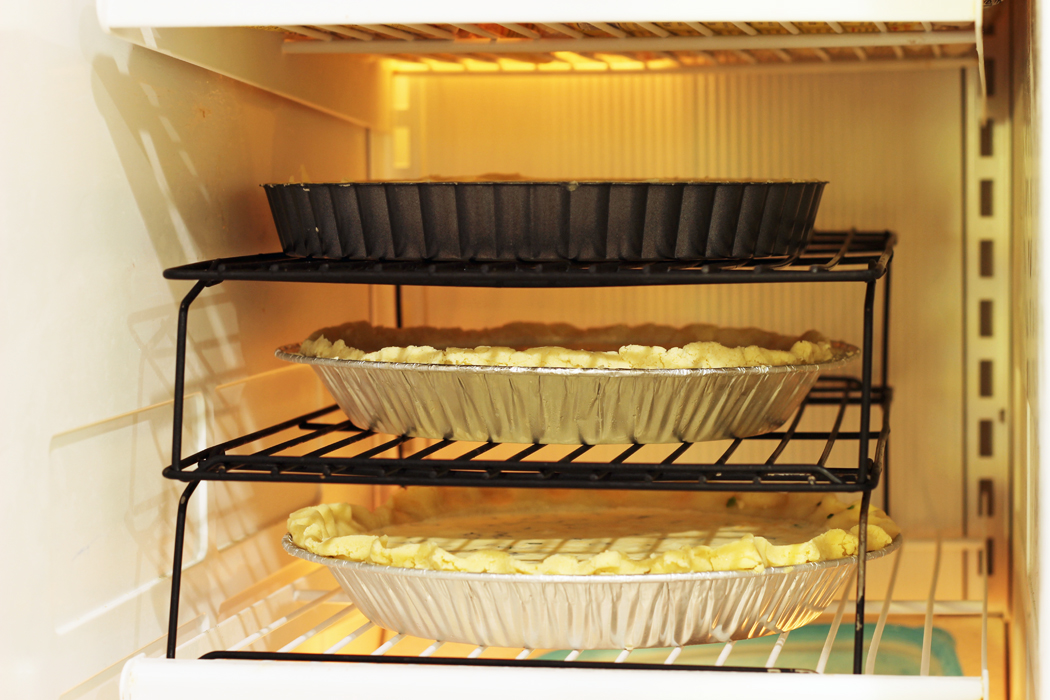 Up to 1 month in advance:
Prep the quiche or other breakfast casseroles and freeze.
Order bagels if buying them from a shop.
Up to 3 days in advance:
Prep the bagel toppings, including the flavored cream cheese.
Cook the hard cooked eggs.
Make the cold brew concentrate.
The day before:
Prep the fruit or fruit platter. Cover and refrigerate.
Assemble serving platters, plates, forks, etc.
Set up the beverage station with non-perishable items
The morning of:
Bake the quiche from frozen.
Assemble the bagels and bagel toppings on a tray.
Complete the beverage station.
Enjoy your party!
Get Seasonal!
Depending on what time of year you host your Brunch Party, consider adding a few treats that match the season, such as Easter Oreos or Easter Bunny Cinnamon Rolls for spring, Cinnamon Roll Turkeys at Thanksgiving, and Christmas Scones in December.
Recipes & Grocery List
Here's the digital grocery list for this Brunch Party Menu. Adjust the servings to suit your occasion and shop your kitchen before heading to the store.