Flavored cream cheese for bagels can be pricey at the shop but super affordable and easy to make at home. With so many flavors to try, you'll never get bored.
Serve a bagel bar with a variety of cream cheeses and toppings, as well as homemade Hot Cocoa and a Fruit Tray for a fun and easy breakfast or brunch.
Jump to:
I've always liked cheesecake, but I didn't like cream cheese until I was an adult. I'm not sure why, but I didn't. But, once I fell in love, I fell hard.
Nowadays, one of my favorite breakfasts/snacks/desserts is a bagel with cream cheese and jam. Super yum!
Or if I'm feeling a little savory, cream cheese with onions and sliced tomatoes. Double yum!
Flavored cream cheese is a great way to elevate even the simplest of meals, whether it's bagels or crackers, to something special. In fact, a simple bagel buffet can be pulled together as a feast for about ten bucks!
Why Make This
It's super easy. You can whip up a variety of cream cheese for bagels in just a matter of minutes, mixing and matching flavors and mix-in's as the mood takes you.
It's cheaper. Schmears at the bagel chop can cost a small fortune, but making your own flavored cream cheese is just 75 cents/batch.
It's delicious. What's a bagel without cream cheese? Explore all the different flavor combinations when you delve into making your own.
Ingredients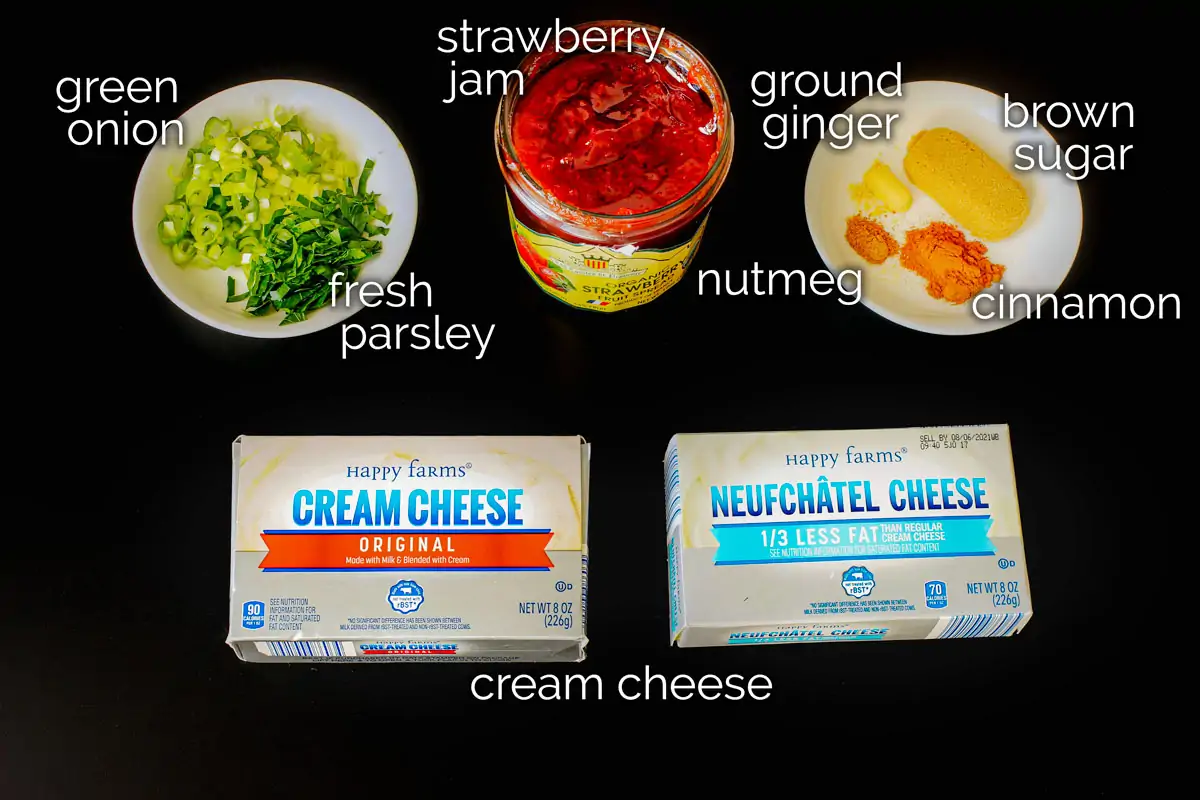 The main ingredient you'll need, of course is cream cheese. Soften this in advance of preparation for the smoothest texture and easiest mixing.
Today I've included three different variations, similar to what you'd find at the bagel shop or in the deli section of the grocery store: Green Onion, Strawberry and Brown Sugar Spice.
For these you'll also need:
green onion and parsley, salt and pepper
strawberry jam
brown sugar, cinnamon, ginger, and nutmeg
In reality, flavored cream cheese is an easy and economical thing to make yourself at home. Once you get the method down, you'll easily be able to make any flavor you like.
Step-by-Step Instructions
Making flavored cream cheese is not difficult.
Simply soften a block of cream cheese and stir in fresh herbs, spices, chopped vegetables or fruit, jam, or fruit zest.
You can choose any number of combinations and flavors. You can even go as simple as to mix a bit of honey into the cheese.
I've based these recipes on half a block of cream cheese. I don't like to keep something like this longer than three days, so I want a small amount that we can use up before it's past its prime. The method is easy enough, you could mix up more in a jiffy if need be.
Serving suggestions
Flavored cream cheese is delicious on bagels, sandwiches, crackers, wraps, quick breads, muffins, and anywhere else you might use a spreadable cheese. These flavored cream cheeses are great to make the night before you have a bagel brunch.
Serve strawberry cream cheese at tea time with Buttermilk Biscuits or muffins. Spread spiced cream cheese on pumpkin bread for a tasty bedtime snack. Tuck a container of green onion cream cheese into a Bagel Box.
Don't limit your snack just to cream cheese, though. There are a variety of fruits and vegetables that you can serve as toppings to cream cheese and bagels, such as:
sliced strawberries
sliced apples
sliced bananas
sliced cucumbers
sliced tomatoes
sliced red onion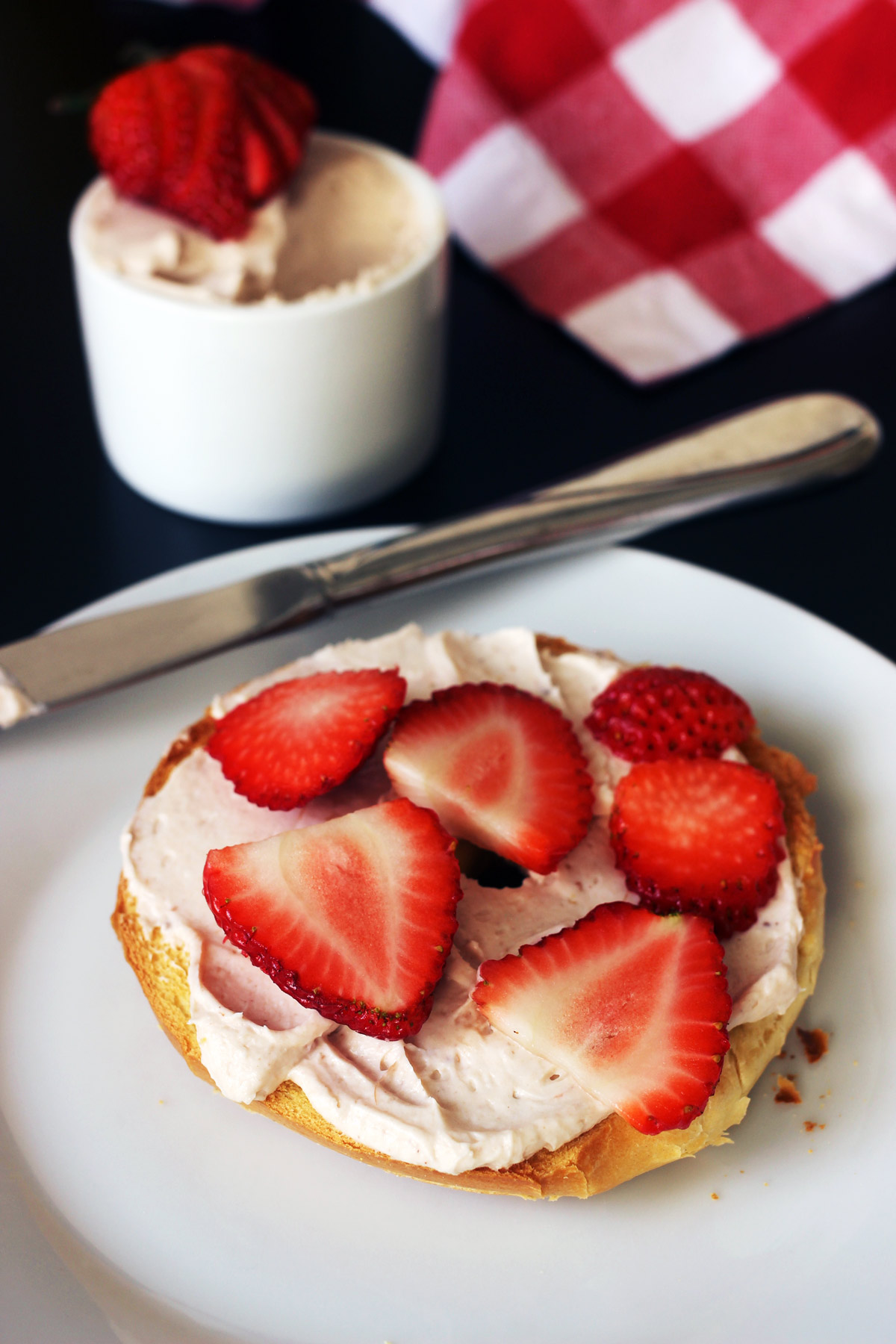 FAQs
What is flavored cream cheese?
Cream cheese is a soft, unriped cheese with a smooth creamy texture, a mild tang, and a spreadable quality.

Cream cheese for bagels is often sold mixed with other ingredients, such as herbs, spices, or fruit. You can find commercial varieties flavored with strawberry, smoked salmon, jalapeno, garden vegetable, blueberry, etc.
Can you make vegan cream cheese for bagels?
The same process of flavoring cream cheese will work with vegan cream cheese. Remember that the texture of vegan cream cheese is very different than its dairy counterpart.
What to mix with cream cheese for bagels?
You can flavor cream cheese in so many ways. Use a favorite spice mix or fresh (or dried) chopped herbs. You can also mix in jam or finely chopped fruit, nuts, or vegetables.
Recipe Costs
One of the things that I've noticed about bagel shops is that they rarely offer you the cream cheese for free. It's a hefty price to get a little cup of "schmear", as they say. A container of flavored cream cheese costs about $4 at the bagel shop and about $2-3 at the grocery store.
To prepare your own homemade cream cheese you're looking at a cost of $0.75 to $1.00, depending on where you source your cream cheese and how expensive your mix-ins are.
How to save even more
Save even more when you work the Good Cheap Eats System:
Shop your pantry first – Likely, you have on hand multiple items for flavoring cream cheese. Maybe it's plum or apricot jam instead of strawberry or shallots instead of green onions. Use what you have and save!
Plan your meals to save money – Make sure that the cream cheese doesn't go to waste. Plan meals that will make good use of it within 5 days.
Make a plan for leftovers – Only making 4 ounces of flavored cream cheese? Be sure to find a use for the other half package. Got jam that needs using? Make Jam-Filled Chocolate Chip Muffins with the rest of the jar.
Visit the store with the best prices – ALDI has the best price on cream cheese, hands-down. Shop where you know you will save.
Shop the sales and clearance – In lieu of shopping at ALDI, watch for cream cheese sales at your local grocery store. They usually get as low as $0.75 to $0.99 cents a package; usually cream cheese is good for several months so you can stock up and save.
More Great Breakfasts
Flavored Cream Cheese for Bagels
Enjoy a variety of flavored cream cheeses for bagels, toast, or crackers. These three variations mix up quickly and easily.
Ingredients
For green onion cream cheese
1

green onion

, finely chopped

1

tbsp

chopped fresh parsley

salt

black pepper
For strawberry cream cheese
2 to 3

tbsp

strawberry jam
For brown sugar and spice cream cheese
1

tbsp

brown sugar

1/2

tsp

ground cinnamon

1/8

tsp

ground nutmeg

1/8

tsp

ground ginger
Instructions
In a medium mixing bowl, whip the cream cheese until light and fluffy.

Add the ingredients for ONE variation, whipping until fully incorporated.

Chill until ready to serve.
Notes
Promptly store leftovers in an airtight container in the refrigerator, for up to 5 days.
Nutritional values are approximate and based on 1 ounce (2 tablespoons) of cream cheese.
Nutrition
Calories:
125
kcal
|
Carbohydrates:
8
g
|
Protein:
2
g
|
Fat:
10
g
|
Saturated Fat:
5
g
|
Cholesterol:
31
mg
|
Sodium:
94
mg
|
Potassium:
47
mg
|
Fiber:
1
g
|
Sugar:
6
g
|
Vitamin A:
381
IU
|
Vitamin C:
1
mg
|
Calcium:
30
mg
|
Iron:
1
mg
This post was originally published on September 30, 2013 as part of the DIY Convenience Foods series. It has been updated for content and clarity.