A mix of berries in the filling and cinnamon and lemon zest in the crust make for a practically perfect pie.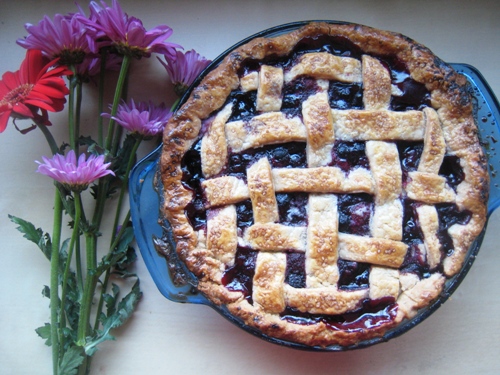 My family loves cake. I prefer pie. I used to bake pies with my Gramma John in her basement kitchen when I was a little girl. She lived in Minnesota; I lived in California. I saw her once or twice a year. But, despite the miles we shared a love for baking and playing cards. Word has it she cheated at cards, but man, could she rock the pie making.
I remember being mesmerized by her way with pie crust. She could make it do stuff I couldn't.
I've been wanting to bake a pie for weeks, but things just weren't working out for whatever reason. This past weekend during the little one's naptime, I decided to just do it. I knew I had frozen berries in the freezer and all the other ingredients, so I played around in the kitchen.
I used my Gramma John's basic pie crust, but I added cinnamon and lemon zest. I wasn't sure if that would work. I've never seen pie crusts jazzed up. Why is that?
(In case you were wondering, it rocks!)
Then I made a fairly standard filling of mixed berries (raspberries, blackberries, and blueberries), sugar, cornstarch, lemon juice, and butter. Since I was feeling lazy, I didn't thaw the berries, but just tossed them with the other ingredients and spooned them into the crust. That did increase the baking time, so you might want to thaw and drain your berries, first.
Or just be lazy. It was just as tasty.
FishChick5 helped me create a lattice crust. I had not done one in years, so it was fun. I am rusty on my pastry skills, obviously, but it's just us. Well, and you. But, you don't mind, right? I kind of like the imperfect appearance of this crust.
Obviously, I don't have my grandmother's skill. But, check out Shaina, my other favorite Minnesotan's tips on perfect pastry crimping. She knows how to make things look real purty.
My people, however, had no problem devouring this pie, with or without the pretty crust. The berries combined into a complexly flavored filling that I really liked. Not sure if it was the extra baking time or what. But, it works for me!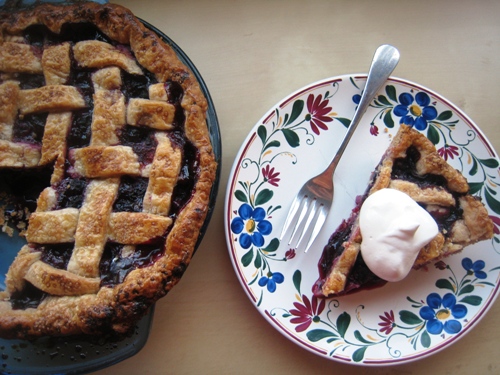 Recipe: Mixed Berry Pie with Cinnamon and Lemon
Ingredients
2 cups unbleached, all-purpose flour
1 cup (2 sticks) unsalted butter, cut into cubes
1 teaspoon salt
1 teaspoon ground cinnamon
grated zest of 1 lemon
1/4 cup cold water
1 cup sugar
1/4 cup cornstarch
4 cups frozen mixed berries (raspberries, blackberries, and blueberries), do not thaw
1 tablespoon lemon juice
2 tablespoons unsalted butter, cut into cubes
1 tablespoon cream or milk
1 teaspoon turbinado sugar
Instructions
Preheat the oven to 425°.
In a medium bowl, combine the flour, 1 cup butter, salt, cinnamon, and lemon zest with a pastry blender, or two knives held together. Kids can do this with a fork if that is easier. You can also use a food processor fitted with a metal blade. Work these ingredients together until they form pea-sized crumbs. Quickly stir in the cold water and combine until a dough forms.
Form the dough into two round disks. You can chill for 30 minutes or just be lazy and roll it out.
On a lightly floured surface, roll each disk into a large circle. Place one in the bottom of a 9-inch pie plate.
In a large mixing bowl, wisk together the sugar and cornstarch. Add the berries and toss to combine. Sprinkle in the lemon juice and combine well.
Spoon the berry mixture into the pie crust and sprinkle any remaining sugar mixture over the top. Dot with the remaining butter cubes.
Place the top crust and cut a vent for steam to escape. You can also create a lattice crust by slicing the top crust into strips before laying the strips across the top of the pie, weaving them one over the other.
Brush the top crust with cream and sprinkle with turbinado sugar.
Bake for 45 to 60 minutes or until the crust is golden and the filling bubbles. If the crust begins to brown overly so, cover the edges with aluminum foil.
Cool completely on a rack before serving.
Preparation time: 20 minute(s)
Cooking time: 1 hour(s)
Number of servings (yield): 8
Directions for freezing: Once you complete step 7, you can freeze the pie for baking later. Wrap the pie securely with heavy-duty aluminum foil. Freeze. To serve, do not thaw the pie. Add another 15 minutes to baking time, checking for browning.