A trio of berries in the filling and cinnamon and lemon zest in the crust make for a practically perfect Mixed Berry Pie.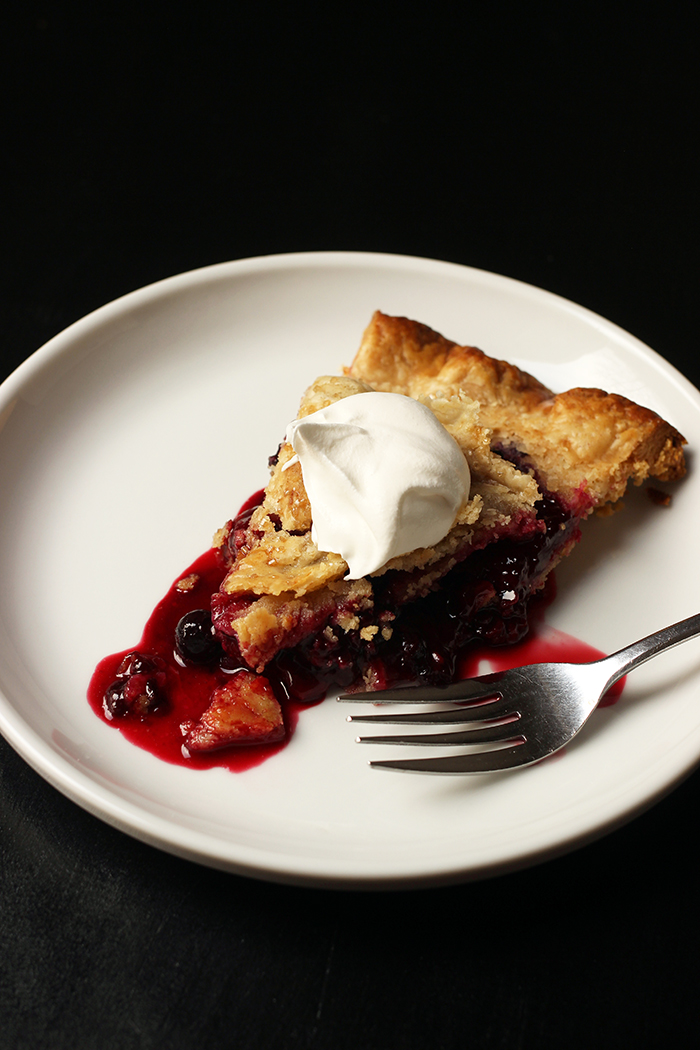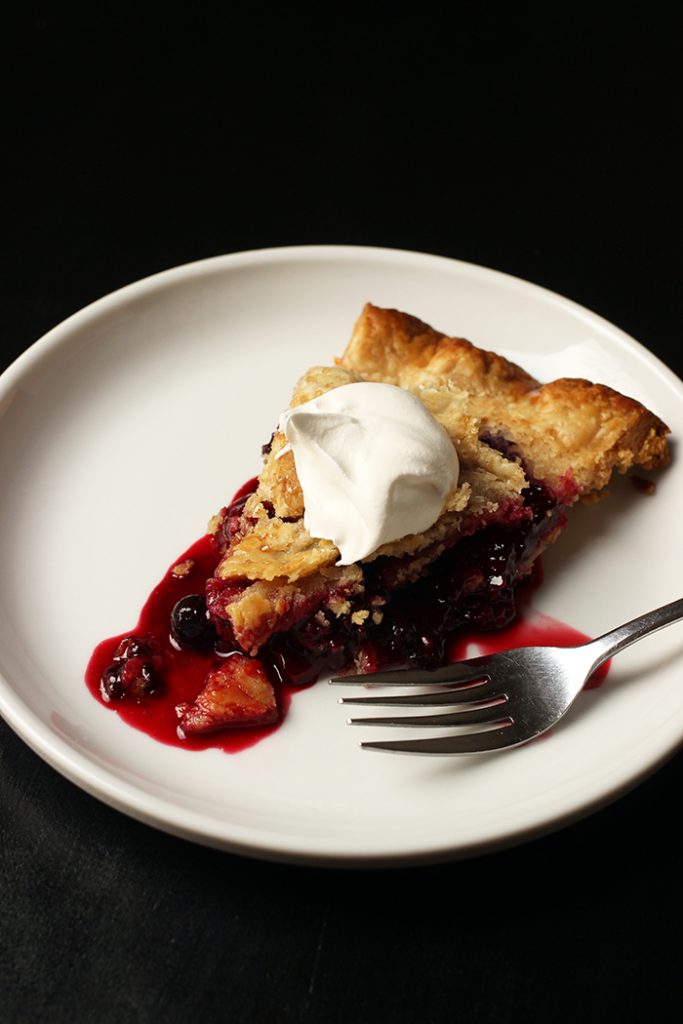 If you're a pie lover, chances are you have a favorite pie. Or three.
That's how we roll, we lovers of pie. It's so hard to choose.
I know this because I poll my family every Thanksgiving so that everyone can have his or her favorite. Last year? I ended up making SEVEN different kinds of pie. For 11 people.
What can I say, but only a pie lover would do that.
You can bet your booty that this Mixed Berry Pie made the cut. Delicious berries (raspberries! blueberries! blackberries!) cook up with sugar, encased in a flaky butter crust scented with lemon and cinnamon.
Seriously? What's not to love?
In developing this recipe, I used my Gramma John's basic pie crust, but I added cinnamon and lemon zest. I wasn't sure if that would work originally. I'd never seen pie crusts jazzed up. Why is that?
The verdict: spiced pie crust rocks!
The filling is a fairly standard one of mixed berries, sugar, cornstarch, lemon juice, and butter. I save time by not worrying about thawing the berries, but just toss them with the other ingredients and spooned them into the crust.
Works like a charm.
Be sure to bake until the filling is hot, thick, and bubbly. You'll see it bubble up through the crust.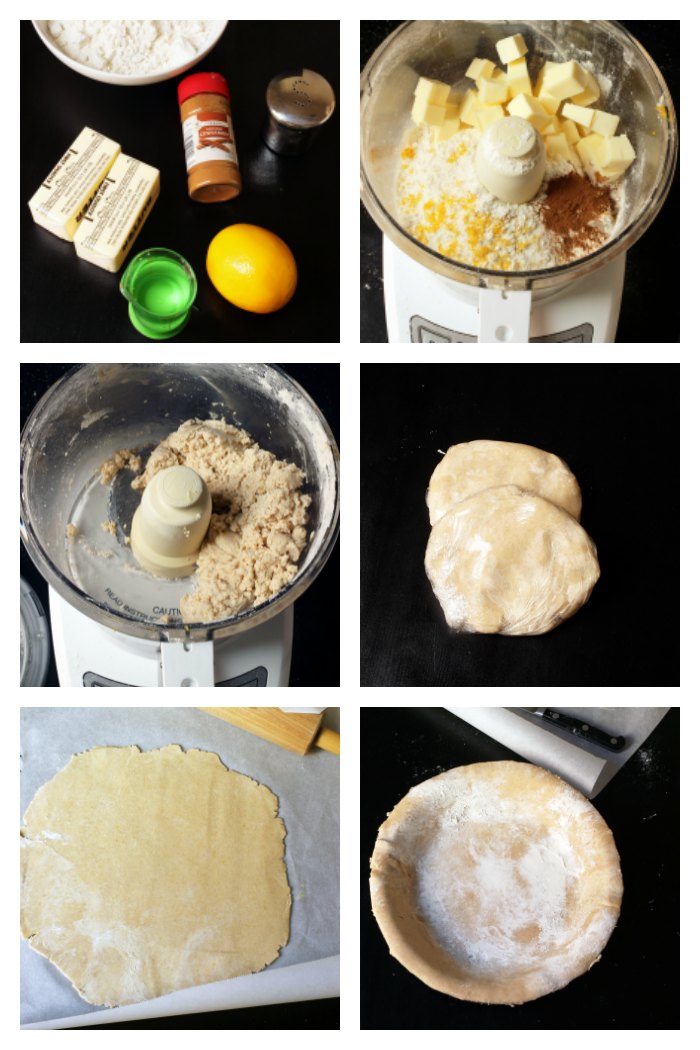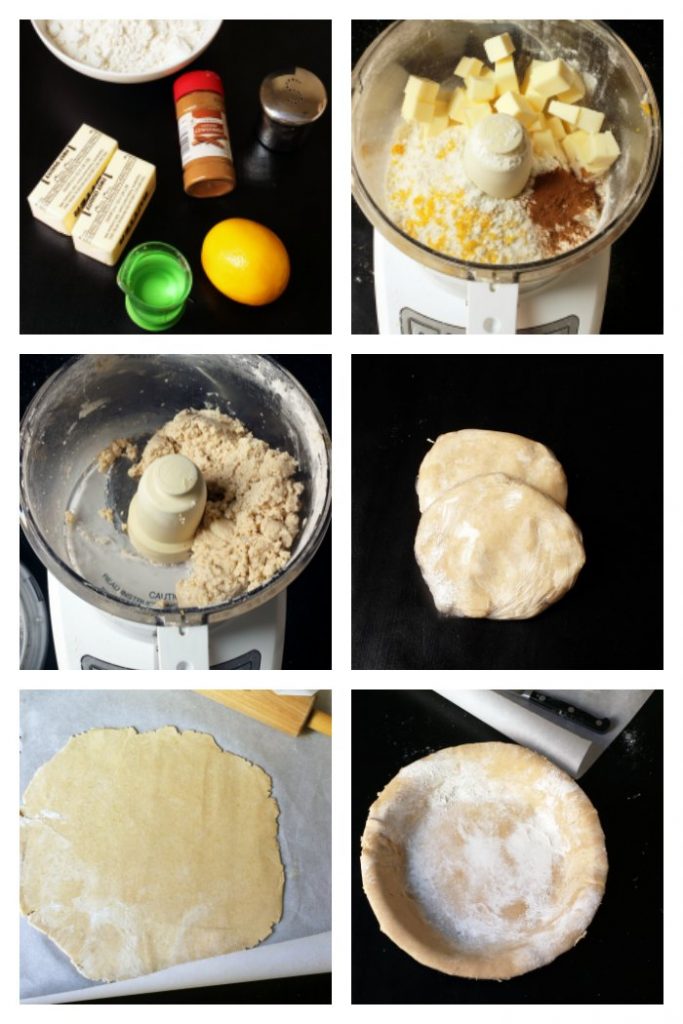 How do you make a berry pie from scratch?
Making a berry pie is a pretty simple process, though there are more than a few steps.
In a food processor fitted with a metal blade, pulse together the flour, butter, salt, cinnamon, and lemon zest until coarse crumbs are formed. You can also make the pie crust in a mixing bowl with a pastry blender.
Add enough water for the dough to hold together.
Divide the mixture into two portions. Wrap each portion in plastic wrap and chill for at least an hour.
Once chilled, roll out the pie crust into two large rounds. Fit one round into the pie plate and trim.
Preheat the oven to 425 degrees.
In a mixing bowl, combine the sugar and cornstarch. Add the berries and lemon juice. Stir to combine.
Spoon the mixture into the pie shell.
Place the second pie crust round over the top and pinch the edges together, folding the top crust under the bottom.
Crimp the edges. See these tips for pie crust crimping.
Cut an X in the middle of the pie to allow steam to escape.
Brush the crust with cream and sprinkle with sugar.
Bake for 45 to 60 minutes or until the crust is golden and the filling is bubbly. If it browns too early, cover the edges with aluminum foil to protect the edges.
Cool the pie completely before serving. Warm pie is delicious, but it won't have a thick filling.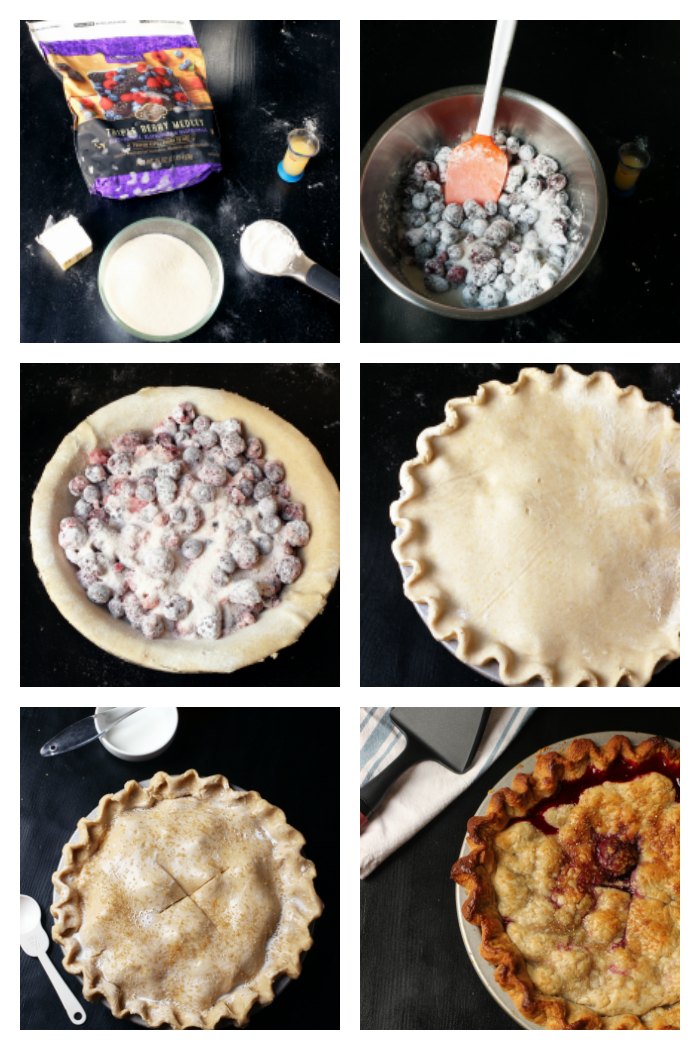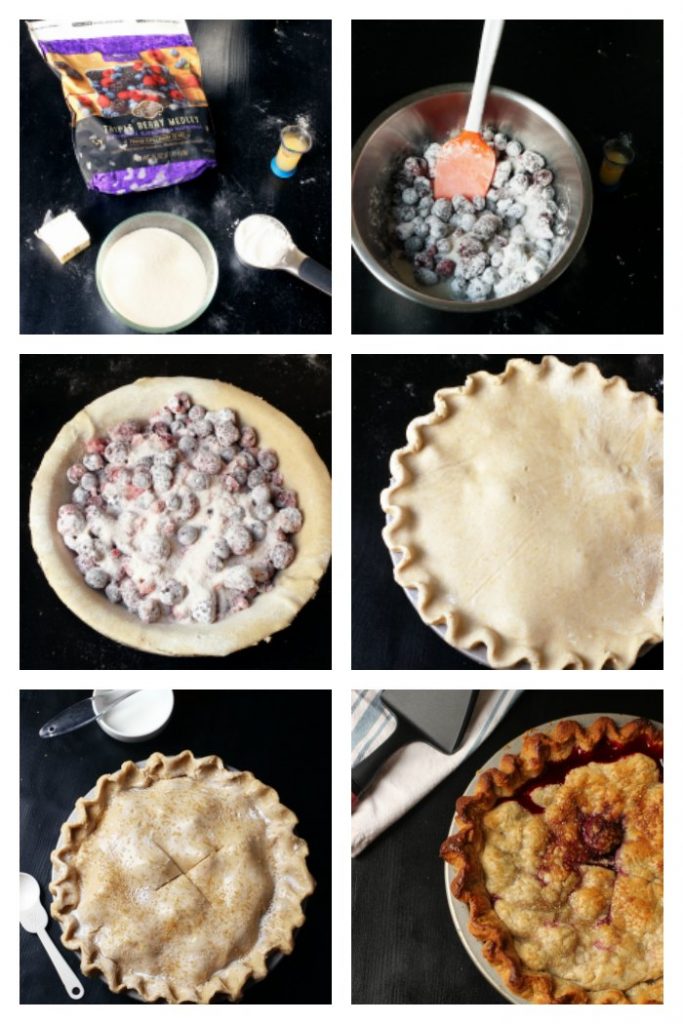 Can you make a pie with frozen fruit?
Yes! You can make a pie with frozen fruit. It makes it such an easy process. There's no need to thaw.
Should berry pie be refrigerated?
Berry pie can be stored at room temperature for up to two days, covered. If you prefer cold pie, by all means store it in the fridge.
How long is berry pie good for?
Prepared food is good for up to four days. Berry pie, however, will start to get soggy after awhile. Gobble it up in the first two days.
Can you freeze berry pie?
Pies are great for freezing. With a frozen pie on hand, you can bake it up at your convenience. Enjoy homemade pie on the spot!
To freeze: do not bake the pie. Once it's assembled, wrap it well with heavy-duty aluminum foil, label, and freeze, taking care to lay it flat in the freezer so no juices seep out.
To bake: do not thaw. Preheat the oven and place the pie on a tray. Bake for 45 to 60 minutes or until the filling is hot and bubbly.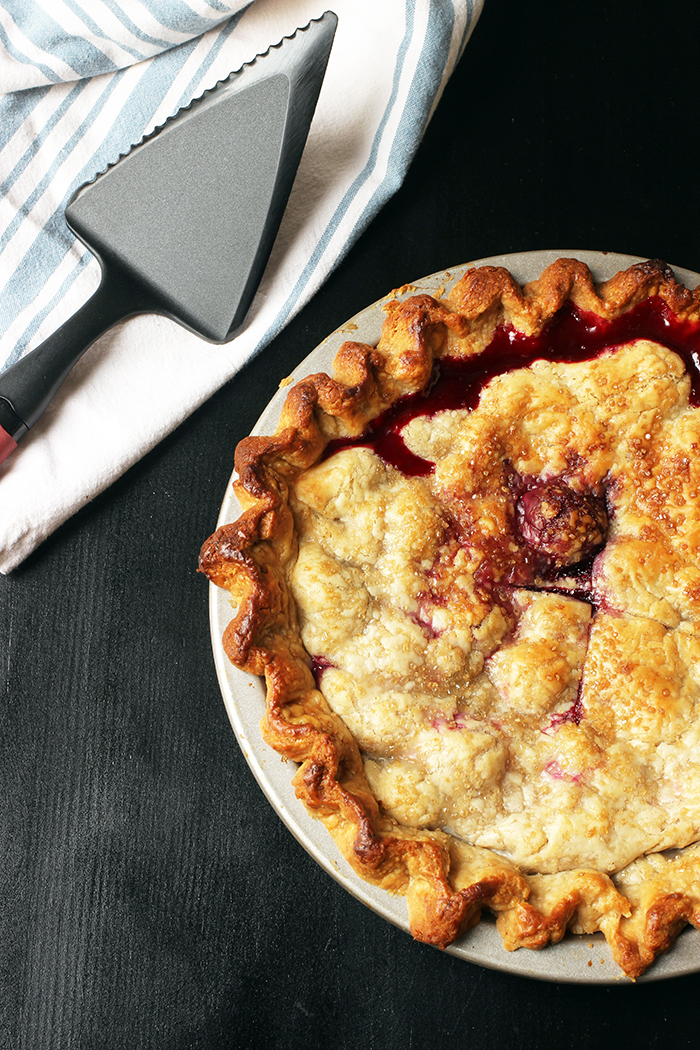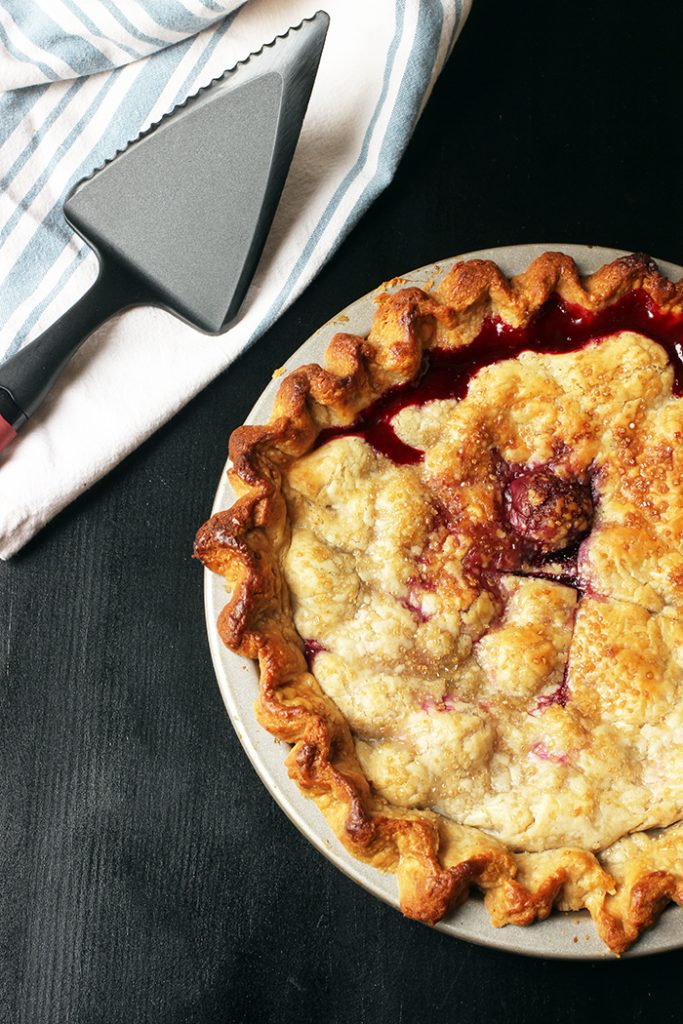 How to make this good and cheap:
Here are some of the strategies you can use to make this recipe more economical:
Stock up on ingredients when they are on sale. Butter and frozen berries are your big ticket items here. Stock up when you see a good sale.
Shop at Costco. When I did my big grocery store showdown, I learned that Costco has the best price for a lot of the things I buy, plus they sell all the ingredients needed for this recipe. I love their cheapest-price-in-town for butter.
What tools do you need to make Mixed Berry Pie?
This recipe really couldn't be easier than it is, but having the right kitchen tools can really make your time in the kitchen more enjoyable. Over time, I've honed my collection so that they are perfect for my needs.
Here are the tools that I use for this recipe: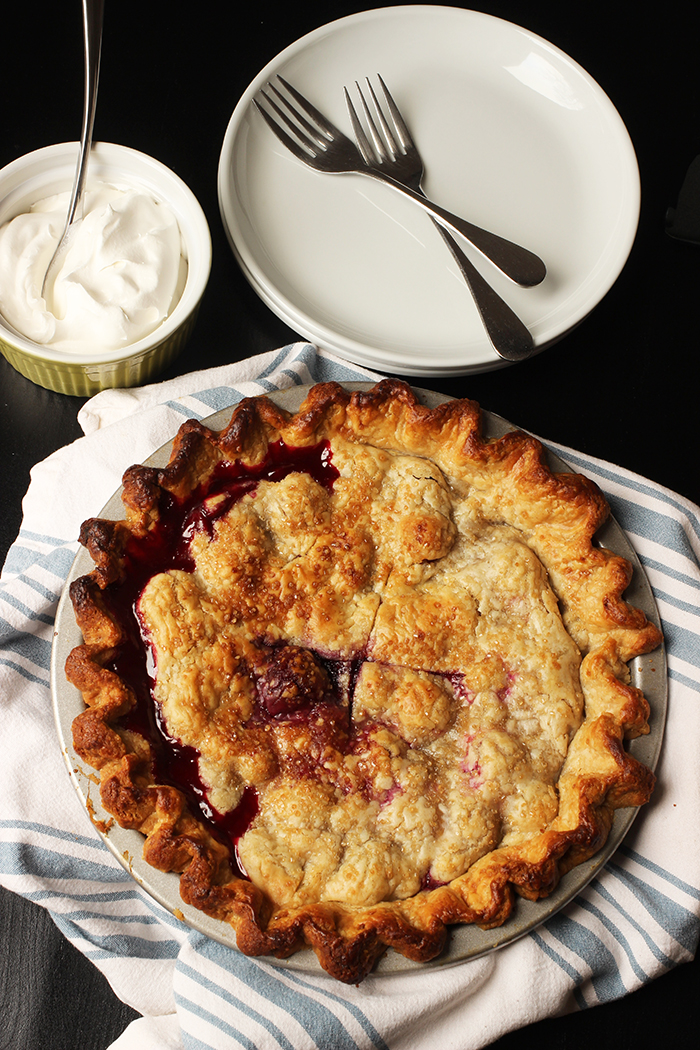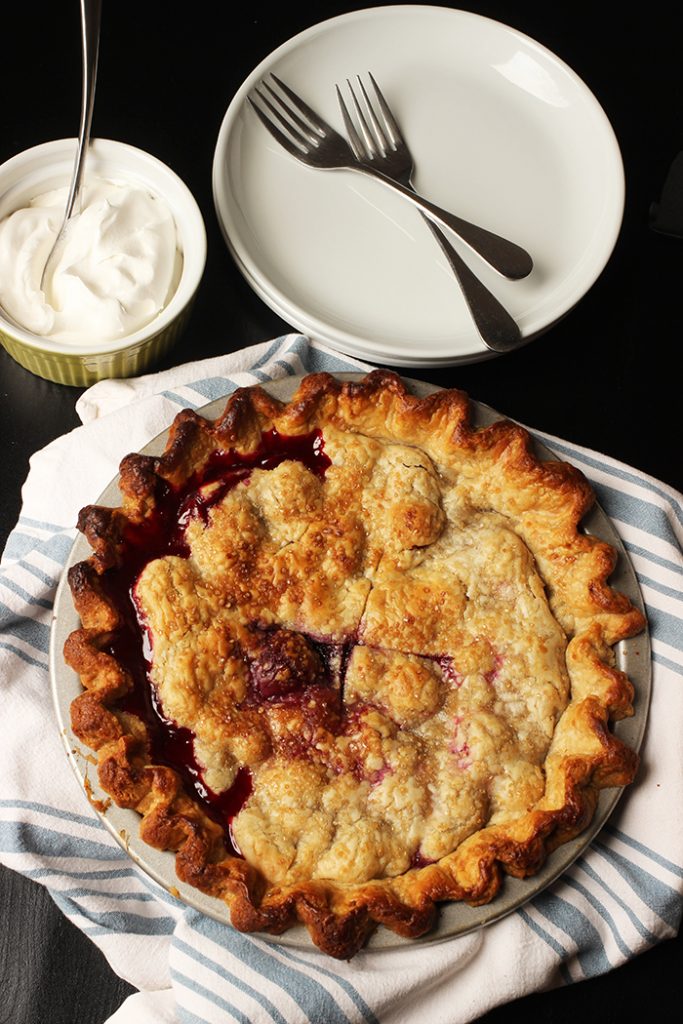 If you prepare this recipe, be sure to share a picture on social media and hashtag it
#GOODCHEAPEATS
. I can't wait to see what you cook up!
Mixed Berry Pie with Cinnamon and Lemon
Ingredients
For pie crust
2

cup

unbleached, all-purpose flour

1

cup

butter

, cut into cubes (2 sticks)

1

tsp

salt

1

tsp

ground cinnamon

1

lemon, zested

1/4

cup

water

, chilled
For filling
1

cup

granulated sugar

1/4

cup

cornstarch

4

cup

frozen mixed berries

raspberries, blackberries, and blueberries, do not thaw

1

tbsp

lemon juice

2

tbsp

butter

cut into cubes
For topping
1

tbsp

whipping cream

or milk

1

tsp

demerara sugar
Instructions
Preheat the oven to 425°.

In a medium bowl, combine the flour, 1 cup butter, salt, cinnamon, and lemon zest with a pastry blender, or two knives held together. Kids can do this with a fork if that is easier. You can also use a food processor fitted with a metal blade. Work these ingredients together until they form pea-sized crumbs. Quickly stir in the cold water and combine until a dough forms.

Form the dough into two round disks. You can chill for 30 minutes or just be lazy and roll it out.

On a lightly floured surface, roll each disk into a large circle. Place one in the bottom of a 9-inch pie plate.

In a large mixing bowl, wisk together the sugar and cornstarch. Add the berries and toss to combine. Sprinkle in the lemon juice and combine well.

Spoon the berry mixture into the pie crust and sprinkle any remaining sugar mixture over the top. Dot with the remaining butter cubes.

Place the top crust and cut a vent for steam to escape. You can also create a lattice crust by slicing the top crust into strips before laying the strips across the top of the pie, weaving them one over the other.

Brush the top crust with cream and sprinkle with turbinado sugar.

Bake for 45 to 60 minutes or until the crust is golden and the filling bubbles. If the crust begins to brown overly so, cover the edges with aluminum foil.

Cool completely on a rack before serving.
Notes
Directions for freezing: Once you complete step 7, you can freeze the pie for baking later. Wrap the pie securely with heavy-duty aluminum foil. Freeze. To serve, do not thaw the pie. Add another 15 minutes to baking time, checking for browning.
Promptly store leftovers in an airtight container in the refrigerator, for up to 4 days.
Nutritional values are approximate and based on 1/8 pie.
Nutrition
Calories:
502
kcal
|
Carbohydrates:
62
g
|
Protein:
4
g
|
Fat:
28
g
|
Saturated Fat:
17
g
|
Cholesterol:
71
mg
|
Sodium:
497
mg
|
Potassium:
80
mg
|
Fiber:
3
g
|
Sugar:
32
g
|
Vitamin A:
860
IU
|
Vitamin C:
3
mg
|
Calcium:
20
mg
|
Iron:
1
mg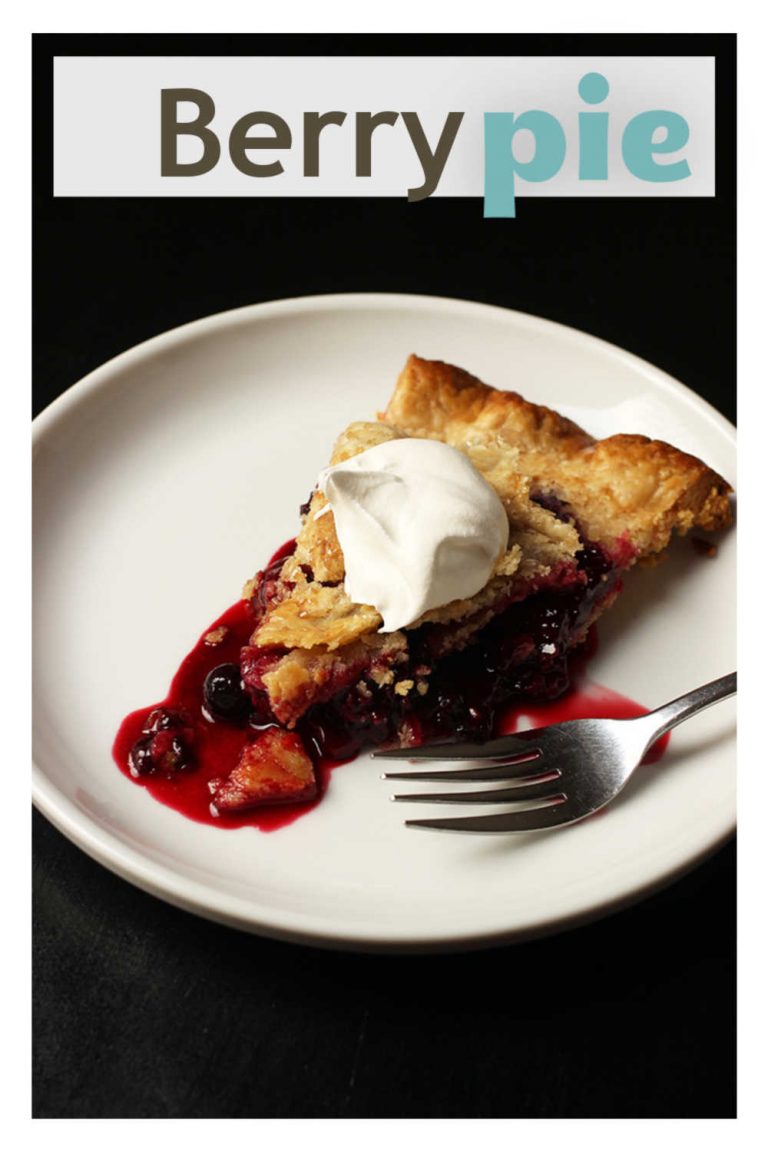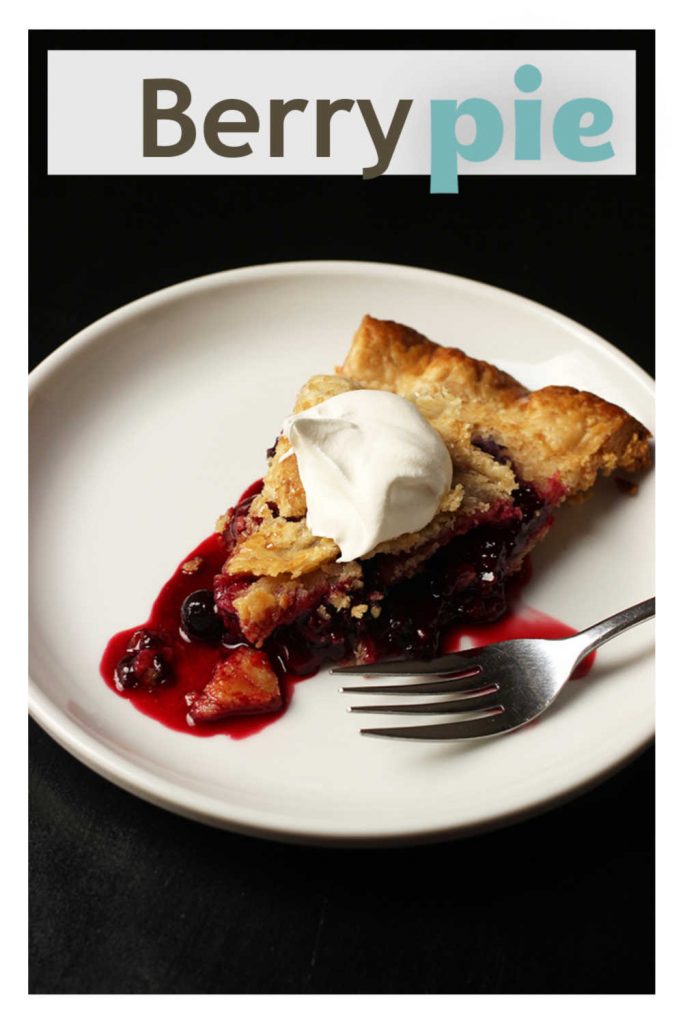 This post was originally published on March 13, 2012. It has been updated for content and clarity.