This simple Raspberry Vinaigrette recipe is perfect on your salad or even as a chicken marinade. Plus, try the delightful variations!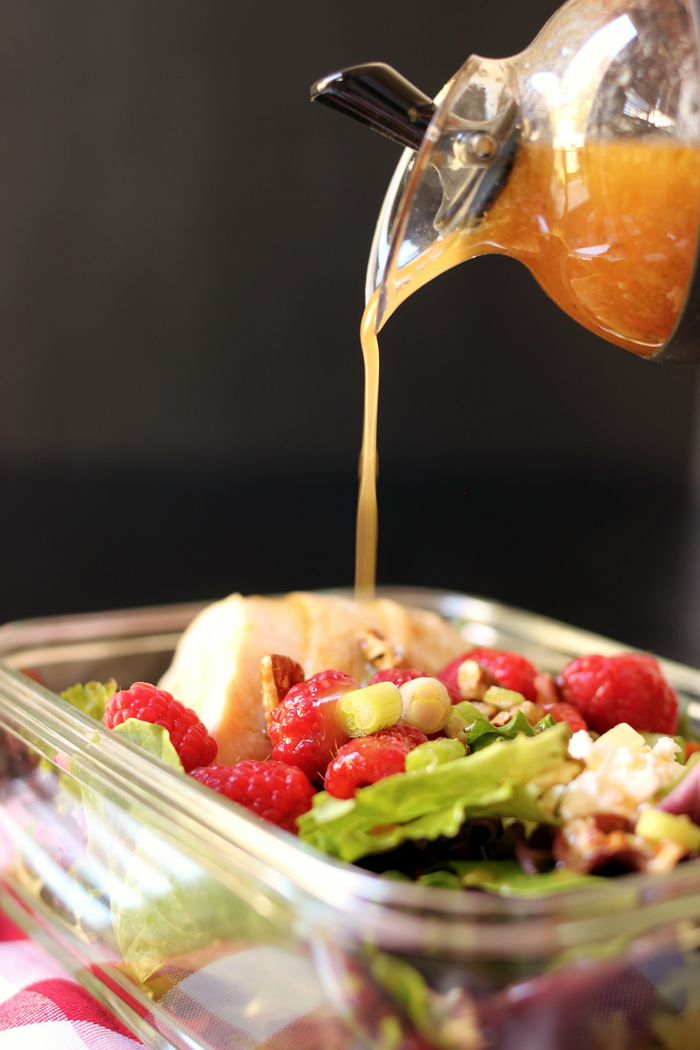 It's happened before. You go to a restaurant and order a beautiful, fancy salad. It's got all this flavor! So many colors! Such great tastes combined together!
You know what's in that salad. You've got eyes. You read the menu and you saw the thing. Maybe you even instagrammed it.
You can recreate the salad, but there's something missing…
The secret, of course, is in the sauce. The dressing is always the kicker. How do you build a beautiful salad composee at home with that great dressing?
Well, if your recent salad fan moment included a raspberry vinaigrette? I've gotcha covered.
Raspberry Vinaigrette
Raspberry Vinaigrette, a sweet-tangy dressing featuring raspberries in an oil-and-vinegar bath is just the thing to dress your favorite salads.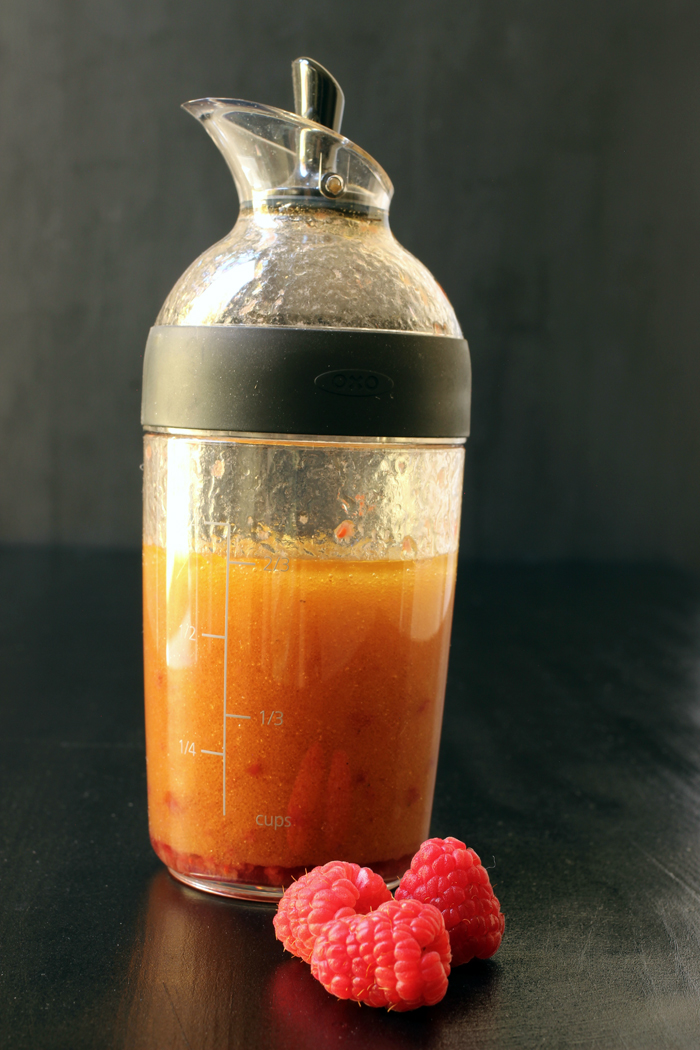 As you know food waste is one of the things that really irks me. I know that we can stretch our dollar when we use things up.
Years ago I learned the trick of mixing salad dressings in almost empty mustard or jam jars. You could get every little bit out of your investment and have a fantastic vinaigrette to enjoy as the fruits of your labor.
That's how I first discovered the beauty of using jam as a way to sweeten and flavor salad dressings. If you use a naturally-sweetened jam, you can completely avoid adding sugar to your dressing, something that commercial salad dressings companies do to excess.
Delicious, light, flavorful, zesty, and fruity dressings in just minutes.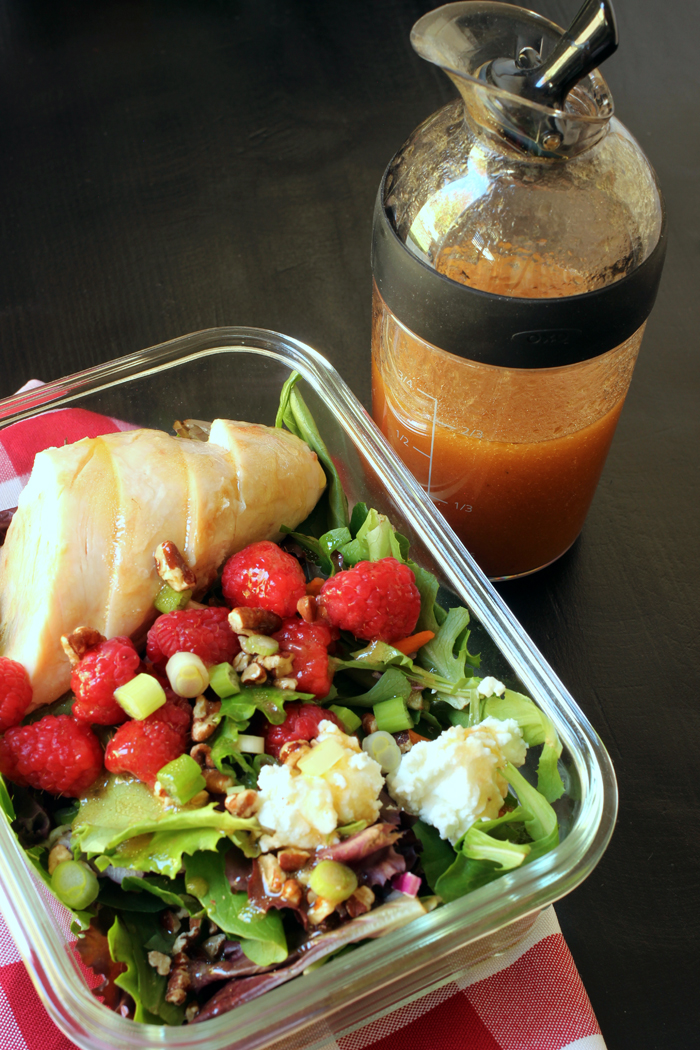 How long does homemade raspberry vinaigrette last?
Homemade vinaigrettes are good for about two weeks, refrigerated.
What does raspberry vinaigrette taste like?
This raspberry dressing is light and fruity with a touch of tang and sweetness. If you prefer a sweeter dressing, be sure to add the optional bit of honey that's recommended.
Is vinaigrette a dressing?
Yes. Vinaigrette is a basic oil-and-vinegar dressing. Its name comes from the French word vinaigre, which means vinegar.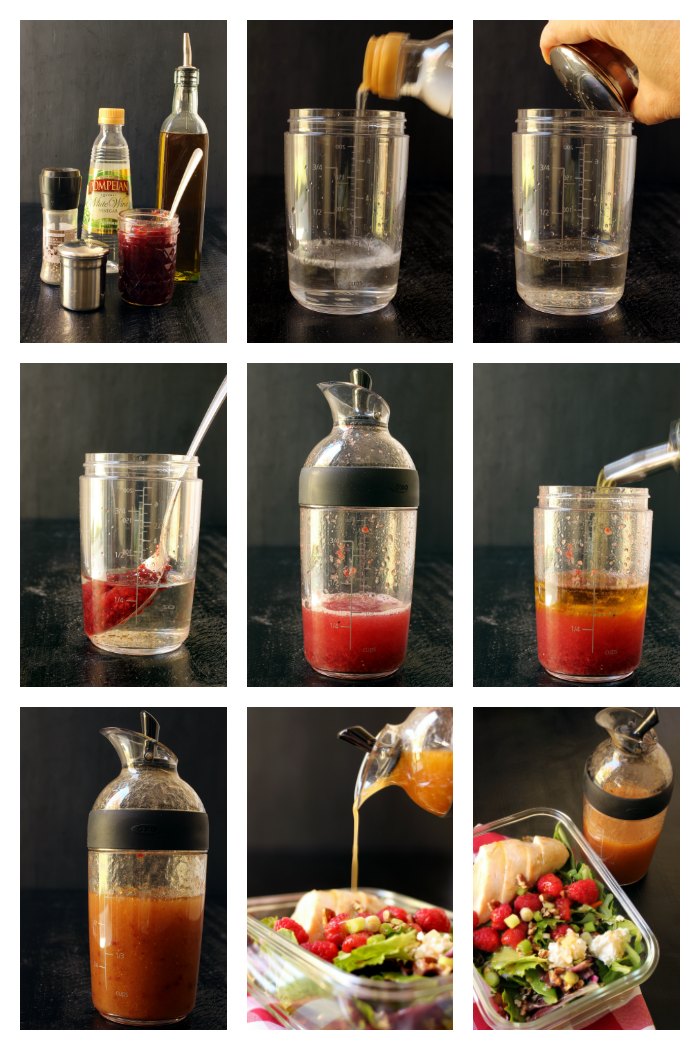 How do you make Raspberry Vinaigrette?
Homemade vinaigrette is super simple to mix up. And it only takes a few minutes.
Pour vinegar into a jar and season with salt and pepper. Salt won't dissolve in oil so it's best to add it first.
Stir, whisk, or shake in the jam.
Add the oil and shake, whisk, or stir to combine.
This raspberry dressing is great on green salads that feature fruit, nuts, and cheese. It's also delicious as a chicken marinade, as a sauce for cooked chicken, or as a dressing for fruit salad.
If you have the opportunity to make homemade raspberry jam, you'll take this dressing over the top.
Variations
You can adapt this vinaigrette recipe to suit all kinds of different fruits. Consider substituting one of the following for the raspberry jam:
blueberry jam
strawberry jam
blackberry jam
apricot preserves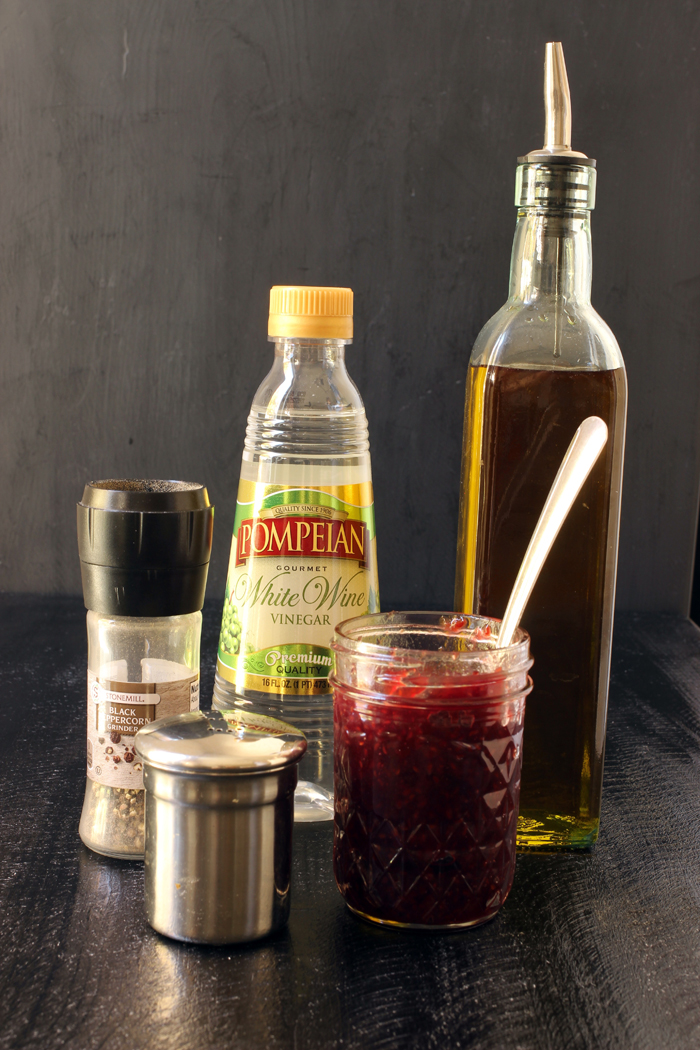 How to make this good and cheap:
Here are some of the strategies you can use to make this recipe more economical:
Stock up on ingredients when they are on sale. Jam, olive oil, and white wine vinegar are the high price items in this recipe. Watch for sales and stock up.
Use up the last little bit. This is a great dressing to make in the jam jar, using up what's left in the bottle.
How I make this recipe easy:
This recipe really couldn't be easier than it is, but having the right kitchen tools can really make your time in the kitchen more enjoyable. Over time, I've honed my collection so that they are perfect for my needs.
Here are the tools that I use for this recipe: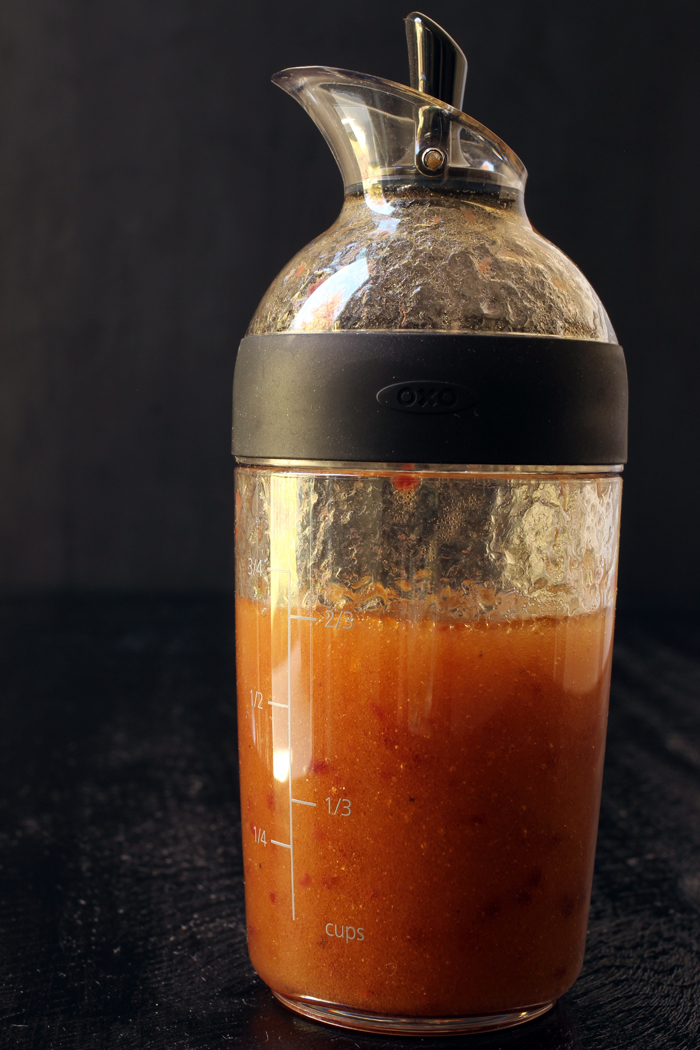 If you prepare this recipe, be sure to take a picture and hashtag it
#GOODCHEAPEATS
. I can't wait to see what you cook up!
Raspberry Vinaigrette
This simple Raspberry Vinaigrette recipe is perfect on your salad or even as a chicken marinade. Plus, try the delightful variations!
Ingredients
1/4

cup

white wine vinegar

salt

to taste

black pepper

to taste

1

tbsp

raspberry jam

1

tsp

honey

optional

1/3

cup

olive oil
Instructions
Place the vinegar in a jar or small mixing bowl. Season to taste with salt and pepper.

Add the raspberry jam and the honey, if using. Shake or whisk well to combine.

Add the oil and shake well.
Notes
Use as a salad dressing, a chicken marinade, or a sauce for cooked chicken.
Nutrition
Calories:
113
kcal
|
Carbohydrates:
1
g
|
Protein:
1
g
|
Fat:
12
g
|
Saturated Fat:
2
g
|
Sodium:
1
mg
|
Fiber:
1
g
|
Sugar:
1
g
|
Vitamin C:
1
mg
|
Iron:
1
mg