Enjoy couscous in just six minutes with this plain and simple, no-fuss recipe. Couscous is perfect as a simple side dish, base for Buddha bowls, or as the main grain in a salad. Learn how to cook couscous the easy way.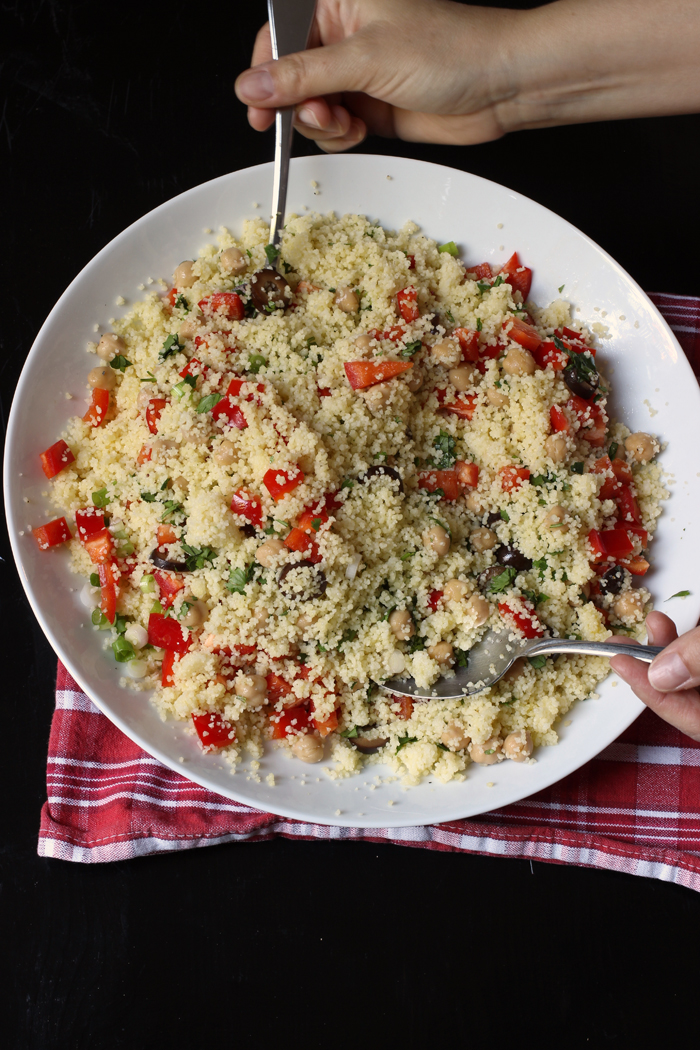 Easy recipes are among God's blessings to busy home cooks. You want to feed yourself and the people you love, but sometimes you're on a time crunch — or a brain freeze, as the case may be.
You need something easy that doesn't take much time or effort.
Couscous is probably the quickest and easiest thing I know how to make. Well, besides toast.
It literally takes 6 minutes from start to finish, requires no fancy equipment, and can even be made without a stove top! Couscous can serve as a simple pasta side, as the base to bowl meals, or as the star ingredient in cold summer salads. It's perfect for soaking up your favorite sauces and dressings.
Sure, you can get elaborate and fix fancy couscous. But for a simple side dish, this recipe can't be beat.
What is couscous?
Originally made from millet, couscous seems to have originated in 9th century North Africa. Today it is often made with semolina. According to Wikipedia,
Today, couscous granules are usually made by rolling moistened coarsely ground semolina wheat into small balls, which are then coated with finely ground wheat flour. The finished granules are roughly spherical shape and about one millimetre in diameter before cooking.
I love both Moroccan-style and Israeli couscous. Moroccan-style couscous are tiny little spheres of pasta that cook quickly in just minutes, while the Israeli or pearl style are larger, though still small, balls of pasta that take a bit longer to cook.
Both are super delicious as side dishes to accompany grilled meats or to use as a base for salads.
The process of making couscous from scratch is fascinating, albeit time-consuming. I haven't made time for that type of DIY project, so I'm thankful to buy dry couscous in a box. Trader Joe's sells a whole wheat version that I really like.
You can buy couscous in a variety of flavors. I've seen whole wheat, tri-color, and original in my local stores. All of them are tasty and easy to prepare.
In case you were wondering, whole wheat couscous doesn't taste "wheaty" like other whole wheat products, so it's a nice whole grain option without the pain.
How to Cook Couscous the Easy Way
Most packages of couscous will come with preparation instructions on the box and often require preparation on the stovetop.
However, back in college I worked for the university catering company. It was the early 90's and they were ahead of their time in offering global flavors, couscous included. As a pantry prep cook, I prepared huge vats of couscous and we never made it on the stove.
Today I make it small scale and it always turns out perfectly. Watch and be amazed!
You'll need 1 cup dry couscous and 1 1/4 cup boiling hot water or hot chicken broth. You'll also need a heatproof dish with a lid.
If you want to season your couscous, you can add salt, pepper, or spices to the hot liquid.
Place the dry couscous in the dish and add the hot liquid. Stir quickly and cover it immediately.
Allow the mixture to rest for five minutes. While it's resting, the couscous will absorb the liquid.
After the allotted time, the couscous will have expanded to fill the dish. There shouldn't be any liquid remaining.
Remove the lid and fluff the couscous with a fork. It's ready to serve immediately or you can add it to your meal prep stash in the fridge until you're ready to enjoy it.
Couscous can be served hot, cold, or at room temperature.
How long is cooked couscous good for?
Prepared foods are good for four days, refrigerated. Be sure not to leave food out at room temperature for longer than two hours and to refrigerate them promptly afterward.
How do you serve couscous?
We love couscous as a side dish to cooked meats — it's really good with Mediterranean Grilled Steak — as a base to bowl meals, and as the main grain in Couscous Salad.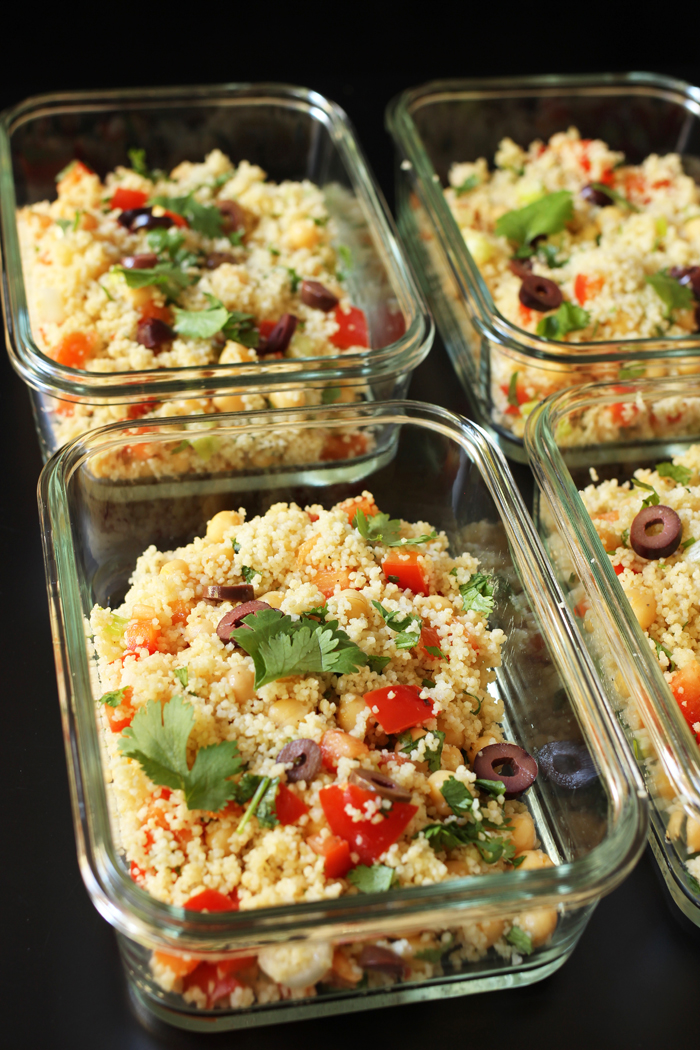 How to save money making this recipe:
Here are some of the strategies I use to make this recipe more economical:
Shop at the right stores. Not all stores are created equal. Some charge more than others, so you need to choose wisely. Compare prices on couscous and buy it where it's offered at the best price.
Stock up on ingredients when they are on sale

. When you see a great price on couscous, stock up and buy a few extra boxes to keep on hand. Storing them in the freezer will extend their shelf life.

Use spices instead of chicken broth. While chicken broth adds great flavor, it's extra. Couscous is just as tasty made with water or with some spices added in.
Make your own chicken stock. Chicken stock is incredibly easy to make and is practically free when you make it from the leftovers of a rotisserie chicken or the next time you roast a chicken.
Tools you might need to make this recipe easy:
This is a pretty straight-forward dish. You don't need any fancy equipment. However, having some good basic kitchen tools can really make your time in the kitchen more enjoyable. Over time, I've honed my collection so that they are perfect for my needs. Here are the tools that I like to use in this recipe.
Simple 6 Minute Couscous
Enjoy couscous in just six minutes with this plain and simple, no-fuss recipe. Couscous is perfect as a simple side dish, base for Buddha bowls, or as the main grain in a salad. Learn how to cook couscous the easy way.
Course:
Main Course, Side Dish
Keyword:
couscous, how to cook couscous, Moroccan couscous
Ingredients
1

cup

dry couscous

1 1/4

cup

hot chicken broth or boiling water

(heat on stovetop, in microwave, or in electric kettle)

salt and pepper to taste
Instructions
Place the couscous in a heatproof bowl. Add the broth and stir to combine.

Cover the dish with a lid or plate to allow it to "cook". Let sit for 5 minutes.

Remove the lid and fluff couscous with a fork. Season to taste with salt and pepper.
Nutrition Facts
Simple 6 Minute Couscous
Amount Per Serving
Calories 166
Calories from Fat 9
% Daily Value*
Fat 1g2%
Sodium 273mg12%
Potassium 131mg4%
Carbohydrates 34g11%
Protein 6g12%
Vitamin C 5.1mg6%
Calcium 15mg2%
Iron 0.6mg3%
* Percent Daily Values are based on a 2000 calorie diet.
Couscous is a great food to use in packable meals.
In order to save money and really make the most of lunch on the go, you need to have an arsenal of packable lunch ideas.
No problem.
I've put together this quick and easy printable guide to help you handle meal planning for the busy daze. Here's just a peek: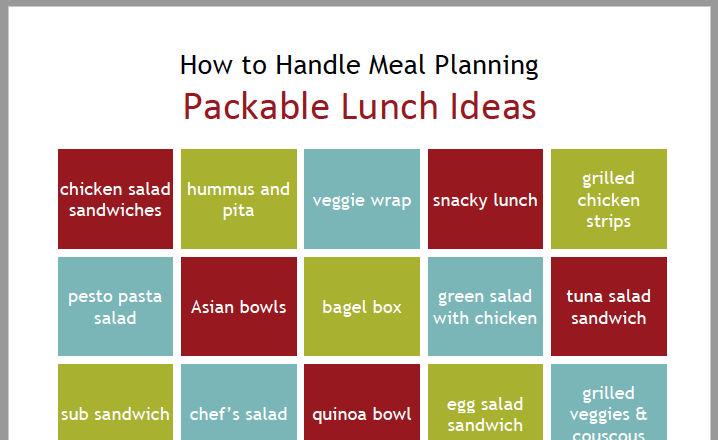 Print out this idea generator and tack it somewhere easily seen in your kitchen. The next time you're planning meals on the go, bring it out and let it provide all the inspiration you need to choose and plan for great packable lunches.
Drop your email address here and I'll send the printable straight to your inbox.
But what if you really want to master this packable lunch thing?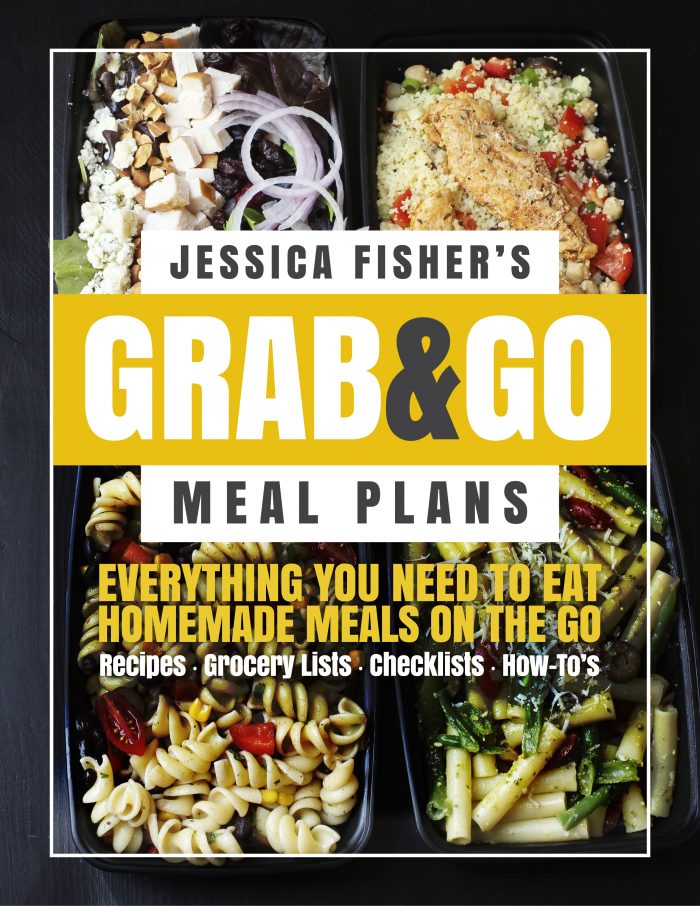 I've put together an entire month's worth of packable lunches in A Month of Grab & Go Meal Plans. Each recipe serves four so you can stretch out the menus over several months if you're cooking for one — or share with coworkers and family.
When I was teaching public high school, my friend and co-worker, Tami and I would trade off bringing lunch for each other each week. It was so nice to have a homemade meal every day of the week.
I wish Tami and I had had this resource back in the day!
Everything you need is right here: recipes, grocery lists, checklists, and packing tips and tricks. Get the instant download here: https://fishmama.com/product/a-month-of-grab-and-go-meal-plans/