Couscous is an easy grain to prep quickly AND it makes a fantastic base to all kinds of cold salads. Make this super simple Couscous Salad this week!
Salad season is upon us! While I love hearty stews and filling potato dishes, the approach of abundant sunshine and warmer weather makes me crave fresh vegetables and lighter fare.
At the same time, I have five men in the family to feed. I need to serve something with substance.
Summer also beckons me outside. I'd rather take the kids to the beach or dine al fresco. Who wants to spend time in the kitchen cooking?
Who wants to blow the budget eating out, though, either?
You want a quick fix? Me, too.
Thankfully, there are quite a few great meals, ones with substance even, that can be made quickly and easily and made for take away at the same time.
This Super Simple Couscous Salad is one of them.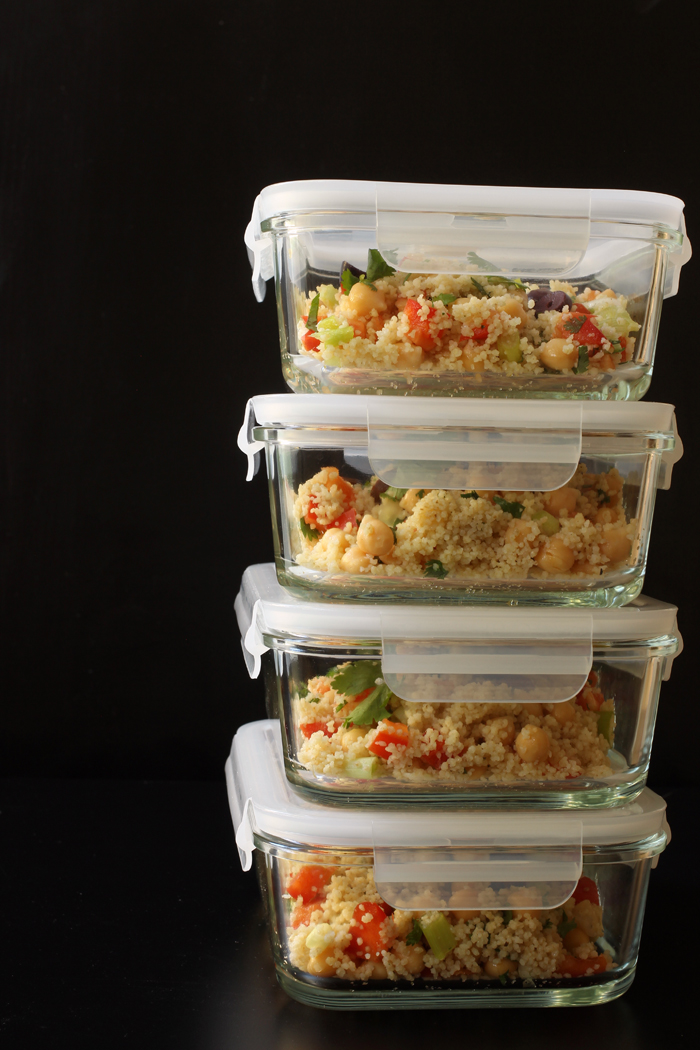 Super Simple Couscous Salad – Perfect for Summer
Couscous, made of spherical little pasta bits, is a perfect answer to that dilemma. One of the easiest side dishes for me to pull together, couscous takes about six minutes from start to finish. What's easier than that?
While couscous goes great with stews and sautes, soaking up all the yummy juices, it does just as well dressed up as a salad.
And this Couscous Salad?
This salad is amazing. The first time I made it, my husband kept going back for more, evidence that it is a winner. Subsequent batches didn't last long, either.
The citrus juice is bright and the cilantro zesty, making it a perfect match for grilled meats on a warm night or to make a lunchtime salad a little more substantial.
And if you're one of those people for whom cilantro tastes like soap, feel free to substitute fresh basil or parsley instead. It will be a delicious salad either way!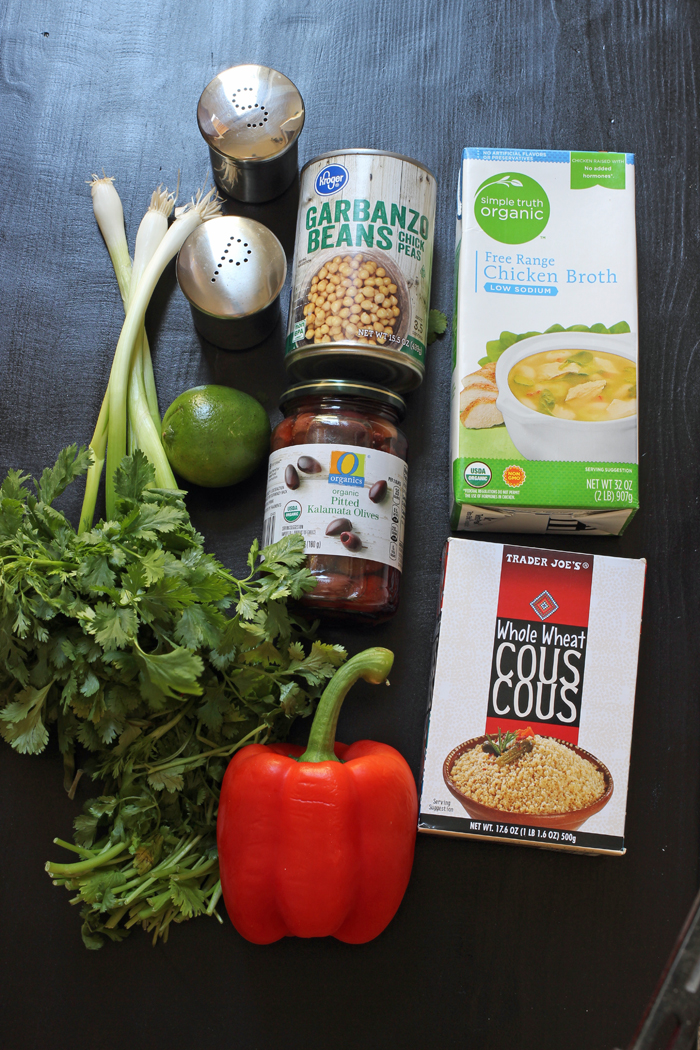 What is Couscous Salad made of?
Similar to a pasta salad, Couscous Salad can be made several different ways. It starts with a base of cooked couscous. You can add spices, a vinaigrette style dressing, fresh herbs, olives, dried fruit, beans, and fresh vegetables.
There are two types of couscous: small Moroccan-style couscous and the larger, pearl or Israeli couscous. I love this Israeli Couscous Salad with Grilled Vegetables.
How long does Couscous Salad last in the fridge?
Couscous Salad is good in the fridge for up to 4 days, stored in an airtight container, making it the perfect candidate for meal prep.
The salad may absorb the dressing over time, so add a bit more before serving to make sure it's not dry.
Can you freeze couscous salad?
You can freeze cooked couscous, however, couscous salad ingredients may not freeze well. Since it's so quick and easy to make it, I recommend making it fresh and eating it up within 4 days.
What can I serve this couscous salad with?
You can definitely eat this all on its own. Or serve it as a great side dish. Keep it a simple vegetarian lunch or dinner and serve alongside these Egg Plus Salad Sandwiches or add a little bacon and try these Egg Salad BLT Sandwich.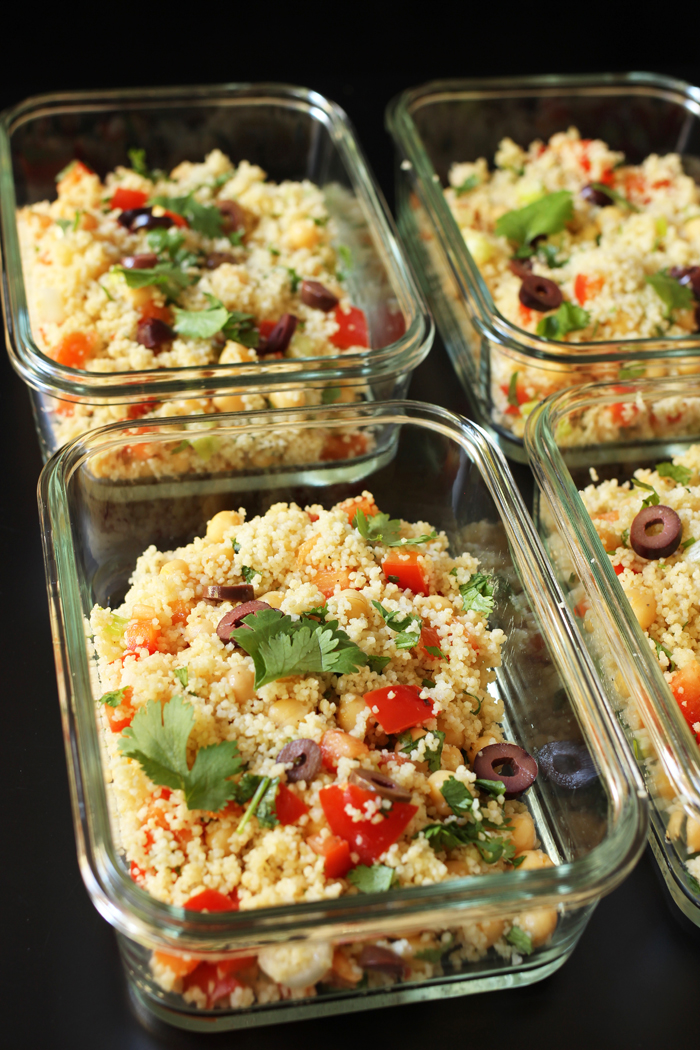 How do you make Couscous Salad?
It's super simple to make Couscous Salad. Follow this four-step process:
Cook the couscous in water or broth. Fluff it with a fork.
Add your mix-in's, such as beans, vegetables, herbs, fruits, and olives.
Drizzle on a dressing.
Toss well to combine. Adjust seasonings and serve.
Couscous Salad can be served on its own or alongside other salads or as a side dish to grilled meats. It makes a great meal prep dish for packing lunches.
Is couscous healthier than pasta?
Couscous is simply very tiny pasta. However, having served both pasta and couscous salads, I can testify that couscous tends to be more filling. The small size is very deceptive, making it a smart choice for portion control. You're probably not going to be able to eat three bowls of couscous, whereas you might do that with pasta salad.
Whole wheat couscous is available which makes it a nice whole grain option.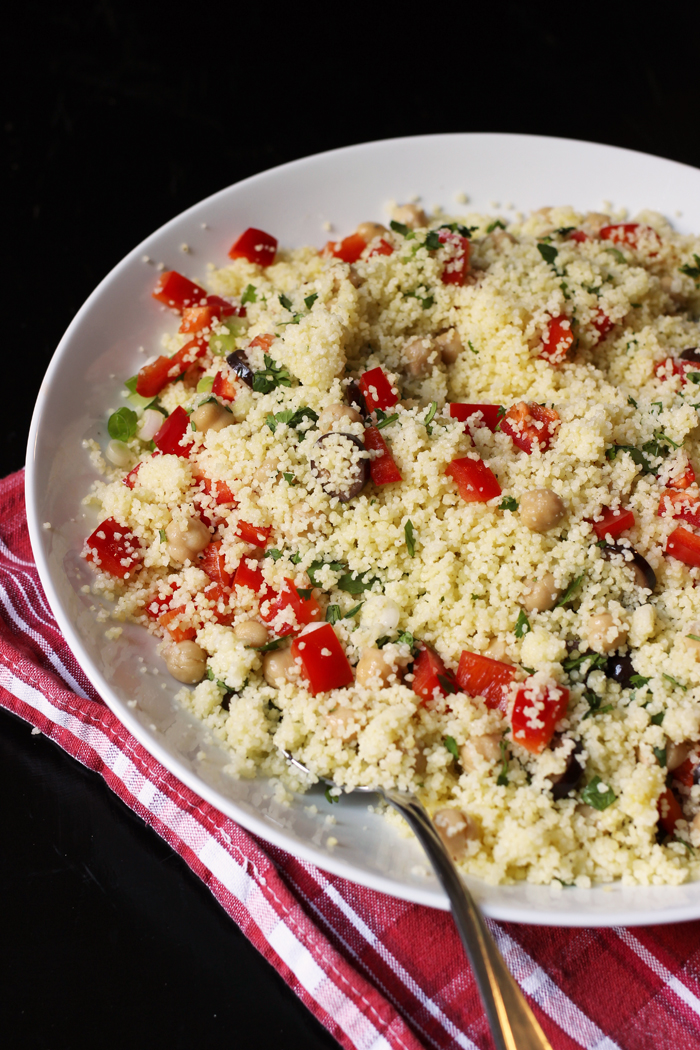 How to save money making this recipe:
Here are some of the strategies I use to make this recipe more economical:
Shop at the right stores. Not all stores are created equal. Some charge more than others, so you need to choose wisely. Compare prices on couscous and buy it where it's offered at the best price.
Stock up on ingredients when they are on sale. When you see a great price on couscous, stock up and buy a few extra boxes to keep on hand. Storing them in the freezer will extend their shelf life.
Use spices instead of chicken broth. While chicken broth adds great flavor, it's extra. Couscous is just as tasty made with water or with some spices added in.
Make your own chicken stock. Chicken stock is incredibly easy to make and is practically free when you make it from the leftovers of a rotisserie chicken or the next time you roast a chicken.
Tools you might need to make this recipe easy:
This is a pretty straight-forward dish. You don't need any fancy equipment. However, having some good basic kitchen tools can really make your time in the kitchen more enjoyable. Over time, I've honed my collection so that they are perfect for my needs. Here are the tools that I like to use in this recipe.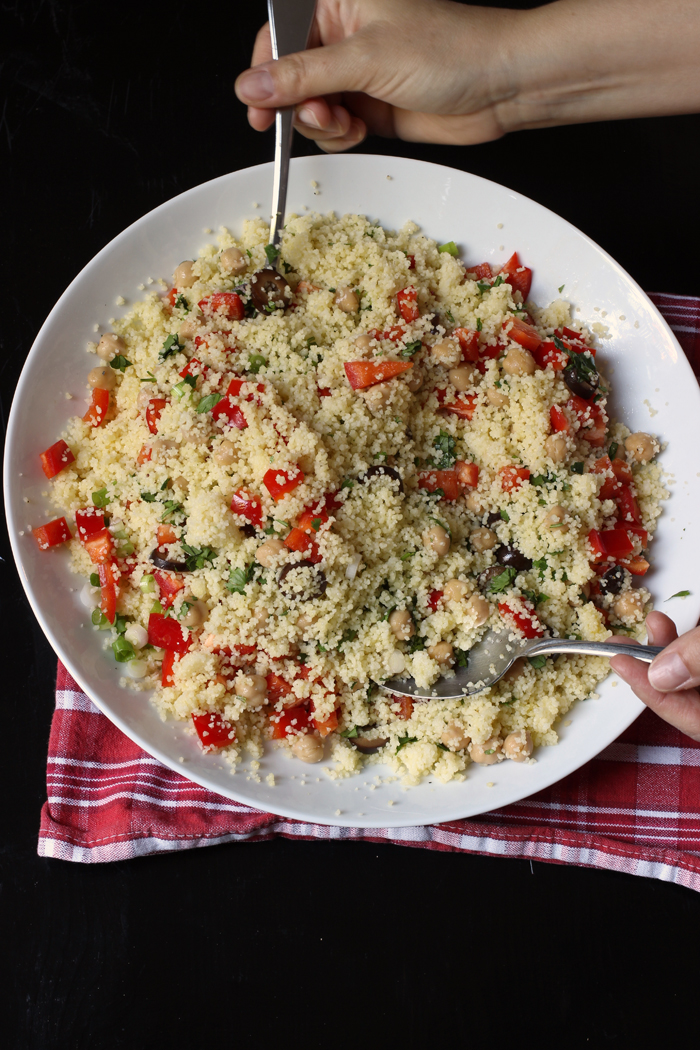 If you prepare this recipe, be sure to share a picture on social media and hashtag it
#GOODCHEAPEATS
. I can't wait to see what you cook up!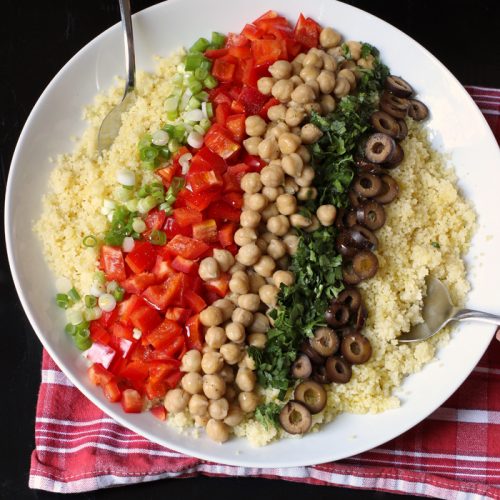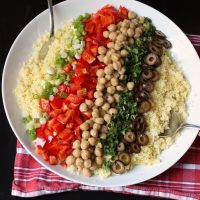 Couscous Salad
Couscous is an easy grain to prep quickly AND it makes a fantastic base to all kinds of cold salads. Make this super simple Couscous Salad this week!
Print
Pin
Rate
Ingredients
1

cup

couscous

1 ¼

cup

chicken stock

or hot water

2

tablespoon

lime juice

2

tablespoon

olive oil

1

cup

garbanzo beans

½

red bell pepper

chopped

¼

cup

kalamata olives

sliced, or other black olives

¼

cup

fresh cilantro (chopped)

3

green onion

chopped

salt

black pepper
Instructions
Place the hot water or chicken broth in a heatproof bowl. Add the couscous and stir to combine.

Cover the dish completely with a lid or plate to allow it to "cook". Let sit for 5 minutes.

Remove the lid and fluff couscous with a fork.

Add the remaining ingredients and season with salt and pepper. Toss the ingredients lightly to combine.
Notes
Store the Couscous Salad in a covered dish in the refrigerator for up to 4 days.
Nutrition
Calories:
314
kcal
|
Carbohydrates:
47
g
|
Protein:
10
g
|
Fat:
10
g
|
Saturated Fat:
1
g
|
Sodium:
141
mg
|
Potassium:
248
mg
|
Fiber:
6
g
|
Sugar:
3
g
|
Vitamin A:
746
IU
|
Vitamin C:
28
mg
|
Calcium:
39
mg
|
Iron:
2
mg
Tried this recipe?
Tell us what you think! Your reviews help us develop better recipes and give newcomers the confidence to try your favorites. Scroll down to leave a starred comment.
Make Meal Prep a Habit.
In order to save money and really make the most of meal prep, you need to have an arsenal of packable lunch ideas. I say lunch, but these meals really double for dinner as well, Couscous Salad included.
And they beat take-out any day of the week.
I've put together this quick and easy printable guide to help you meal meal prep more of a habit. Here's just a peek: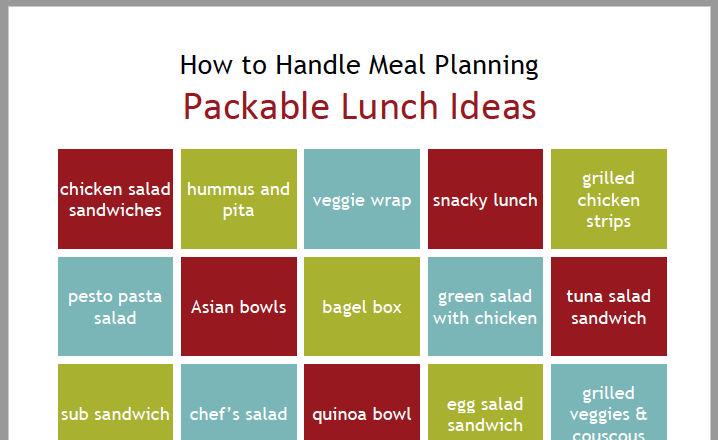 Print out this idea generator and tack it somewhere easily seen in your kitchen. The next time you're planning your meal prep, bring it out and let it provide all the inspiration you need to choose and plan for great packable lunches.
Bonus: all the recipes can be found here on Good Cheap Eats.
When you subscribe to the free weekly newsletter, I'll send you access to the printable straight away.
And if you want a little more help with meal prep?

Subscribe to the Kitchen Winner Meal Plans!
This monthly meal planning service is more than just a plan of random recipes dropped in your inbox.
With 35+ weekly plans, the Kitchen Winner Meal Plans provide 7 full menus complete with recipes, as well as the grocery list and meal prep checklist to help you bring meal planning dreams to meal prep reality.
When you subscribe, you'll get instant access to all the plans available, with more being added each month. It's a great way to have your meal prep and eat it, too.
Start your subscription today: https://fishmama.com/kitchen-winner-meal-plans/