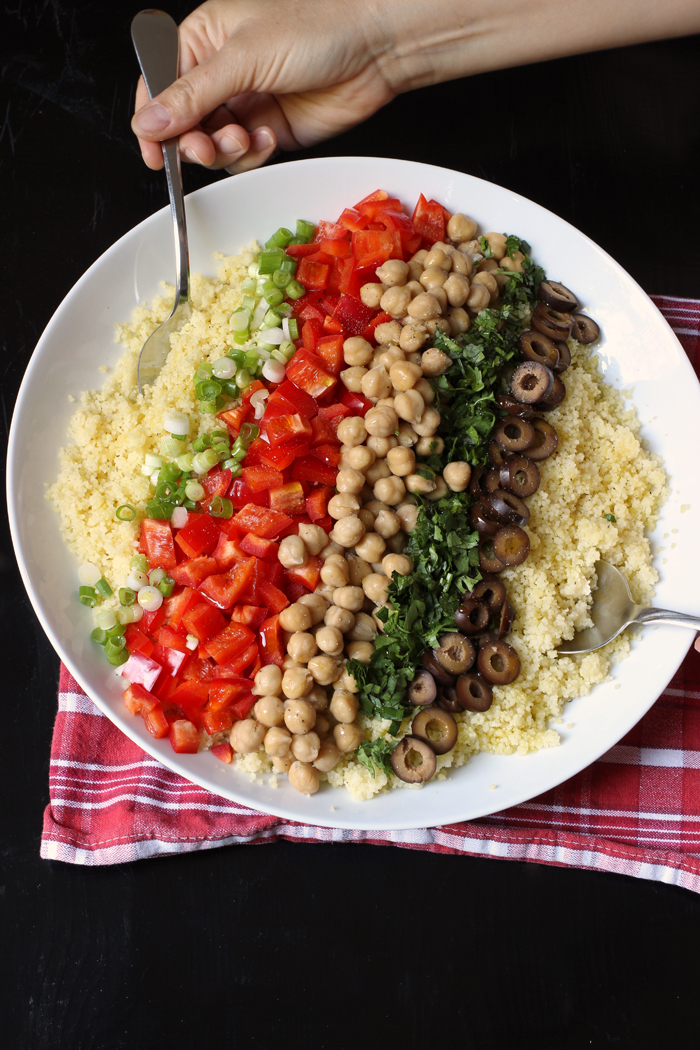 Salad season is upon us! While I love hearty stews and filling potato dishes, the approach of abundant sunshine and warmer weather makes me crave fresh vegetables and lighter fare.
At the same time, I have five men in the family to feed. I need to serve something with substance.
Just season.
Summer beckons me outside. I'd rather take the kids to the beach or dine al fresco. Who wants to spend time in the kitchen cooking?
Who wants to blow the budget eating out, though, either?
I want a quick fix.
Cilantro Couscous Salad – Perfect for Summer
Couscous, made of spherical little pasta bits, is a perfect answer to that dilemma. One of the easiest side dishes for me to pull together, it takes about six minutes from start to finish. Did you see my video on how to make couscous?
While couscous goes great with stews and sautes, soaking up all the yummy juices, it does just as well dressed up as a salad.
This salad is amazing. The first time I made it, my husband kept going back for more, evidence that it is a winner. I made another batch today. It won't last long.
The lime is bright and the cilantro zesty, making it a perfect match for grilled meats on a warm night or to make a lunchtime salad a little more substantial.
And if you're one of those people for whom cilantro tastes like soap, feel free to substitute fresh basil or parsley instead. It will delicious salad either way!
Cilantro Couscous Salad
1 cup dry couscous
1 1/4 cup hot water or chicken broth
2 Tablespoons lime juice
2 Tablespoons olive oil
1 cup garbanzo beans
1/2 cup chopped red bell pepper
1/4 cup chopped cilantro
1/4 cup chopped green onion
Place the hot water or chicken broth in a heatproof bowl. Add the couscous and stir to combine. Cover the dish completely with a lid or plate to allow it to "cook". Let sit for 5 minutes. Remove the lid and fluff couscous with a fork. Add the remaining ingredients and season with salt and pepper. Toss the ingredients lightly to combine.

Do you regularly serve couscous?