Meal Prep is when you prep full meals or meal components in advance. With a fridge stocked with ready-to-go meals, you'll save both time and money. Here's how to make it work for you.
Busy days are sometimes planned. Sometimes they just happen to you. Either way, they tend to bring chaos with them.
Chaos as you hurriedly get dressed and out the door, leaving dirty dishes in your wake.
Chaos as you fight through traffic to get to the grocery store, to grab food for dinner and wait in line to check out.
Chaos as you scramble around the kitchen, trying to get a meal on the table before you're late for your evening date with a pint of ice cream and the remote control.
Thankfully, chaos can be managed.
One sure-fire strategy to keep meal time chaos at bay during busy seasons is to plan time to meal prep.
Ninety minutes of meal prep will save you several hours of dirty dishes, crowded grocery stores, and last-minute panic as you prepare dinner on busy nights. Not only that, but you'll eat well and feel calmer.
Contented tummies tend to help us feel calm and happy.
Trust me when I say you will get a magnificent return on your investment!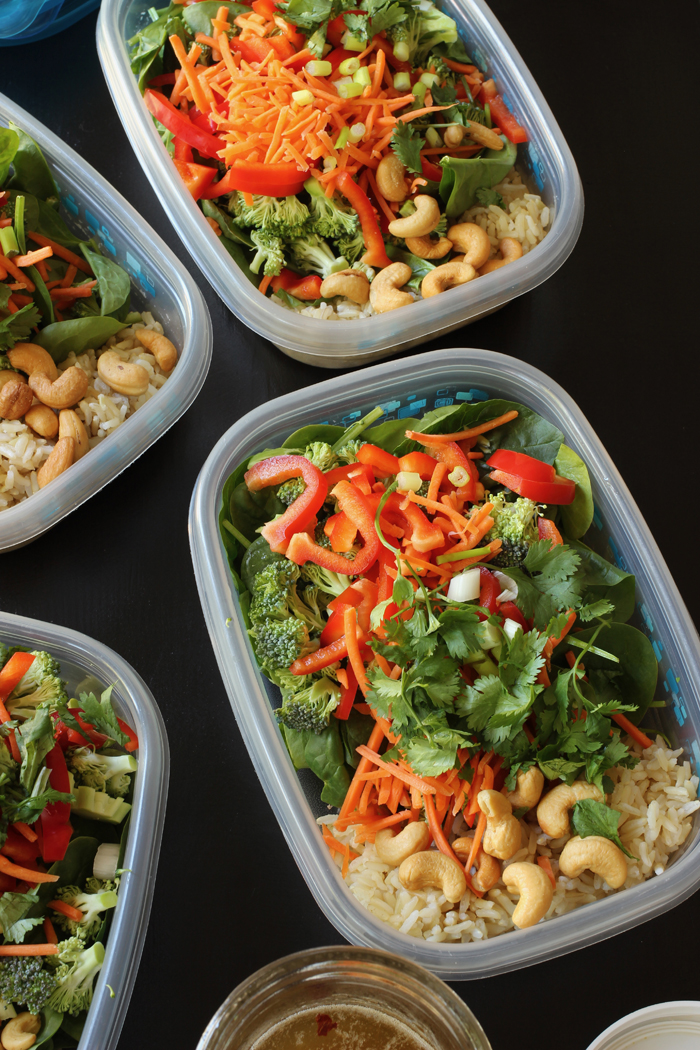 What is meal prep?
Meal prep is the practice of making full meals or meal components up to several days in advance of serving. Make-ahead doesn't have to be limited to freezer meals.
Newsflash: Meal Prep is something that has been practiced for decades by busy homemakers and working moms, but with the advent of cute meal prep boxes, it's become incredibly trendy and appears to be something new and modern. 😉
You can store your meal preps (boxed meals) in the fridge or freezer, depending on the meal. For example, a burrito bowl will freeze well whereas a salad will not. Both deserve a place in your week's meals.
Meal prep can vary depending on your needs and the number of people you're feeding. There is no one right way of meal prepping. What works well for you in one season may need to be adjusted a few months or years later.
Why should you meal prep?
Meal prep can benefit you in a number of ways. It can be a great means of saving time, money, and stress.
Bulk cooking is a great way to save time. Prepping five boxed meals doesn't take that much more time than prepping one. With modern refrigeration, we have the opportunity to work ahead when it comes to cooking — without any loss of taste or texture.
Meal prepping can save you money, especially if you tend to grab take-out on a regular basis. Having a stash of burritos in the office freezer will keep you from running out for fast food and your money from fleeing your wallet.
I'm a big fan of Double-Doubles and Burrito Bowls, but a trip through In-n-Out or Chipotle costs us $30 to $60 per meal. I'd rather keep that money and eat homemade!
Having meals prepped in advance has a calming effect. You know you don't have to run to the store on the way home from work or worry about sticking to your diet during a busy week. The meals are all ready to go!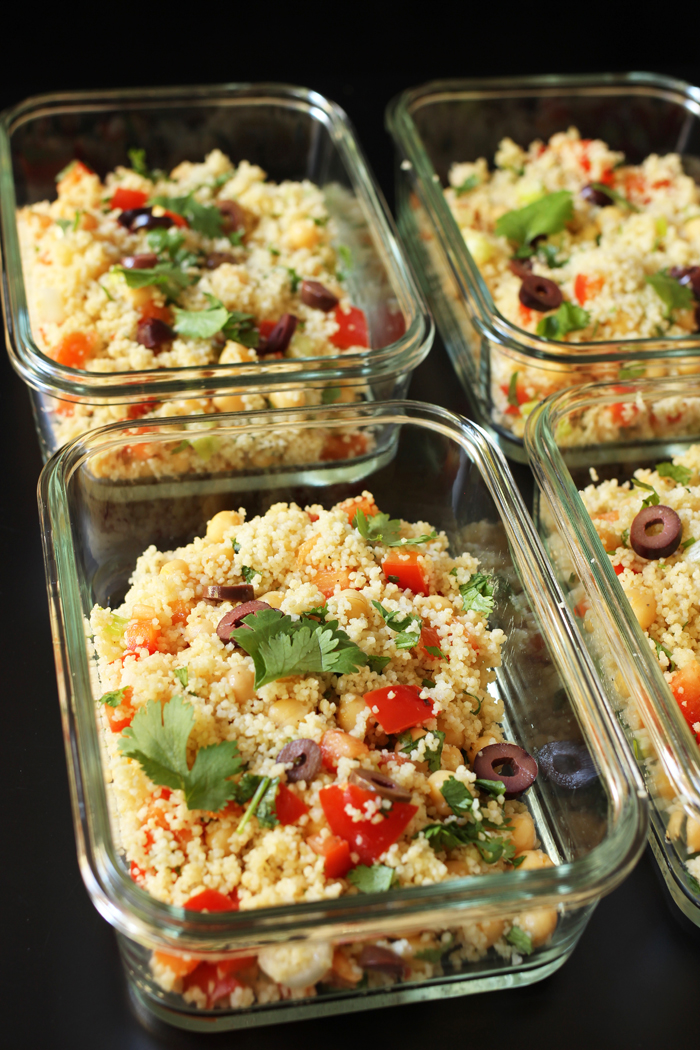 Is meal prepping healthy?
Meal prepping is a great way to stick to your food goals. Meal prep has been shown to be a positive means for folks to practice portion control and avoid unhealthful fast food and restaurant fare.
In fact, it's played a huge part in my losing 20 pounds over the last few months. When I have some meals prepped, I don't worry about what I'm going to eat. I get on with life and satisfy my hunger without freaking out.
By prepping several meals at one time, meals that I know fit my food plan and nutrition goals, I've made it easier on myself to stick to my good intentions.
How to Make Meal Prep Work for You
As I said before, there's no one "right way" to meal prep. You can do something as simple as cooking a bunch of chicken at one time and using it throughout the week's meals. Or you can spend a little more effort and prepare several meals at one time.
Meal prep for a single person or a couple will look significantly different than meal prep for a large family.
The key question to ask yourself is this:
What can I prep in the kitchen now that will help me out later?
I've done it differently over the years, depending on what's going on during our week. Sometimes I prep the all the individual ingredients to use in the week's meals. Other times, I prep boxed meals for me, my husband, and our kids.
The latter helps us out tremendously. Not only do my husband and kids have easy meals to pack for work or school, but we also eliminate a lot of the kitchen mess that arises when everyone is cooking all the live long day.
You don't want to feel my wrath if you leave my kitchen a mess. Meal prep helps us all in that!
In a household where different family members may have different schedules, meal prep can make it easier to keep everyone fed good, healthy food. Instead of nuking a tv dinner, a late comer can simply reheat a nice, home cooked meal.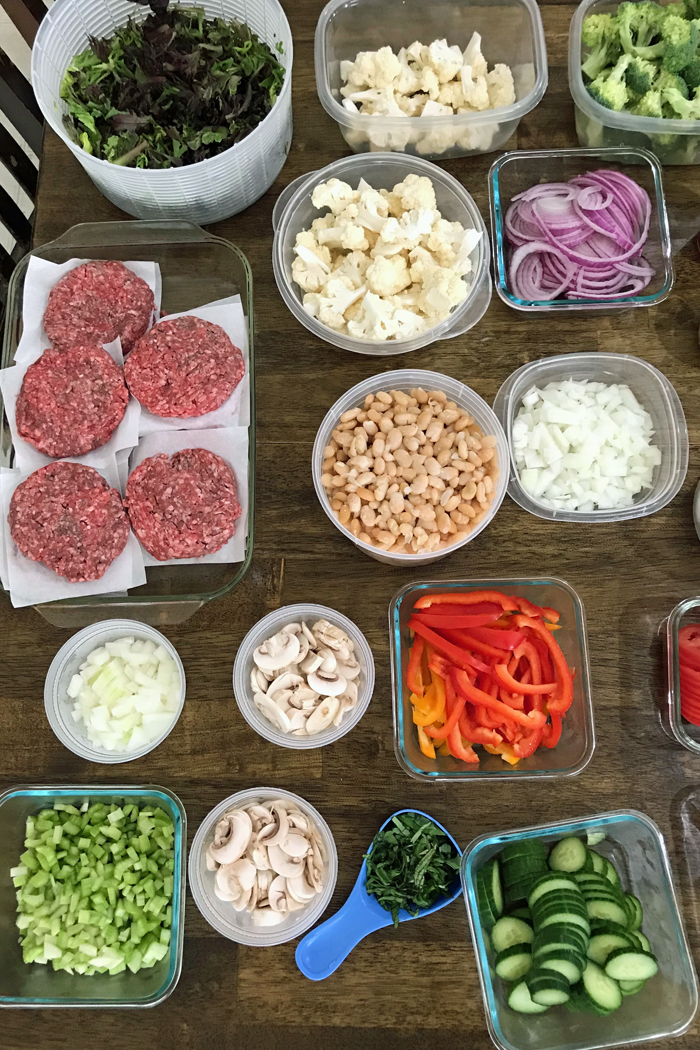 What food is good to meal prep?
The foods you meal prep will depend on your preferences for meal service, how much time you have to work, and what you're going to prepare.
You can prep basic ingredients.
Something as simple as chopping the vegetables and shredding the cheese you'll need for this week's meals can save you a ton of time, making assembly at dinner time loads easier.
Consider these meal components that you can prep in just a few minutes.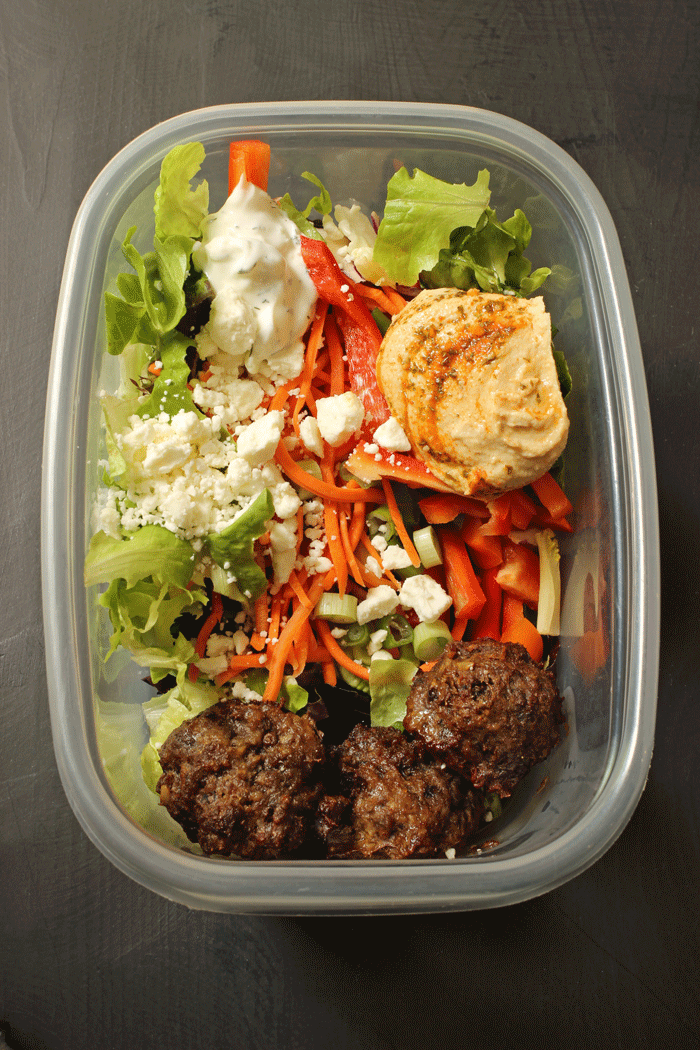 You can prepare complete meals in advance.
From breakfasts to lunches to dinners, there's such a variety of foods that you can prep now to enjoy later. It doesn't have to take long to do meal prep.
Here are some of our favorites that keep well for a few days made in advance.
Breakfasts
Lunches
Dinners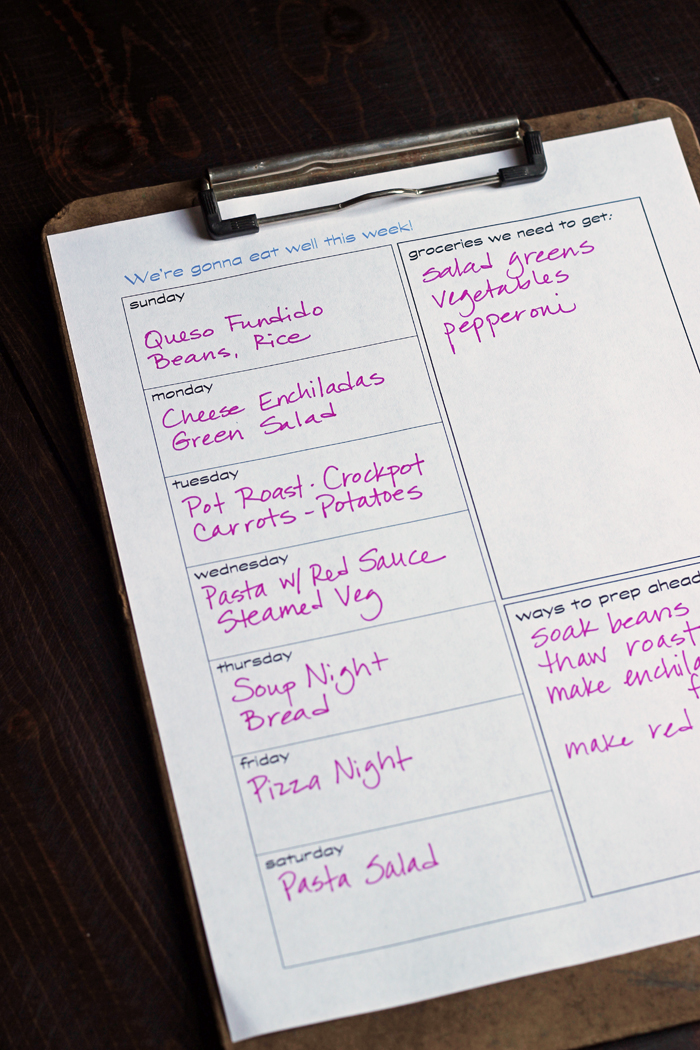 How do you meal prep for the week?
1. Inventory and clean out your fridge and pantry.
Cleaning out the fridge and pantry is a great way to save money! It's a reminder that we probably already have enough food. I also get a glimpse at foods I need to use up soon, lest I throw good money away.
Knowing what we have makes planning and meal prep so much easier. My newest goal is to do this every four days so a backlog of leftovers doesn't also waste our money.
2. Choose your meals.
While meal planning isn't the same as meal prep, it's definitely a step in the right direction. I use the Kitchen Winner Meal Plans to help me choose which recipes to make based on what proteins I have on hand.
Bonus: these meal plans lay out the grocery list and the prep steps so all my work is done!
3. Buy groceries.
At the same time I plan my meals, I create a grocery list of things we need to get.
Since I meal plan based on what we already have, I try to limit my list to things that we truly need or that are really great sale items. I build a stockpile on a budget: buying my favorite ingredients at sale prices.
Whether you have a plentiful stockpile or not, be sure to pick up the groceries you'll need for meal prep.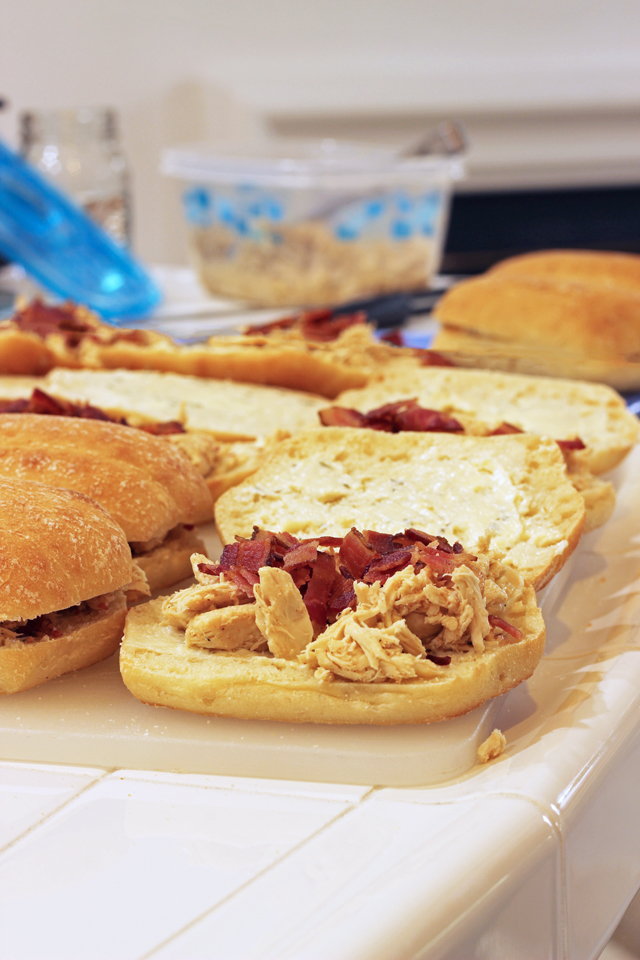 4. Prep the ingredients.
My most successful weeks — when we eat the best — are those when I've done some meal prep in advance.
At the bare minimum, I like to:
make salsa
chop veggie dippers
prepare salad greens
prep cheese: shred, slice, cut into sticks
mix salad dressings
When I spend a few minutes working on these meal prep items, lunch and dinner assembly takes just minutes. And those extra touches like a great homemade vinaigrette make it feel like a feast!
A good rule of thumb for prepared food stored in the fridge is 4 days. Keep this in mind and use things up before they spoil or lose taste and texture.
5. Preassemble what you can.
So many of the foods we eat can be made a few hours, days, or weeks in advance. It just depends on the recipe how far in advance you want to make it.
If you'll notice, in all my recipes, I explain how far in advance you can make and chill or make and freeze a dish. I find it handy to note these things so that you can do meal prep in advance and make things easier.
So, that's pretty much meal prep in a nut shell. Or a cute meal prep container. 😉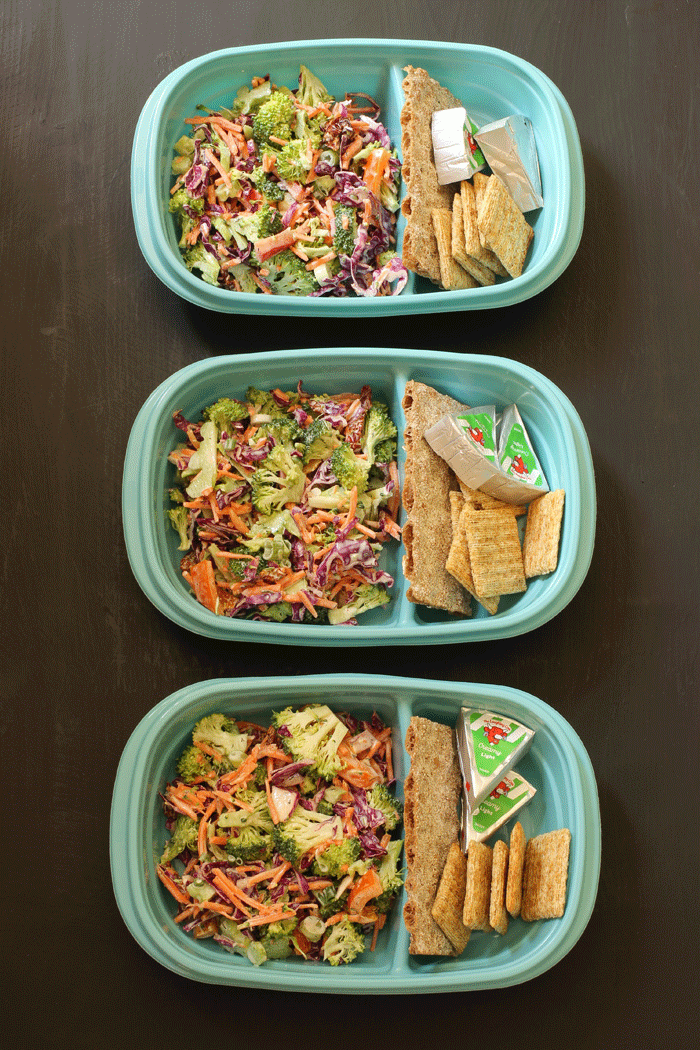 Make Meal Prep a Habit.
In order to save money and really make the most of meal prep, you need to have an arsenal of packable lunch ideas. I say lunch, but these meals really double for dinner as well.
And they beat take-out any day of the week.
I've put together this quick and easy printable guide to help you meal meal prep more of a habit. Here's just a peek: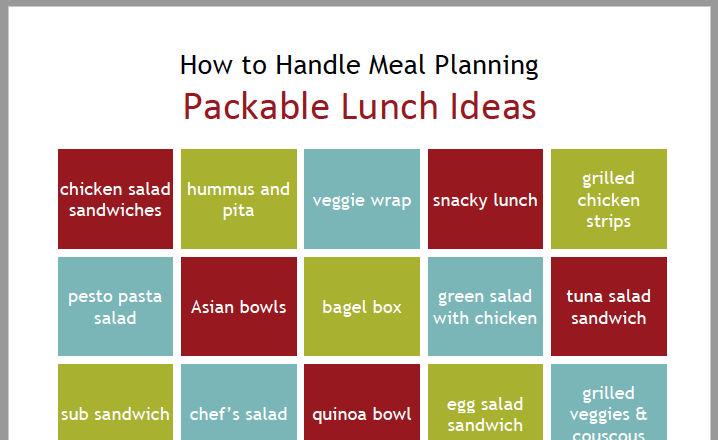 Print out this idea generator and tack it somewhere easily seen in your kitchen. The next time you're planning your meal prep, bring it out and let it provide all the inspiration you need to choose and plan for great packable lunches.
Bonus: all the recipes can be found here on Good Cheap Eats.
When you subscribe to the free weekly newsletter, I'll send you access to the printable straight away.
And if you want a little more help with meal prep?

Subscribe to the Good Cheap Eats Meal Plans!
This monthly meal planning service is more than just a plan of random recipes dropped in your inbox.
The Good Cheap Eats Meal Plans provide 5 main dishes, 3 sides, and a baked goodie — all with scalable portions — as the basis for the week's plan. Then with our custom meal planner, you can fill out the rest of the week to suit your fancy.
Plans include grocery list, meal prep checklist, leftover alerts, and ingredient swaps to help you bring meal planning dreams to meal prep reality.
When you subscribe, you'll get instant access to all the plans available, with more being added each week. It's a great way to have your meal prep and eat it, too.
Start your subscription today: goodcheapeats.com/…/good-cheap-eats-meal-plans