When you want something flavorful, quick, and easy, lean on this simple Cheesy Chicken and Peppers dish. Prepared in individual dishes, this humble casserole becomes an elegant supper.
As my husband and I work on eating more vegetables and fewer carbs, we've been enjoying quite a few bell peppers. It's one of those vegetables that everyone in the family enjoys, so we've been going through them quickly. Thankfully, my local grocery stores have had great prices on bell peppers, as low as 50 cents a piece!
This dish was inspired by a chicken sandwich we used to enjoy many years ago when we lived in Paso Robles. Seasoned chicken breast topped with chiles and melted cheese and served on sourdough bread, that sandwich from Cahoots Catering was awesome.
I've served this Cheesy Chicken and Peppers on sourdough toast and with rice, but it's just as good on its own if you want to have lower carbs or go gluten-free.
Having made this quite a few times this summer, I've tested the process in lots of different ways: cooking in a skillet and then melting it all together on a sheet pan, in a glass baking dish, here in ramekins. If you'd like to save on dishes and have an oven proof skillet, you can even make it all in one dish.
The oven step is really just to melt the cheese, so don't be deterred about that seemingly "extra" step. Trust me it's worth it. (If you want to serve it on toast, you can place the toast under the chicken on the sheet pan and bake it all together.)
This dish is fairly spicy. You can tone it down by using regular jack cheese, cutting back on the Cajun spice, or using a green pepper instead of jalapenos.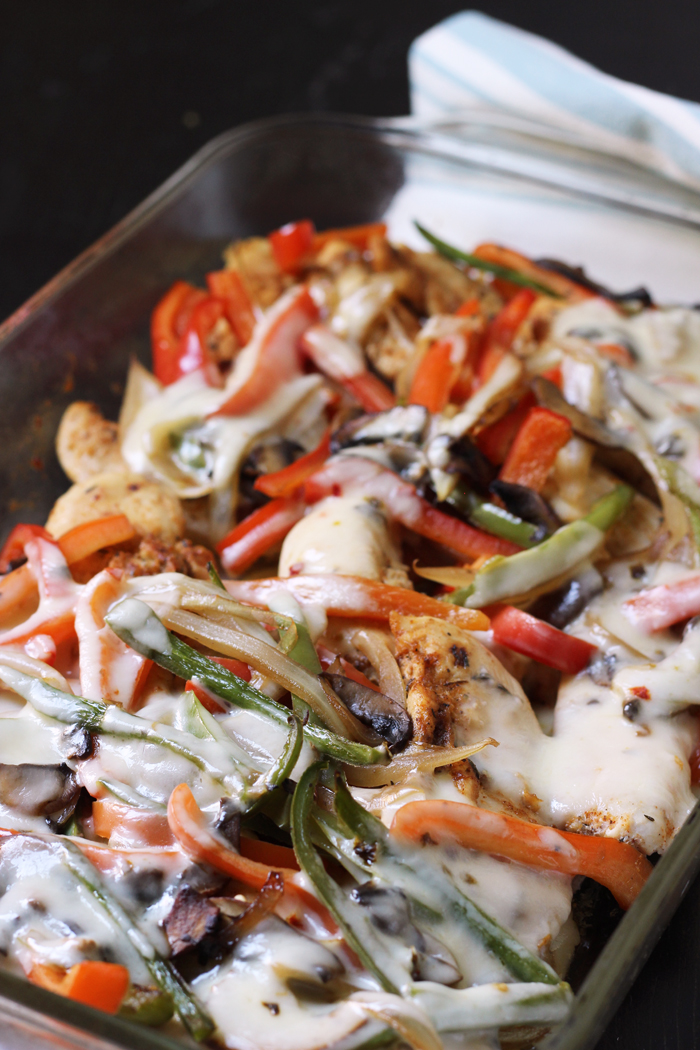 How I make this cheap:
I generally keeps several bags of Trader Joe's frozen chicken tenders on hand at all times. While they are a little more expensive than the sale price of the grocery store, I've found that for quality, they can't be beat. Other brands add a lot of "solution", preservatives, and additives to their frozen chicken pieces. It seems that the quality of grocery store chicken, particularly at Sprouts, has gone down tremendously lately, to the point that it's inedible and I've taken packages back to the store.
Plus, I like the inherent portion control that comes with serving chicken tenders. The littles might be satisfied with one or two while the bigger boys can have three or four.
Buy peppers and jalapeños when they are on sale in the summer — or grow your own. When you have a glut of peppers, you can slice them and freeze them on trays. Once firm to the touch, you can toss them in a ziptop freezer bag. Frozen and packaged this way, the peppers are easy to use, just a few at a time, no need to thaw before cooking them.
I buy Tillamook pepper jack cheese in large blocks at Costco. I find that their price is really the best all around. You can shred the bulk of the block and freeze it if you don't think you'll use it within a few weeks. Shredded cheese freezes and thaws really well. Cheese frozen in a block or slices will often crumble after thawing, so I don't recommend it.
The amount of cheese used here is really minimal, so don't be put off by the possible calories. It adds a kick and a creaminess to the dish that is delicious.
Making my own custom spice blends is one of my favorite ways to flavor foods without spending a fortune. I buy spices in bulk from Costco or via Amazon and keep the excess in the freezer to extend its shelf life.
Tools I use to make this easy
my favorite skillet – it's oven safe!
Ergo Chef cooking tongs
USA sheet pan – no need to grease
gratin dishes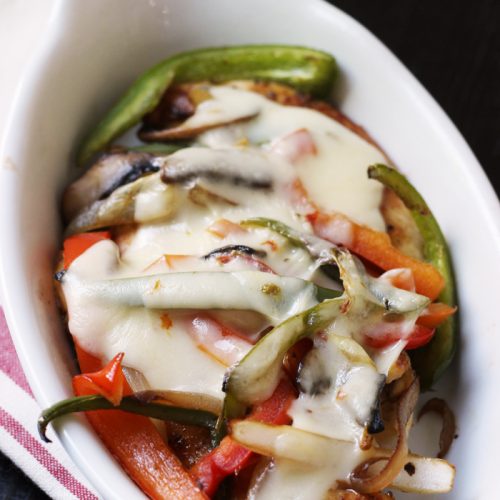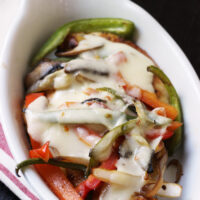 Cheesy Chicken & Peppers
When you want something flavorful, quick, and easy, lean on this simple Cheesy Chicken and Peppers dish. Prepared in individual dishes, this humble casserole becomes an elegant supper.
Print
Pin
Rate
Ingredients
2

tablespoon

olive oil

2.5

lb

chicken tenders

1

tablespoon

Cajun Spice Mix

½

onion

sliced

1

red bell pepper

sliced

2

jalapeno

seeded, and thinly sliced

5

mushrooms

, sliced

4 to 6

ounces

pepper jack cheese (sliced)
Instructions
Preheat the oven to 350 degrees. Grease a 9×13-inch pan (or individual ramekins) with nonstick cooking spray.

In a large skillet over medium high heat, heat the oil until shimmering. Add the chicken tenders and season with the spice mix. Cook, turning, until lightly browned, about 10 to 15 minutes. Remove the chicken pieces to the prepared baking pan(s).

Add the onion, pepper, jalapenos, and mushrooms to the skillet. Cook over medium high heat, until the onion is translucent and the peppers and mushrooms are tender. Pile the vegetable mixture atop the chicken pieces in the pan. Cover all with the cheese slices.

Bake for about 10 minutes until the cheese is golden and bubbly. Serve immediately.
Notes
Store leftovers covered in the fridge for up to 4 days.
Nutrition
Calories:
345
kcal
|
Carbohydrates:
4
g
|
Protein:
46
g
|
Fat:
16
g
|
Saturated Fat:
5
g
|
Cholesterol:
138
mg
|
Sodium:
324
mg
|
Potassium:
861
mg
|
Fiber:
1
g
|
Sugar:
2
g
|
Vitamin A:
1448
IU
|
Vitamin C:
34
mg
|
Calcium:
155
mg
|
Iron:
1
mg
Tried this recipe?
Tell us what you think! Your reviews help us develop better recipes and give newcomers the confidence to try your favorites. Scroll down to leave a starred comment.