Using your freezer to its best advantage sometimes means prepping ingredients and storing them for later use. Got a glut of a vegetable, like bell peppers? Chop and freeze to use later.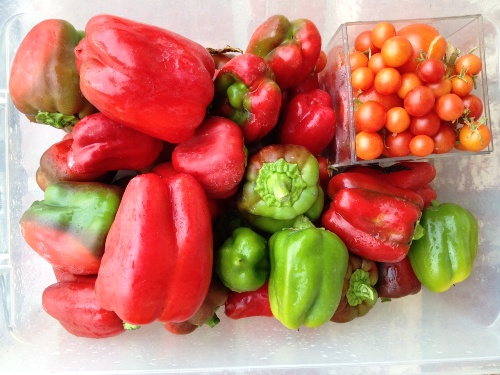 photo source: Jack Getskow
A few weekends ago my parents came down for a visit. My dad raided his garden before he left, bringing with him a huge box full of bell peppers and cherry tomatoes. I had also received several peppers in my produce box. I was rich in peppers!
So, I did what all good freezer cooks do, I chopped and sliced them all up and quick-froze them on cookie sheets until they were hard.
Then I repackaged them in quart-sized freezer bags. Now, whenever I need chopped peppers for a sauce or sliced peppers for a stir-fry, I can just grab as many as I want from the bag. Easy peasy.
31 Days of Freezer Cooking
For more ideas about how to make freezer cooking work for you, follow along with us here in October as I post 31 Days of Freezer Cooking. You can see past posts here.
For even more Freezer Cooking how-to's you can also buy my book, Not Your Mother's Make-Ahead and Freeze Cookbook.
Don't want to miss a post in this series? Subscribe to 31 Days of Freezer Cooking by RSS or email.