Football never tasted so good. Celebrate game day with Bratwurst with Sauteed Peppers and Onions. Score a touchdown with this quick and easy dish!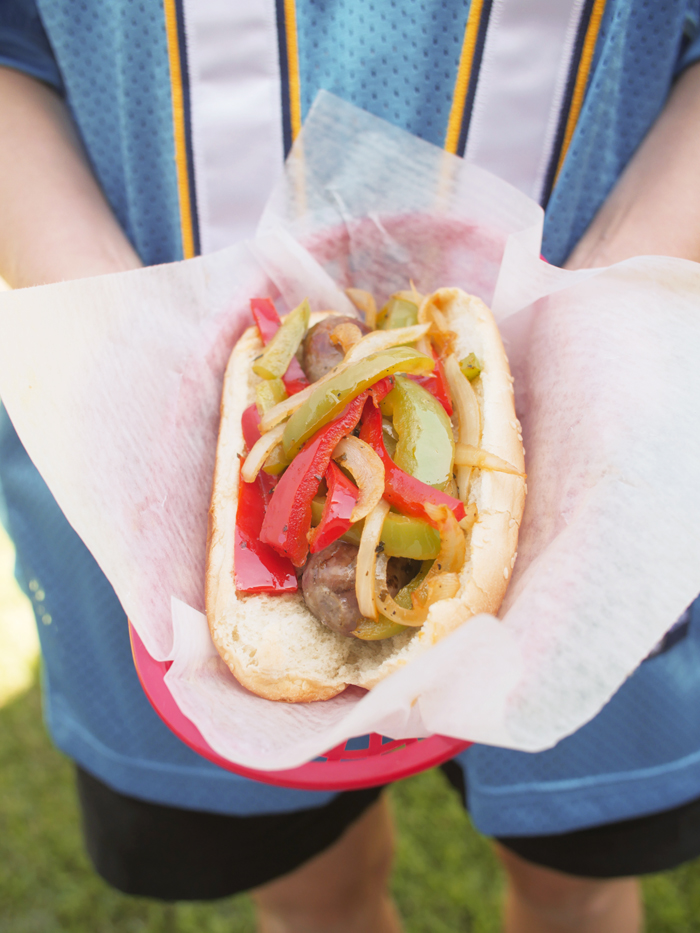 As far as football season is concerned, I'm really just here for the food. My husband and boys, however, they love to watch a good game. And if I'm honest, I do love to hear the sound of the game playing from the other room, even if I don't actually like watching it.
Currently, we're Charger fans. We do live in San Diego, after all. But, I'll be honest, I'm really impressed with Stan Kroenke's spending his own money to build an LA stadium instead of leaning on a city to tax its people to pay for one. Ahem.
Since I grew up in LA County back when the Rams were there originally, I could easily be swayed to trade in my Chargers jersey for a Rams one.
I guess I do know a thing or two about football, football politics, anyway. 😉
But let's get back to the food. Football season is the perfect opportunity to eat extremely well — without resorting to canned cheese dip and fake foods. In fact, I am often tempted to call it foodball since this time of year is so full of good cheap eats.
My friend Cristina originally introduced us to this dish — and it was instantly a winner. My husband, previously a bratwurst hater, now adores this German sausage. The peppers and onions with a few dollops of mustard give the dish such great flavor.
This recipe for Bratwurst with Sauteed Peppers and Onions is such a simple preparation, but it's so delicious, making it the perfect addition to any tailgate party. If you're looking for some more foodball inspiration, check out these:
Ingredients for brats with peppers and onions
Oil
Green Pepper
Red Pepper
Onion
Bratwurst sausages
Salt
Pepper
Dried Oregano
Red Wine Vinegar
Hot dog buns
How do I make this recipe?
For this recipe we are really focusing on how to cook the green peppers and onions to serve on top of the brats.
You can cook the brats outside on a grill if its summertime, indoors in a cast iron skillet, or even roast the brats in your oven if you want! But what makes this dish memorable are the peppers and onions you'll serve on top.
Basically you want to cook the sliced pepper and onion in a little oil. You want the still a little bit crisp, and then season with salt and pepper.
Then you will stir in the red wine vinegar and dried oregano. And that's it! They are ready to serve over your brats for game day, or just whenever the brat craving hits you.
How to store leftovers
If you aren't planning to eat all the brats all at once it's best to only assemble the ones you do plan to eat otherwise the buns will get soggy.
And then refrigerate all any leftovers in your fridge for up to 4 days. You can store the brats, peppers and onions together in one airtight container. Then just simply reheat in the microwave and enjoy!
What else can I top these brats with?
Personally I think these are wonderful just as is! But here are few topping suggestions for you:
Sauerkraut
Jalapenos
Mustard
Cheese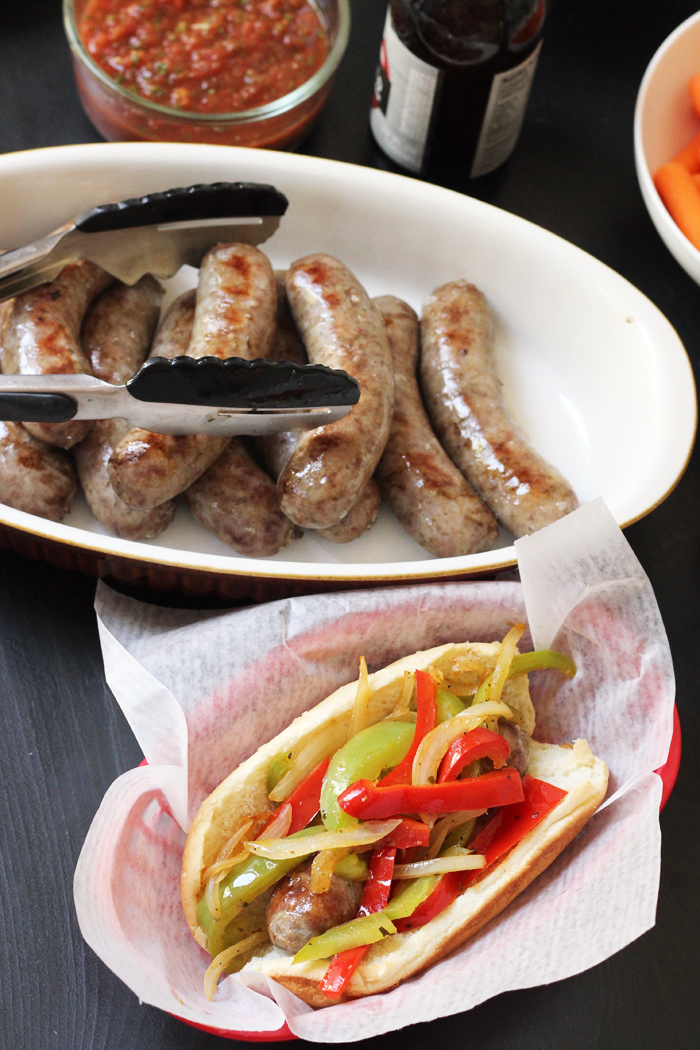 How I make this good:
Whenever possible I like to cook with plain old ingredients. While the convenience of mixes and canned sauces is nice, I feel better about feeding my family just real food whenever possible. (Go here for some of my reasons on all that.)
Not all sausage are created equally, so it's important when making Bratwurst with Sauteed Peppers and Onions that you read labels. Sprouts has a line of sausages that they create in-house without the ingredients you can't pronounce. Check around until you find a sausage you feel good about.
Making your own hot dog buns also increases the quality and taste of this dish. While they do take a little more work, they taste amazing.
How I make this cheap:
Here are some of the strategies I use to make this recipe more economical:
Do a price comparison. I know that Costco is the best place to buy ingredients in bulk, like spices, when there isn't a great sale elsewhere. I keep track of prices so that I know who has the best deal where. Costco also offers the best price on hot dog buns if I don't have time to make my own. I buy several bags and stash them in the freezer.
Stock up on ingredients when they are on sale. For instance, when I see a great price on bratwurst, I buy a lot and store them in the freezer. Then we can enjoy them all season long without worrying about the current price fitting the budget. The same goes for bell peppers and onions as well as hot dog buns. This is a great way to have Buy Tailgate Food on a Budget.
Go halvsies. Sometimes the sausages are bigger than they really need to be. We often split the brats in half lengthwise to stretch our purchase. This also makes portion sizes more wieldy for young children.
Tools I use to make this recipe easy:
Having the right kitchen tools can really make your time in the kitchen more enjoyable. Over time, I've honed my collection so that they are perfect for my needs. Here are the tools that I like to use in this recipe.
Other game day recipes we love:

If you prepare this recipe, be sure to share a picture on social media and hashtag it
#GOODCHEAPEATS
. I can't wait to see what you cook up!
Bratwurst with Sauteed Peppers and Onions
Football never tasted so good. Celebrate game day with Bratwurst with Sauteed Peppers and Onions. Score a touchdown with this quick and easy dish!
Ingredients
1

tbsp

olive oil

1

red bell pepper

cored, seeded and thinly sliced

1

green bell pepper

cored, seeded and thinly sliced

1/2

onion

thinly sliced

salt

black pepper

1/2

tsp

dried oregano

1

tbsp

red wine vinegar

8

bratwurst sausages

cooked according to your preferences
Instructions
In a large skillet, heat the oil until shimmering. Add the peppers and onions and saute quickly until tender, but still slightly crisp. Season to taste with salt and pepper.

Stir in the oregano and red wine vinegar.

Serve the mixture hot or warm over the brats in buns.
Notes
Promptly store leftovers in an airtight container for up to 4 days in the refrigerator.
Nutritional values are approximate and based on 1 bratwurst, bun, and 1/8 of the vegetable mixture.
Nutrition
Calories:
364
kcal
|
Carbohydrates:
26
g
|
Protein:
14
g
|
Fat:
23
g
|
Saturated Fat:
7
g
|
Cholesterol:
49
mg
|
Sodium:
772
mg
|
Potassium:
351
mg
|
Fiber:
2
g
|
Sugar:
4
g
|
Vitamin A:
521
IU
|
Vitamin C:
32
mg
|
Calcium:
97
mg
|
Iron:
2
mg
This post was updated September 24, 2016.