Add an extra layer of flavor to your bratwurst by simmering them in beer or ale and then finishing them on the grill.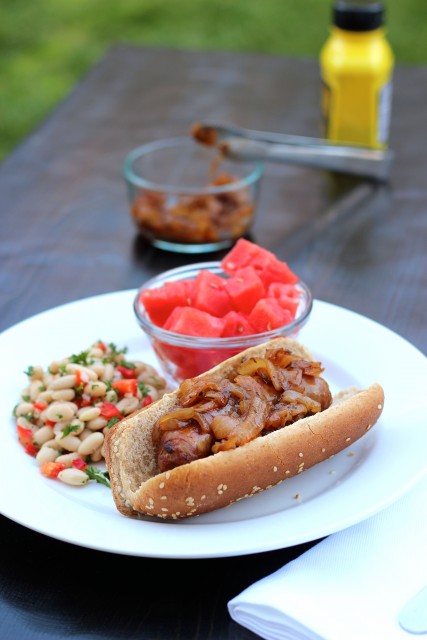 I don't recall my parents every serving bratwurst. We were a hot dog family. Hot dogs that my dad burned beyond recognition on the grill.
That's one of the many things that I love about my husband. He can grill hot dogs without their looking like they were in a blazing inferno.
But, I didn't meet bratwurst until I went to Minnesota at age 8. My mom had been busy having babies, four of them, so we hadn't gone back to her home state until I was 8. Then I spent the next eight summers except for one, driving with my family to the Midwest. I loved spending time with my Gramma John who was an excellent cook and baker.
I remember walking the streets of some small Minnesota town with Gramma John and heading to a butcher shop for "the best bratwurst". And history was made. I loved the flavor of bratwurst, so much better than a hot dog.
The rest of the family is divided on the issue. FishPapa and the big kids love brats. The littles still go for hot dogs. (We like Hebrew National as well as Trader Joe's and Simple Truth brands.)
I buy bratwurst whenever I see a good sale. My target price is $2.99/package. I buy as many as I can and stash them in the freezer. They make for a good cheap eat that can be easily dressed up.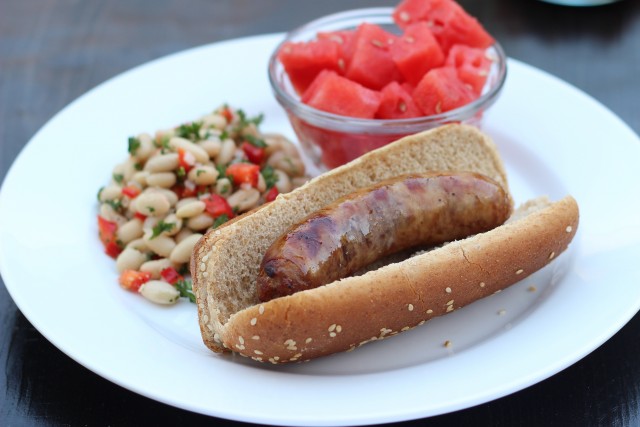 Precooking the brats allows you to do a couple things: you make sure that they are cooked through and you get to add flavor. These brats are drunk. Simmered in beer or ale and then finished on the grill, they've got a little extra flavor and caramelization going.
If you don't purchase alcohol or live in a dry county, you can use chicken broth. It won't have quite the same flavor, but will still be good. Be sure to finish caramelizing the onions for a tasty topping.
Recipe: Drunken Brats and Caramelized Onions
Ingredients
1 pound bratwurst sausages
12 ounce bottle of beer or ale
1 onion, sliced
fine sea salt and freshly ground black pepper to taste
1/4 teaspoon dried thyme leaves
1/4 teaspoon sweet paprika
1 teaspoon balsamic vinegar
hot dog buns and mustard for serving
Instructions
Preheat an outdoor grill.
Place the bratwurst, beer, and onion in a large skillet. Season with pepper. Simmer, slightly covered, until the brats are cooked through, about 10 minutes.
Drain off the beer. Place the brats on the grill and cook until the skins are crisp, about 5 minutes. (If you've got inclement weather, brown the brats in the pan.)
Meanwhile, saute the onions in the skillet, stirring in the thyme and paprika. Deglaze the pan with the balsamic vinegar, scraping up any browned bits. Adjust seasonings.
Serve the brats in buns with the onions and your favorite condiments.
Preparation time: 2 minute(s)
Cooking time: 15 minute(s)
Number of servings (yield): 4