Make your own Cherry Pie Larabar with this easy Larabar recipe. All you need are nuts, cherries, and dates to make your own Mamabars.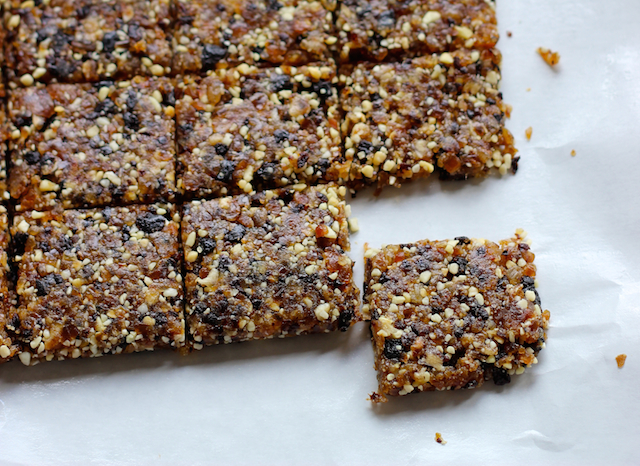 As you know, our family took on the challenge of desugarfying ourselves recently. In English that means that we have made an effort to cut out some of the added sugar in our diet. We haven't rid ourselves of everything. I mean, who are we kidding?! But, where it doesn't matter, we're trying to edge it out.
One of those areas is with granola and other snack bars. Previously I had no qualms about buying packaged bars provided they were nut free and safe for my youngest daughter. Label reading has made me rethink some things.
What's a Larabar?
FishPapa's daily breakfast for years has been a protein bar of some kind, specifically a Clif bar. Someone who doesn't think he likes sweets that much, he honestly didn't know there was sugar in them. During our sugar fast, I started buying him Larabars instead of Clif bars. While they aren't as protein-packed, neither are they chock full of added sugar. Typically their only ingredients are dates, nuts, and other dried fruits. I guess I converted my husband because he says when he eats the other kids of bars now they make him feel light-headed.
Anyway, suffice it to say, we have gained an affinity for Larabar-type snacks. I never thought I would say that. When I first tasted them five years ago, I think they were grody. to the max. Now, I love many of the flavors I've tried.
I recently found that Clif is now making a competing bar: the Kit's Organic Bar. They've upped the ante by making their bars organic as well as gluten-free, dairy-free, and soy-free. I found them at Sprouts recently and they were cheaper than Larabars.
That said, neither are what I would call "cheap". At a buck a bar, it's still cost prohibitive to buy them regularly for the whole family. During the sugar fast, I started making what the kids call, Mamabars. This homemade Larabar recipe is my take on the Cherry Cobbler Larabar, one of my favorite flavors.
One of the things that I learned in this bar-making business is that the mixture doesn't always behave. Sometimes it crumbles and falls to bits and that's quite annoying. So, here are some of the tricks I figured out to making the bars hold together a little better.
What ingredients are in this Larabar recipe?
These DIY Larabars are just like the store bought version in that its made with simple ingredients. This Larabar recipe is made with just 3 simple ingredients.
dates
almonds
dried cherries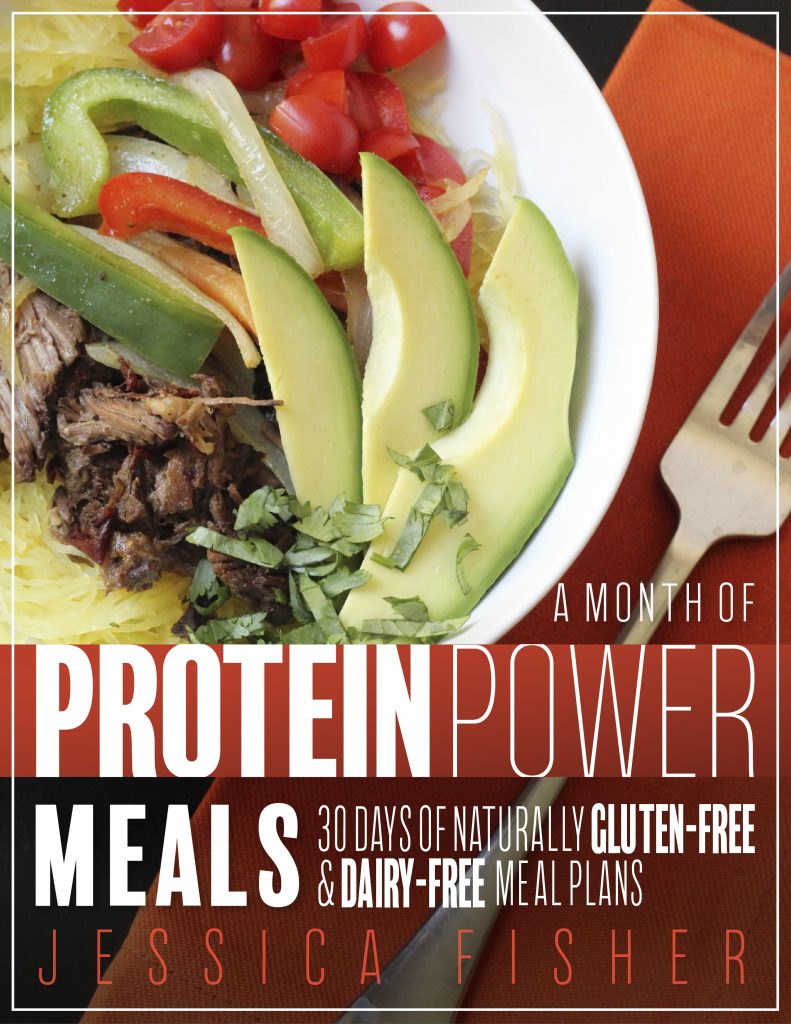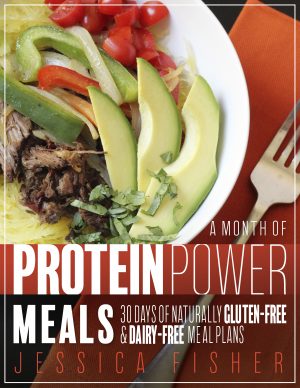 Don't miss this great opportunity!
Get a month's worth of Whole 30 recipes, grocery lists and prep tips in my newest Month of Protein Power Meal Plans.
This meal plan provides you with all the tools you need to enjoy 30 dinners of naturally gluten- and dairy-free deliciousness. No weird ingredients or soaking required.
A Month of Protein Power Meal Plans is only available through the end of January 2017, so don't delay in snatching it up! It will make your life so much easier!
How do I make this homemade Larabar recipe?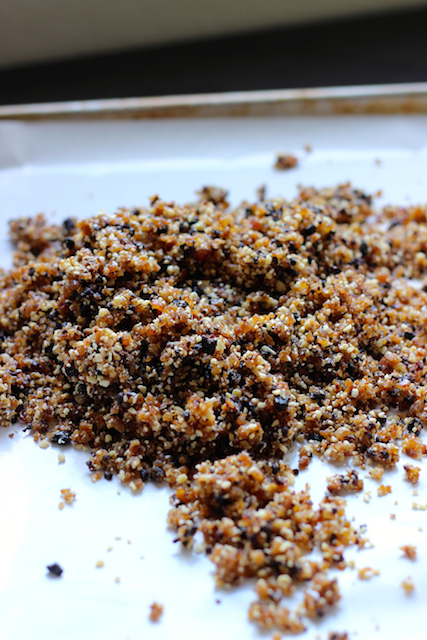 I use a food processor to grind the dates, almonds, and dried cherries. Then I plunk down the mixture on a sheet pan like this one, lined with parchment or freezer paper. One easy method is to pat the mixture into balls or patties. I've done that with the Fruit and Nut Energy Bites and the Cocoa Apricot Cashew Bites. We've found that we prefer the texture of the bites.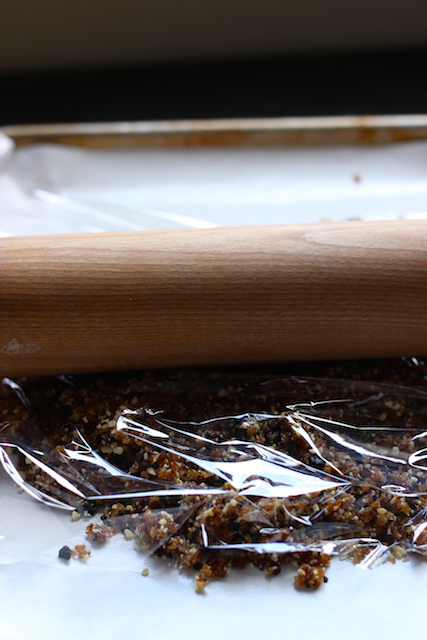 So, cover the mixture with a piece of plastic wrap and roll it flat with a rolling pin.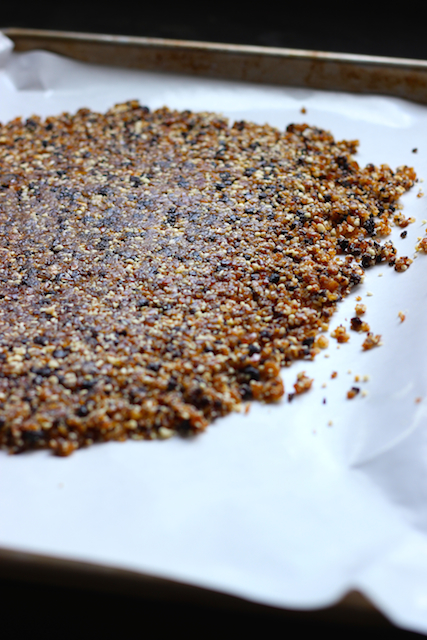 You'll find that the center compacts really well, but the edges get thin and crumbly.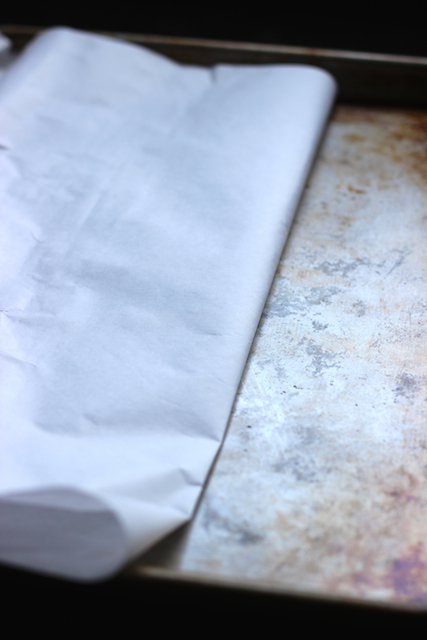 Fold over the edge of the paper so that you're also folding the edge of the bar mixture back onto itself. You're thickening the edges by doing so as well as creating a straighter edge.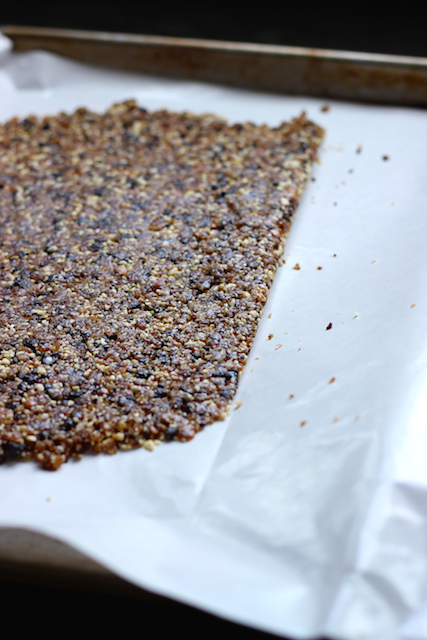 Continue to do this on the edge until you get the thickness and compactness you like. Then proceed to squaring off all the other edges so that you have a more rectangular shape than a big blob.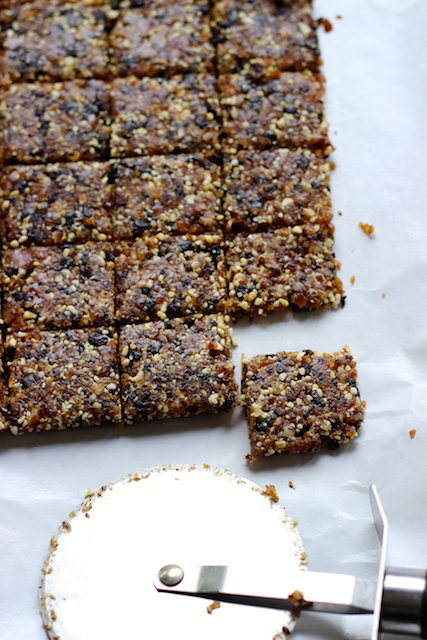 Once you've got the thickness you like, slice it into squares with a pizza cutter. Place the squares in an airtight container and chill. We've found that the texture and flavor of chilled bars far surpasses room temp.
That's it. It takes but a few minutes and the bars taste great. These are a great treat on a gluten-free, sugar-free diet, like paleo or Whole 30.
Over time I've reduced the amount of cherries in the larabar recipe so that I can keep the cost down. These taste really good with 2 cups of dried sweet cherries, but then it is cost prohibitive. I don't have a price breakdown yet because we bought this same package of dates months ago and it's still holding strong. Until I dig out the receipt from who knows where, you'll have to wait.
How long do Larabars last?
If you store them in the refrigerator, the bars will last 7 days. Make sure they are in a covered container.
If left in the pantry, or at room temperature, they will last about 2 to 3 days. Again just make sure they are covered.
And you can also freeze these bars! That way you can make multiple batches of this Larbar recipe at once. Store them in individual portions, so you can make these a quick grab and go snack.
Pro Tip: Layer the container with wax paper so they don't stick to the container.
Are Larabars Whole 30 approved?
Not all Larabars are but this Larabar recipe is. This is one great Whole 30 recipe for the holidays too!
Mamabars (DIY Larabar Recipe)
Make your own dried fruit and nut bars as an inexpensive alternative to Larabars. They are a delicious gluten-free dessert or snack.
Ingredients
2

cup

deglet noor dates

1

cup

slivered almonds

toasted

½

cup

dried unsweetened cherries
Instructions
In a food processor fitted with a metal blade, process the dates, almonds, and cherries until they are coarse crumbs that will stick together easily.

Place the mixture onto a sheet pan lined with parchment.

Cover the mixture with plastic wrap and roll it out. Fold the edges of the paper over and firm up the edges. Continue to do this, squaring off the edges and thickening them up.

Cut into squares. Chill in an airtight container until ready to serve.

For longer storage, freeze the bars until ready to serve.
Nutrition
Calories:
68
kcal
|
Carbohydrates:
12
g
|
Protein:
1
g
|
Fat:
2
g
|
Saturated Fat:
1
g
|
Sodium:
1
mg
|
Potassium:
112
mg
|
Fiber:
2
g
|
Sugar:
9
g
|
Vitamin A:
90
IU
|
Vitamin C:
1
mg
|
Calcium:
19
mg
|
Iron:
1
mg
Tried this Recipe? Tell us what you think!
Your reviews help us develop better recipes and give newcomers the confidence to try your favorites. Scroll down to leave a starred comment.