Have a craving for old fashioned macaroni salad with cheese just like Gramma used to make? Enjoy this easy Macaroni Salad recipe with tender salad macaroni, creamy mayo, savory dill, cubes of cheddar, chopped red onion, and crunchy celery.
This easy macaroni salad comes together in just 20 minutes! While it chills, you'll have time to pull together the rest of the meal and grab a tall glass of Pink Lemonade.
Jump to:
When life gets busy it's time to bust out the cold salads. You know what I mean, those make-ahead salads that do well in the fridge waiting for you at the ready.
Dishes like macaroni salad, Rice and Black Bean Salad, and Deli Potato Salad are perfect to make for a Sunday meal prep and stash in the fridge for hearty snacks, light lunches, and easy weeknight side dishes all week long.
And this Old Fashioned Macaroni Salad with cheese is bound to become a sure-fire favorite!
Why Make This
It's a classic. You won't find a better old-fashioned macaroni salad recipe. The mixture of textures and flavors, it's like a retro party in your mouth.
It's simple to make. With just a handful of staple ingredients, this salad is easy-peasy.
It comes together in just minutes! Make this salad in just 15 minutes.
Ingredients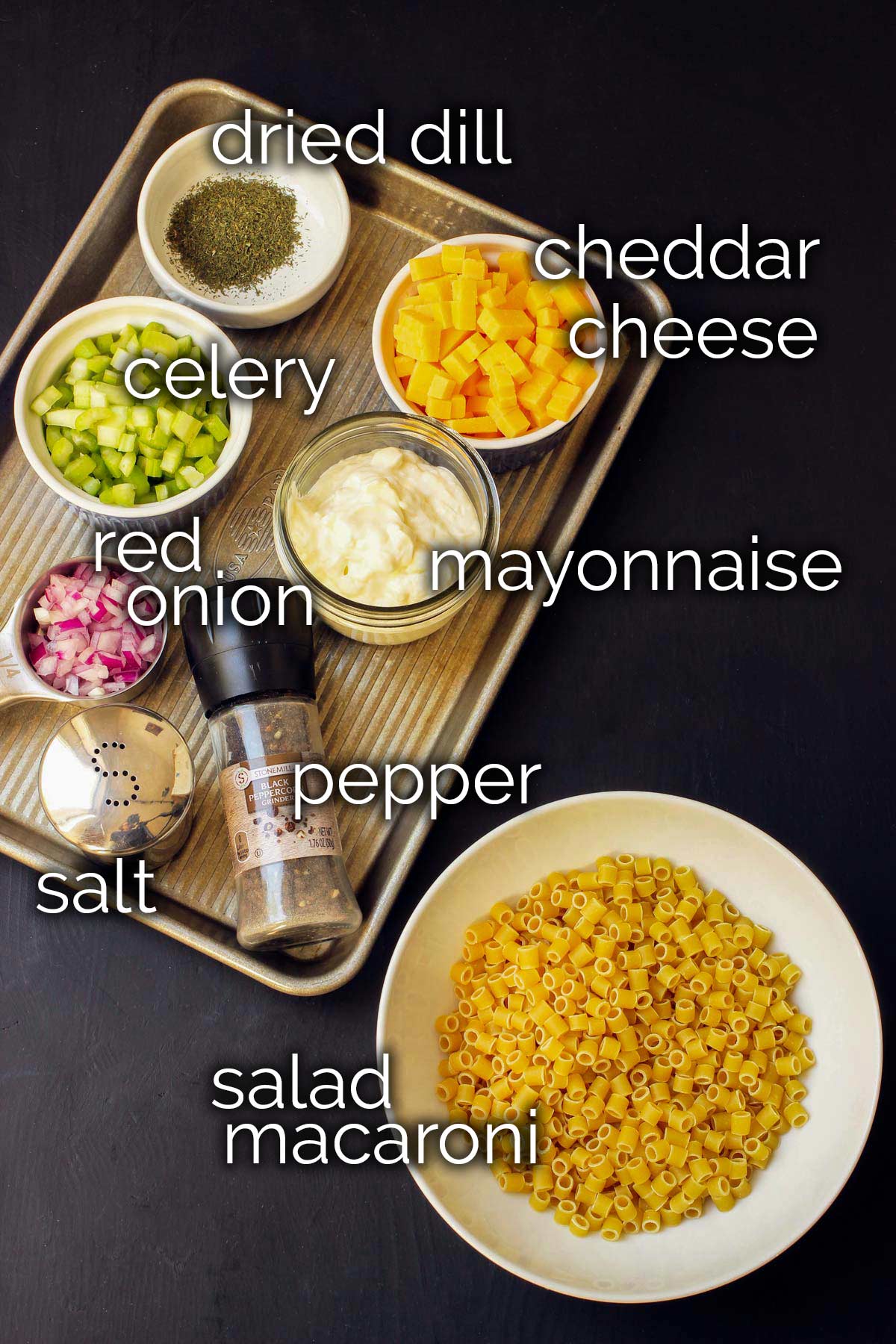 The ingredients list for this easy macaroni salad recipe is pretty straightforward. You'll need:
salad macaroni – These are short tubes of pasta. You can use other shapes if that's what you have or what you prefer. There are all kinds of pasta shapes to choose from!
cheddar cheese – Cut into small cubes, cheese is a great addition to macaroni salad, adding a contrast in texture and flavor.
chopped onion and celery – These are nice crunch to the salad and offset the softer macaroni and cheese.
mayonnaise – This helps hold it all together and adds a creamy texture. If you prefer, you can also use plain yogurt or sour cream, though the flavor will be significantly different.
spices – Dill weed, salt, and pepper bring a simple classic flavor profile to this old fashioned macaroni salad. Adjust them to suit your tastes.
Step-by-Step Instructions
Mac salad is super simple to make, meaning you can enjoy it on the weekly in lunches, for snacks, and as a dinner side dish.
In boiling, salted water, cook the salad macaroni according to package directions. Rinse with cool water and drain well. Add the macaroni to a mixing bowl, and add the mayonnaise, celery, red onion, and cheese.
Combine well in a large mixing bowl.
Season to taste with dill weed, salt and pepper.
Stir to combine. Chill well before serving. Sometimes the macaroni will absorb quite a bit of the mayo. Add more to taste prior to serving.
FAQs
What's the difference between pasta salad and macaroni salad?
Macaroni is a type of pasta, therefore macaroni salad is a type of pasta salad. Typically tossed with a mayonnaise-based dressing, it often features chopped celery, onion, and bell pepper.
A deli staple, variations abound throughout the country, some featuring mustard, tuna, ham, sweet pickle relish, and other interesting mix-ins. Our family standard features cubed cheddar.
Is macaroni salad supposed to be hot or cold?
Macaroni salad is best served cold. Rinse the cooked noodles well with cold water and allow them to cool completely before adding the mayonnaise and other ingredients.
What goes with macaroni salad?
This is a classic side dish. Perfect alongside hot dogs, hamburgers, and grilled meats, it's a summer favorite. It would be a great accompanient to a simple egg sandwich. It's also an excellent addition to a salad dinner.
Recipe Costs
Macaroni salad is made from some basic ingredients, ingredients that when bought at regular prices break down as follows:
macaroni – $0.65 ($1.29/lb)
celery – $0.57 ($1.99/stalk)
red onion – $0.19 ($0.75/whole)
mayonnaise – $0.83 ($4.19/30 oz)
cheddar cheese – $1.20 ($4.79/16oz)
dill weed – $0.30 ($5.99/.6 oz)
Altogether, a large bowl of this salad costs about $3.74 at non-sale prices. If you shop the Good Cheap Eats way, that is shopping the best store, the sales, and clearance, you can easily get that price much, much lower.
Here are some of the strategies I use to make this recipe even more affordable:
Stock up on ingredients when they are on sale! When I see a great price on cheddar or macaroni, I buy a lot of it. We almost always have a stockpile of noodles in the pantry.
Shop at your cheapest stores. This may vary based on where you live and how close you are to great stores. For me, Costco and ALDI are the best game in town, even though I have to drive a town over to get to them. These ingredients are pretty cheap at both places.
Make your own mayonnaise. Mayonnaise can be made rather affordably if you've got the ingredients on hand.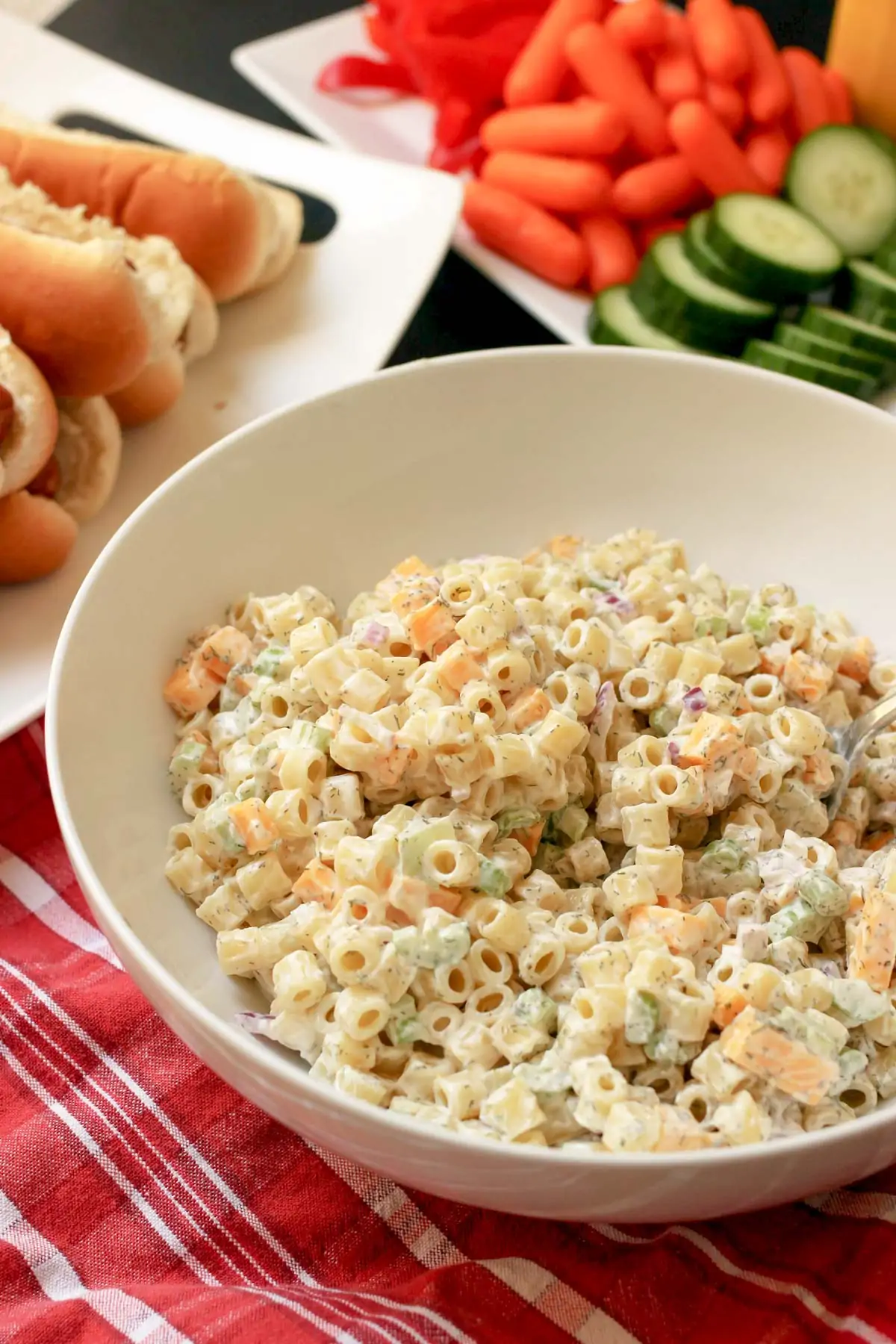 More Great Cold Salads
Old Fashioned Macaroni Salad with Cheese
Stir up this quick and easy, old fashioned macaroni salad recipe in minutes. Studded with celery, red onion, and cheddar cheese, wrapped in a creamy mayo dressing, this pasta's packed with flavor and perfect for picnicking.
Ingredients
1 ½

cup

salad macaroni

or small shell pasta

3

ribs

celery

chopped

¼

red onion

(¼ chopped)

¾

cup

mayonnaise

¼

lb

cheddar cheese

cubed

1

teaspoon

dried dill
Instructions
Cook macaroni according to package directions. Drain well and allow to cool.

In large mixing bowl, combine macaroni, celery, onion, mayo, and cheese cubes. Season with dill weed and salt and pepper to taste.

Chill until ready to serve. Serve cold.
Notes
Promptly store leftovers in an airtight container in the refrigerator, for up to 3 days.
Nutritional values are approximate and based on ⅛ the recipe.
Cook the macaroni just until al dente as it will absorb the moisture of the mayonnaise which will soften it further.
If it appears dry after a day or so in the fridge, you can stir in more mayonnaise and adjust the seasonings to taste.
Macaroni for salads should be cold and dry for best texture. Rinse it with cold water and drain it well. You can also lay it out on a baking sheet to help more water evaporate.
Nutrition
Calories:
276
kcal
|
Carbohydrates:
16
g
|
Protein:
6
g
|
Fat:
21
g
|
Saturated Fat:
6
g
|
Cholesterol:
24
mg
|
Sodium:
224
mg
|
Potassium:
65
mg
|
Fiber:
1
g
|
Sugar:
1
g
|
Vitamin A:
170
IU
|
Vitamin C:
1
mg
|
Calcium:
110
mg
|
Iron:
1
mg
This post was originally published July 8, 2009. It has been updated for content and clarity.