Enjoy this classic Macaroni Salad with tender salad macaroni, creamy mayo, savory dill, cubes of cheddar, chopped red onion, and crunchy celery.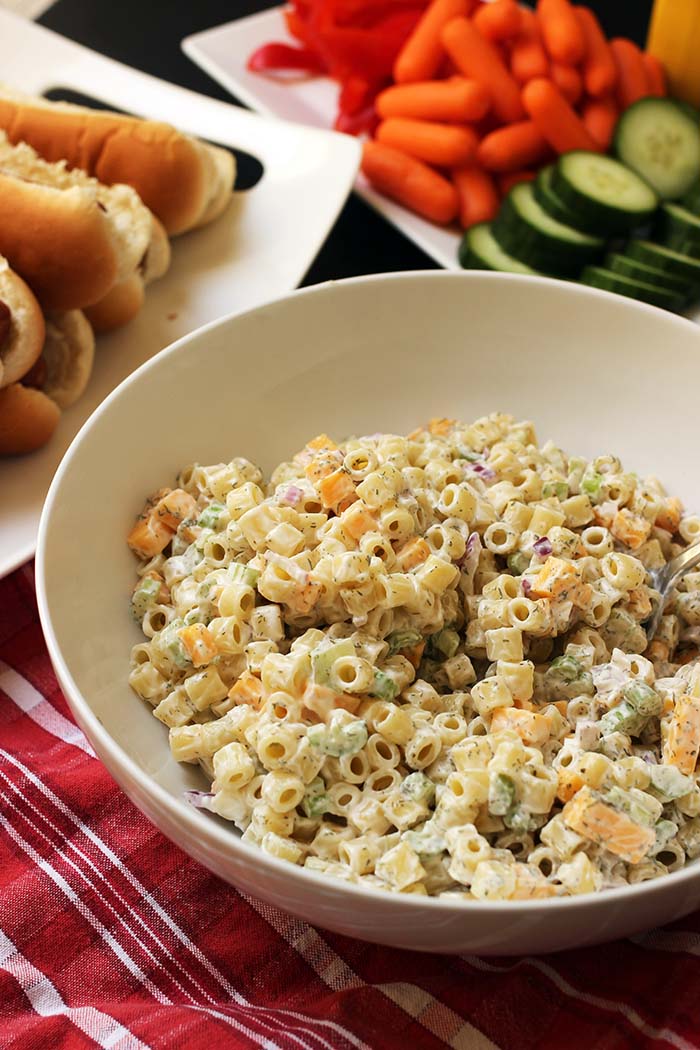 Ready for summer? Well, spring is here and that means it's time to bust out the cold salads. Dishes like pasta salad, Rice and Black Bean Salad, and Deli Potato Salad are perfect to make for a Sunday meal prep and stash in the fridge for hearty snacks, light lunches, and easy weeknight side dishes.
And this one is a sure-fire favorite.
Macaroni Salad with Cheddar, Red Onion, & Celery
This recipe is a classic from my childhood. I made it while my mom was visiting. She said, "I love your macaroni salad."
I said, "What are you talking about? It's your recipe."
Her response? "It's better when you make it."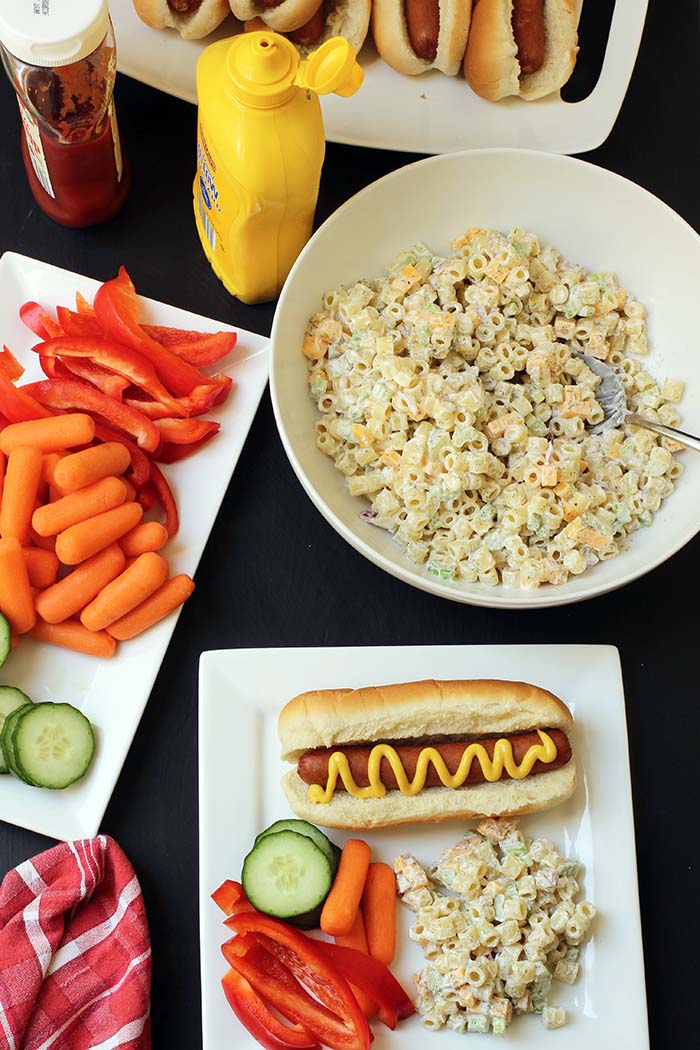 What's the difference between pasta salad and macaroni salad?
Macaroni is a type of pasta, therefore macaroni salad is a type of pasta salad. Typically tossed with a mayonnaise-based dressing, it often features chopped celery, onion, and bell pepper.
A deli staple, variations abound throughout the country, some featuring mustard, tuna, ham, sweet pickle relish, and other interesting mix-ins. Our family standard features cubed cheddar.
Is macaroni salad supposed to be hot or cold?
Macaroni salad is best served cold. Rinse the cooked noodles well with cold water and allow them to cool completely before adding the mayonnaise and other ingredients.
What goes with macaroni salad?
This is a classic side dish. Perfect alongside hot dogs, hamburgers, and grilled meats, it's a summer favorite. It would be a great accompanient to a simple egg sandwich. It's also an excellent addition to a salad dinner.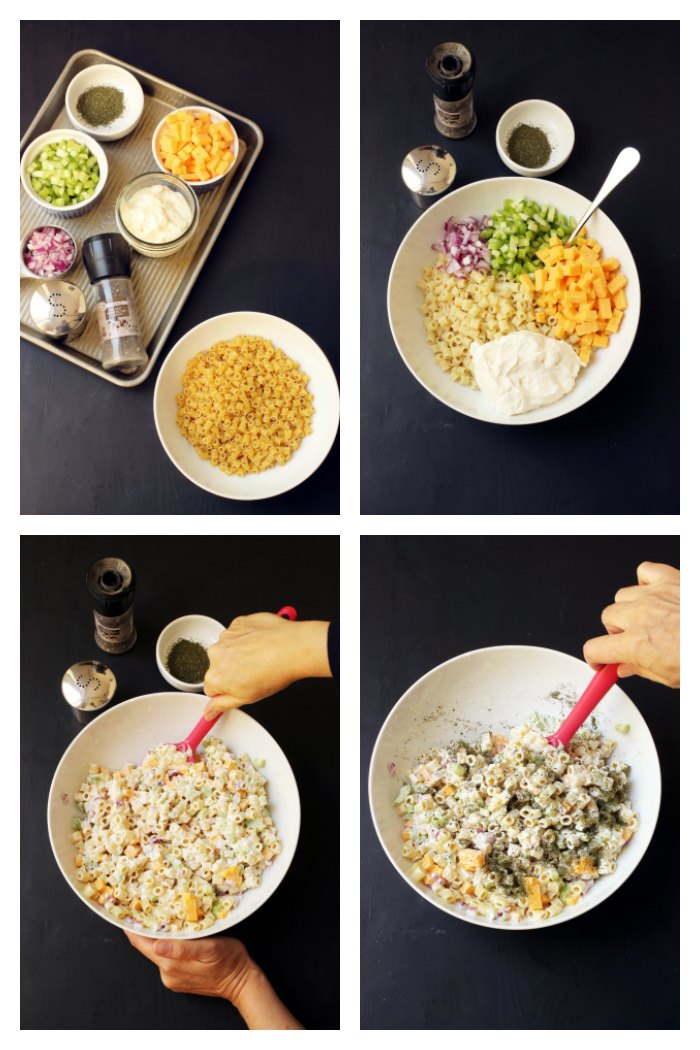 How do you make mac salad?
Mac salad is super simple to make, meaning you can enjoy it on the weekly in lunches, for snacks, and as a dinner side dish.
In boiling, salted water, cook the salad macaroni according to package directions. Rinse with cool water and drain well.
Chop the celery and red onion and cube the cheddar.
Combine all the ingredients well in a large mixing bowl. Season to taste with salt and pepper. Chill well before serving.
Sometimes the macaroni will absorb quite a bit of the mayo. Add more to taste prior to serving.
What equipment do you need to make this recipe?
This is a pretty straight-forward dish. You don't need any fancy equipment to cook pasta! However, having some good basic kitchen tools can really make your time in the kitchen more enjoyable. Over time, I've honed my collection so that they are perfect for my needs. Here are the tools that I like to use in this recipe.
large stockpot – Mine is a Kitchenaid that I've had for 14 years!
collander – We just bought this one this year to replace a broken plastic one.
large pasta bowl – I have one like this and love it!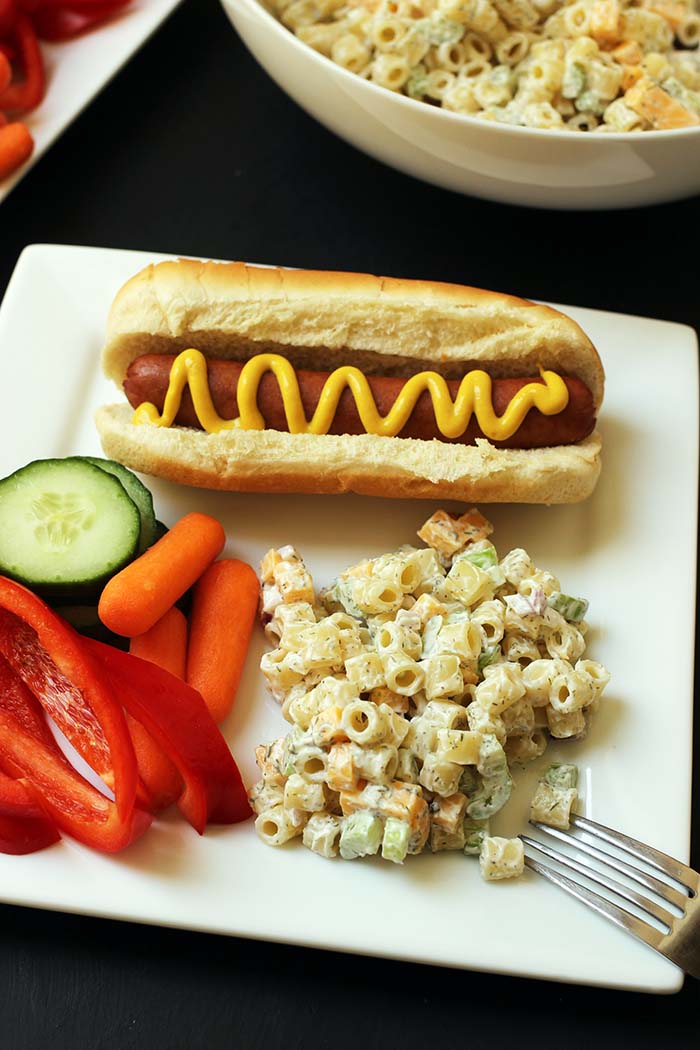 Is this dish expensive to make?
Macaroni salad is made from some basic ingredients, ingredients that when bought at regular prices break down as follows:
macaroni – $0.65 ($1.29/lb)
celery – $0.57 ($1.99/stalk)
red onion – $0.19 ($0.75/whole)
mayonnaise – $0.83 ($4.19/30 oz)
cheddar cheese – $1.20 ($4.79/16oz)
dill weed – $0.30 ($5.99/.6 oz)
Altogether, a large bowl of this salad costs about $3.74 at non-sale prices. If you shop the Good Cheap Eats way, that is shopping the best store, the sales, and clearance, you can easily get that price much, much lower.
Here are some of the strategies I use to make this recipe even more affordable:
Stock up on ingredients when they are on sale! When I see a great price on cheddar or macaroni, I buy a lot of it. We almost always have a stockpile of noodles in the pantry.
Shop at your cheapest stores. This may vary based on where you live and how close you are to great stores. For me, Costco and ALDI are the best game in town, even though I have to drive a town over to get to them. These ingredients are pretty cheap at both places.
Make your own mayonnaise. Mayonnaise can be made rather affordably if you've got the ingredients on hand.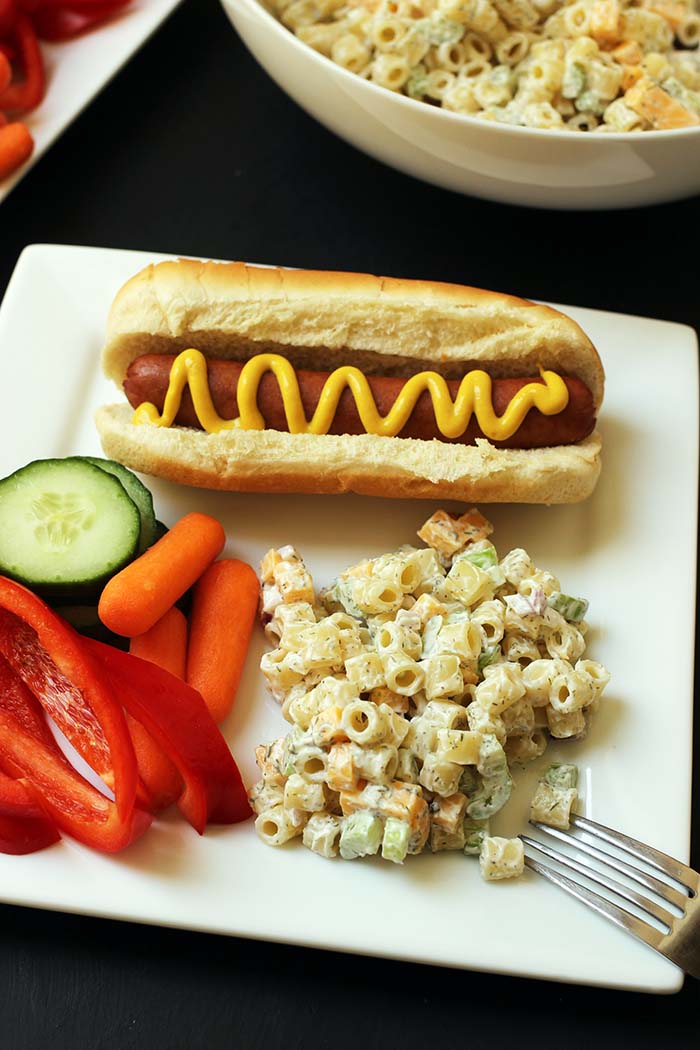 If you prepare this recipe, be sure to take a picture and hashtag it
#GOODCHEAPEATS
. I can't wait to see what you cook up!
Macaroni Salad with Cheddar
Stir up these quick and easy macaroni salad in minutes. Studded with celery, red onion, and cheddar cheese, wrapped in a creamy mayo dressing, this pasta's packed with flavor and perfect for picnicking.
Ingredients
1 1/2

cup

salad macaroni

or small shell pasta

3

ribs

celery

chopped

1/4

red onion

(1/4 chopped)

3/4

cup

mayonnaise

1/4

lb

cheddar cheese

cubed

1

tsp

dried dill
Instructions
Cook macaroni according to package directions. Drain well and allow to cool.

In large mixing bowl, combine macaroni, celery, onion, mayo, and cheese cubes. Season with dill weed and salt and pepper to taste.

Chill until ready to serve. Serve cold.
Notes
Promptly store leftovers in an airtight container in the refrigerator, for up to 3 days.
Nutritional values are approximate and based on 1/8 the recipe.
Nutrition
Calories:
276
kcal
|
Carbohydrates:
16
g
|
Protein:
6
g
|
Fat:
21
g
|
Saturated Fat:
6
g
|
Cholesterol:
24
mg
|
Sodium:
224
mg
|
Potassium:
65
mg
|
Fiber:
1
g
|
Sugar:
1
g
|
Vitamin A:
170
IU
|
Vitamin C:
1
mg
|
Calcium:
110
mg
|
Iron:
1
mg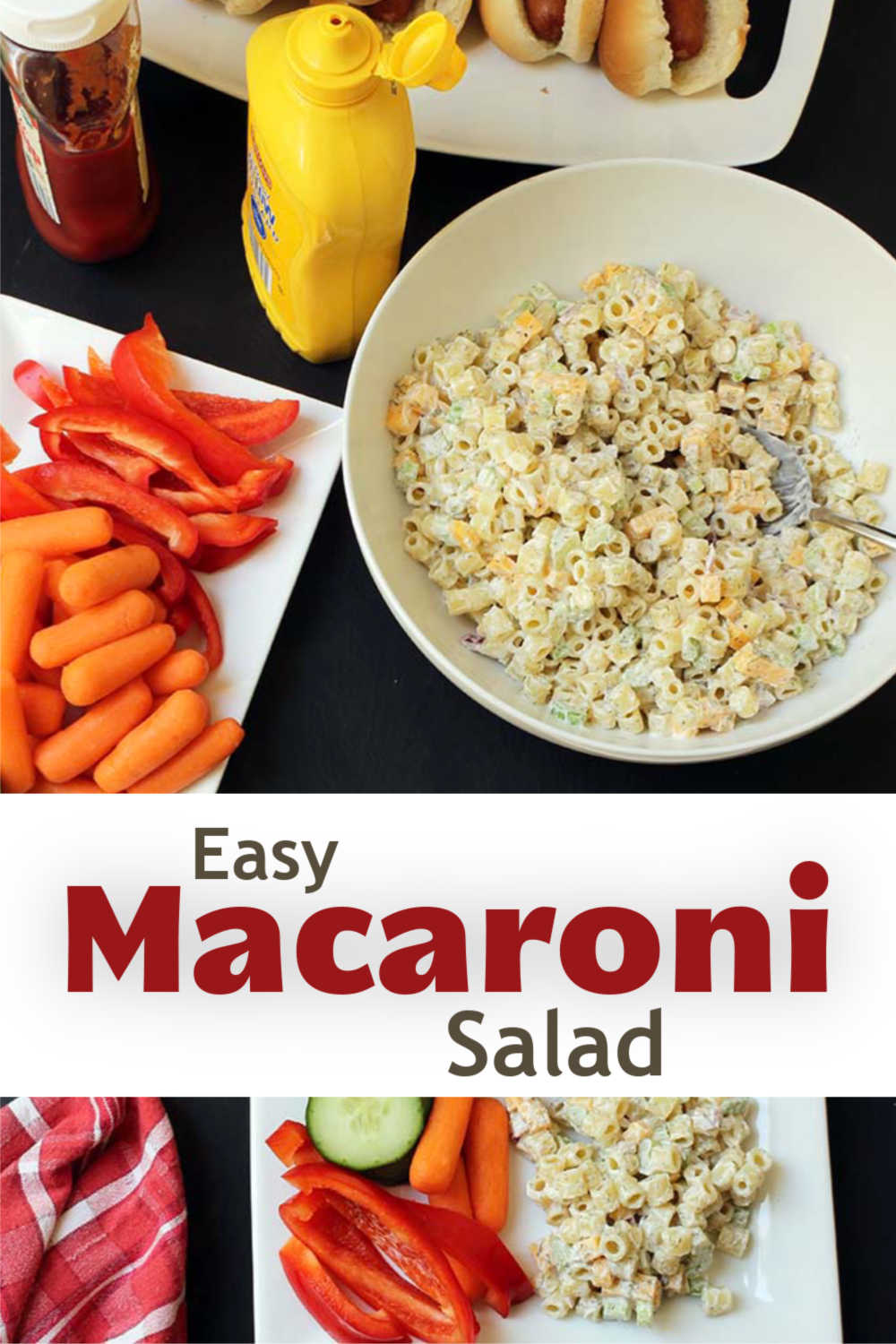 This post was originally published July 8, 2009. It has been updated for content and clarity.