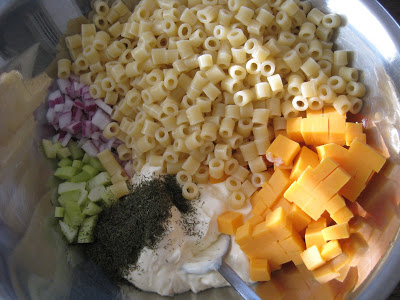 This recipe is a classic from my childhood. I made it last week while my mom was here. She said, "I love your macaroni salad." I said, "What are you talking about? It's your macaroni salad." Her response? "It's better when you make it." So, if you really want to make this good, have someone else do the cooking. My mom says so.

Recipe: Mom's Macaroni Salad
Ingredients
1 1/2 cups dry salad macaroni
3 ribs celery, chopped
1/4 cup chopped red onion
3/4 cup mayonnaise
1/4 pound cheddar cheese, cubed
1 teaspoon dried dill weed
Instructions
Cook macaroni according to package directions. Drain well and allow to cool.
In large mixing bowl, combine macaroni, celery, onion, mayo, and cheese cubes. Season with dill weed and salt and pepper to taste. Serve chilled.