Make your mornings sing with these fluffy, homemade buttermilk blueberry muffins. This easy blueberry muffins recipe is bursting with juicy blueberries and a little warm spice from nutmeg.
With a homemade muffin mix, these Blueberry Buttermilk Muffins come together quickly and easily — the best way to start your mornings. Serve them alongside Simple Hard Cooked Eggs and a fresh Fruit Tray for an easy breezy start to the day.
Jump to:
Got blueberries? Then you'll got a great breakfast treat in store: blueberry muffins with buttermilk. They're light and fluffy and dotted with juicy berries.
The buttermilk gives this blueberry muffin recipe amazing lift while the nutmeg adds a little spicy warmth without overpowering the blueberries. Great flavor without any hassle — or the long wait at the corner cafe.
Why Make This
It's easy. Starting with a homemade muffin mix, these blueberry muffins mix up quickly, making for easy baking any day of the week.
They taste great. The buttermilk adds great fluffy texture, the nutmeg a bit of spice, and the blueberries sweet-tart, juicy goodness.
They're very make-ahead. It's very convenient to freeze muffins. Whether you want to freeze these blueberry muffins before or after you bake them, you will have convenient baked goods at the ready anytime.
Ingredients
The best part about these muffins is the simplicity of the ingredients, especially when you have the homemade muffin mix on hand.
Buttermilk – Buttermilk helps to make these muffins tender and moist. If you don't have buttermilk, you can add 1 ½ tablespoons of lemon juice or vinegar to milk. Give it a stir and let it sit for 10 minutes before using. You can also try your hand at making cultured buttermilk yourself.
Vegetable oil – Any neutral (or unflavored) oil will work here, such as canola or avocado. You can also use melted butter if you like.
Eggs – Makes sure your eggs are at room temperature so everything incorporates easily. If you don't bake with eggs, you can use flax seed meal instead.
Muffin mix – You can make your own dry mix for Blueberry Muffins with Buttermilk and store it in your pantry to use whenever the craving for muffins hit. Or just measure out those ingredients (flour, whole wheat flour, baking powder, baking soda, salt, and sugar) right now. Use brown sugar for a little added caramel flavor. It's one of those amazingly versatile muffin recipes that you'll want to come back to again and again.
Ground nutmeg – the nutmeg helps to add a little warmth without overpowering.
Blueberries – I have used frozen blueberries as well as used fresh blueberries with great success. Both ways are delicious! If using frozen blueberries, there's no need to thaw them.
Variations
If you'd like, you can mix and match the flavorings in these blueberry muffins with buttermilk. Consider these variations:
Use a favorite extract. Add just 1 teaspoon to the batter. You can't go wrong with a splash of vanilla! Almond extract would be interesting as well.
Use a different spice. Not a fan of nutmeg? Swap it out and add a different spice, like cinnamon or cardamom.
Add another berry or fruit. Blueberries play well with other berries, apples, and citrus. Consider substituting some of the blueberries for raspberries, blackberries, finely chopped apples, or lemon zest.
Top with a streusel topping. You can easily mix up a crumb topping for these homemade blueberry muffins; try this Nutty Streusel Topping.
Step-by-Step Instructions
Making these muffins couldn't be easier. Start by preheating the oven to 375 degrees.
Assemble the wet ingredients.
1. In a mixing bowl, beat the eggs.
2. Add the buttermilk and oil. Whisk to combine.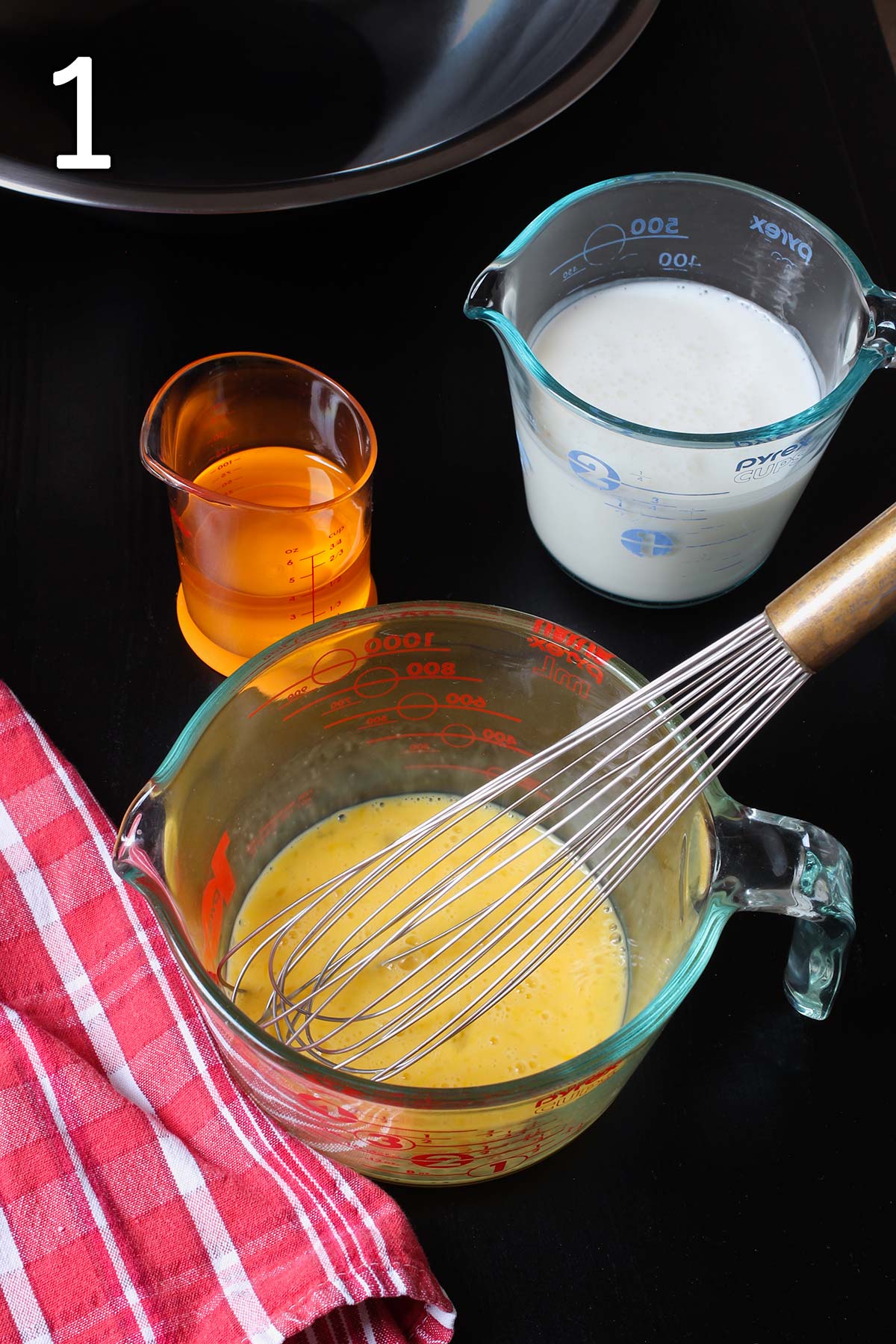 Assemble the dry ingredients
3. Place the muffin mix in a large mixing bowl (or measure out the flours, sugar, baking powder, baking soda, and salt if you don't have the mix premade).
4. Add the nutmeg and whisk to combine.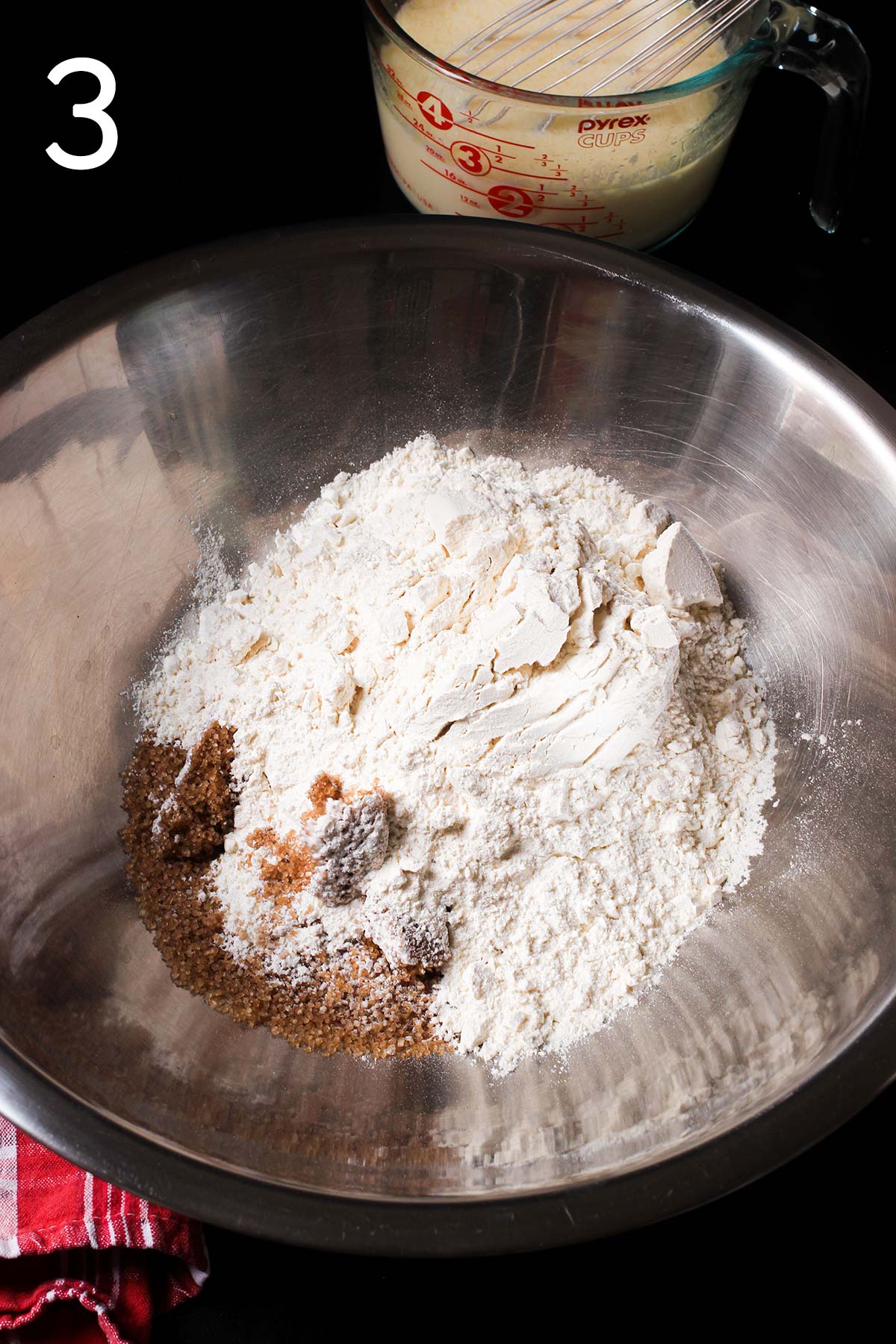 Combine the wet and dry ingredients.
5. Toss the blueberries with the dry mixture, reserving a few to top the muffins with. This will help them not sink to the bottom of the muffin.
6. Add the wet ingredients to the dry mixture and blueberries. Gently fold with a rubber spatula, just until mixed. It's okay if there are dry powder bits. You don't want to over mix.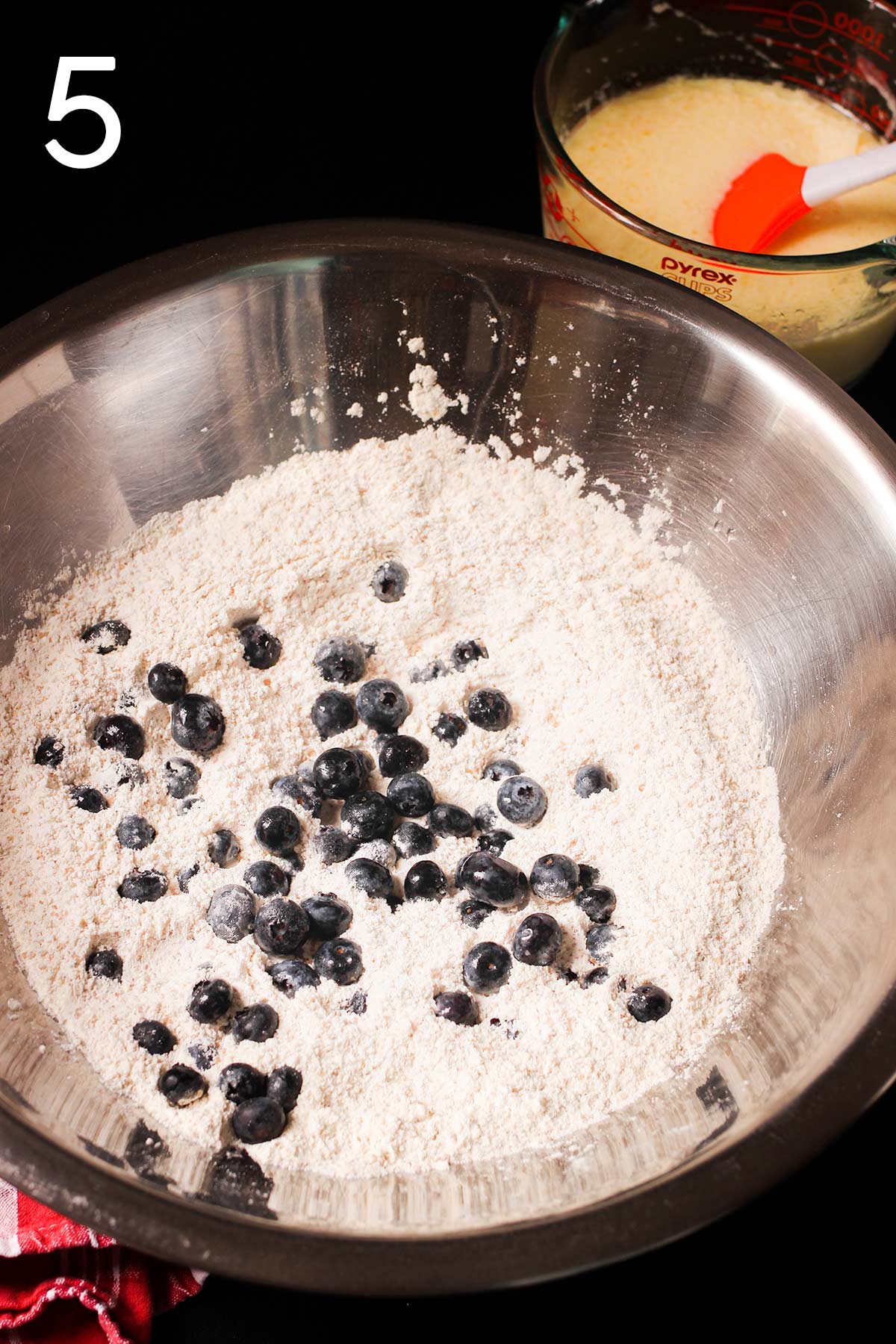 Scoop the batter into the tins.
7. Line a 12-cup muffin pan with papers. Divide the batter evenly among the 12 muffin cups. It's okay if they overflow. If you prefer, you can make 24 smaller sized muffins.
8. Top each muffin with a few of the remaining blueberries. This gives you a prettier presentation. You can also sprinkle the tops with coarse sugar for a crunchier top.
Bake for 25 to 30 minutes or until a tester comes out clean. Cool the baked muffins on a wire rack.
Make-Ahead Instructions
There are three basic ways to freeze muffins:
These Blueberry Muffins with Buttermilk mix up beautifully and are super freezer-friendly already baked, so if you bake more than you need, you can throw them in the freezer for another time. Be sure to cool them completely on a rack before wrapping them in an airtight container or ziptop freezer bag.
You can freeze the muffins unbaked! Just prepare the batter, fill the cups, and slide the muffin tin into the freezer until the muffin pucks are frozen solid. Once firm, you can transfer them out of the tin and into a box or bag in the freezer. Bake from frozen whenever you want them fresh!
I highly recommend keeping several bags of the homemade muffin mix in your freezer or pantry. Totally worth the few extra minutes for abundant rewards.
FAQs
Can I use frozen blueberries to make blueberry muffins?
You can use fresh or frozen blueberries in this recipe. The best part of using frozen berries is that you always have them on hand. Remember there is no need to thaw. In fact, you don't want them to because their juices will turn your muffins bluish-purple.
How do you prevent the blueberries from sinking?
If you have ever had a blueberry muffin and all the blueberries are at the bottom you now what I'm talking about here. To prevent this just simply coat the blueberries in a little flour before adding them to the batter.
Recipe Costs
Knowing how much it costs you to prepare a recipe can help you decide if it's the type of recipe to make regularly or one you might want to save for special occasions. Let's crunch some numbers and see how this recipe pencils out.
buttermilk – $1.20
oil – $0.16
eggs – $0.30
homemade muffin mix – $0.92
nutmeg – $0.05
blueberries – $1.00
Shopped at a mid-range grocery store at non-sale prices, the ingredients for these blueberry muffins will run you about $3.63 or about 30 cents each!
This is a bargain for big, fluffy, bakery-style blueberry muffins! Bonus: you can save even more when you use the Good Cheap Eats System.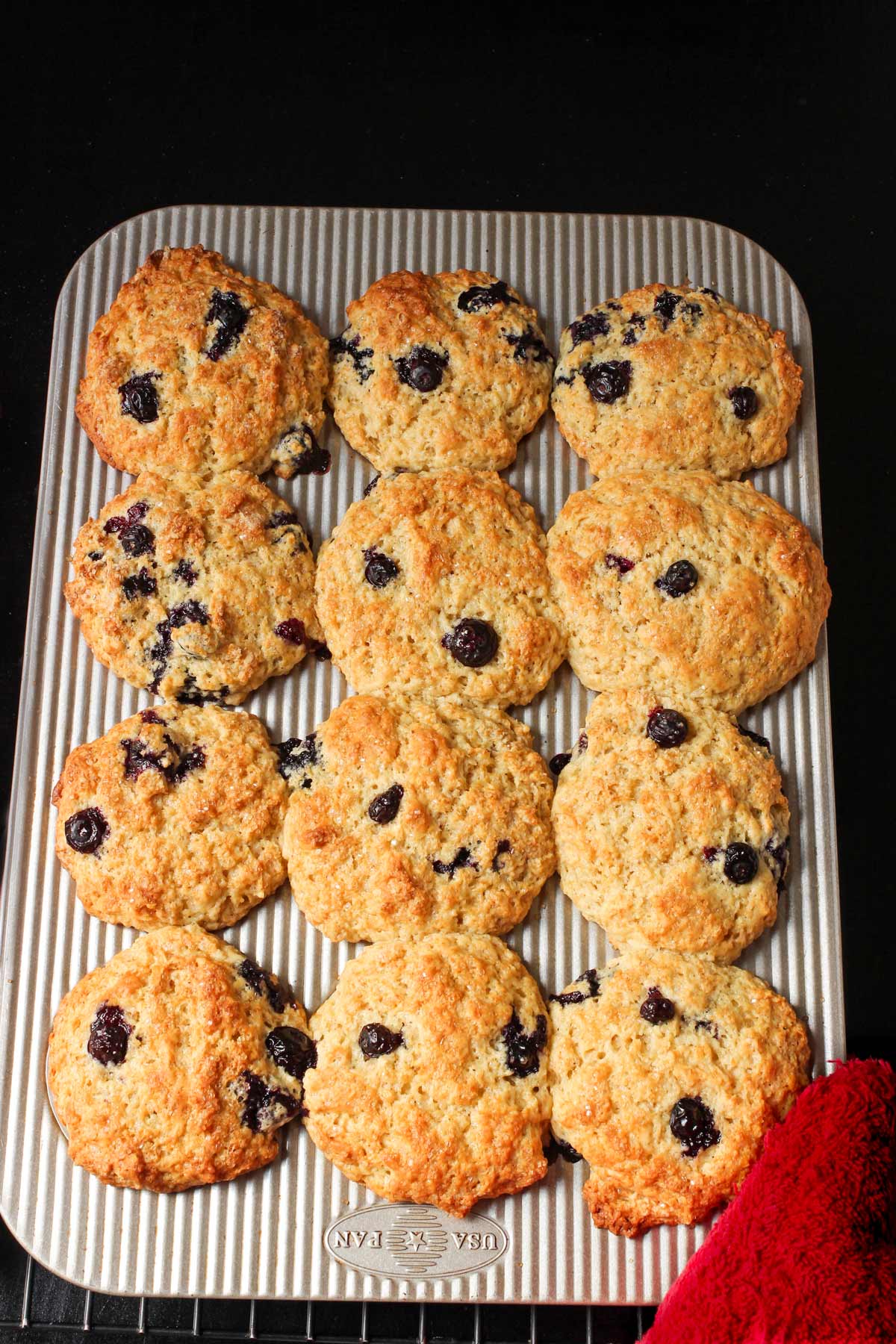 More Great Blueberry Recipes
Easy Blueberry Muffins with Buttermilk
Make your day sing with homemade blueberry muffins with buttermilk bursting with juicy blueberries. A homemade muffin mix makes them easy!
Instructions
Preheat the oven to 350 °. Line 12-cup muffin pan with paper liners.

In a large mixing bowl combine the buttermilk, oil, and eggs. Whisk until well blended.

In another mixing bowl, combine the muffin mix and nutmeg. Whisk to blend. Add most of the blueberries, reserving a small handful for topping the muffins before baking.

Add the wet ingredients to the mixing bowl. Fold just until combined. It's okay if there are some dry streaks.

Divide the batter among 12 cups. It will heap up high. That's okay if it overflows. Top each muffin with a few of the reserved blueberries. Sprinkle with demerara sugar if you like.

Bake for 25 to 30 minutes or until a tester comes out clean. Cool the baked muffins on a wire rack.
Notes
To freeze muffins unbaked: Assemble the recipe as directed. Instead of baking, slide the pan into the freezer for several hours until the muffins are frozen solid. Remove the frozen muffin "pucks" from the pan and store them in an airtight container in the freezer. To bake, replace the frozen muffins into a muffin tin and bake, adding five minutes to the baking time if needed.
To freeze baked muffins: Bake the muffins according to the recipe and cool completely on the rack. Place in an airtight container or ziptop bag and store in the freezer, for up to 2 months.
Promptly store leftovers in an airtight container, for up to 3 days.
Nutritional values are approximate and based on 1 muffin out of a 12-muffin batch.
Nutrition
Calories:
116
kcal
|
Carbohydrates:
3
g
|
Protein:
2
g
|
Fat:
11
g
|
Saturated Fat:
8
g
|
Cholesterol:
31
mg
|
Sodium:
43
mg
|
Potassium:
60
mg
|
Fiber:
1
g
|
Sugar:
3
g
|
Vitamin A:
96
IU
|
Vitamin C:
1
mg
|
Calcium:
39
mg
|
Iron:
1
mg
This post was originally published on July 18, 2011. It has been updated for content and clarity.