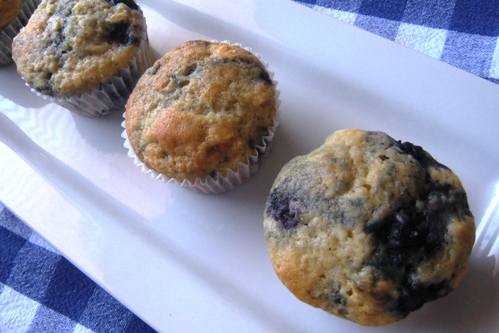 Got blueberries? Then you'll got a great breakfast treat in store. Since I'm building menus based on what I've already got in the freezer or cupboard, I decided that a little berrymaking was in order. I have a huge bag of frozen berries from Costco ready to be put to good work.
We've made smoothies several times this summer and now these are going to be a repeat attraction, thanks to the baking mix I whipped up the other morning. I prefer to make my own baking mixes rather than buying them from the store. I'm practically bereft without a few bags of pancake, muffin, waffle, or cornbread mix on hand.
The nutmeg adds a little spicy warmth without overpowering the blueberries. These muffins mix up quickly and freeze beautifully after baking. So, go make a batch — or two.

Recipe: Blueberry Nutmeg Muffins
Ingredients
1 1/2 cups buttermilk
1/2 cup vegetable oil
2 eggs
1 batch Mix and Match Muffin Mix
1 teaspoon ground nutmeg
1 cup frozen blueberries
Instructions
Preheat the oven to 350 °.
Line 2 12-cup muffin cups with muffin papers.
In a large mixing bowl combine the buttermilk, oil, and eggs. Whisk until well blended.
Add the muffin mix, nutmeg, and blueberries.
Fold just until combined.
Divide the batter amongst all 24 cups.
Bake for 25 to 30 minutes or until a tester comes out clean.
Cool the baked muffins on a wire rack.
Preparation time: 15 minute(s)
Cooking time: 30 minute(s)
Number of servings (yield): 12