Go beyond the egg salad sandwich with this egg + salad sandwich. Hard cooked eggs, vinaigrette, and abundant veggies make a delicious and economical meal for Sandwich Night.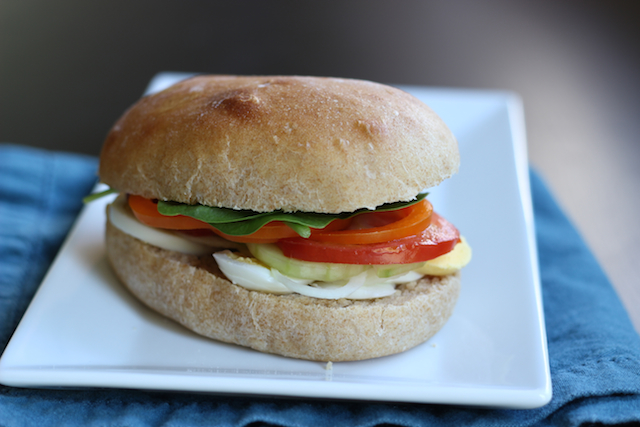 In this season of my life, that is this hockey season of my life, we've condensed some big activity into just a few days. I'm so thankful that we have our family's activities consolidated a little bit, instead of something every day of the week. Man! Is that exhausting!
One night holds two hockey practices and a ballet class, overlapping which means both parents are on their game to get people where they need to be. And that night's dinner?
It's sandwich night, baby.
I have no qualms about calling a sandwich a meal, especially when we're going hither and yon during meal time. We have a few very favorite sandwiches:
Sandwiches at our house often involve hot cooked meat or cold cuts. The former takes time and planning; the latter can be expensive or full of additives I want us to avoid. So, what to do?
The egg. Incredible that it is, the egg makes a great sandwich filling. Yes, you can make egg salad, but we like to go a bit au natural around here.
Layer hard cooked eggs and fresh vegetables on a roll or baguette and douse it with vinaigrette. Oh la la! Ca? C'est bon. When my sister lived in France, a version of this sandwich was her favorite to buy at the cantina. It was called un sandwich crudite nature. That's basically what this is. Only in English we'll call it a Simple Egg Sandwich.
It's simple, yes. Economical? Quite. Delicious? Absolutely.
AND, if you've got the stuff on hand, dinner or lunch or breakfast can come together in less than half an hour. Yes, Virginia, you can have hard cooked eggs in less than 15 minutes. Wow! Check out this post for tips on how to hard cook an egg. And my kids swear you need an egg slicer, like this one.
I made these on home baked White Whole Wheat Sub Rolls, but they are scrumptious on French baguette. Choose what roll or bread you like best and then go to town. Be sure to have plenty of this Basic Vinaigrette on hand.
This can be a total throw-together meal or one that you plan and make-ahead. Either way it's super tasty. Added bonus is that it is cheap. Eggs cost about a quarter a piece. And the homemade buns are another $0.27. Add seasonal vegetables, and each sandwich is probably about 75 cents. Good cheap eats! Have two while you're at it!
It's such a simple recipe, in a way it seems silly to mention it. But, sometime we need those frugal nudges. Adding avocado or cheese adds a little more oomph while still staying meatless. And this is a great way to use up those dyed eggs you might have in abundance in a few weeks.
Recipe: Egg Plus Salad Sandwiches
Summary: Per person you will need:
Ingredients
1 sub roll, kaiser roll, or 6-inch baguette
1 to 2 hard cooked eggs, sliced (see note)
1 sliced tomato
spinach, lettuce leaf or shredded lettuce
sliced bell pepper
sliced cucumbers
sliced onion
Instructions
Split the roll or baguette. Layer on the egg slices, tomatoes, lettuce, bell pepper, and onion.
Douse with vinaigrette. Top the sandwich and serve.
Preparation time: 5 minute(s)
Number of servings (yield): 1