Go beyond the egg salad sandwich with this egg + salad sandwich. Hard cooked eggs, vinaigrette, and abundant veggies make a delicious and economical meal for Sandwich Night.
Jump to:
This is such a simple recipe, in a way it seems silly to mention it. But, years ago my sister insisted we share our homemade version of her favorite baguette sandwich from France. She regularly ordered un crudité nature from the university canine.
Or in other words, an egg sandwich.
What is an egg sandwich?
Truly a simple recipe, this egg sandwich is a split baguette or roll, layered with slices of hard cooked egg and vegetables, doused in vinaigrette.
It's simple, oui. Economical? Bien sur. Delicious? Absolument.
Sometimes we need these frugal nudges. A meatless sandwich loaded with fresh veggies? What's not to like? Adding avocado or cheese gives it a little more oomph while still staying meatless. And this is a great way to use up those dyed eggs you might have in abundance in a few weeks.
Serving instructions
You can definitely eat this on your own or serve this with a side salad, like this Carrot Salad with Cilantro and Pepitas or a simple couscous salad for a nice light dinner or lunch. This would be great with a cup of vegetable soup, veggie dippers, or seasonal fruit salad.
Ingredients
This is pretty simple as far as ingredients go.
Bread Roll – In France, it was served on a crusty baguette. Those are harder to come by in the States, so we've subbed in a general sub roll. If you've got baguettes, go for it.
Hard Boiled Egg – You can use 1 or 2 per sandwich. Sure, you could make Egg Salad, but this is a different kind of sandwich… an egg plus salad, if you will. Boil older eggs first. Fresher eggs are harder to peel.
Veggies – Janel's cafe stuck with butter lettuce and tomato; we've added cucumber, sweet onions, and peppers. Use whatever fresh veggies you have on hand. This is a great way to use up what's laying around in the fridge.
Vinaigrette – you can use a bottled variety or make your own like this tangy Lemon Herbed Vinaigrette or the more traditional Dijon Vinaigrette.
Instructions
Not much to say here. Layer hard cooked eggs and fresh vegetables on a roll or baguette and douse it with vinaigrette. Oh la la! Ca? C'est bon.
Make ahead instructions
Boil the eggs ahead of time. This will make the sandwich come together quickly. Had cooked eggs are good, refrigerated, for up to a week.
Prep all the veggies and store them in airtight containers in the fridge for up to four days. It's okay to store the peppers and onions together, but the greens, tomatoes, and cucumbers are best stored separately.
You can assemble these egg sandwiches the day before (minus the vinaigrette) and wrap them in plastic wrap and store in the fridge. Layer the drier ingredients, the egg and lettuce, on the top and bottom with the wetter ones in the middle. This will help the bread not get soggy. Add the vinaigrette right before serving.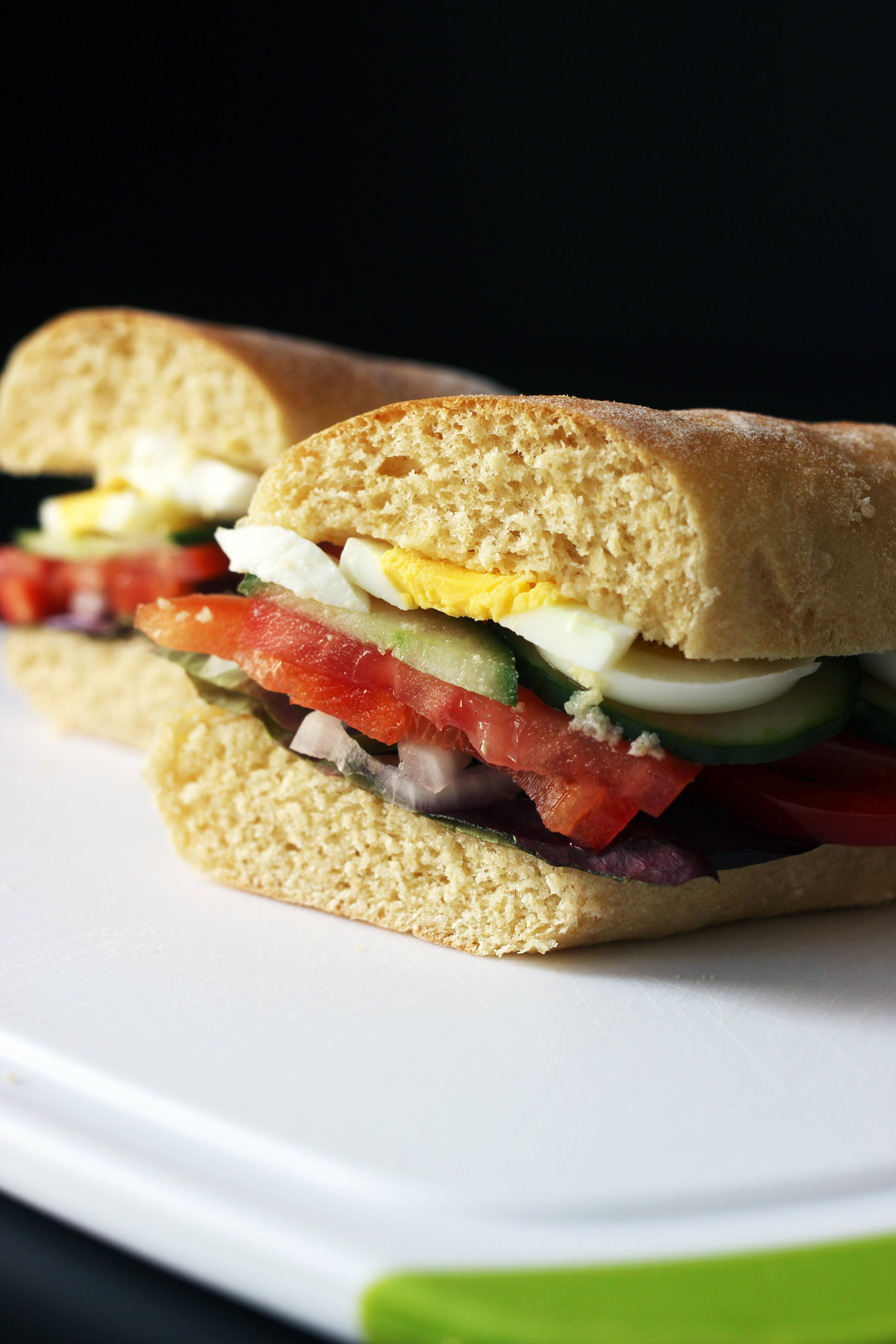 Recipe costs
Knowing how much it costs you to prepare a recipe can help you decide if it's the type of recipe to make regularly or one you might want to save for special occasions. Let's crunch some numbers and see how this recipe pencils out.
sub rolls – $2.00
eggs – $1.20
tomatoes – $0.50
lettuce or spinach – $0.25
bell pepper – $0.99
cucumber – $0.50
sweet onion – $0.15
vinaigrette – $0.20
With non-sale ingredients purchased at a mid-range grocery, this recipe costs $5.79 or $1.44/sandwich.
Seems pricey, doesn't it? That's because of the non-sale eggs and bread. But compared to what you'd pay at a restaurant, it's a steal at this point, but you can do better.
How to save even more
Here are some of the strategies you can use to make this sgg sandwich recipe more economical:
With those two changes, you can get the price point down to $4.23/batch or $1.05 per serving.
Kitchen equipment
These egg sandwiches are pretty straight-forward. You don't need any fancy equipment. However, having some good basic kitchen tools can really make your time in the kitchen more enjoyable. Over time, I've honed my collection so that they are perfect for my needs. Here are the tools that I like to use in this recipe.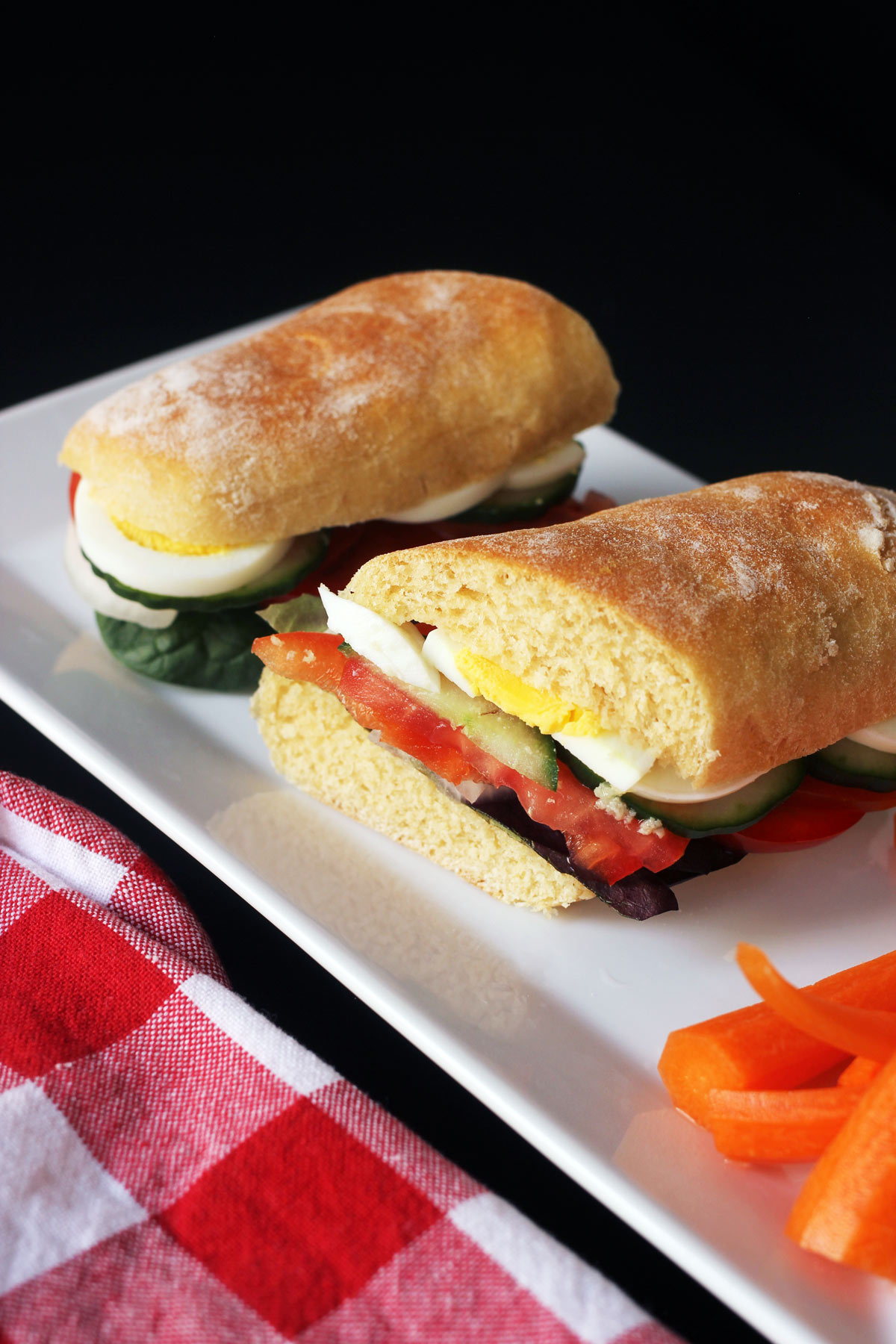 If you prepare this recipe, be sure to share a picture on social media and hashtag it
#GOODCHEAPEATS
. I can't wait to see what you cook up!
Egg Plus Salad Sandwiches
Easy sandwich with hard boiled egg and veggies.
Ingredients
4

Italian sub rolls

kaiser roll, or 6-inch baguette

8

eggs (hard-cooked)

sliced (see note)

2

tomato

sliced

4

lettuce leaves

spinach or shredded lettuce

1

bell pepper (any color)

cored and sliced

1

cucumber

sliced

1

red onion

sliced
Instructions
Split the roll or baguette. Layer on the egg slices, tomatoes, lettuce, bell pepper, and onion.

Douse with vinaigrette. Top the sandwich and serve.
Notes
Check out this post for tips on how to hard cook an egg. And my kids swear you need an egg slicer, like this one.
I made these on home baked White Whole Wheat Sub Rolls, but they are scrumptious on French baguette. Choose what roll or bread you like best and then go to town. Be sure to have plenty of this Basic Vinaigrette on hand.
Promptly store leftovers in an airtight container in the refrigerator, for up to 3 days.
Nutritional values are approximate and based on 1

 sandwich.
Nutrition
Calories:
273
kcal
|
Carbohydrates:
38
g
|
Protein:
13
g
|
Fat:
8
g
|
Saturated Fat:
2
g
|
Cholesterol:
187
mg
|
Sodium:
361
mg
|
Potassium:
355
mg
|
Fiber:
3
g
|
Sugar:
8
g
|
Vitamin A:
1285
IU
|
Vitamin C:
17
mg
|
Calcium:
37
mg
|
Iron:
12
mg
This post was originally published on April 3, 2014. It has been updated for content and clarity.