Homemade beef stew is homey and comforting. It's also so easy to make, you'll wonder why anyone would think to ruin it in a can.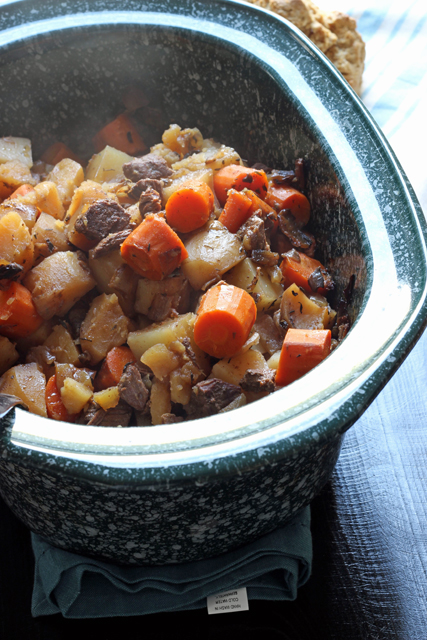 Beef stew is one of my comfort foods. Prepped in the morning to simmer all day in the slow cooker, it's a luscious melange of beef, vegetables, herbs, and broth. There are so many different variations of the simple meat and vegetable concoction, you could probably have a new one every day for a month or even a year!
At this time of year, I typically make my straightforward Irish Stew. The last few times though, I've duded it up with a bottle of Guinness and a good dose of mushrooms. Those two riffs add amazing flavor to the dish, beefing up the richness and savory goodness.
If you don't drink or can't find Guinness beer, feel free to use beef or vegetable broth instead. Now's the time, though, to grab the Irish import on sale.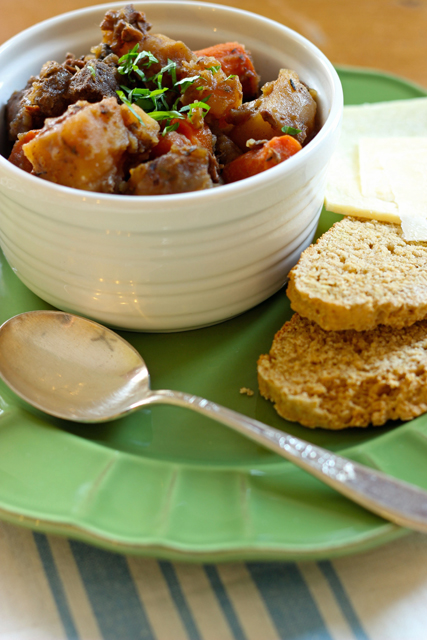 Our favorite accompaniments are Irish Soda Bread and Dubliner Cheese. The former is a bread that you can easily whip up in half and hour. For this photo shoot, I used all whole wheat flour and did my kneading in the bowl so I didn't have to clean up such a mess. It's a forgiving quick bread.
Dubliner Cheese often goes on sale near St. Patrick's Day. We buy a big chunk at Costco and enjoy it for a few weeks. In my freezer cookbook, there is a super yummy recipe for Potatoes Stuffed with Caramelized Onions and Dubliner Cheese, so if you have the book and some leftover Dubliner, please proceed.
Side dishes aside, this is a rocking beef stew to put meat on your bones and hair on your chest. Well, sort of.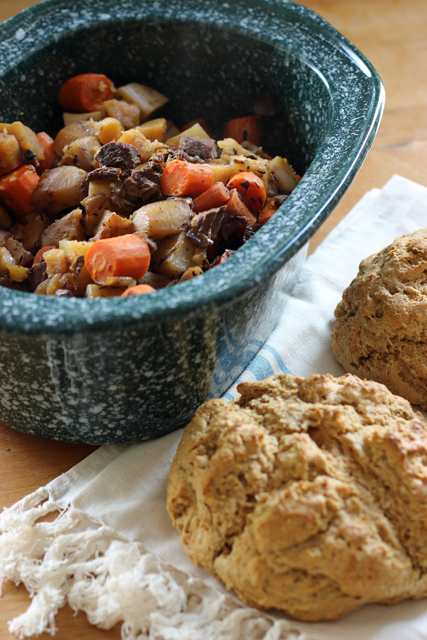 Recipe: Guinness Beef Stew
Ingredients
1 tablespoon olive oil
2 pounds boneless, cross-rib roast, cut into 1-inch cubes
fine sea salt and freshly ground black pepper
1 onion, coarsely chopped
1 cup sliced mushrooms
11.5 ounce Guinness draft beer
1 teaspoon paprika
1 teaspoon thyme
1 bay leaf
6 russet potatoes, peeled and cut into 1-inch chunks
6 large carrots, peeled and cut into 1-inch chunks
Instructions
In a large skillet, heat the oil until shimmering. Add the beef cubes, in batches, if necessary to avoid crowding. Season generously with fine sea salt and freshly ground black pepper.
Brown the cubes, turning as necessary. When all the cubes are browned, transfer them to the crock of a 6-quart slow cooker.
Add the onion and mushrooms to the drippings in the skillet and cook over high heat, stirring, until the vegetables are tender, lose their liquid, and the drippings start to thicken.
Pour in the beer, paprika, thyme, bay leaf, and 1 teaspoon salt. Simmer this mixture for 4 minutes. Transfer the vegetables and broth to the crock.
Add the potatoes and carrots and stir to combine.
Cook on low for 6 to 8 hours or until the vegetables and meat are tender.
If you'd like to make this recipe in advance, you can store the cooked stew in the refrigerator for up to 4 days or in the freezer for up to two months.
Preparation time: 15 minute(s)
Cooking time: 6 hour(s)
Number of servings (yield): 8