Brighten up your morning with tangy Greek Eggs chock full of vegetables and Mediterranean flavor. You'll never be bored at breakfast again!
Love eggs? Got extras? Be sure to check out our recipes for what to make with eggs.
Greek Eggs are one of my favorite healthier breakfasts. Packed with veggies and protein and accented with the tangy saltiness of feta, this dish is one of my all-time favorites of any kind of breakfast. If you haven't tried them yet, you need to.
My history with Greek Eggs goes almost as far back as my love affair with my husband. Our first date, our sort of first date because we didn't really call it a "date", was breakfast at a little Greek diner in Santa Barbara called Pavlako's. It was one of those joints where the staff recognizes the regulars & refills your coffee without needing to ask you, and where the food is fresh and homemade tasting. With a name like Pavlako's, it also had some key menu items with a Greek flair. A favorite restaurant of my husband who had been raised in Santa Barbara, it quickly became one of those special places for us to go when we were courting and newlywed. (It's been closed for quite some time, so you never can go home again.)
Now it wasn't love at first site with Pavlako's. I had to work my way through the menu until I found something I was really keen on. As I am apt to do, I found something I really, really liked and then stopped sampling anything else on the menu. If it's not broke, don't fix it. So, I regularly ordered the same breakfast. Greek Eggs every. single. time.
I still love it today. Thankfully, it's also a frugal meal that I can make at home. Depending on the price of veggies, I figure I can make it for less than $1.50 per person, which is quite a bit less than Pavlako's charged. Ahem.
Egg scrambles tend to look like a big mess. The eggs cling to all the mix-ins, and while tasty, it looks like a big mess. I guess I said that already. 😉
One of the tricks to make Greek Eggs (or any other egg scramble) a little more photogenic is to cook the veggies and eggs on separate sides and then fold them together at the end. Super yummy, and pretty to boot!
How I make this good:
Whenever possible I like to cook with plain old ingredients. While the convenience of mixes and canned sauces is nice, I feel better about feeding my family just real food whenever possible.
Greek Eggs are simply eggs, veggies, and feta cheese. (If you're going dairy-free, simply omit the feta and you've got a hearty, healthy breakfast.)
Years ago, I used to use frozen spinach to make this recipe. That totally works, but you can also use fresh spinach; just saute it for a few minutes to cook it. While not authentic, you can also use kale or other hearty greens. Add whatever vegetables you like, the more the merrier. I like to make this with mushrooms, peppers, spinach, and onions.
Got leftover feta? Be sure to try our Easy Greek Pizza Recipe!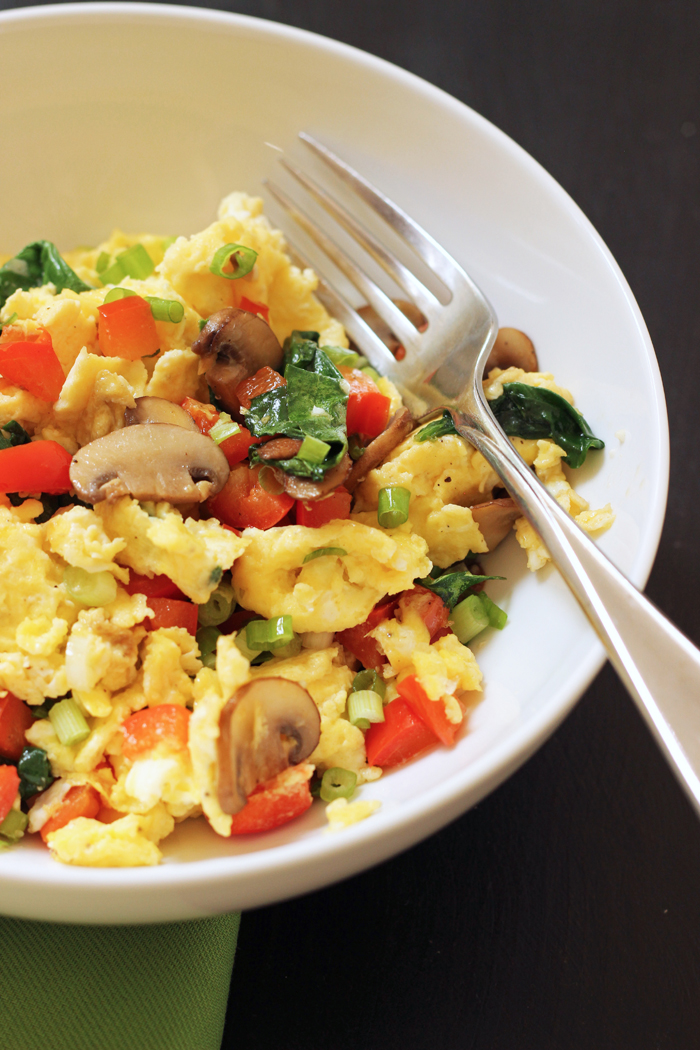 How I make this cheap:
Here are some of the strategies I use to make this recipe more economical:
Do a price comparison. I know that Costco is the best place to buy ingredients in bulk, like feta cheese and eggs when there isn't a great sale elsewhere. I keep track of prices so that I know who has the best deal where.
Stock up on ingredients when they are on sale. For instance, when I see a great price on peppers or onions, I buy a lot.
Buy produce department markdowns. I regularly find mushrooms marked down at my regular grocery store.
Stretch the more expensive items by using them sparingly. Feta isn't the most affordable cheese, but you use such a sparse amount for flavor, it's really not a big deal.
Tools I use to make this recipe easy:
Having the right kitchen tools can really make your time in the kitchen more enjoyable. Over time, I've honed my collection so that they are perfect for my needs. Here are the tools that I like to use in this recipe.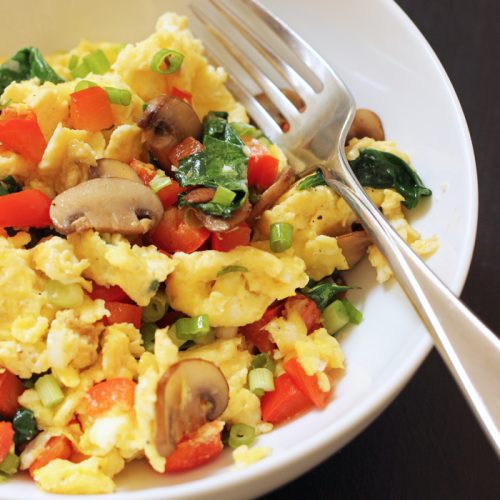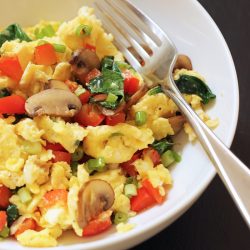 Greek Eggs
Brighten up your morning with tangy Greek Eggs chock full of vegetables and Mediterranean flavor. You'll never be bored at breakfast again!
Print
Pin
Rate
Ingredients
2

tablespoon

olive oil

4

oz

mushrooms

chopped

1

bell pepper (any color)

chopped

1

cup

baby spinach

chopped

3

egg

beaten

1

oz

feta cheese crumbles

(¼ cup)

salt

black pepper

1

green onion
Instructions
Heat the oil in a large skillet over medium-high heat. Add the mushrooms and peppers and cook until the vegetables are tender. Add the spinach, and cook just until wilted. Push the vegetables to one side of the pan.

Combine the eggs and feta cheese and pour into the empty side of the pan. Scramble and cook until desired doneness.

Fold the vegetables into the cooked eggs. Season with salt and pepper and top with the scallion. Serve immediately.
Nutrition
Calories:
448
kcal
|
Carbohydrates:
10
g
|
Protein:
24
g
|
Fat:
35
g
|
Saturated Fat:
12
g
|
Cholesterol:
524
mg
|
Sodium:
637
mg
|
Potassium:
556
mg
|
Fiber:
3
g
|
Sugar:
5
g
|
Vitamin A:
4970
IU
|
Vitamin C:
58
mg
|
Calcium:
289
mg
|
Iron:
3
mg
Tried this recipe?
Tell us what you think! Your reviews help us develop better recipes and give newcomers the confidence to try your favorites. Scroll down to leave a starred comment.