Enjoy the creamy, milky goodness of a Red Banana Smoothie. It's pure and simple, without any fussiness.
Smoothies these days can be so complicated. It's amazing how many different options are out there, how many ingredients, how many nutritional supplements and weird sounding items can make up a smoothie recipe.
Soaked almonds. Maca powder. Pea protein.
It's a long way from Blenders, my college smoothie shop, where the weirdest ingredient (circa 1993) was probably tofu. Which I loved adding to my smoothies, by the way, for an easy way to get protein back in my salads-only phase.
I'm all for beefing up your smoothies and including extra nutrition, but sometimes it can feel like a bit much. Whatever happened to the simple, 5-ingredients or less smoothie that contained ingredients even your gramma could recognize?
Well, I've got such a smoothie recipe for you right here.
The Red Banana Smoothie
As I mentioned before, I cut my smoothie teeth at the flagship location of Blenders in Isla Vista, California. I was just home from a year in France and much had happened back home, including the arrival of the smoothie.
Short for Blenders in the Grass, Blenders was and still is a smoothie and wheat grass bar. And their smoothies are a meal in themselves. When I was pregnant with my first baby, Blenders was a frequent stop of mine, and continued to be so after the baby came. Lucky for me, there was a shop just a short stroller walk from my house. The Red Banana Smoothie was my all-time favorite — with a serving of tofu.
Today the nearest Blenders is a 3-hour drive away, but, even if Blenders were close by it wouldn't be a regular thing, too expensive!
That's why it's luck for me that the Red Banana Smoothie is not difficult to make at home. It's a pretty straightforward concoction: strawberries, bananas, and milk. Pure and simple, right?
One of Blenders' distinctives is that they've always included one free nutritional supplement. How sad that they no longer offer tofu as an option! Keeping with tradition, I've included a few options for you to add in to give your Red Banana Smoothie an extra boost.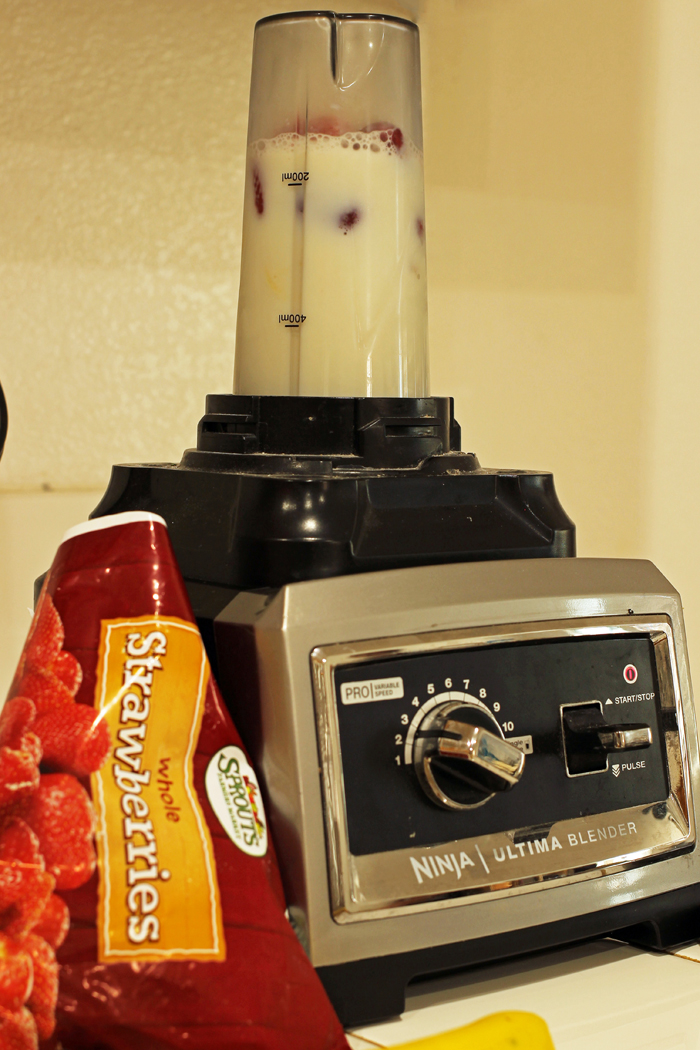 How to make this good and cheap:
You know I don't typically want to make something if I can't make it good as well as cheap. Here are some of the strategies you can use to make this recipe more economical:
How I make this recipe easy:
One of the great things about smoothies is that you can make them in big batches and freeze them to enjoy later. Check out this tutorial for more tips.
You can also streamline your smoothie making by building a Smoothie Station in your freezer. With all the ingredients easy to find, your smoothies will come together very quickly.
This recipe really couldn't be easier than it is, but having the right kitchen tools can really make your time in the kitchen more enjoyable. Over time, I've honed my collection so that they are perfect for my needs.
Here are the tools that I use for this recipe:
a high speed blender – that's pretty much all you need. You can use a food processor or standard speed blender, but you do run the risk of frozen fruit not blending completely smooth.
After you've tried out the recipe, I'd love for you to come back and give it a starred review. This helps me make sure I'm developing recipes that work for YOU. Thanks in advance  for your feedback.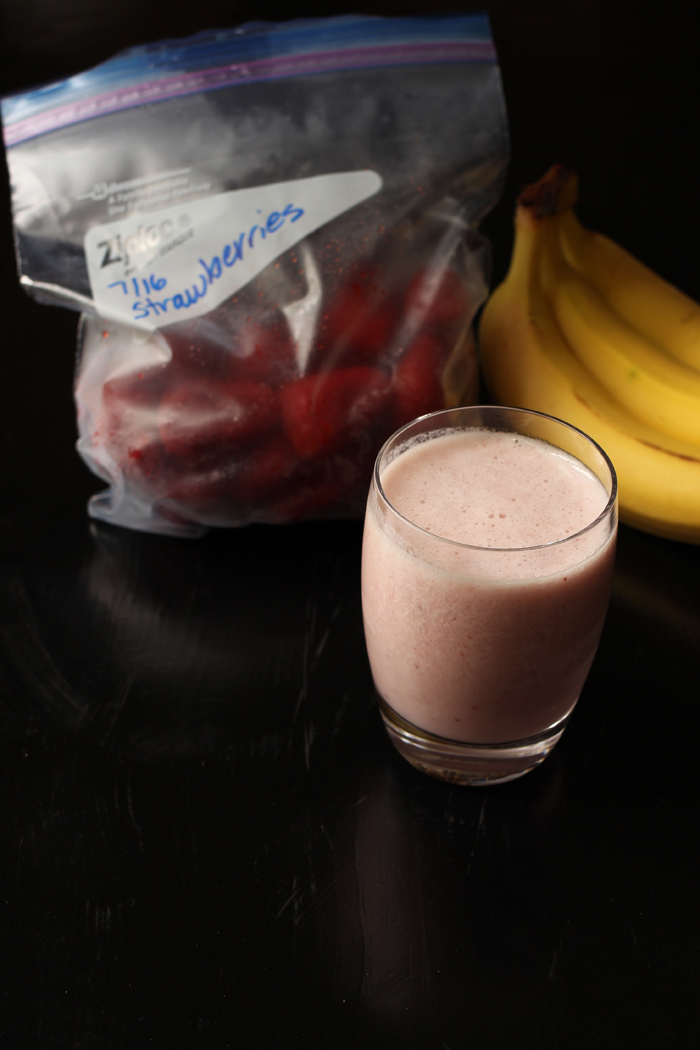 Red Banana Smoothie
Enjoy the creamy, milky goodness of a Red Banana Smoothie. It's pure and simple, without any fussiness.
Ingredients
½ to 1

cup

milk

5

frozen strawberries

1

ripe bananas

, preferably frozen, sliced or broken into pieces

crushed ice

, if using fresh fruit
optional add-ins (choose 1):
3

oz

silken tofu

(¼ package)

1

tablespoon

chia seeds

1

tablespoon

flax seed meal

vanilla protein powder

according to package instructions

2

tablespoon

powdered milk
Instructions
Place milk, strawberries, and banana in blender bowl. Add optional add-ins of your choice.Blend until smooth. Serve immediately.
Notes
If using fresh fruit, add crushed ice and blend some more to reach desired consistency.
Promptly store leftovers in an airtight container in the refrigerator, for up to 3 days.
Nutritional values are approximate and based on 1 serving.
Nutrition
Calories:
416
kcal
|
Carbohydrates:
53
g
|
Protein:
17
g
|
Fat:
17
g
|
Saturated Fat:
6
g
|
Trans Fat:
1
g
|
Cholesterol:
27
mg
|
Sodium:
118
mg
|
Potassium:
1134
mg
|
Fiber:
10
g
|
Sugar:
31
g
|
Vitamin A:
427
IU
|
Vitamin C:
47
mg
|
Calcium:
410
mg
|
Iron:
3
mg