One of the easiest ways to save money is on food. There is such a range in food options as well as a range of prices for those foods. For our family, using coupons is one great way that I can save some of our hard earned money. But, I try not to stop there. I want to cut every corner that I can, without sacrificing the quality of the foods we eat. This can be tough, especially when you have eight mouths (and palates) to feed.
My kids love meat. That is probably an understatement. They are carnivores through and through. In very lean times I've only served meat about once a week. But, I've also found ways to stretch the meat that we use. But, this is hard to do when you're serving a roast or when you want to BBQ.
Over the past few months, I've experimented with filleting boneless, skinless chicken breast. I slice each plump breast half into two thinner fillets by cutting horizontally through the meat. Visually I'm producing twice as much meat to throw on the grill. And for some magical reason, if your eye sees a whole piece of meat, even if it's smaller in weight, it communicates mysteriously with your stomach to be just as satisfied.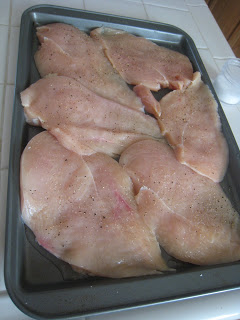 An added plus is that the fillets absorb marinades and rubs much more quickly, reducing prep time and increasing flavors. Using a spicy seasoning also helps to make you feel more satisfied.
By filleting our chicken, we eat less but feel just as satisfied. As a result, we save money. And that is always a good thing.
What money saving idea can you share with us today? It's such a boon to hear what other people do to pinch a penny.