Forget the can. Homemade soup is super simple to make, better for you, and most decidedly cheaper.
I started making homemade soup about twenty years ago. Before that I opened a can. I had no idea that you could make it yourself and have it taste good. For our wedding friends gave me the book, A Feast of Soups, by Jacqueline Heriteau (affiliate link). It is a fabulous tome that will teach you the art of soup making.
For about ten years, I reread that book every fall as a refresher for soup making. Nowadays, I have a pretty good idea what will fly with my people and how I can make it. (We're still working on certain 9yo boys keeping it together when they see cooked carrots, but otherwise, all systems go.)
I make soup at least once a week, often times more, during the winter.
One of the simplest, no-brainer methods that I use, is to make it with leftovers. Good leftovers, I might add. Don't be talking smack about leftovers.
Food is good in the fridge for three to four days if prepared and stored properly. But, often times, you might not have enough of something leftover to make it to another meal. That's why several bits of recent meals join forces to make a fabulous soup.
I wanted to call this Whatchagot Soup, but my husband didn't like that. He proposed Stone Soup, so we're going with that.
It's actually quite apropos. The ingredients here are truly reminiscent of the classic folk tale of three destitute soldiers without food or money who cleverly bring about a meal fit for a village. Everyone contributes a little bit and voila! Dinner is served.
Making soup yourself
If you've got a big pot, a little oil, some onion, some veg, and some broth, you can make soup. Soup making is pretty forgiving, provided the ingredients are fresh and wholesome.
I used leftover beef from the sub sandwiches and leftover beans from another meal. I make homemade stock all the time, storing it in 2-cup portions in the freezer; that's basically free since I use the bones of another meal.
This is a general formula for you to tweak based on what you have on hand. Remember I wanted to call it Whatchagot Soup. I had some canned pumpkin, but next time I might use the Roasted Vegetable Puree. I used hominy and green pepper, but you could switch things around however you want.
The only trouble with this soup is that it's never the same thing, unless you absolutely recreate all your add-ins. It doesn't matter, though, it's pretty foolproof and yummy. Just be sure to choose ingredients and seasonings that complement one another.
Making soup cheaper
I'm so out of the canned soup loop, I had to do some research on pricing. It looks like you can buy a cheapo can for as low as a buck and a more "homestyle" variety for up to $3 to $4.
Homemade runs quite a bit cheaper, especially if you're using up leftovers, foods that have been "paid for" by other meals.
oil $0.10
onion $0.10
potatoes $0.25
carrots $0.25
homemade stock – free
leftover meat, beans – free
canned pumpkin $0.25
canned hominy $0.75
canned tomatoes $0.67
bell pepper $0.25
seasonings $0.20
By my calculations, I made the equivalent of 5 cans of soup for $3.02, equating to $0.60/can. BUT, and this is big, this soup tastes better and is way, WAY healthier than canned varieties.
If you want convenience, just freeze the soup in individual portion sizes for quick lunches and dinners.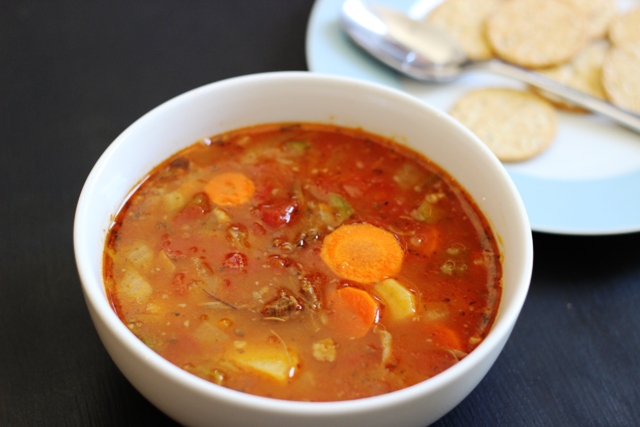 Stone Soup
aka Soup from Leftovers
Ingredients
1

tablespoon

olive oil

1

onion

(1 cup chopped)

2

russet potatoes

peeled and chopped

2

carrots

peeled and sliced

4

cups

chicken stock

, vegetable broth, or water

1

cup

pumpkin puree

homemade vegetable puree, butternut squash puree, or tomato sauce

1

15.5-ounce can

hominy

or corn, drained

1

14.5-ounce can

petite diced tomatoes

1 to 2

cups

chicken (cooked and cubed)

or other cooked meat of your choice

1

15.5-ounce can

garbanzo beans

rinsed and drained (other beans may be used)

1

bell pepper (any color)

chopped, or beans or peas (½ cup)

1

teaspoon

Italian Seasoning Mix

, Taco Seasoning Mix, or Jamie's Spice Mix

salt

black pepper
Instructions
In a large stockpot, heat the oil until shimmering. Add the onion and cook, stirring, on medium-low for five minutes. Add the potatoes and carrots and stir. Continue cooking for another 5 minutes.

Stir in the broth and puree. Add the corn, tomatoes, meat, beans, peppers, and seasonings. Stir well and bring to a simmer.

Simmer for 20 to 30 minutes until the vegetables are tender. Adjust seasonings.
Notes
Nutritional values are approximate and are based on ⅛ of the recipe. Refrigerate leftovers promptly and use within 4 days.
Nutrition
Calories:
247
kcal
|
Carbohydrates:
34
g
|
Protein:
12
g
|
Fat:
9
g
|
Saturated Fat:
3
g
|
Cholesterol:
20
mg
|
Sodium:
576
mg
|
Potassium:
790
mg
|
Fiber:
7
g
|
Sugar:
9
g
|
Vitamin A:
7860
IU
|
Vitamin C:
25
mg
|
Calcium:
64
mg
|
Iron:
4
mg
Tried this Recipe? Tell us what you think!
Your reviews help us develop better recipes and give newcomers the confidence to try your favorites. Scroll down to leave a starred comment.
What's YOUR favorite soup recipe?
This is part of the DIY Convenience Foods series.